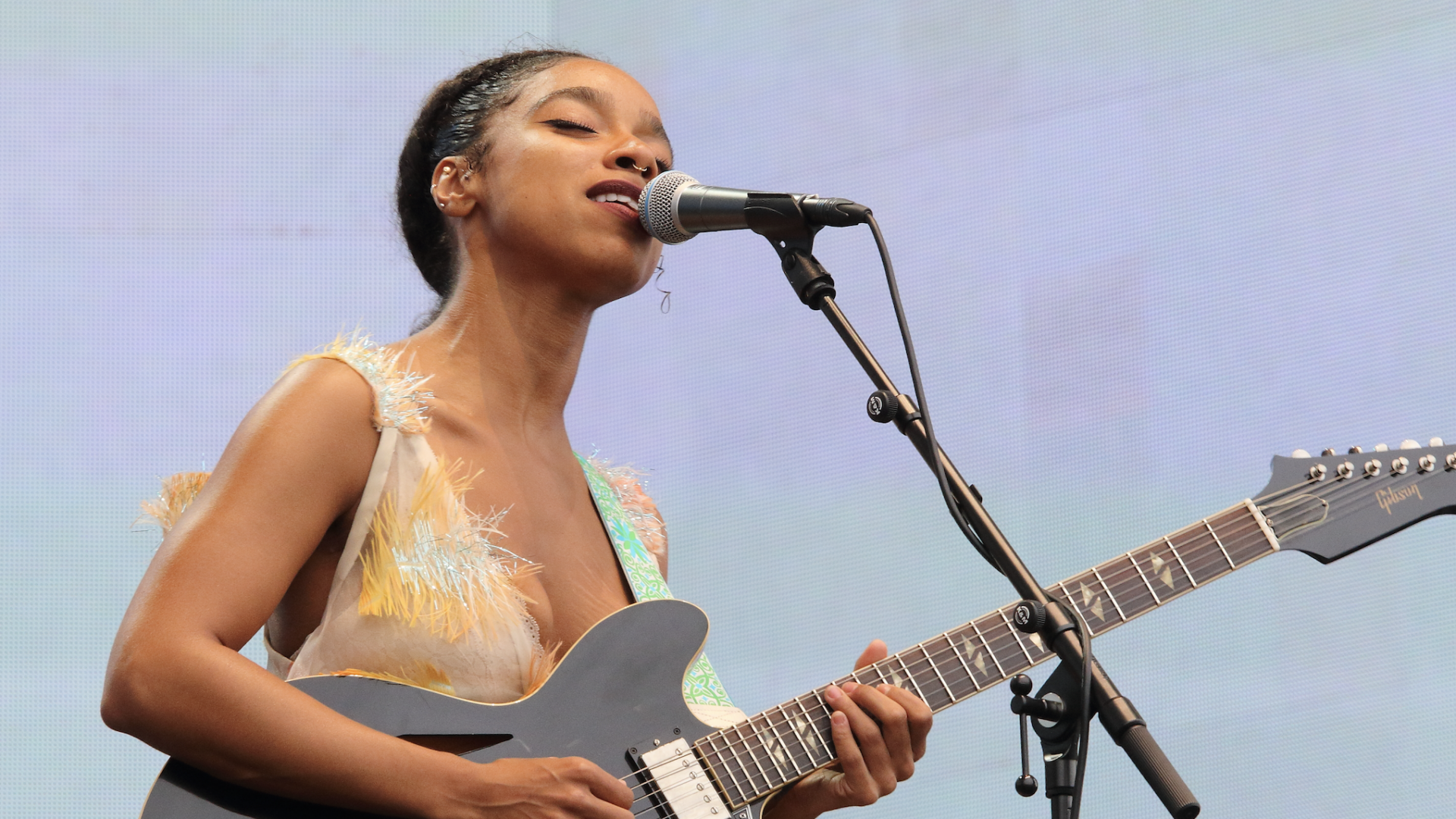 The Rebirth Of Lianne La Havas
We spoke with the soul singer about her latest album, learning to love again and optimism.
Lianne La Havas is born again.
On "Bittersweet," the first single, and song, from her most recent, eponymous album, La Havas laments a lost lost, most importantly the renewal she felt after the exchange was over. The song's album is the 31-year-old singer's most forthcoming to date, as she reminisces on the ups and downs of a relationship. Her work feels like a nod to adept Black women before her, like Billie Holiday, Mary J. Blige and other artists who were unafraid to tackle the depth of romance. Her direct influences include her late mentor Prince and Brandy, but her sound is all her own.
La Havas was born in the late 1980s London to a Greek father and a Jamaican mother. She took in both of their musical interests early on, priming herself for her future as an artist with a wide array of inspirations. Her biracial background has informed her life, but she identifies as a Black woman and has spent the past several years educating herself about the Black experience.
The singer/songwriter fell in love with interpreting music during her grade school years and began writing songs shortly after. Upon learning to play the guitar in her late teens, La Havas begin to shape her own presence while providing backing vocals for fellow artists. After landing a record deal with Warner Records in 2010, La Havas further cultivated her craft and established herself as a force in neo soul with the 2012 release of Is Your Love Big Enough? She was immediately celebrated for her aptitude as an artist and her willingness to turn away from popular music. Her focus has always been on feeling while building a distinctive catalog.
In 2015, La Havas followed up with critically-favored album Blood and afterwards took a lengthy break to focus on simply living. It was during this break that she engaged in the romantic relationship that inspired her most recent collection of songs. In the wake of the release, she is renewed and feeling more capable—as an artist and as a woman—than ever.
We sat down for a conversation with the singer about her decision to take a 5-year hiatus, self-discovery and why Black women must remain hopeful.
Read our conversation below.
You've talked about waiting on inspiration for the album and that you have to do some living between Blood and Lianne La Havas. We live in such a microwaveable, instant content type of world, so did you deal with any anxiety about taking a break?
Yeah, because I didn't really feel like I was taking a break. I just was trying to make more music and I guess maybe the anxiety of making more music and feeling like I had to made it take longer. I've found that putting pressure on myself is not very conducive to my productivity.
I understand that. Where do you think that pressure comes from?
Oh, well probably my label, but when I asked them to, you know, kind of leave me alone for a while, I certainly felt less pressure and I was able to feel a bit more free when I was writing and exploring.
I also read that you felt like the project was kind of a collaborative effort between you and your friends. You went back home and reconnected with old peers. What was it like bonding with people that I'm sure you hadn't seen in a while and also working on the biggest project of your career?
I just did what I felt. It was very, I hate this word, but it was very organic and it felt very natural to, you know, approach [people] that I already know and love to help me on my quest or, you know, my, my ultimate expression.
I thought, well, it's probably better if I work with people that know me, if I'm going to be making such a personal album. It just felt not like work, honestly, it felt like just having lots of fun and being creative and exploring with no pressure, absolute trust, and my loved ones that I made the record with. They absolutely believed in me as well.
I think that made it even more special, for them to help me. And it seemed to feel like a mutual exchange of energies. It never really felt like hard work to do that.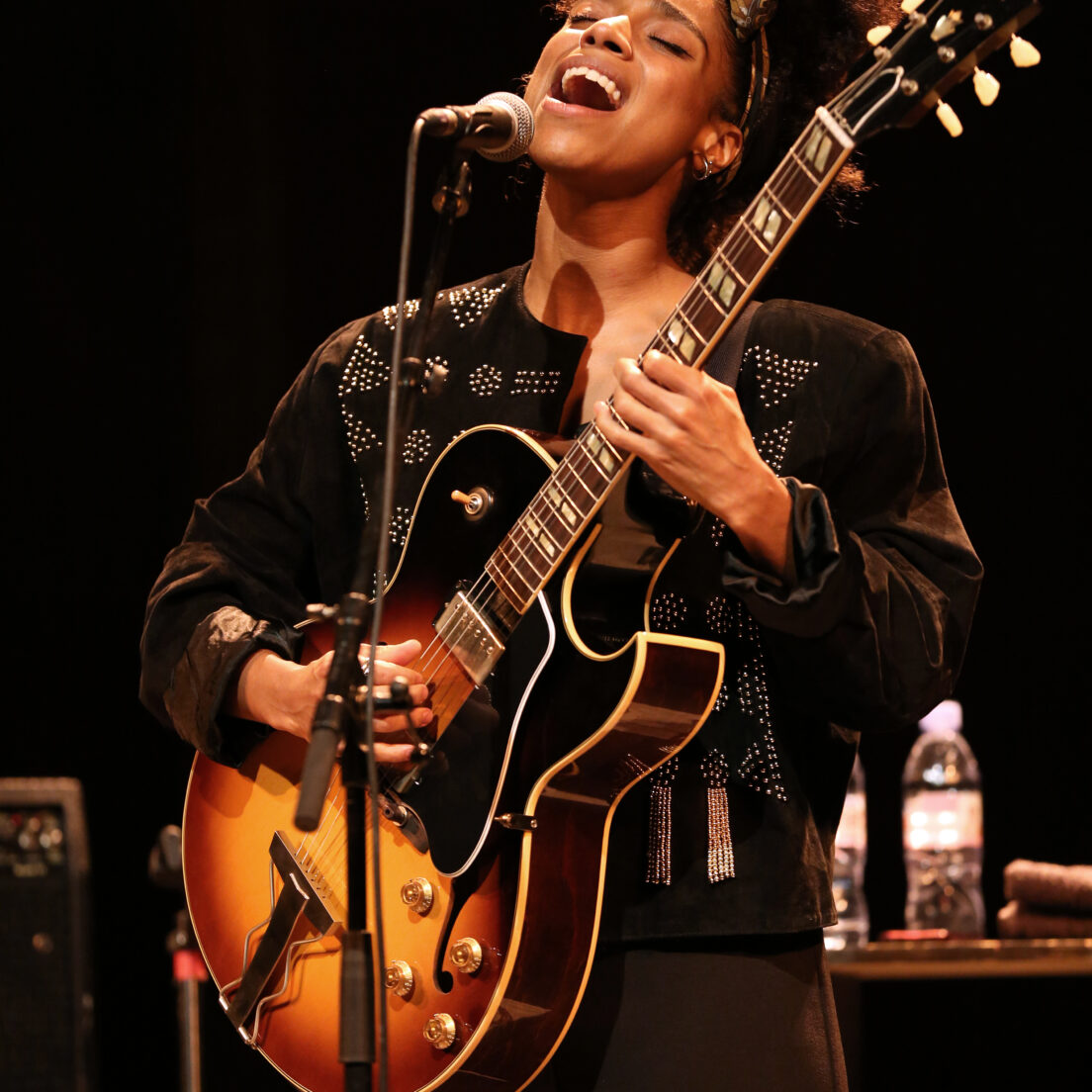 "It's not so difficult to kind of talk about those actual emotions, but regarding getting the courage, I just, I needed to heal."
Speaking of how personal the record is, you're pretty open about every aspect of a relationship—the good and the bad. How do you find the courage to not only talk about these things but open yourself up to love again after things don't necessarily go as planned?
I mean, I feel like most people listening will be able to relate. So I'm happy to talk about certain things, you know, to deal with my mindset, I guess at the time, because I feel like it's stuff that I was going through that I didn't realize. I wasn't alone. I had to look to other people's music as well to kind of like, not feel alone in these feelings. And I was just a slice of stuff that seems to be discussing exactly the way I felt.
It's not so difficult to kind of talk about those actual emotions, but regarding getting the courage, I just, I needed to heal. I was kind of burned by my experience. I, somewhere along the way of making the album, I think there was like a healing quality to actually making these songs that just made me feel more confident again, happier and rely on myself as well. Instead of relying on someone else to make me feel better. I was doing the work on myself whilst making this record. So I feel like the strength came from making this.
I also want to talk about like the actual songs. "Read My Mind" specifically is brimming with such gorgeous, colorful harmonies. It has a classic, almost gospel type feel to it. So can you walk me through the recording process?
I was recording with my friend Gio and it was kind of the thing we just did at the end of the day. We had been working on a few ideas, but I wanted to put it down. I didn't really know what I was going to do with the melody or anything. I just asked him if I could record a bunch of parts I was hearing in my head. I thought, "Oh, let me just put these things down and then hopefully later on, I can work on it and make it into a full song."
But I was listening to it and I just was so moved by it. I remember my mindset at the time—I was in an interesting transitional period. And so the song kind of represented my mindset without any clear lyrics. So even though I did go back and try to make it into a full song with lyrics and production in the end, it had to remain as in this form because that's how I was feeling at the time.
"I was listening to tons of Brandy when I was working."
I'm also intrigued by "Seven Times." It has this very pure, early 2000s R&B, like Brandy type feel to it—from the chords to the lyrical content. Then it has that strong, Brazilian influence, too. I'd love to hear about your early experiences with R&B.
That one's my favorite that was on the album. I think if there's a production, then a whole song that I'm like most proud of, I think it's that one. I think it has everything that I love about music. I love Brazilian music, but of course I love R&B and I think it's the first time I was able to truly fuse those two loves together. And I was listening to tons of Brandy when I was working.
Also lots of Toni Braxton and basically anything by Rodney Jerkins. Oh my goodness. So many Darkchild productions. That's kind of what I grew up on. When I was, I guess, 11, 12, like discovering music on my own, that was the stuff I was gravitating towards. Also loads of Mary J. Blige, Destiny's Child, Missy Elliott, Timberland and Justin Timberlake.
I feel like during the process, when I was making this album, I was listening to music that I really loved and the stuff that I listened to when I was growing up. My ex would just always play loads of music and it would be like, he never asked me what I wanted to listen to. It would always be like, "I'm going to play this."
It wasn't bad though. Like I discovered so much great music. But it was always in a way that was very kind of, it came across quite snobby, like he didn't trust my taste, you know? So when I wanted to listen to what I wouldn't say, it was contained and I felt self-conscious about the things that I liked. After that all ended, I was like, "You know what, I'm just going to listen to everything I love."
Another track that I want to talk about is "Please Don't Make Me Cry," because at the very end, the notes and just the yearning in your voice is so strong and distinct. I think when it comes to records like that, you can feel the emotion behind what the person is saying. I definitely wanted to know about the makings of that song.
I'm loving talking to you about it, because you're picking up on so many things that I was actually thinking when I was making it and like, the kind of subtle things that I didn't know if I was getting them across enough, you know, but you were able to pick up.
I wrote " Please Don't Make Me Cry" with the great Nick Hakim. We were in New York City in his studio and we were making lots of stuff with different ideas. And that day, we just had done enough stuff together to sort of have that trust and have that, you know, understanding. So he was just playing some sounds that we were kind of feeling out. The track basically was built within a couple of hours. I went back and was trying to find a melody and it wasn't coming immediately. So we took a step back.
And it's usually when I go for a bathroom break. You can still hear the music in your head that you've just been working on, but you're alone. And then there's also like an echo in the bathroom. So you get amazing reverb. So I was trying to figure out what this melody was, it was the chorus melody. So I put that down.
I was kind of exhausted with just feeling sad all the time.
It wasn't until a couple of months later, when I'd gotten through my situation, and realized what the verses should be. And then, I wrote it as if it's like a guide book on how to not make me cry. So I got the concept like later on after I was reflecting on what happened.
I learned so much about myself in that relationship. I learned what my triggers are, the things that I could improve on and the things that I know I don't like. Afterwards, I had some time to actually focus on me. So the concept of the song came after. I figured some things out basically.
I was listening also to a lot of '60s music, which has a lot of quite very dark content.
Yeah, like The Crystals.
Yeah. They were often speaking about dark things. But the music was fluttering, fast and sweet. So I had that kind of thing in my mind, you know, that kind of juxtaposing a very sad subject matter, but with sweet sounding music and it seemed to fit.
It's beautiful record. I feel like the whole project tells a story about beginnings and endings, especially like the first track being repeated at the end. What pushed you to tell such a straightforward story?
I just wanted to be honest. I've always wanted that in my music. I've always felt weird about, you know, making things up just for the sake of writing a song. I could never really do that and be able to stand by it, you know?
So my intention was always to first and foremost make something I like. Make something that I just really enjoy—the kind of music I want to listen t— is the first thing I wanted to do. Then it gradually transpired that, you know, it just had to be from my point of view, whatever it was that was going on at the time. The main focus at that time was my love [life,] like what was happening regarding that and what it was doing to me.
It made me feel a lot better actually writing songs about it. It gave me another focus. Do some work and channel everything that was happening.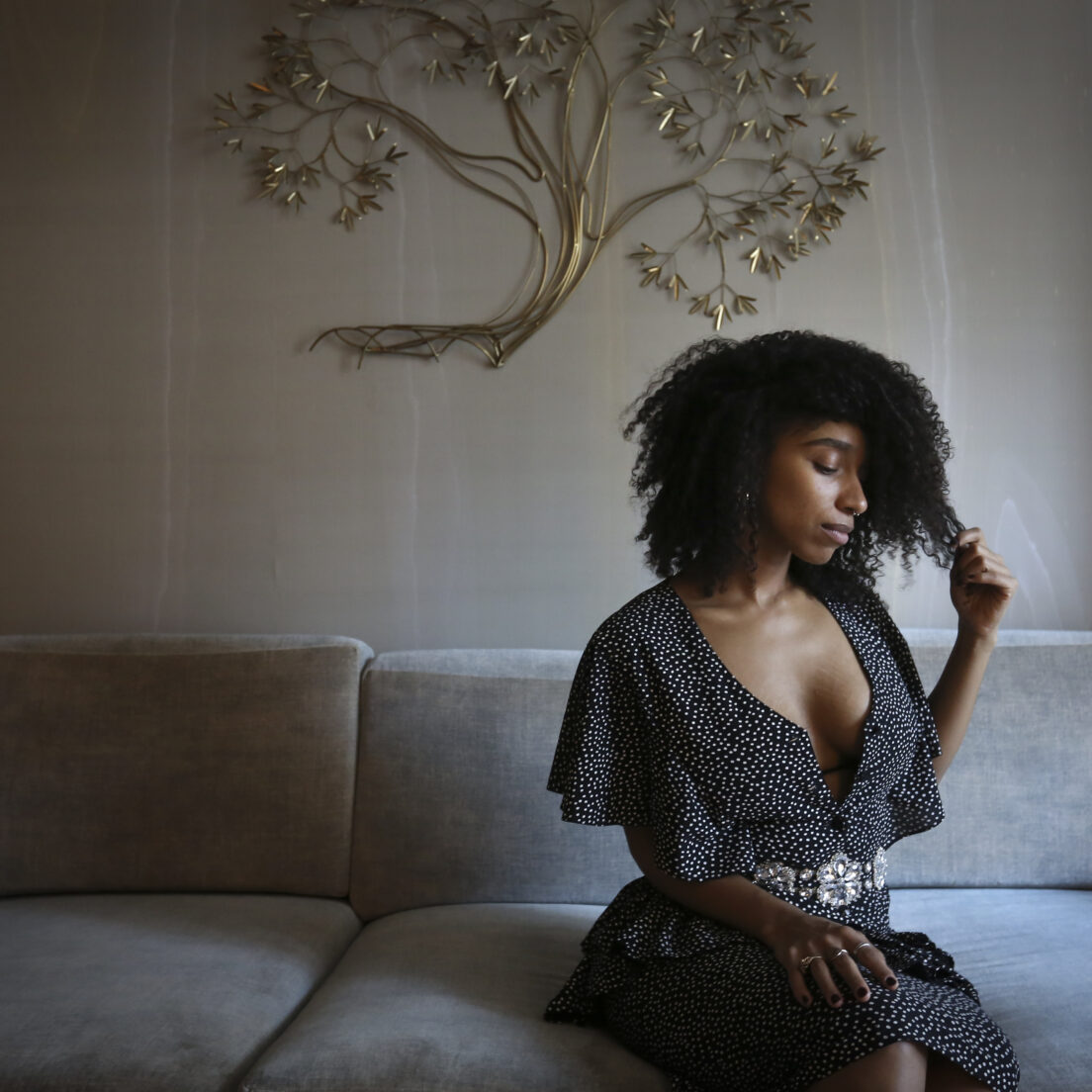 It sounds like this album is about trusting yourself, because even though you went through all this harshness and muck, you talk about healing yourself through it all. I definitely want to know what your life is like now that you've kind of done the internal work necessary to build that trust with yourself.
As you can imagine, my life is very different. I feel like people treat me differently now that they can see that I can stand by everything I'm saying and all the decisions I'm making. People who work closely with me, people who have seen the journey throughout making this album, which is now what four or five years worth [of songs.] I feel like they can tell the way I conduct myself now. And also I think that does come with just maturity. I'm getting a bit older, wiser and learning more about myself. I don't know if I would have learned much about myself without that relationship to kind of take me into gear. You know, like I was pretty content really before it all happened. I was taken by surprise, you know?
I realized I know nothing. And I have to start from the bottom and work my way up and learn about myself. Now I'm better at recognizing when there's something wrong and recognizing where that might be coming from and what I'm triggered by. I'm more aware of things in general. I like it.
What are you most looking forward to now that you've completed this album?
I'm particularly looking forward to going back on tour when we're all allowed to do that again. I'm looking forward to making some new goals. because I feel like this one was a big one for me. I really, really wanted to make an album that truly represented who I am, musically and emotionally. So I feel like I've done that. I'm happy about how that went.
I will say I'm looking forward to what happens next. What other music can I make? What other things can I say? And what are the artistic avenues I can go down? I'm excited for the future and shaping my own destiny.
That's a very brave outlook, especially what's going on in regards to unrest and COVID-19. I think optimism is such a gift right now.
It's important as Black women. Not to sound preachy, but I think it's important to be visibly doing your thing, you know, and to show others. Sort of lead by example. It's important to do your thing really loudly.
Listen to Lianne La Havas below.
Photo credit: Getty Images