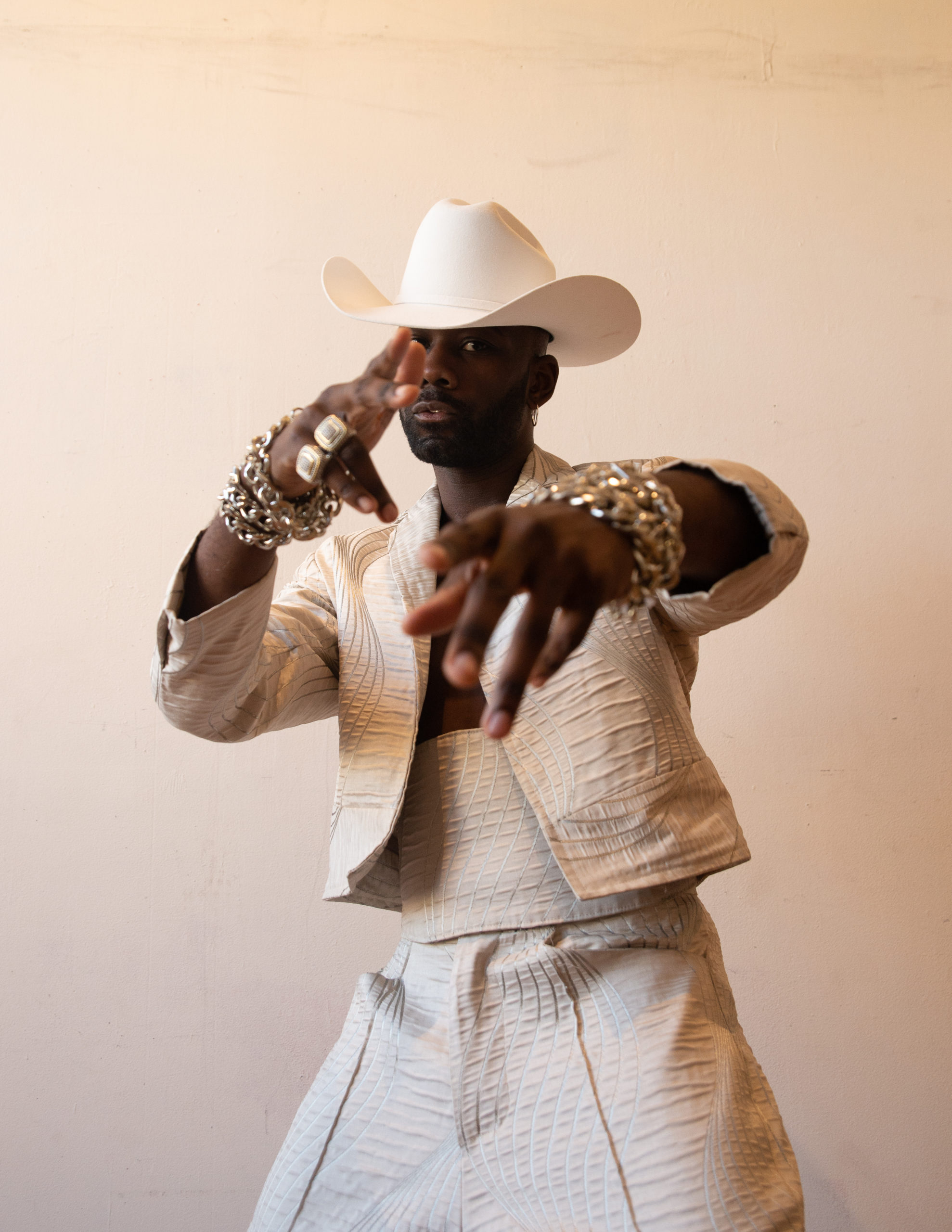 Samoht Shows Are Sacred Spaces
We attended the Brooklyn artist's show at the top of the year and he did not disappoint.
In the interim between Devin Tracy's opening set and Samoht's performance, the crowd waited patiently and chatted among themselves. There was a faint scent of marijuana in the air, as couples embraced and anticipated the show. A Black woman with waist-length braids stood towards the back, another complained about the temperature. Attending a Black show with a primarily Black audience is always a treat (regardless of genre), especially these days.
Samoht hit Mercury Lounge's stage at 10:33 p.m., rocking a bedazzled wave cap, all-gold grills, a pinstriped, glitter turtleneck, and a fresh suit. Wilke$, his producer, drummer/keyboardist, wore slugs and a matching sweater. The two were in sync as they ran through the set list that included "Myspace," "Yellow Diamonds," and "I'm Not God".
Not only was their talent incredible, the nuances of the performance and the little details helped make the show. A collective swag surf, a glass-looking gallon of drinking water, and hilarious honesty — "I'm not going back [to retail,]" Samoht said — helped the audience connect with him in a special way.
The set ended with an acapella rendition of "(I Just Want To) Thank You Lord" and interjections from the crowd were strikingly similar to lay members' encouragement from the pews. Part preacher, part praise and worship leader, but wholly himself, Samoht has been open about his gospel roots. In an interview with Rolling Out, he said, "It all started with my grandmother. After school, she would grab her hymn book and make me sing with her in the living room."
Extensive musical training rooted in spiritual sensibilities is the formula that gave us Whitney Houston and Brandy (whom Samoht sang for at the 2019 BMI Awards), so it's not new. But Samoht mixes his churchy runs and tone with sensuality and fun, giving listeners the pure R&B that popular music is missing.
When the show ended, the crowd quickly dispersed, heading to the merch table or the subway. A few audience members lingered for a few moments, before security asked everyone to clear the room. The stragglers were likely trying to soak up the last few bits of Samoht's essence that slowly drifted from the stage. Bright red sweatshirts that read "F— THE DEVIL AND HIS ENERGY" were sold by the door, along with oils and beanies. As each audience member left, I like to think that they realized that they left better than they came.
Watch Samoht's new video for "L.A." below.