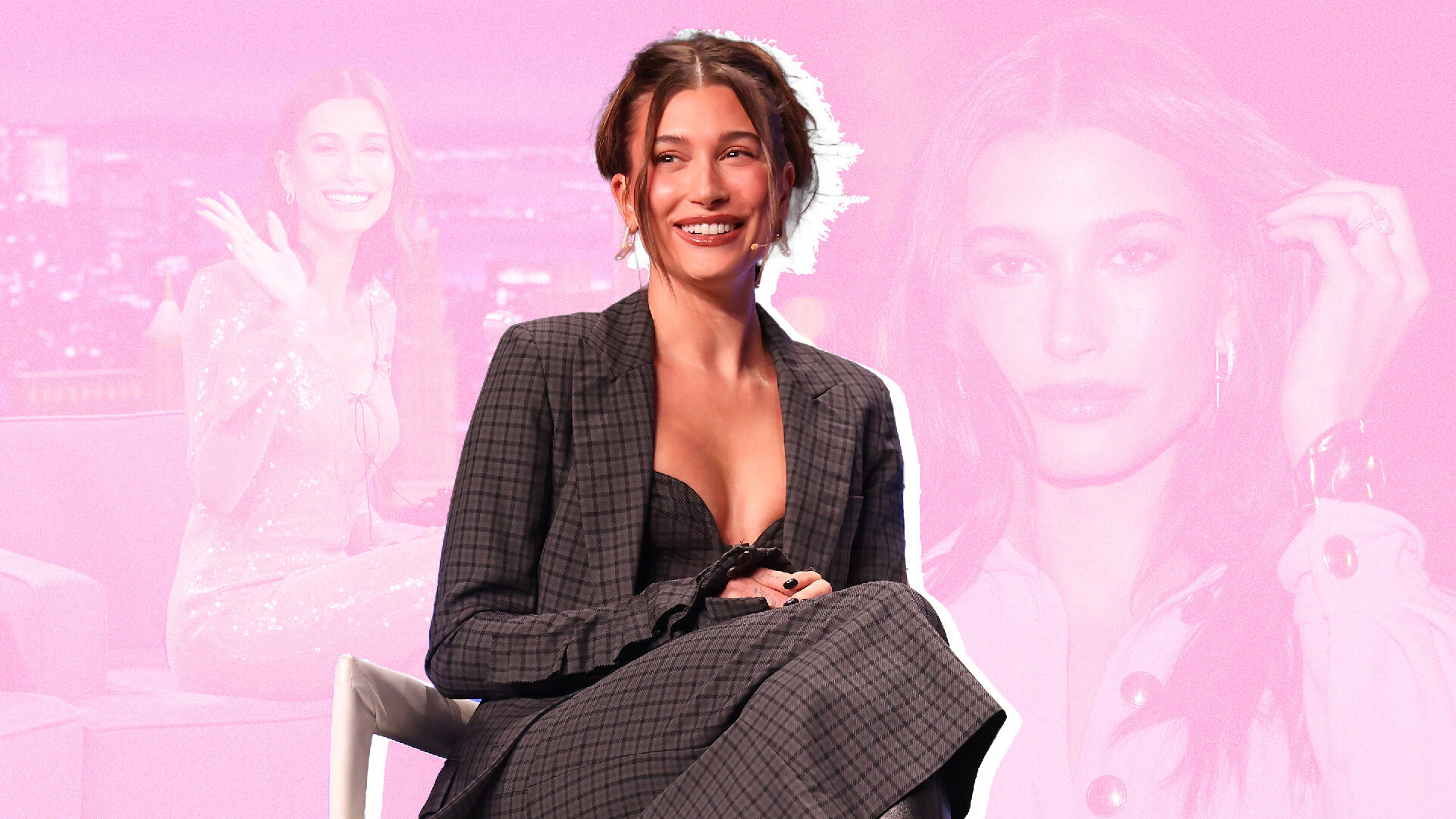 Hailey Bieber And The Beauty Industry's Sweet Tooth For The Black Girl Aesthetic
Where have we seen this before? Oh, yea…
Written by Tyler Pharr
Impeccably timed for the rise of the "clean girl aesthetic," Hailey Beiber's beauty reign with the launch of Rhode Skin has brought a glazed takeover to the industry. Her shimmery "glazed donut" manicure is all the rage, and the "glazed brownie" lip has just made its Fall debut. A closer look at these dessert rebrands reveals nothing more than branding-brushed versions of Black women's beauty signatures. From viral tutorials to inescapable Met Gala press, beauty enthusiasts have wasted no time costuming an "aesthetic" for all things glazed, while Black women have claimed these beauty looks as ritual. 
At this point we have to keep it 100: Beiber's "glazed donut nails" are not new! And the "brownie" lip? Let's be real.
Beauty media has been giving nonstop praise to Beiber for both of these trends. But why? The aunties in Black and Brown neighborhoods have been rocking these looks for literal decades, but like always beauty in the lens of people of color isn't deemed desirable or "trendy"  until a white woman wears it. Allure News Editor Gabi Thorne said it best, "Just because something is new to you doesn't mean it hasn't been used, seen, or done before. It just means you don't know about it." 
We're tired.
These trends are being marketed for thousands and step-by-step tutorials like that of OPI nail company have garnered close to half a million likes on their #haileybeibernails videos. As DIY nail techs paint their fingertips in OPI's "Funny Bunny", all that most of us recognize is the legendary 1990's nail color: Cotton Candy.
Sation's Cotton Candy Nails
In 1984, Miss Professional Nail Company founded Sation Nail Polish and soon after, "Cotton Candy" nail polish was born. The pale, iridescent lacquer served as a subtle alternative to the vibrant colors of the era. Monogrammed with fine line art and bejeweled in rhinestone charms, Cotton Candy polish was the foundation for a fire nail set, and once it hit American nail salons— our aunties' full sets were never the same.
Rocked by nail enthusiasts like rap queen Lil' Kim, track and field olympian Florence "FloJo" Griffith Joyner, and Coko from famed girl group SWV, Sations Cotton Candy is deservedly iconic, but Black women's impact in its popularization has been left out of its history books. 
Historically, the nail industry has catered to a Eurocentric standard of beauty. Today, the nail industry is far more accepting of diverse aesthetics, but the harmful stereotypes around nail enhancements still exist. Author and Women's Studies scholar, Miliann Kang, wrote in her book, The Managed Hand: Race, Gender, and the Body in Beauty Service Work, "French manicures and pastel colors signal white, middle-class, heteronormative beauty. Long, sculptured, airbrushed nails, on the other hand, are markers of Blackness,… and marginalized femininity." 
With racism still fueling the ways we see Black women's contributions to the nail space, we continue to pioneer. Diversifying the industry, creating our own narratives, and honoring our history through nail art, Black women are rarely revered— blurring our beauty legacy altogether.
The "brownie glazed lips" trend is no different. 
Glazed Brownie Lips
Like most who were products of the 1990s and early 2000s, dark lip liner and gloss were a beauty trademark for Black and brown women. To say it's making a comeback would be incredibly remiss. We live in the glory of its legacy, but brown lip liner began as a creation of necessity. 
Today we have brands like Fenty Beauty holding us down, but prior to the 1980's Black women didn't have that luxury. Then, Black and brown women could rely on a few brands, like Fashion Fair, for beauty products that offered nude shades for darker skin. For those who couldn't get their hands on Fashion Fair, a drugstore eyebrow pencil or eyeliner did the trick. For decades, we've recognized this innovation as a staple, but it began as Black and brown women's gateway into the industry that overlooked her.
This lip combination flourished well into the 1990s with Naomi Campbell and even the girl next door taking on the look. Today, a viral "brownie delight" is making headway on beauty TikTok, and completely ignoring deeply rooted history tied to its creation. Rightfully so, Black and brown women are not happy. In an industry that still mainly caters to the needs of white women, Jr. Beauty Writer of The Cut Magazine Asia Ware, says Black and Brown women should reclaim their narratives and power in beauty. 
Social media conflations aside, the issue with the brownie lip lies in the lack of education and acknowledgment of why this look exists. "Up until 2017, when Rihanna launched Fenty, we were an afterthought," Asia says, "It took a Black woman to make products for Black women for the industry to realize, Oh, they exist too!'" With the expansion of beauty brand foundation shades, we are witnessing an abundance of Black talent being hired in the industry, further solidifying Black women's legacy in the beauty industry. "There are more Black women in these positions: more Black makeup artists and more Black hair stylists being hired backstage– we're no longer just an afterthought, but we still have a long way to go."
The long journey ahead will only get longer without giving credit where credit is due. TikTok creator and anti-racism educator, Dr. Victoria Alexander, said it best in her viral video.
The Legacy of Black Beauty
We must recognize our mothers, aunties, and friends as the beauty pioneers they are. Black and brown women created and embraced these looks decades before a dessert co-opt. What was once seen as distasteful by mainstream standards, is now being rebranded to fit a narrative that erases our legacy. Cotton candy nail polish and the dark liner trademark remain a testament to women of color's innovation in the beauty industry. In the face of American rejection, we continue to affirm our beauty because we are constantly left out of the conversation. 
While white beauty TikTok continues to emulate the beauty signatures of Black and Brown women, it is important to know whose voices need to be elevated. Black and brown women deserve to be acknowledged for their contributions to the industry that they continue to revolutionize. From gel tips to our full pouts, we are the beauty blueprint; and no sweet tooth for our aesthetics or kitschy dessert names will erase that. 
About Tyler Pharr: Tyler Pharr is currently a graduate student at Parsons School of Design earning her Master of Art in Fashion studies. As a journalist, she hopes to spark intentional conversations. Charlotte-born and Brooklyn-based,  Tyler is a true multi-hyphenate: spreading her time between freelance writing, styling, and decoding her Gemini zodiac.