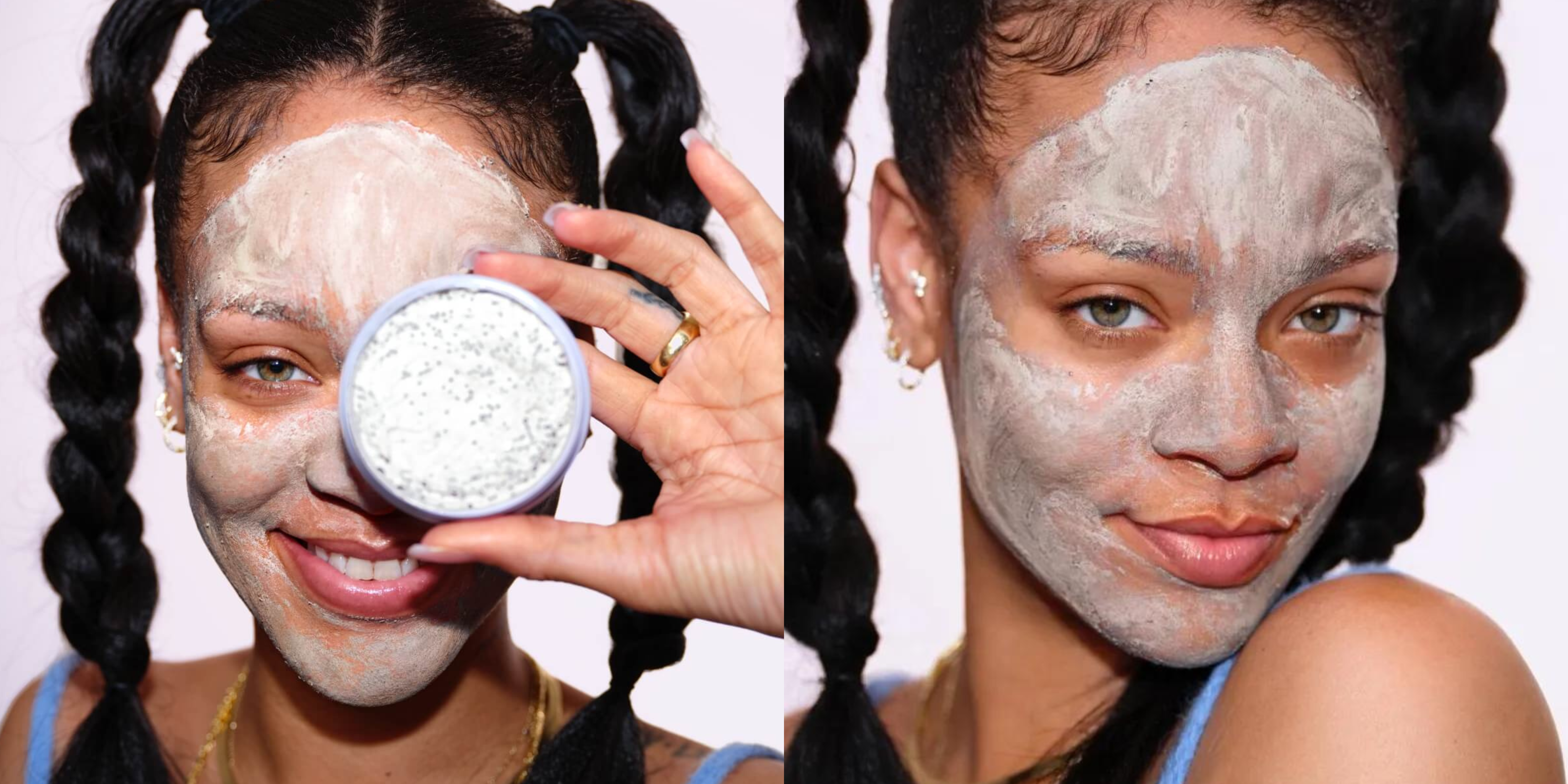 FENTY Beauty's 'Cookies 'N Clean' Mask Left My Face Feeling As Yummy As The Name
The mask launched on April 22 and is available on FENTY Beauty's official website.
If you're anything like me, your skin hates the summertime because of your skin type. As someone with oily, sensitive, and acne-prone skin, the heat is not my face's best friend because when them two get together, they like to act a fool. They invite all the pimples, dark marks, and shiny foreheads to the party without any consideration for my feelings. Well, I got something for them – and it's recommended by Rihanna herself.
Introducing the Cookies N Clean Whipped Clay Detox Face Mask, Fenty Skin's sweetest new skincare product (ironically, it's fragrance-free). The Fenty Beauty billionaire made this product with us oily-skinned folks in mind, especially for when we're feeling stripped or dry from wearing masks all the time. The mask made its debut on April 22, and has since proven to whip our pores into shape with the help of ingredients such as Rhubarb and Ginger Extracts (to condition and soothe skin), kaolin clay (extracts dirt, oil, and impurities), and salicylic acid (skin clarification).
"I wanted to create a detoxifying face mask that would really work but also be caring enough to leave your skin looking and feeling soft and smooth – never tight or dried out," Rihanna said in a press release. "I was inspired to name this mask Cookies N Clean because the results are just as delicious-looking as the formula's whipped texture!"
Now that I was able to get my hands on it, I tried Rihanna's favorite face mask. Keep reading to get in on the details of this product and hear my honest thoughts!
The Product:
The rising star and silent killer of Fenty Skin is the Cookies N Clean Whipped Clay Detox Face Mask ($32) – the answer to achieving Rihanna's perfect powerless face. When Rihanna said she wanted something that lowers excess oil and shine, and refines skin's texture without stripping or drying it, she meant it. With the balance of salicylic acid, kaolin clay, and ginger extracts, this is the perfect concoction of ingredients that will get the job done of clearing your skin while leaving it feeling as creamy and silky smooth as a cookies and cream sundae!
According to the style icon and first-time mommy, the mask can be applied on either wet or dry skin. Deemed "one of [her] new favorites," Rihanna praises the bouncy texture and says the "fun part" of the product is getting to massage it into the skin until the color turns from white to grey. After leaving it on for 10-15 minutes and noticing that the "cookies" have absolved into her skin, the "Needed Me" singer rinsed her face clean and patted it dry with a towel, leaving her face looking glowy and radiant.
For best results, consumers are encouraged to follow up with the Fat Water Toner. During your morning routine, follow up with the Hydra Vizor SPF 30 Moisturizer. If you want to use this product at night, follow up with the Instant Reset. Apply, rinse, and repeat with this fragrance-free product for 2-3 times per week on non-consecutive days.
The Review:
During my Self-Care Sunday, I decided to indulge in some well-deserved self-love and skincare. While I only have travel-size versions of the Fenty Skin collection, I decided to go about my nighttime routine as normal. I started with my BalmLabs Gentle Foam Cleanser, which is a clean, plant-based skincare brand providing effective solutions for acne-prone skin – especially for us melanated queens. Before going into the rest of my routine, I followed in Rih Rih's steps and went into the mask right after washing my face to give it a clean palette.
The texture was nice and bouncy, as promised, but it did look delicious enough to eat. While I'm thankful that it's fragrance-free due to my sensitive skin, I suddenly had a craving for cookies and cream ice cream once I opened the container. I spread it across my face using my fingers and watched the "cookie pieces" dissolve into my face, which eventually turned into a grey-ish color after 15 minutes. I could feel it drying down, but not in an irritating, stripping sort of way. Like an "I feel it working but I can still laugh, smile, and make facial expressions" sort of way.
Once I washed it off using a warm makeup-removing towel (because my skin is too sensitive for a regular washcloth), my face felt so rejuvenated. The best part is that I wasn't even finished with my skincare routine for the night so it made me excited to finish the rest. My face felt so plump and I even noticed that a few of my pores looked a little small after the first try. After I finished up the rest of my nighttime routine, including FENTY Skin's Fat Water Toner and my go-to Josie Maran Whipped Argan Oil Face Butter, I could still feel the effects of the mask.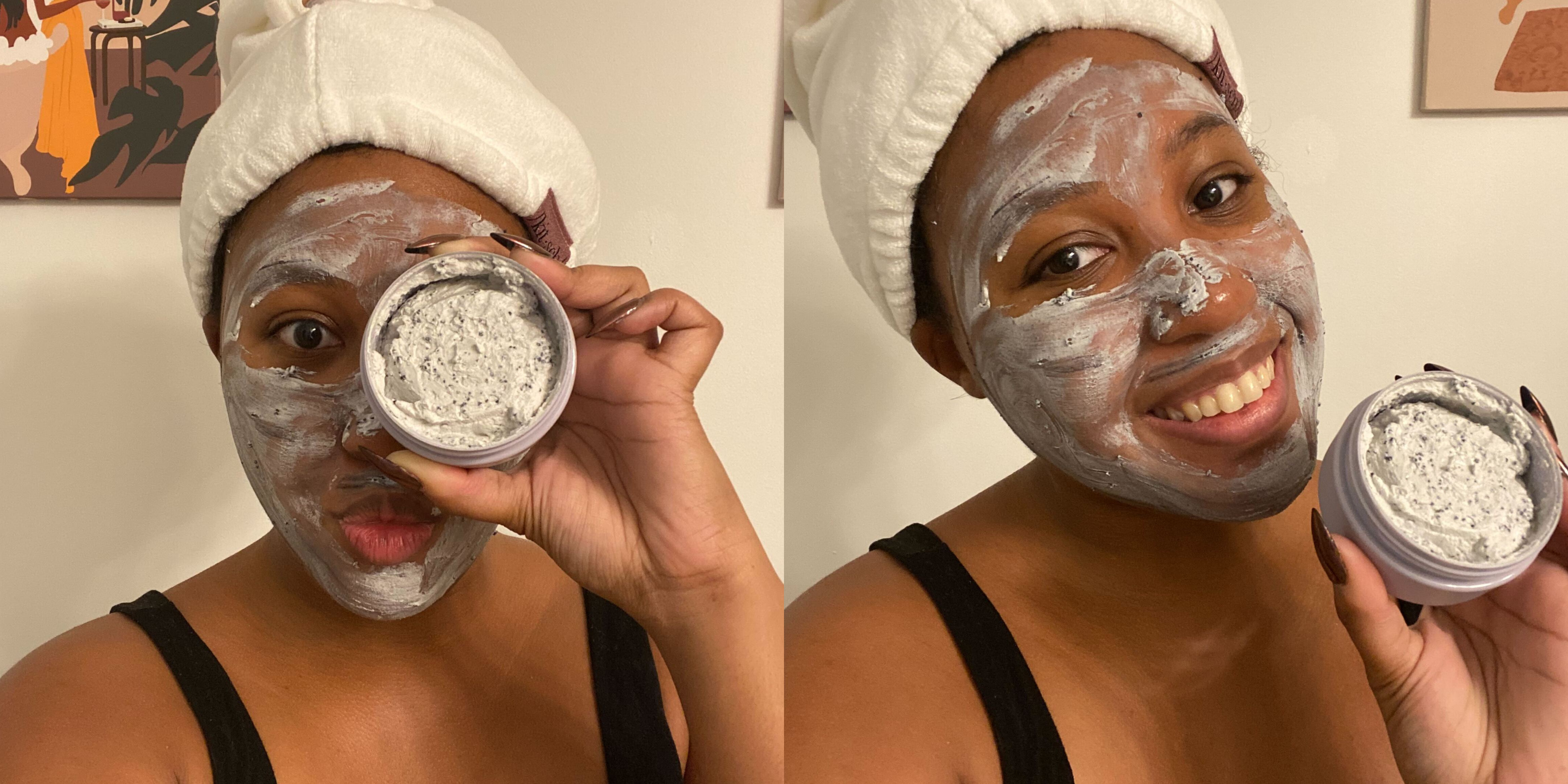 Final Thoughts
Overall, 10/10. A little goes a long way and the amount was perfect. I could see why Rihanna swears by this mask. This is definitely going to be my newest addition to my self-care Sunday routine – and probably my skincare routine going forward. Hell, this may have convinced me to see what else Fenty Skin has in-store. This product has me singing "You da One" to the packaging because this is definitely the one mask that I would keep using over and over.
Photo Credit: Courtesy of FENTY Beauty