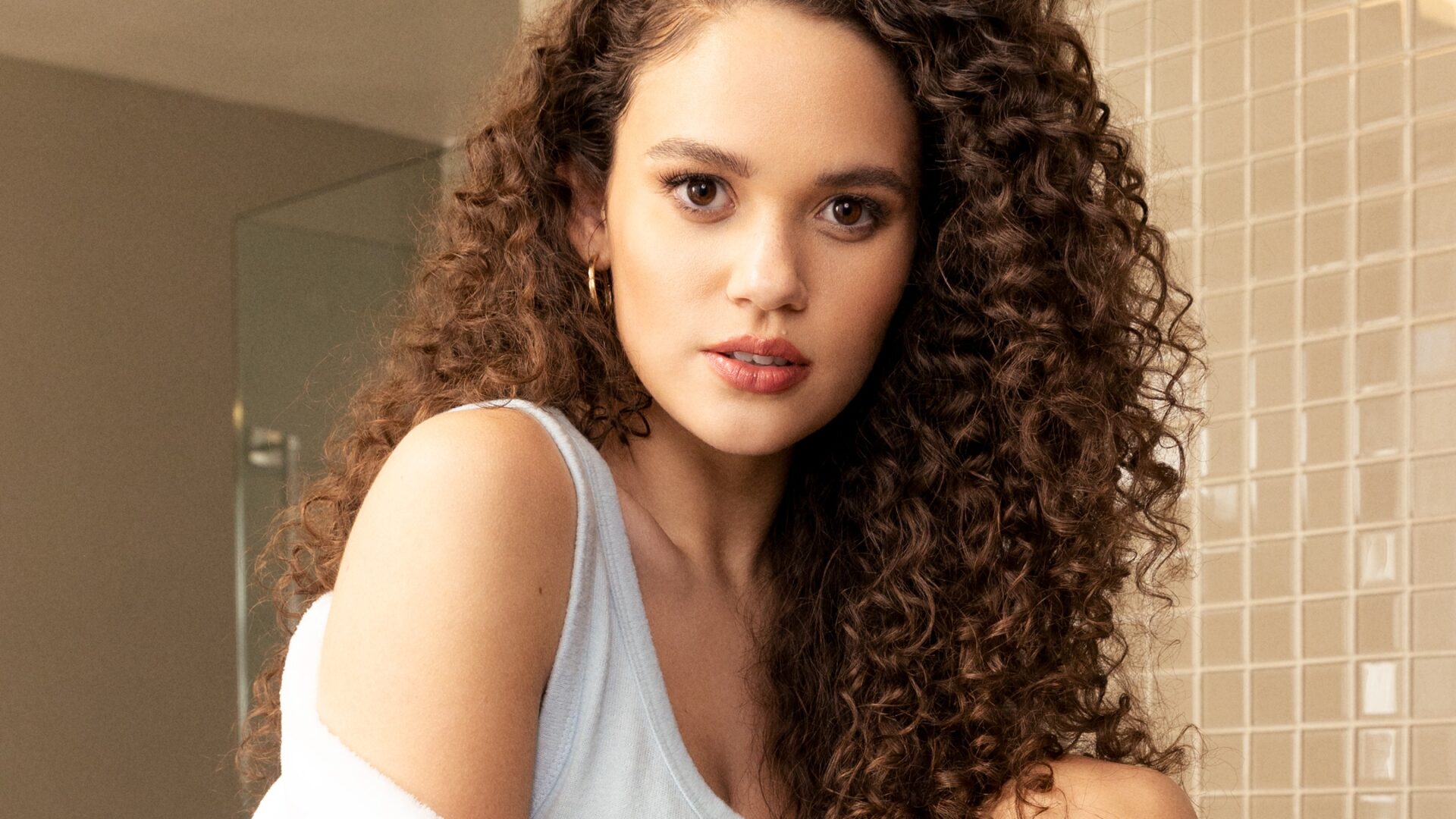 Madison Pettis Uses This Non-Toxic Skincare Brand For Her Sensitive, Acne-Prone Skin
Pettis, alongside Diego Tinoco and Samantha Logan, stars in the brand's new 'What's On Your Face' campaign
Ever wonder how Madison Pettis maintain a flawless, airbrush face throughout the years? Like seriously, her skin has been poppin' since her days on Cory In The House. Now, as a 23-year-old actress, influencer, and Savage x FENTY brand ambassador, her face is front and center on camera and the girls are always wondering how she maintains such a youthful glow. One word – Bubble.
Well, the answer is Bubble, a relatively new skincare brand geared toward Gen Z. Bubble's products are all non-toxic, fragrance-free, and developed with dermatologists. Did we mention that every product is $20 or less? Just a few weeks ago, Bubble launched its first-of-its-kind Vitamin C and Niacinamide Serum, specifically formulated for young, sensitive skin as part of the brand's "What's On Your Face" campaign created to spark conversations about what's on your face – literally and figuratively.
The American Pie: Girls' Rules star admitted to being a fan of the brand for some time now, so when Bubble approached her to be part of their new "What's On Your Face" campaign with CW's All-American actress Samantha Logan and On My Block star Diego Tinoco, she thought that the opportunity was right up her alley. "I think the What's On Your Face campaign is so interesting because everything that we do ends up showing up on our skin," Pettis told Girls United as she began to describe her personal experience with skin maintenance. "If I'm happy, my skin glows; if I'm stressed, I break out. It's important to know what causes your skin to do the things it does, and to know how to take care of it with great products like Bubble."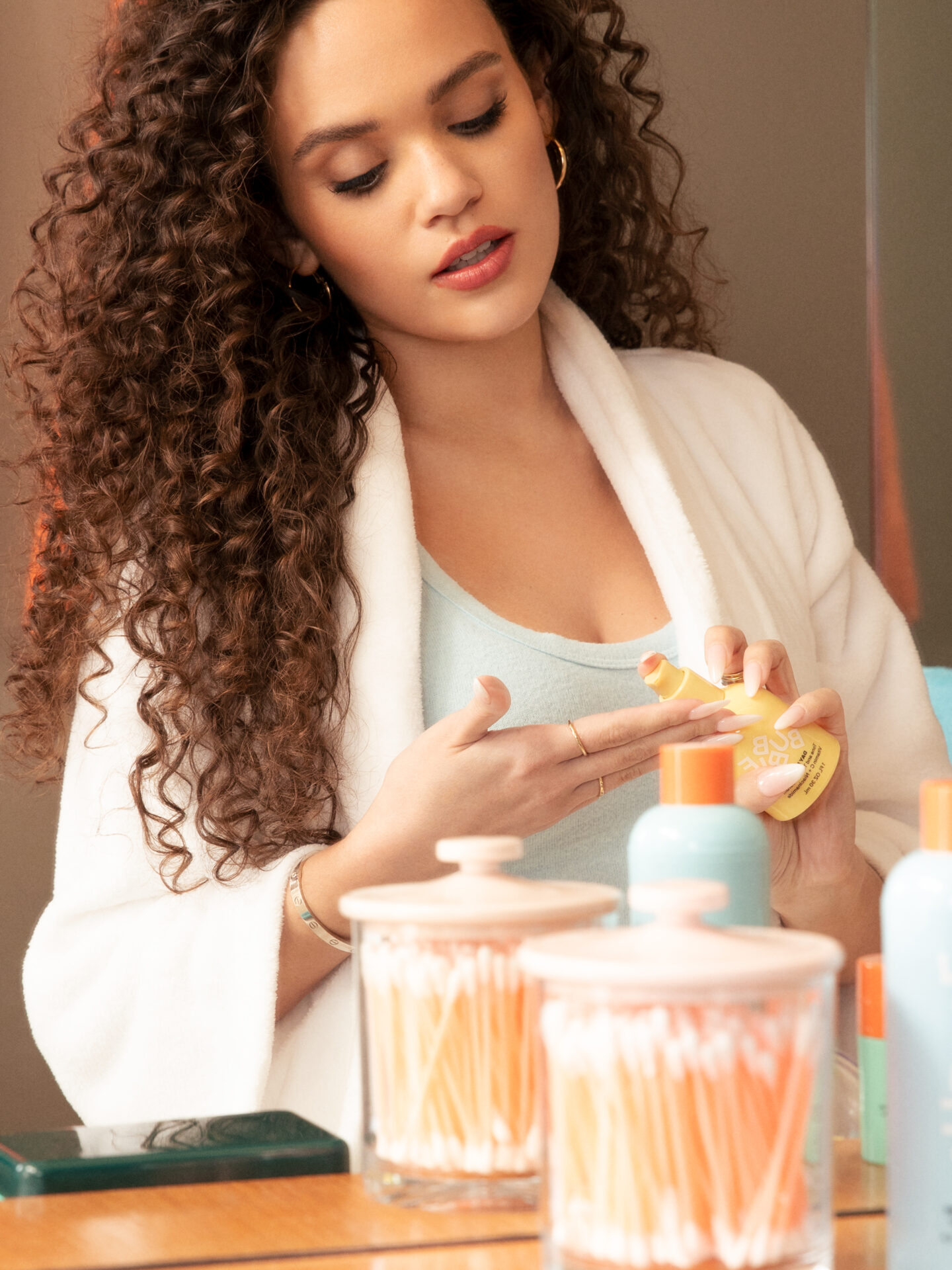 Similar to Pettis, Logan praises the brand for its minimalistic, non-toxic approach to beauty and skincare and was first introduced to Bubble last summer through a friend. As the newly announced face of the Bubble brand, Logan takes pride in her advocacy for clean beauty and promoting skincare as a way to celebrate mental wellness. "That is something I am personally very passionate about, so I loved how this new Gen Z skincare brand was ensuring that our generation was getting accessible skincare at an affordable price, but was also being educated properly on skincare and also being given mental health resources. So when the opportunity arose to be one of the faces of the brand, it was something I was over the moon excited about and felt like a really organic fit," Logan added.
For Tinoco, who starts his day with meditation, a hot shower, and Bubble's Fresh Start Gel Cleanser, showing young men in and out of the industry the importance of skincare as self-care is a prioritization. "Growing up, I struggled with Vitiligo so my relationship with skin [and] skincare was different. I used to cover it up [by] wearing long sleeves and just shying away from anything skin-related," Tinoco revealed to Girls United. "As I have grown up, I've definitely gotten more confident and have learned to really take care of my skin and incorporate it as part of my daily routine. It's a reason why I am so happy to be partnering with Bubble, so I can show other young men taking care of your skin can be cool." He continued to share that young men don't have to have a skincare routine with "anything crazy" and even further recommends Bubble for its all-gender marketing and routine simplification.
He continued to admit to GU that long days on set take a toll on his skincare routine, making it a bit more difficult to maintain a clear face between long filming days and junk food craft tables. Between takes, Tinoco swears by the Bubble Bounce Back Refreshing Toner, which he says is "super refreshing." Just like Tinoco, Logan admitted to suffering from long hours of wearing makeup on the set of All-American, in addition to other personal obligations she has to tend to throughout the day. "Everything you do really does end up on your face, and I feel that on a personal level too," Logan added. "There are long days when I am shooting All American and then I'm wearing makeup, out in the Los Angeles heat, I'm stressed and I can tell my skin takes a toll."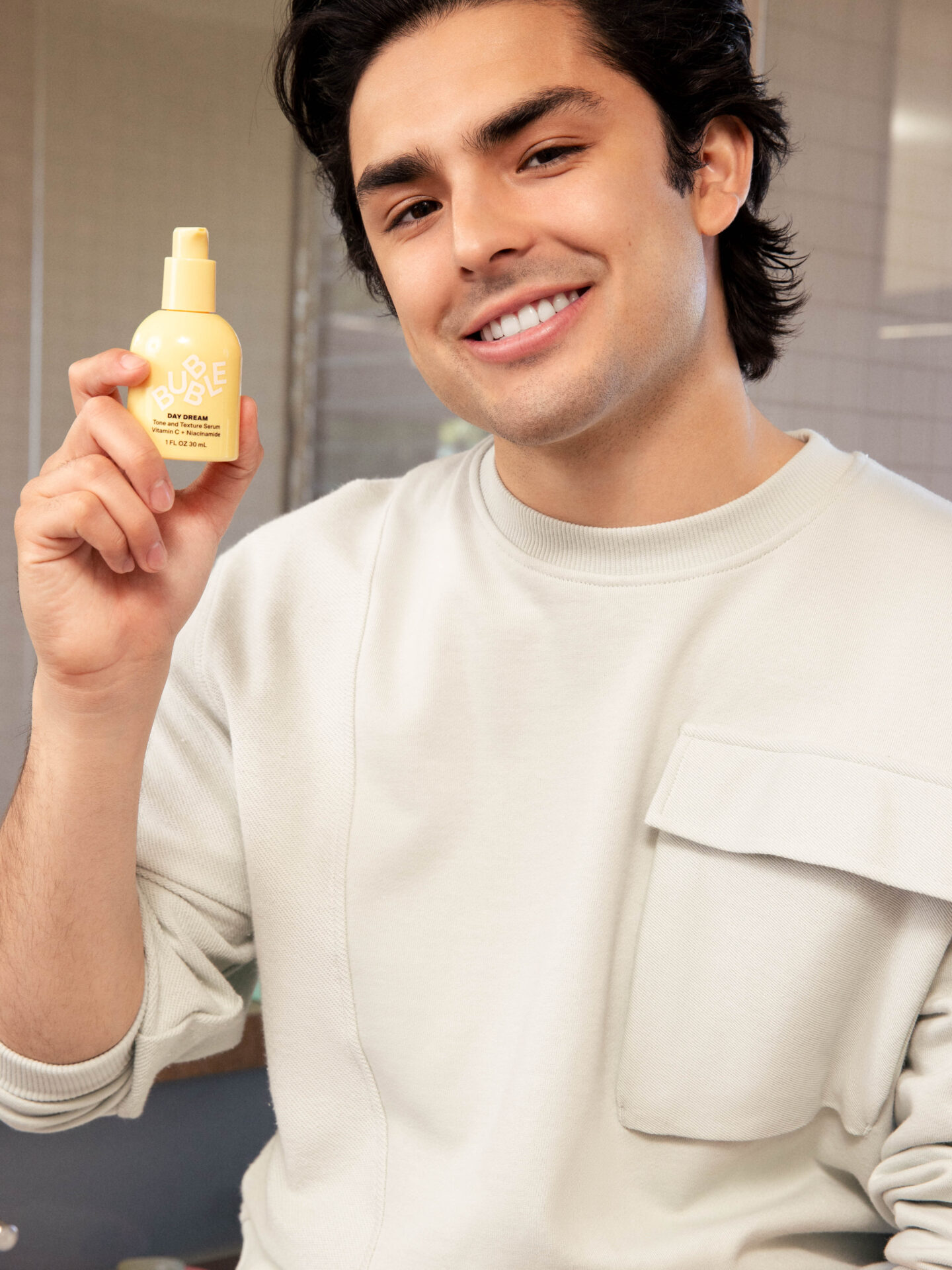 Thankfully, Logan relies on Bubble, not only for her fave Bubble DayDream Tone and Texture Serum and Wipe Out Makeup Remover, but for their candid conversations with all genders and generations about how what mental health impacts your skin and why it's important to "let everyone know it's okay to not have perfect skin [because] it's something we all go through." The 25-year-old actress also told Girls United about the importance of having skincare conversations with Generation Z beyond what's trending on TikTok.
"It's an amazing form of self-love and self-care that creates time just for them. Brands like Bubble make it so easy for Gen Zers to create a really simple yet effective skincare routine using simple, non-toxic ingredients and formulations created for sensitive skin with dermatologists – and everything is under $20, so it's accessible and affordable," she added excitedly.
"Everything you do ends up on your face and it's such a simple lesson that took me a while to truly understand," Pettis chimed in. "Mistakes you make with your skin when you're young can last so long, like picking at your skin, getting too much sun exposure, etc. From late nights, to wearing heavy makeup, to everyday stress, you don't realize how all of that is affecting your skin and how it affects it as you grow up. If you take care of your skin now, you'll thank yourself later!"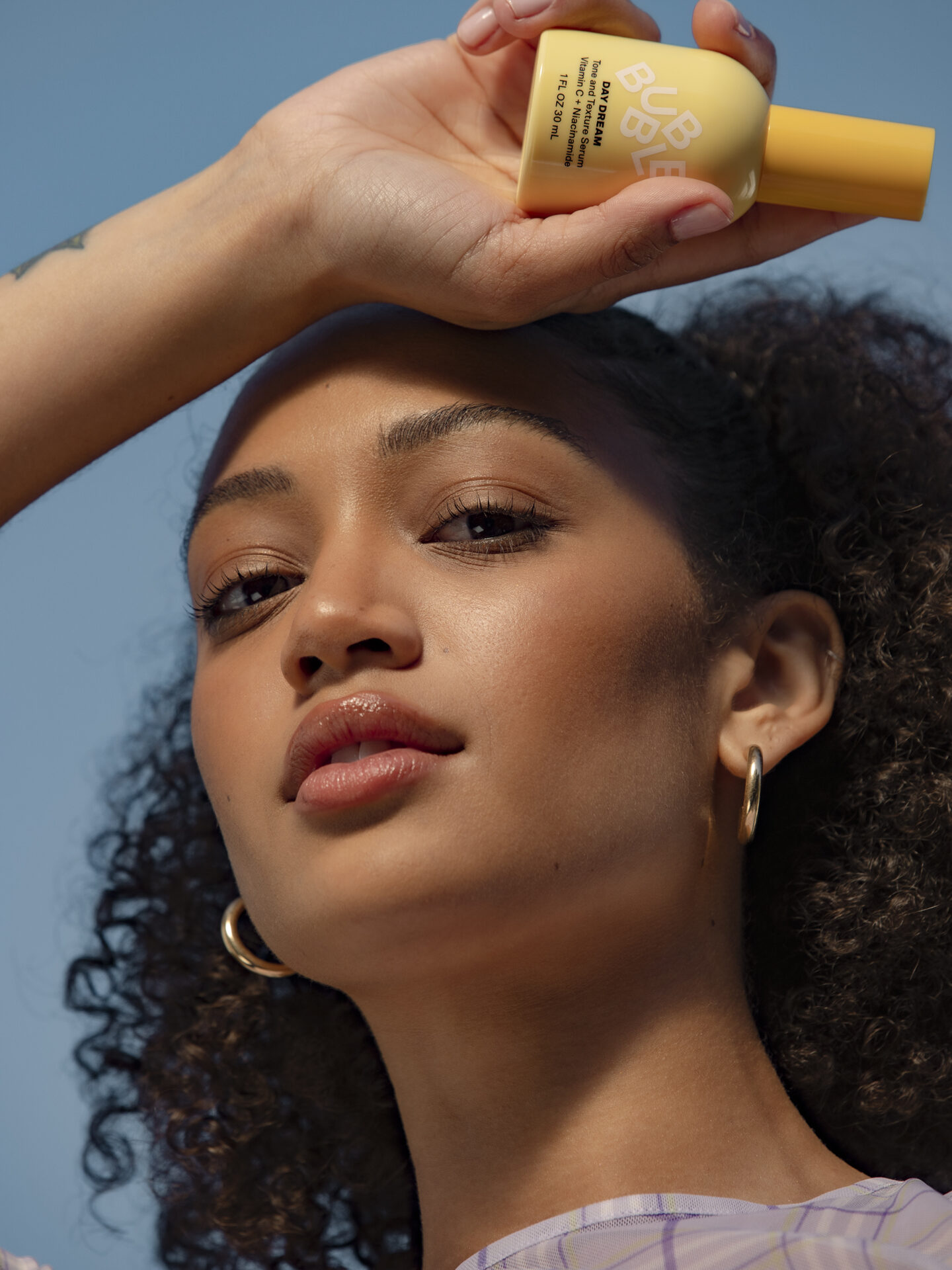 When asked by Girls United about how her skincare routine has evolved over the years, Pettis confided in Girls United about her skin type and her secrets to skincare maintenance. "I have combination skin, it's also really sensitive and acne prone, so I've always had a hard time figuring out which products are right for me," the Life with Boys actress said. "I've seen some people do skincare routines that are like 10 steps long and it seems so fun, but I've learned with my skin that less is more." What she adores the most about her own skincare routine is that it's simple, quick, and gets the job done with minimal steps.
"I love using the Fresh Start Gel Cleanser, followed by the new Bubble Day Dream Tone and Texture Serum, and always follow with a moisturizer," The Game Plan actress urged readers. "They don't irritate my skin and they're all vegan, cruelty-free, non-toxic, and created with dermatologists, so I feel great about using them."
Pettis, who recently starred in Netflix's She's All That with Addison Rae, shared that skincare plays a "huge role" in her self-love practices, especially when it comes to winding down at night. Pettis even gave Girls United a glimpse into her nighttime skincare routine and her definition of what it means to relax. "Every night I play some music and unwind while I take off my makeup and do my nighttime routine," she said. As a self-proclaimed 'less-is-more person,' the Texas native gravitates towards Bubble for its minimalistic, clean products, including the Bubble Come Clean Clay Mask which she uses "to take the day off and detoxify my skin."
Photo Credit: Bubble/Marina Maher Communications