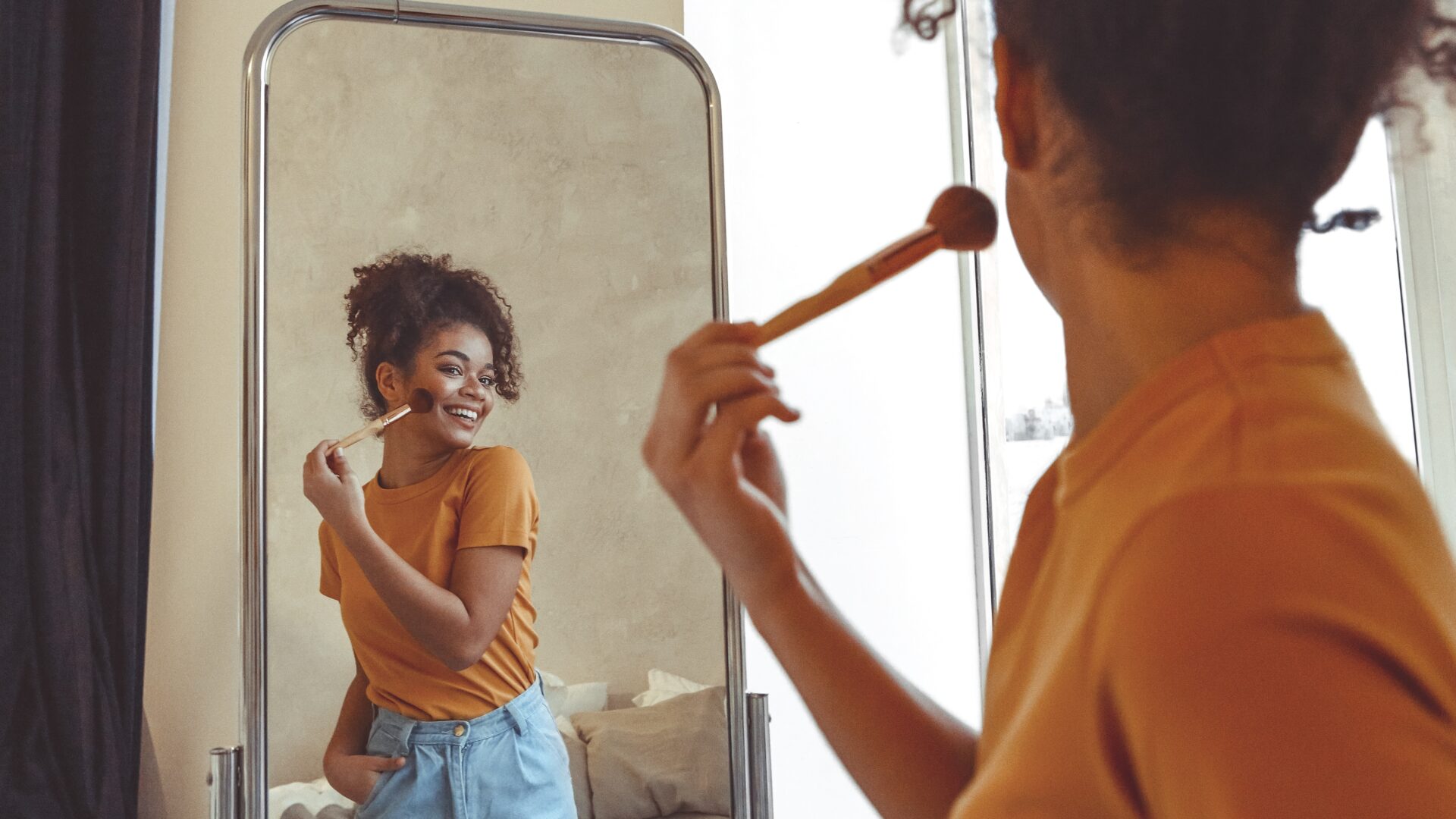 Why Gen Z Is Obsessed With Minimalistic Beauty Trends
Spoiler alert: gorgeous gorgeous girls don't always over-blush!
Remember the days when caking on pounds of blush, foundation, and bold brows was all the rage? Now they're a thing of the past thanks to minimalistic beauty trends sweeping social media. These days, all you need is a swipe of balm blush on your cheeks, the flick of a brow gel, and a tinted moisturizer with skincare ingredients to achieve the perfect "no makeup, makeup" look. Gen Z has completely turned the beauty industry on its head by embracing dewy makeup as opposed to the soft glam, powdered-down matte finish while enhancing their natural features with pops of color on the eye or a peachy nude lip.
"Minimalist beauty is a simple, yet elegant makeup look that allows your natural features to shine. The look is achieved by using only a few cosmetic products," explained Diamond Hannah, MERIT Beauty's Director of Product Development. She continued to explain how during the peak of COVID-19 and the normalization of working from home culture, people wanted to establish a shortcut to looking flawless in fifteen for their ZOOM meetings. Thus, minimalist beauty took off. "The trend began after consumers were tired of being burdened with 10-step skincare and makeup routines that took hours to complete. So many products were needed to achieve a 'natural makeup look' product fatigue set in, and consumers desired a more streamlined makeup application process."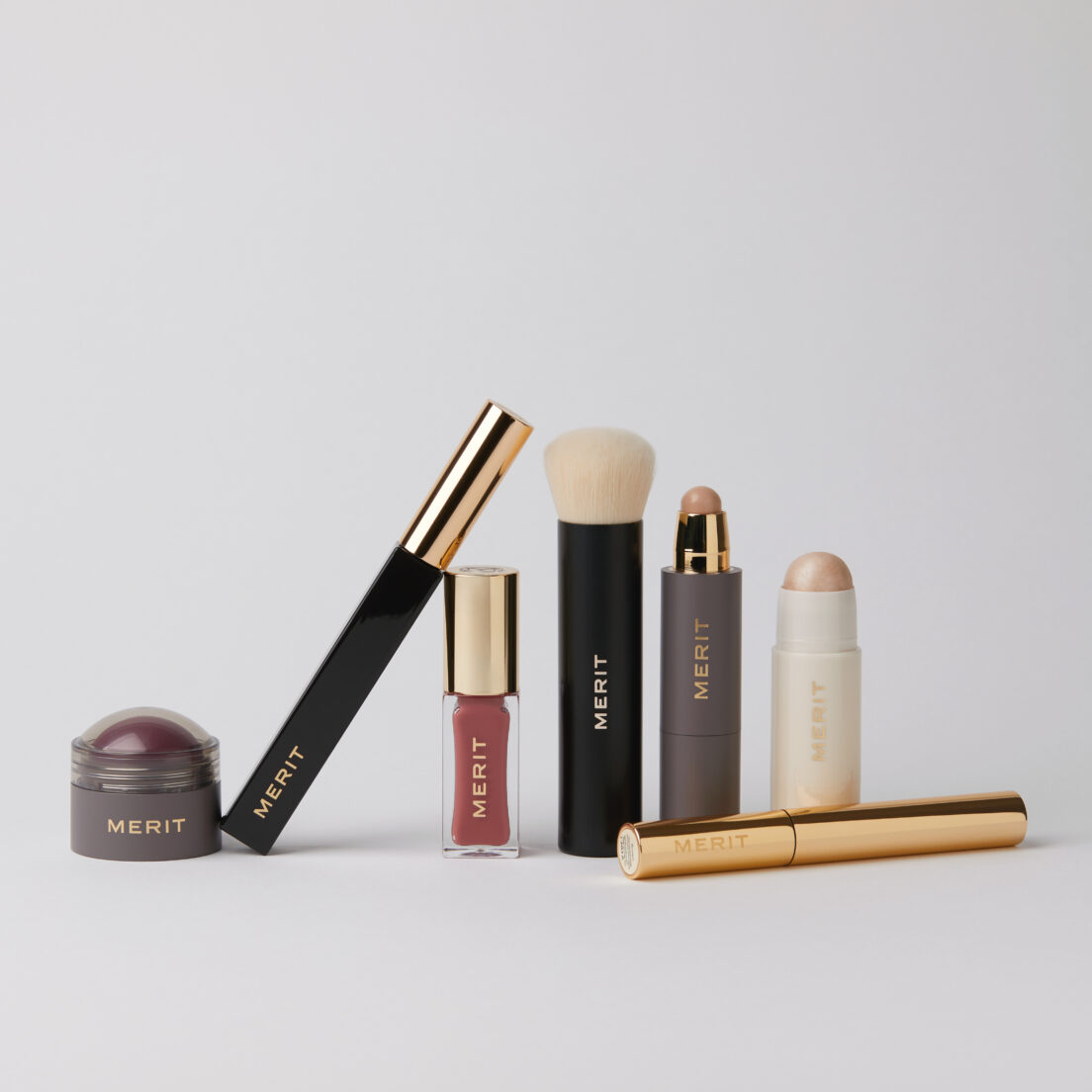 MERIT Beauty, which was created to reimagine luxury beauty by making it holistic, well-edited, and accessible, includes just enough products for the minimalist at heart. "The products that create a minimalist beauty look are blush, lip gloss, brow product, mascara, and a complexion item," Hannah continued to share about the ideal minimalist routine. "MERIT Beauty's Flush Balm, Shade Slick, Brow 1980, Clean Lash, and The Minimalist Perfecting Complexion Stick are all items that can help one achieve a 5-minute minimalist beauty look. Inclusivity is extremely important to us, so you're sure to find shades that match your skin beautifully." Starting at $24, the collection includes the Brow 1980 Volumizing Pomade Gel, the dewy Day Glow Highlighting Balm which can also double as eyeshadow, and The Minimalist Complexion Stick for both concealer and foundation.
"The beauty of a minimalist glam look is that it accentuates and enhances your natural features instead of covering them up. Your uniqueness is able to shine while you simultaneously feel beautiful in your skin. There's only one you and a minimalist beauty look brings you to the forefront instead of your makeup," Hannah told Girls United passionately. As demonstrated in a TikTok video from MERIT's account, author LaTonya Yvette achieves her daytime glow with as little as three products – lipstick, brow gel, and blush. While still having her beautiful melanated glow, Yvette accomplishes the perfect minimalist beauty look that'll send all the beauty influencers to their draws to purge their products.
When asked why she believes minimalistic beauty trends are trending amongst Gen-Z'ers, Hannah praised them for embracing their imperfections rather than hiding them under pounds of makeup. "The younger generation is focused on embracing who you are and what makes you unique. With this in the forefront of many young people's minds, it makes sense that a 'more minimalist/no-makeup makeup' look would be popular as it allows you to celebrate your features instead of covering them," she noted.
"For young Black women the beauty of embracing our features is that we reclaim control of how we're seen in the world," Hannah said about the beauty of young Black women embracing our features in the beauty industry. "Our features are unique to us and when we wear makeup that accentuates these features, we show ourselves and others how much we love who we are."
Photo Credit: Dasha Petrenko / EyeEm