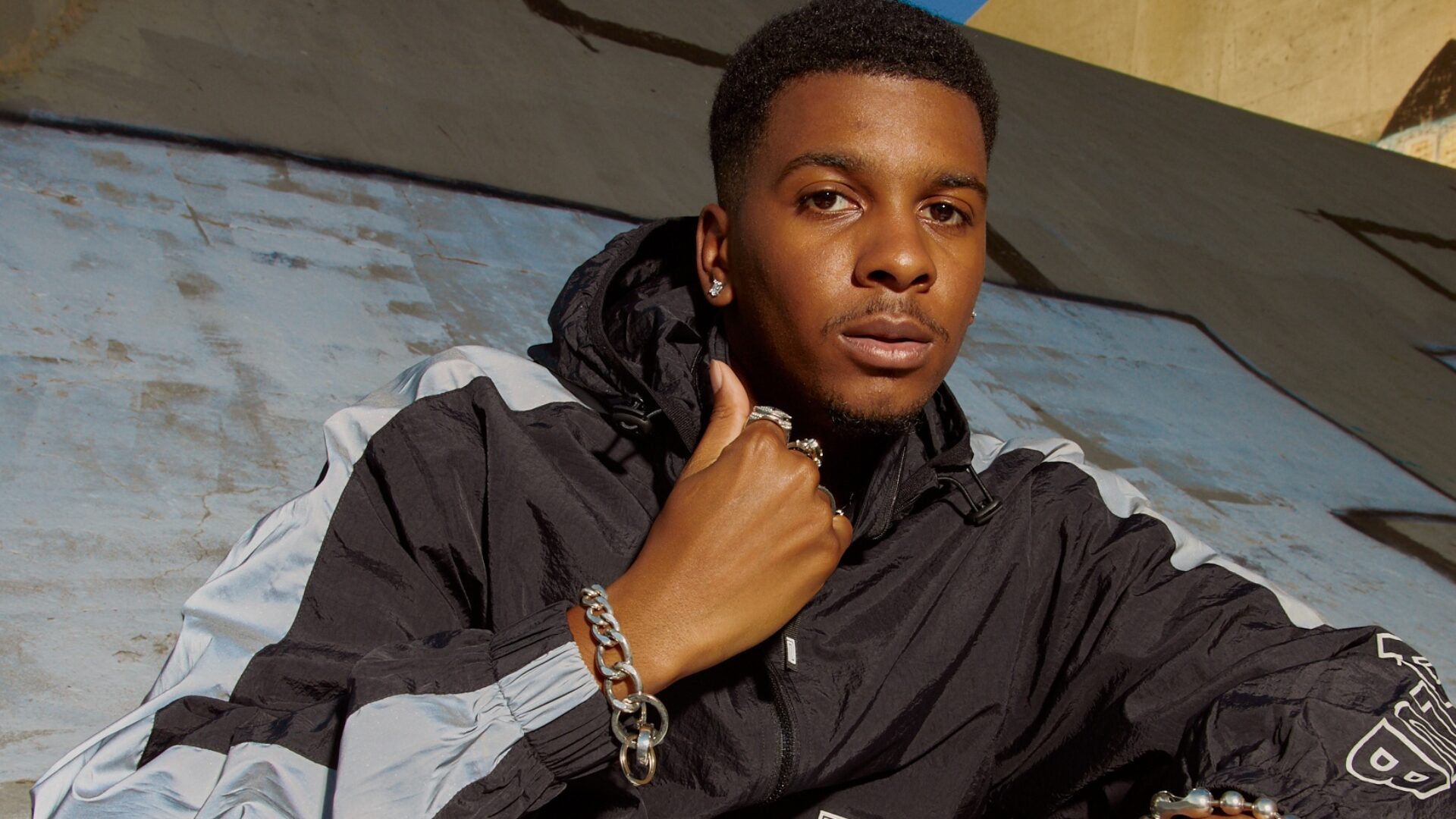 'On My Block's Brett Gray Talks Music And Mental Health
The actor and musician plays 'On My Block' character Jamal Turner for four seasons straight.
With On My Block in its final season, it's time for fans to say goodbye to the kids of Freeridge that we've grown to love so much over the past five years. Fictional teens Ruby, Monse, Cesar, Jamal, and Jasmine navigate through their teenage years in an inner-city of California while maturing in areas of school life, relationships, friendships, family, and more. For Jamal Turner's character, as played by actor and musician Brett Gray, his childlike nature and determination to find the Roller World money brings comic relief to the On My Block cast and keeps viewers engaged from beginning to end in every season.
Before he became one Netflix's most hilarious strong Black leads, Brett Gray was a hungry teen straight out of Philadelphia striving for excellence in entertainment. Gray is a proud theatre major alumna from the Philadelphia High School for the Creative and Performing Arts, but even before then knew the power that Philly had in the arts arena. Gray said, "I've always been very deeply involved in arts in Philly." He had always found himself in Philadelphia's New Freedom Theatre, which he called the "Black place to go when you want to be excellent in the performing arts as a young kid."
"Aside from all the things that Philly is, it is an incredible incubator of artists and music. It's the birthplace, in my opinion, of soul music, Neo-soul music, and spoken word. All of these incredible ways of expressing the adversity of our city, and how we sort of bring that with us in our own artwork," he told Girls United. "I was born and bred in Philadelphia. Nobody else in my family is an artist except me. It was always me on this personal pursuit, finding the culture of artists in Philadelphia. I was always in the New Freedom Theatre was the black place you go when you want to be excellent in the performing arts as a young kid.
When asked how his On My Block experience has played a role in his personal growth, Gray took a pause to reflect before giving his answer to Girls United. He described the past five years as "an honor and a privilege" to be part of as he embarked on this journey with castmates including Sierra Capri (Monse), Diego Tinoco (Cesar), Jason Genao (Ruby), and Jessica Marie Garcia (Jasmine). "It definitely showed me the multifacetedness of the young Black male, and how actually little of that is being told in our media today. There aren't many figures for young Black men in any neighborhood, or block to really look up to, and have that sort of feeling that they're represented on all fronts," Gray explained.
Tap in for our exclusive interview with 'On My Block' star Sierra Capri about the final season!
Following the premiere of the fourth and final season, Girls United caught up with the 25-year-old On My Block star about how he got started on the Netflix original series, his budding music career, and what he loves the most about Jamal's character.
Girls United: Who is Brett Gray?
Brett Gray: I want to preface that question by saying that before I talk about who is Brett Gray, it's so important for people to see that it can appear to be an industry of plastic people that we only get to see behind the screen and on-screen as these characters. I am definitely not that person. I am definitely the person that was watching from a real home and ended up here. There's more of a journey a part of it than a lot of people in Hollywood are used to talking about.
Brett Gray is a young Black man from Philly who never thought that this would all be possible in any way. I've been acting, singing, and dancing since I was a young kid. That was always the weirder thing to do, and not the thing people thought was cool or dope in any way. I never thought that real people actually could get on to television and play characters. Brett Gray, honestly at the basis is a dreamer, somebody who dreams very big, and comes from a place that is very small.
GU: When it came to your On My Block audition process, how supportive was your family, seeing as though you're the only artist in your family?
Gray: My family is the most supportive, and it's because of them that I get to, because so many people who even started with me have since stopped, or fell out of it, or things, because of their own life happens. I consider myself very lucky that I had lots of support, and tenacity, and audacity. I was crazy. There was no way, I was not going to stop until sort of I could achieve some of the things that I wanted to achieve. I was very lucky to have a very supportive family, because not everyone gets that, and not everyone who's made it to these incredible heights of success had that either.
GU: How did you know that On My Block was the project that you were like, "Oh my God, I have to be part of this"?
Gray: To be honest, I didn't. It chose me. At first, my agent called me, and was like, "Hey, here's this thing, but it's a comedy," and the world I come from is actually very opposite. The first thing I did on TV ever was Law and Order. All before that, I was in really dramatic ass theatrical moments. I had to do it, one, because it was a comedy, and I wanted to prove to myself that I could jump genres, do anything I wanted, and sort of test my versatility. The second thing was it was all teenagers of color.
I remember growing up, and having Miley Cyrus, Demi Lovato and all these people as our Disney [stars]. There was no Black guy. When this came around, by the time I got to the chemistry read, I was like, "I don't care what this character is; I'm going to get this character." Thankfully now there's a whole generation of young Black nerd guys who are lit, and see themselves, and are looking for their own treasures in their own lives.
GU: As you were talking, the only person that I could think of that was a Black guy that got even a bit of shine was Orlando Brown when he was on That's So Raven. He wasn't the protagonist. He was an amazing supporting actor, but he wasn't his own entity.
Gray: I tried to steal as many of those moments for myself as possible in On My Block.
GU: You were definitely a show-stealer. How do you believe that On My Block has really left an impact on Black people, indigenous people, people of color who watch?
Gray: I can't really put it into words. People actually come up to me on the streets, and in my DMs, and emails, or whatever way they can get in contact with me, and they really tell me how much it means to them to see these things. When we did a virtual fan event, and seeing them, and just hearing a thousand people scream on Zoom is… I mean these are people whose stories are not told.
There are young Black guys who aren't necessarily what we usually see in Hollywood. They are now having a portrayal of themselves. It gives them confidence and ferocity. The more that we can continue to do that for people who don't feel they have those stories told, the more people we will start to see like those people winning at things that they want because there's a representation of it. You have to see it to believe it. It's a part of how you call things to you.
GU: What is the significance of Jamal's character in On My Block?
Gray: I think Jamal is definitely the fun. That last level of when I watch Jamal's whole arc as a character to me is representative of that childlike innocence, and that dreamlike nature that I feel I have so much of in just myself as a person. That sort of fantasy and romanticism about life – that you can be the one to find treasures, be the one to win the lottery, build a rocket to space, or whatever. I think a lot of us, especially in our community, life can kind of shut that down for us. Jamal is that glimpse back into that world of maybe I can do everything I want, or anything I want.
GU: What were your feelings when you found out that this was the final season of On My Block, and what were your feelings on that last day of set?
Gray: I kind of knew it would be the last one. I kind of knew that they would wrap it up after four. Lots of Netflix shows don't go past four. I kind of knew that they were sort of wrapping it up. I think that it's awesome when you can know that you're wrapping something up, because then you can be intentional about how you're ending it. Kudos to the producers and things for wrapping it up. The last day on set it was again bittersweet. And not sweet, because, "Yes, we're done." But sweet, because, "Wow, we told a complete full thing, and we've had such a journey on here. And if it has to end in any way, we're glad that we were a part of this, and met all of each other, and got to tell these stories." I was super tired on the last day. I was ready to go home. And it still hasn't hit me yet that it's over. Because of course now it came out yesterday. It's just I don't know if I'll feel that it's over until I start the next thing. Yeah.
GU: How did channeling your energy into your music during quarantine serve as a coping mechanism for your mental health when the world was shutting down?
Gray: Well, you actually just hit the nail on the head. I have so much anxiety just as a person. I just can be tense just because I'm so excited, and I'm always thinking, and I live very much in my head. I'm actually much more comfortable when I have many outlets with which to get stuff out. And music I feel is a place where I can tell my own stories, and I can be in control of the narrative, and I can say exactly what's on my mind, in a way that is no filter, and sort of make it my own artistic expression. And I had to make music during the pandemic, because I would've otherwise… It was like when I wasn't making music, I was on Instagram Live. When I wasn't on Instagram Live, I was at work, or working on lines, or something, because I just need to be pouring some of this energy out somewhere else. It was the thing that got me through the pandemic, other than working.
GU: How do you hope to continue to grow as an artist?
Gray: I've definitely grown so much of an artist. Just becoming more proficient in literally the study and skill of music itself of course over time. But also with the sort of non giving fucks about what I'm saying, and how I'm saying it. I'm getting much more comfortable sort of just releasing phrases that I feel resonate with me, without thinking about what people will think, or say, or care. I'm very much losing the care for anything other than brutal honesty, and beauty in artistic excellence. Definitely grown there. And also in taking my time. I think before I was kind of trying to do a lot. And now it's again being intentional about okay what am I saying? Yeah.
I'm definitely going to release something very very soon. I don't even want to say how soon, because you just start entering stuff into the mix. But it's going to be very very soon. There's going to be some longer length projects, and some really incredible incredible music. Definitely in that way. And then also in acting. Right now, I'm looking for something that's completely the opposite of what we just saw. Just to continue to prove to just myself, but also to the world that Brett Gray is a name that's going to be here. It's not one of those things from those things. It's going to be here.
For the full interview between Brett Gray and associate editor D'Shonda Brown, watch the video at ESSENCE.com. For now, tune into Brett Gray's official "Easy On Me" music video below.
Photo Credit: Ally Green