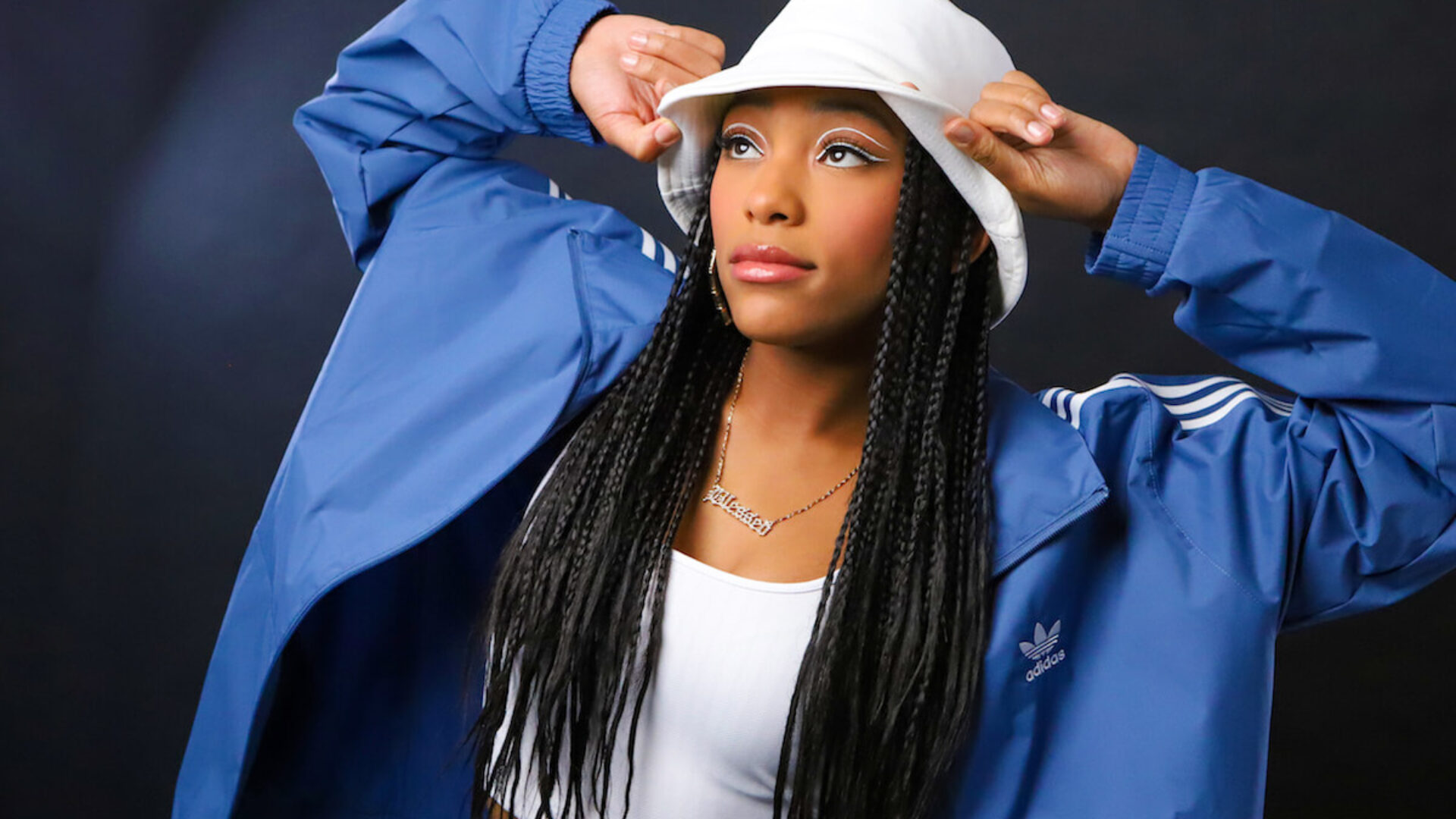 Actress Sydney Mikayla Is Juggling Scripts And Textbooks As A UCLA Freshman
The "General Hospital" star began college this fall.
"I just got housing roommate assignments today so I'm trying to figure that out a little bit," Sydney said to Girls United. She feels "scared and excited," along with "a good mix of just excited to see what's to come." This fall the actress will take on a new role—college freshman at University of California, Los Angeles.
With an interest in why society operates the way that it does, Sydney will be pursuing a major in sociology.
Sydney currently stars as Trina Robinson on the award-winning daytime television show General Hospital. Her acting skills had been developing for long before she stepped on the drama series' set. Sydney, who recently received her first Daytime Emmy nomination for Outstanding Younger Performer in a Drama Series, starred in Lifetime's The Gabby Douglas Story as the star gymnast at ten years old.
Ahead, check out what the General Hospital starlet had to say about joining the Emmy award-winning show, her fall plans for college, and what to expect from her acting career moving forward.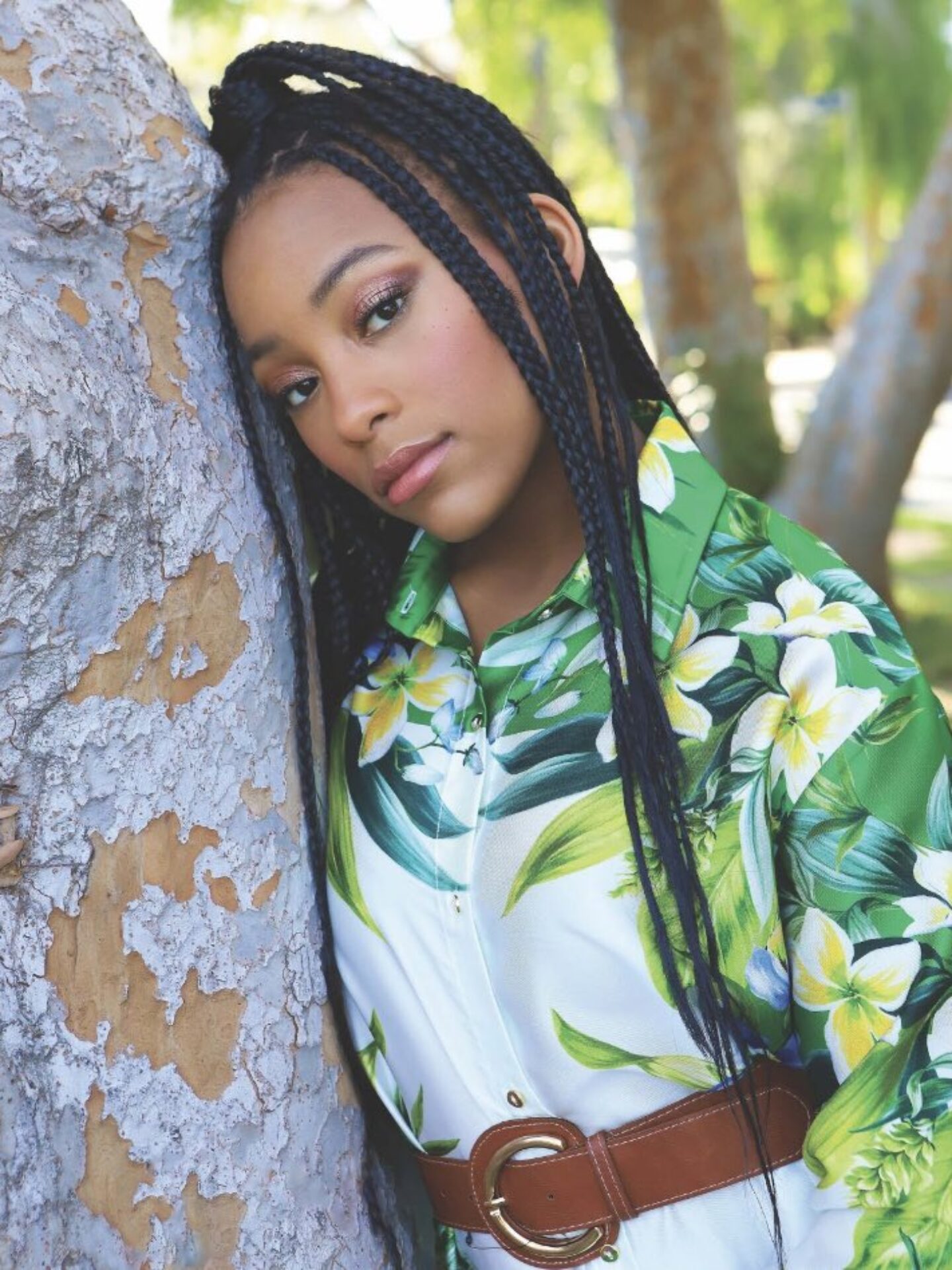 Twitter: @SydneyMikayla
On how she became interested in the entertainment industry:
My mom is actually a professional actress. She was in the original cast of The Lion King on Broadway, and she kind of brought me up in this whole entertainment industry world. I remember the first project I did was when I was five [years old]. I was in Yo Gabba Gabba!, which was my favorite show at the time, so that was very exciting for me.
When I was 10, I was able to play little Gabby in The Gabby Douglas Story. I remember working with Ms. Regina King, meeting Gabby Douglas, and being able to really be on a set and know what it was like to work so diligently with an amazing cast. It was from that point I realized that I really wanted to do this in my later life. Even though I'm not too old yet, I knew from there on that I really wanted to continue with it.
On the challenges of her role as Trina on 'General Hospital':
Growing up, especially as a Black girl, I didn't feel like there were a lot of dramatic acting roles for Black girls. I felt like most of the time I was playing like a quicky one-liner or I had some sassy line. I was usually the punchline of some sort bringing the comedy, which isn't necessarily a bad thing, but it definitely did get tiring after a while and I was really ready for a challenge. I think General Hospital came at the right time.
I really had a chance to explore my acting chops and really go into depth with this character, which I've been grateful to do. I'm so grateful to be able to create her to who I want to be while still carrying out the directors' and writers' visions. Hopefully, I represent Black girls on screen in a positive light. In general, all my projects have taught me to try to make the character true to myself. It's tough because I think a lot of projects have an idea of what they want or the character they're trying to create. It's my job to make the character more real so it never becomes a caricature of who I am or who my community is.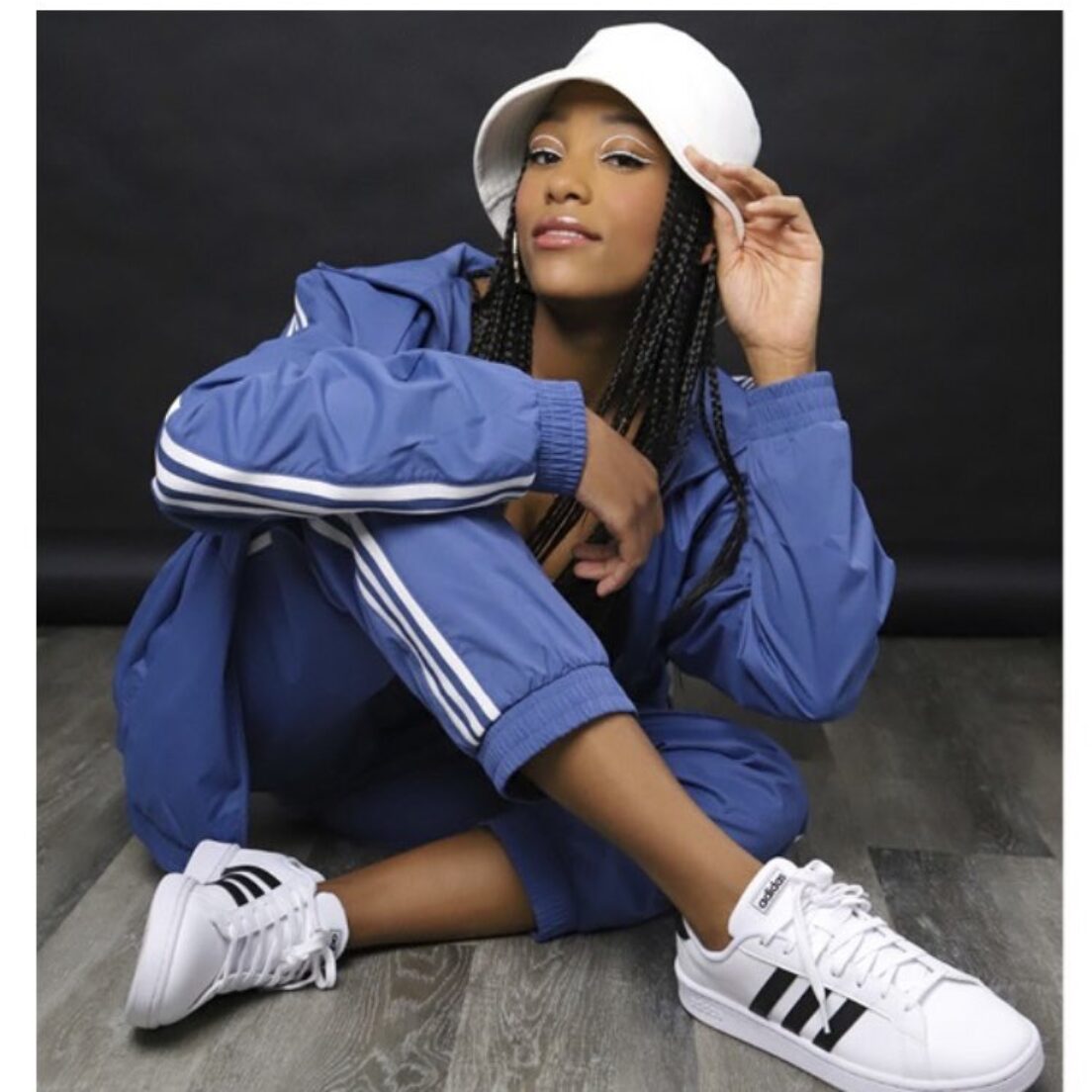 On the pressures of joining the award-winning 'General Hospital' cast:
Something I didn't know was that you do everything in one take on General Hospital. I remember doing my first scene, I said the lines and I thought I did pretty well. Then they said, 'Moving on,' and I was like, 'What?'
Being able to see other actors do that around me, even though it can be kind of daunting at first, really has inspired me. I think if I do continue to work on something else, as much as I do absolutely love General Hospital, I will definitely be ready because to use those chops, to go forth and be able to do anything in one take.
On how she relates to her character Trina:
I think we're both good friends. I think we're both loyal to the people we love, but we're a little different because Trina will press an issue. She is definitely a little bit more bold than I am. I'm a little bit more like, 'That's none of my business, I'll stay out of it,' but Trina will go right in and confront whoever needs to be confronted. She's had some interesting confrontations. She's confronted a robber, a known murderer in Port Charles — she does not care. She has no fear. I definitely should take a chapter out of her book because she's got guts.
Check out our exclusive interview with 'All That' reboot actress Aria Brooks.
On the future of her acting career and projects she hopes to work on:
I would love to do a Marvel series or movie. I'm a dancer, so I'm able to pick up fighting choreography and I think I could do really well. I would also love to do any August Wilson movie adaptation. I just love his work so much. I recently just read The Piano Lesson play that he wrote and all his work is so amazing. I love bringing theater on-screen and different audiences being able to see different pieces of work.
As exciting as it is to move into new work, I really think it's important that people are able to look back and see people that have made a way for us. August Wilson is a great example of a writer who has made a way for Black actors and actors in general. His writing is so profound. It's important to look back to look forward.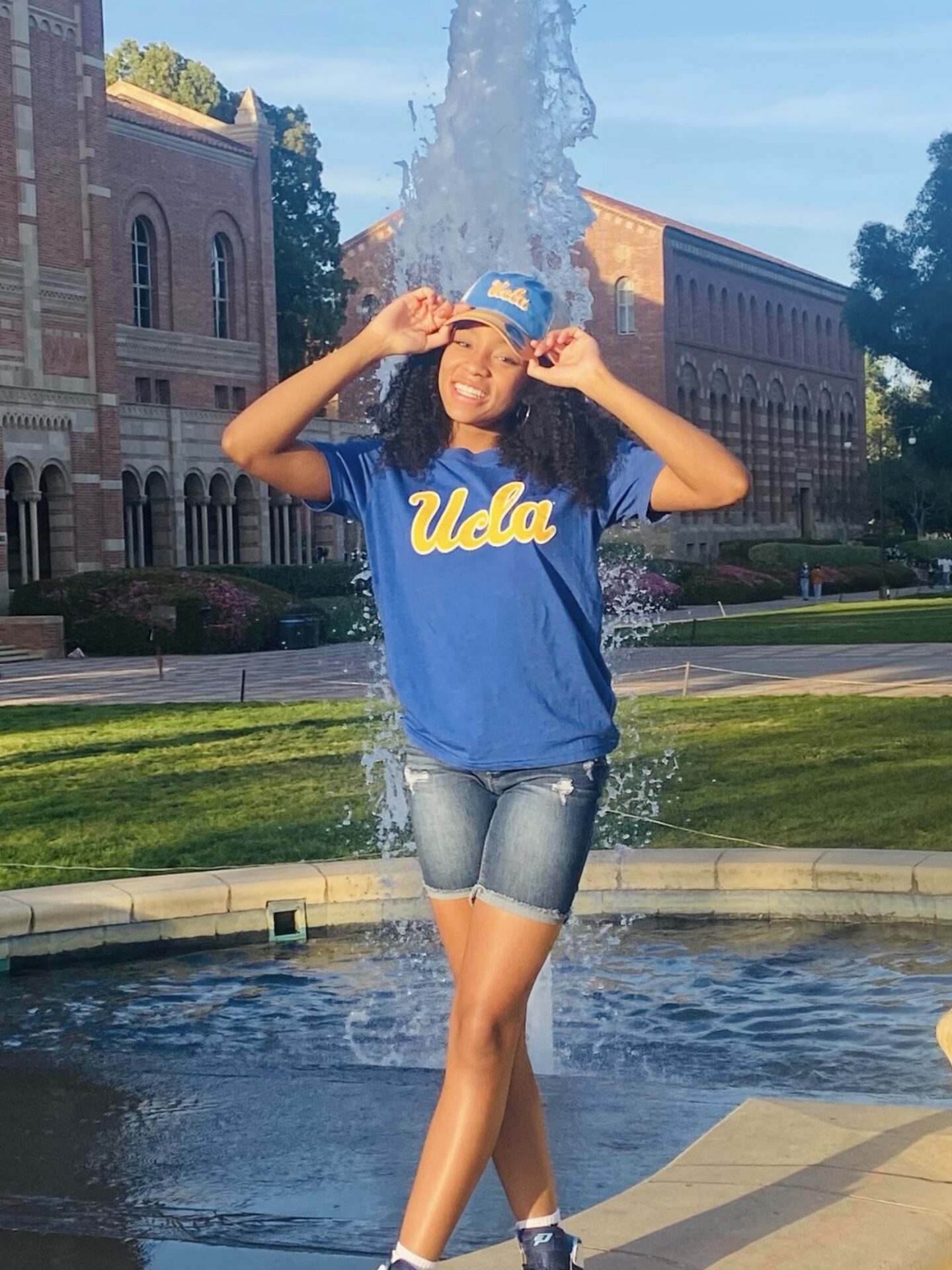 Twitter: @SydneyMikayla
On her decision to pursue college full-time at UCLA while balancing her acting career:
It's important to better yourself and be able to have a different outlook on life. I especially think as a Black woman, to be educated in America, people can always degrade who you are and will always try to take things away from you. We've seen that time and time again, but something people can never take away from you is your education, your degree, your experience, and your knowledge. I want to have that to be able to rely on, to be able to speak about. If anything, to make me more educated, knowledgeable and open me up to new perspectives of the world.
Check out our ESSENCE Girls United digital cover with UCLA's gymnastics team!
On getting into the swing of on-campus living in the middle of a pandemic:
I am extremely excited. UCLA requires vaccination. I know that doesn't make me 100% foolproof to not catch anything, but it does make me feel a lot safer. I know that the lectures are all going to be online so it's just the smaller classes that you get to go to. You start to be masked up, but you get to meet people in smaller groups, which I'm excited about because I know huge, large lectures might be a little daunting for me. Ultimately, I'm just excited to get out of the house. I really didn't have a senior year, so I'd say college has got to be a little bit of senior year. College has got to be all of it because we missed an experience, so college has got to be amazing.
On advice she'd give her younger self about balancing school and work:
I would tell my younger self to trust myself. I'm going to tell myself to trust my gut because I want to use the same thinking at UCLA. If a class isn't working or if I want to explore something, just go for it because there's really nothing to lose. I ended up doing independent schooling in high school and a lot of people were warning me against it, like, "Oh, it's going to be bad, don't do it," but it was interesting. I actually started independent schooling online a semester before COVID happened. It ended up being an amazing choice for me because I was still able to learn online. I didn't have to do these super long Zooms and everything like that. I really made the best choice for me to be able to learn.
Photo Credit: Tim Schaeffer Photography