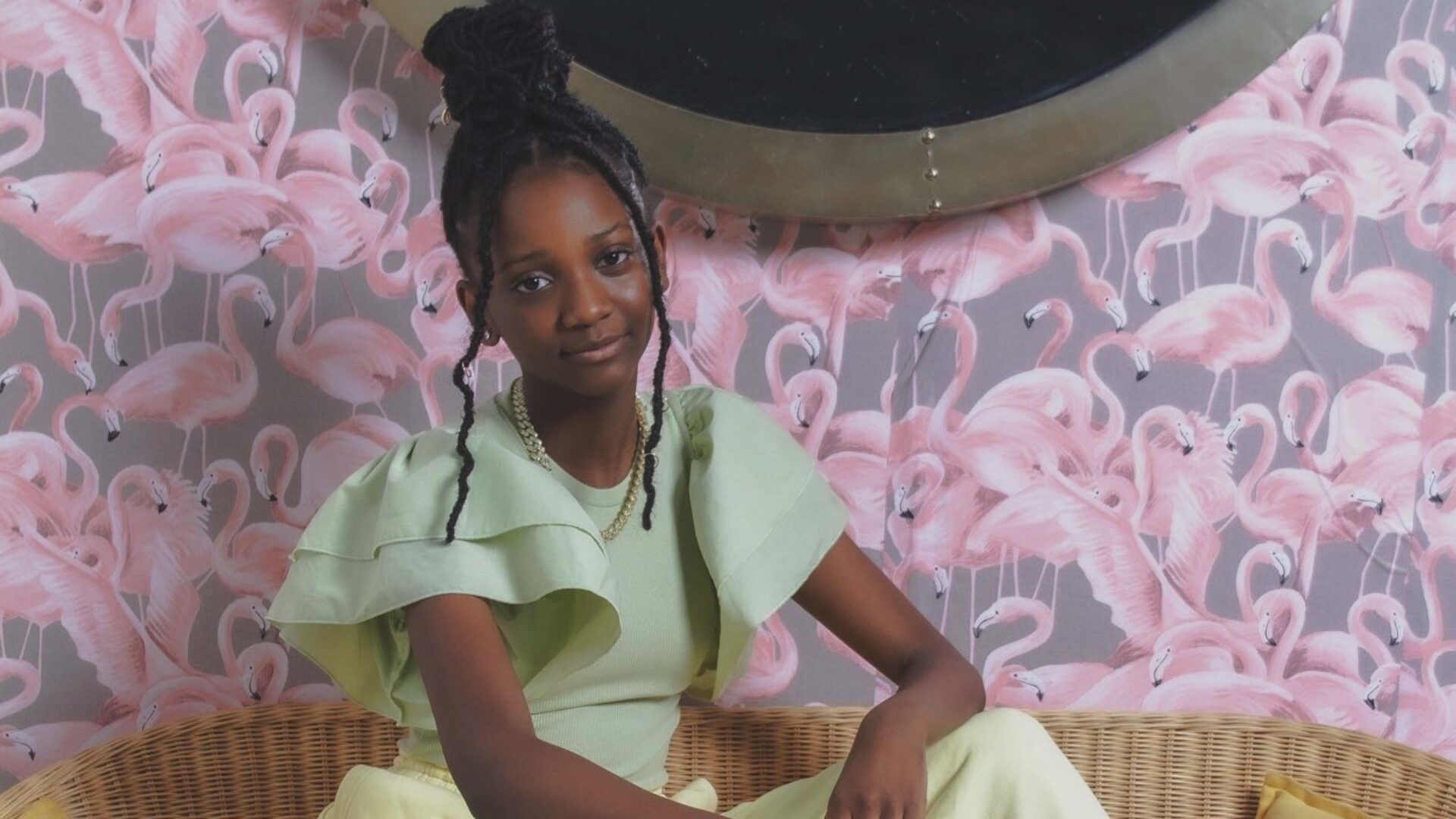 Here's Why Aria Brooks Is 'All That' And More!
GU spoke with the 14-year-old actress about her role on the beloved children's show.
At only 14-years-old, singer-songwriter Aria Brooks has proven herself to be all that and then some. Best known for her leading role in the reboot of the popular Nickelodeon series All That, which stars original cast member Kel Mitchell from the original series, Brooks is not new to the spotlight. She previously starred in the award-winning film Harriet as Cynthia Erivo's niece, Anger, and was seen as Nola in the Netflix anthology series Dolly Parton's Heartstrings.
"First and foremost, I hope that I'm doing something that I love and that I'm enjoying. I hope my heart's always in it," Brooks told Girls United about her hopes for the future and longevity of her career. "Although there are going to be times where it's difficult and we're not always happy-go-lucky, I just want to make sure I'm always passionate about what I'm doing because if I'm not passionate about it, I don't feel like I should be doing it."
Check out our interview with Dad! Stop Embarrassing Me actress Kyla-Drew.
Girls United caught up with Brooks about her debut EP castles, her experience on Nickelodeon's All That reboot, and her passion for social justice and voter registration for Generation Z.
Girls United: What was the inspiration behind your debut EP, castles?
Aria Brooks: I grew up in a musical family; my mom and my dad, they're both music educators. I guess it's always been part of me, I guess and I've always been into it subconsciously, but the older I got, that's when I started wanting to take it seriously and do it professionally. I had been wanting to release an album or a project for years at this point and so I thought castles was perfect to be my debut because it was a good way to represent me and tell what I'm about and the things I stand for.
GU: Your latest single "twinnin'," is described as a deeply personal record that showcases mental health struggles and the challenges you face. Tell me more about "twinnin" and how your mental health journey ties into it.
Brooks: A big part of my personal mental health struggle came from feeling like I'm less than, and like I'm not being recognized or almost feeling invalidated. "twinnin'" was kind of about how basically everyone is doing the same things, wearing the same clothes, making the same kind of music, just because it's going to get them followers. It invalidates the people who don't do that kind of stuff. It invalidates the people who are truly musicians.
GU: You're a leading role on Nickelodeon's All That reboot. Did you ever watch the original All That, and what was it like being on this reboot of this popular throwback show?
Brooks: Before getting the job or the audition, I'd seen Good Burger, but I'd never seen a full episode of All That, although I'd heard of it. When I got the audition, I went through the old episodes and some of the new reboot episodes to kind of get an idea of what it was. Being on the reboot was a great experience and I enjoyed it. It was my first big role, like leading role in a TV series and as a series regular so that was a really big deal. I learned so much and I can't wait to take it on to new projects, shows and continue to implement that knowledge.
Read our interview with teen actress Bria Danielle Singleton from Netflix's 'Thunder Force' starring Octavia Spencer.
GU: You also have an Instagram Live show called Ask Aria where you interview fellow actors and people you admire. What inspired this show and who have been some of your favorite interviews so far?
Brooks: It was at the beginning of the pandemic at this point, maybe like a month or two in. In that first month or two, I was very chill and was like, "Okay, this is just a long spring break. I'll be fine and then I'll get back to work." When I realized this is ending no time soon, I was like, okay, let's do something for me to stay active with my followers and things to have something to look forward to while we're not doing anything.
I figured it'd be a good idea 'cause I feel like a lot of people could learn from the series. I got to interview people like Tabitha Brown and Kenan Thompson. I'm really glad I did it because I learned so much and it was a lot of fun.
GU: It's awesome that you're passionate about social justice issues and encouraging people to vote. Tell me about the time when you volunteered with When We All Vote at their Fuel The Vote voter registration event.
Brooks: Voting is one of the best ways we can use our voice to make and bring change. People think it's such a small thing, but every single vote counts. Volunteering with When We All Vote was very fun. I met some great people there that were also volunteering with me and it was very nice to get out and be active. Although I'm too young to vote right now and I can't wait till I can vote one day, I wanted to do something to help the voting process in some way.
Tap in to see our list of Generation Z power-playing activists including Yara Shahidi and Winter BreAnne!
GU: Tell me about the "14 till 14 challenge" that you created for your birthday, and why was it so important to you to create tasks to encourage people to commemorate important days?
Brooks: I didn't really know what I wanted for my birthday. There was nothing I really wanted more than anything so I wanted to raise some awareness about some of the things I'm passionate about. My mom and I came up with the idea together. I collected a bunch of things that I was super passionate about and looked up what the international holidays were on each of those days. I'm very glad I got to do it 'cause it raised awareness. I had people messaging me about doing those things and showing their results from the "14 till 14." I got to talk about the rights of people of color, LGBTQ+ youth, women and domestic violence, and things like that.
Part 1 of ARIA's debut EP castles is available now on all streaming platforms with Part 2 to follow in Fall/Winter 2021.
Photo Credit: Twitter/@TheArtOfPrime