Opinion: Naomi Osaka Doesn't Have To Engage With Racist Trolls
"I wish more Black women blocked trolls instead of giving them the ongoing acknowledgment they crave."
We've all seen it—some of us have done it too. A troll responds to a popular figure or an everyday person, that person then spend valuable time firing back. In the moment, it may feel great to slam dunk on someone who's coming for you. In reality though, how damaging is it to force yourself to read vitriol and engage with it?
On July 20, it was announced that tennis champion Naomi Osaka was one of the three cover stars for the latest issue of Sports Illustrated. In May 2021, she made headlines for prioritizing her mental health by forgoing the press at the French Open. She didn't want to deal with repetitive, doubt-inducing questions that critics told her were the price of being who she is. Since Osaka made the decision, but appeared on covers for Sports Illustrated and Vogue, Republican commentator Clay Travis tweeted, "Since saying she's too introverted to talk to the media after tennis matches, Naomi Osaka has launched a reality show, a Barbie, and now is on the cover of the SI swimsuit issue."
Megyn Kelly agreed, adding, "Let's not forget the cover of (& interview in) Vogue Japan and Time Mag!" May I just say that this is classic white punishment/antagonism for doing what suits our progression.
Read about how Rihanna made history on the cover of British Vogue here.
Osaka shot back, writing, "Seeing as you're a journalist I would've assumed you would take the time to research what the lead times are for magazines, if you did that you would've found out I shot all of my covers last year. Instead your first reaction is to hop on here and spew negativity, do better Megan."
She then allegedly blocked Kelly and deleted her response. You go girl.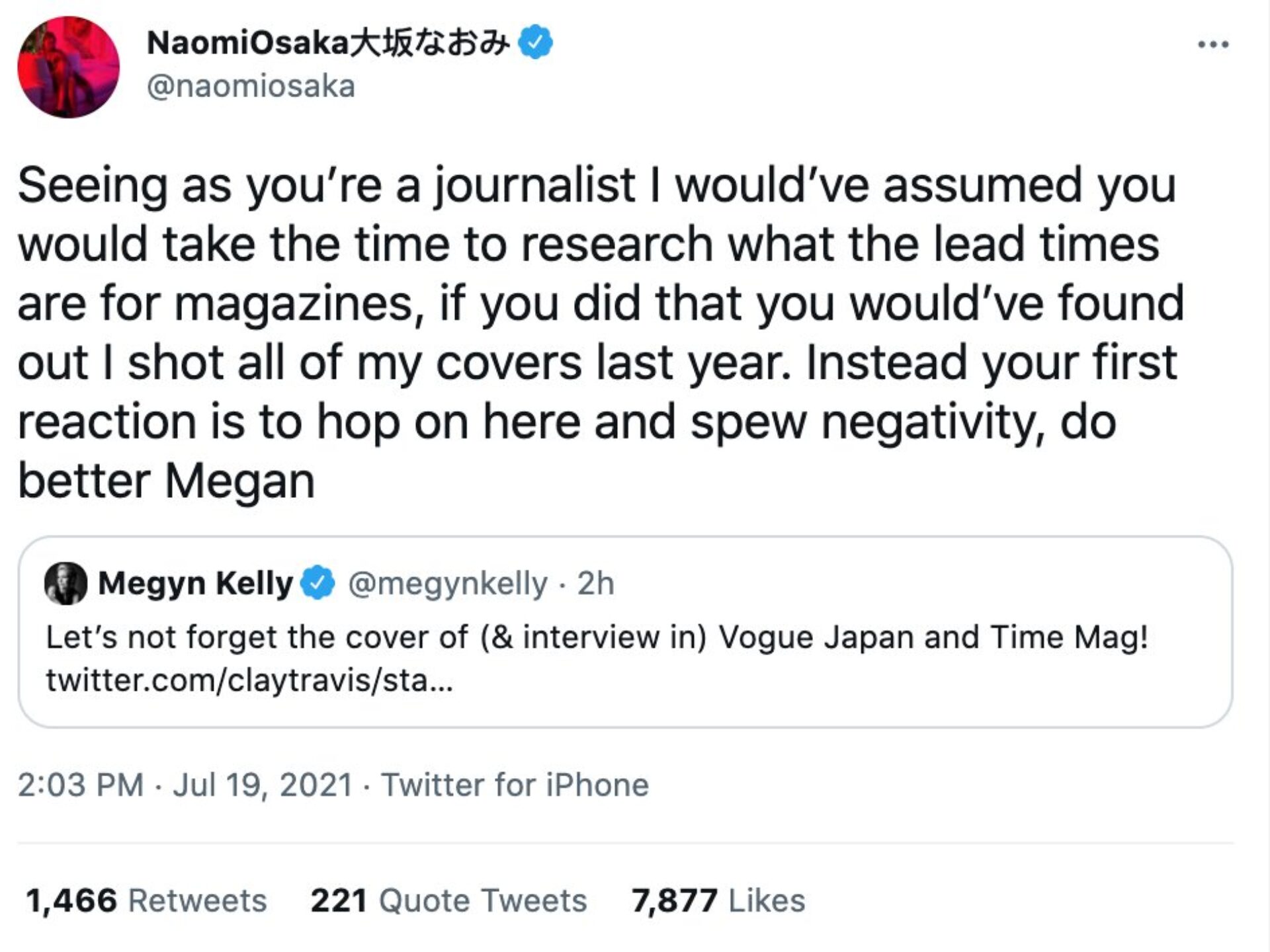 "[Osaka] blocked me while taking a shot at me (guess she's only tough on the courts). She is apparently arguing that she shot her many covers b/4 publicly claiming she was too socially anxious to deal w/press. Truth is she just doesn't like Qs she can't control. Admit it," Kelly wrote.
But here's the thing. Naomi Osaka doesn't ever have to respond to online hate and it's actually in her best interest to block it out. The Olympics are in a couple of days and she's set to appear. She has better things to do than play verbal tennis with those who have dipped more than a foot into the blackened, carnivorous pool of racism.
We're past the point of feeling the need to prove our idea of strength to racists for hours and hours. The retweets aren't worth it. They purposefully pretend to misunderstand the measures taken to protect mental health anyways, so why fight? We know when our gloves are needed.
Taking their insults isn't a marker of resilience that will ever be rewarded. It'll only open space for more hatred because they think we love their taunts and are obsessed with publicly proving them wrong.
I wish more Black women blocked trolls instead of giving them the ongoing acknowledgment they crave. They're almost like spoiled, attention-seekers who rally once they realize your concentration is on other tasks. Let them sit and writhe without you. Do greater things with your day, sis.
Photo credit: Getty Images / Tim Clayton – Corbis / Contributor