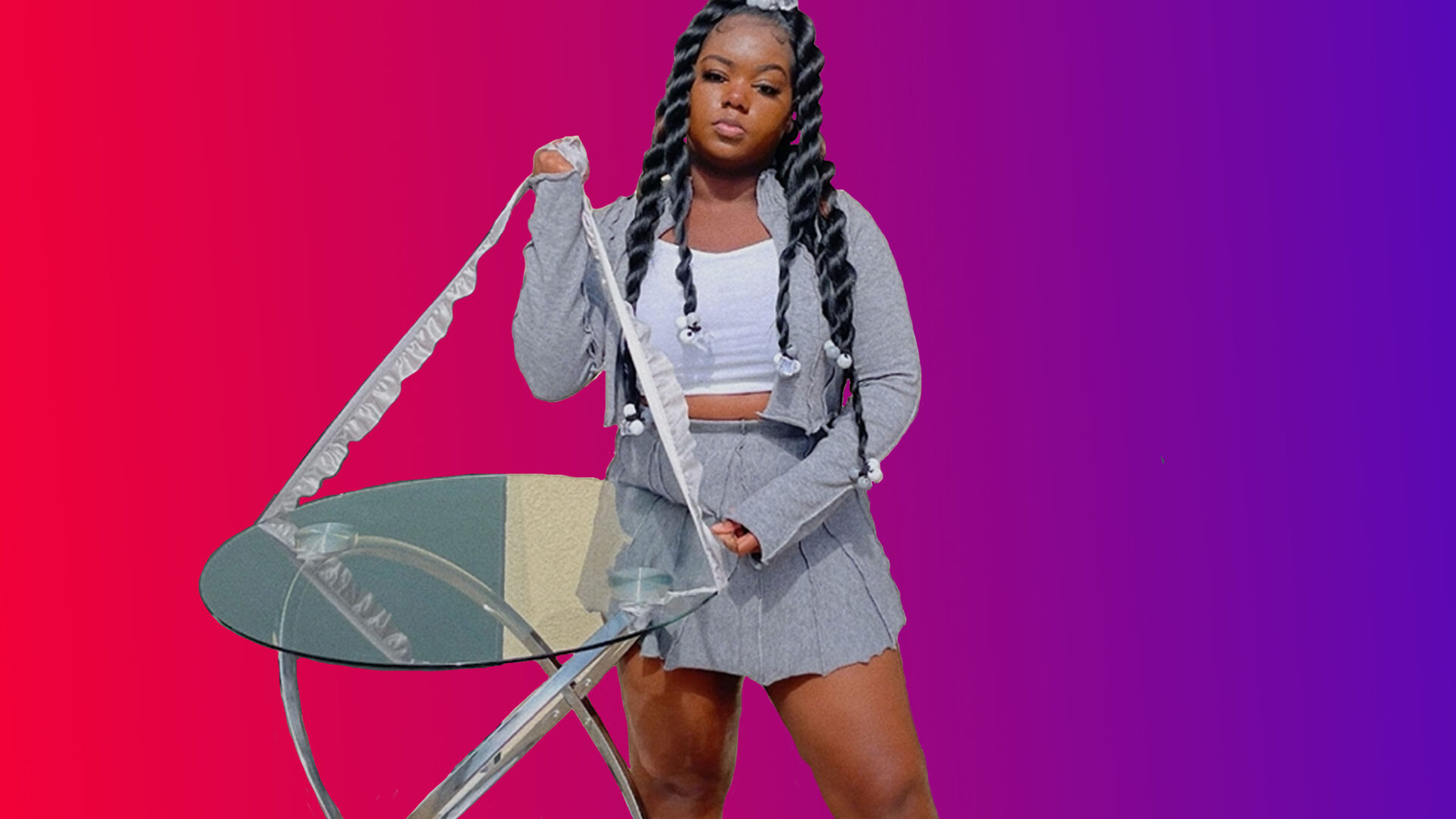 Jada Holmes Is Turning Everyday Objects Into Fashion Accessories
The 23-year-old blends her love of sneaker culture with eye-catching accents for a style all her own.
"I would have to say I've always been interested in fashion," Jada Holmes says at the start of our conversation. She then tells me the story of the exact moment that she fell in love with clothes. "When I was in the fifth grade, I needed, like this graduation ceremony type dress. My mother allowed me to finally be able to do dress myself. I picked like this extravagant dress and she was like, 'Are you sure you really want to wear that? This isn't a wedding, it's just a graduation ceremony.'"
Holmes' dress was a long, white gown with a large red rose. In case you didn't know, real accessories are her thing.
Under the name @AfroPuffJada, 23-year-old is building an online audience for her carefully curated, two piece outfits. The main event is objects from everyday life; a blinged out bottle of Hidden Valley Ranch, a glass table, a television, as an exaggerated, not always functional purse. She began incorporating the stylized props into her outfits in August 2021.
Holmes' outfits are widely praised on Instagram and TikTok, where her supporters also flock to ask her questions about her style and process. In October 2021, one user asked for a closer look at a purse she had made out of cereal. She revealed that the one that made it to social media wasn't the only one, showing off bowls of Apple Jacks, Cinnamon Toast Crunch and Frosted Flakes that had been turned into prototypes as well. (The cereal was held inside with a type of glue.) She's willing to push herself creatively, tinkering with a piece until she feels its perfect.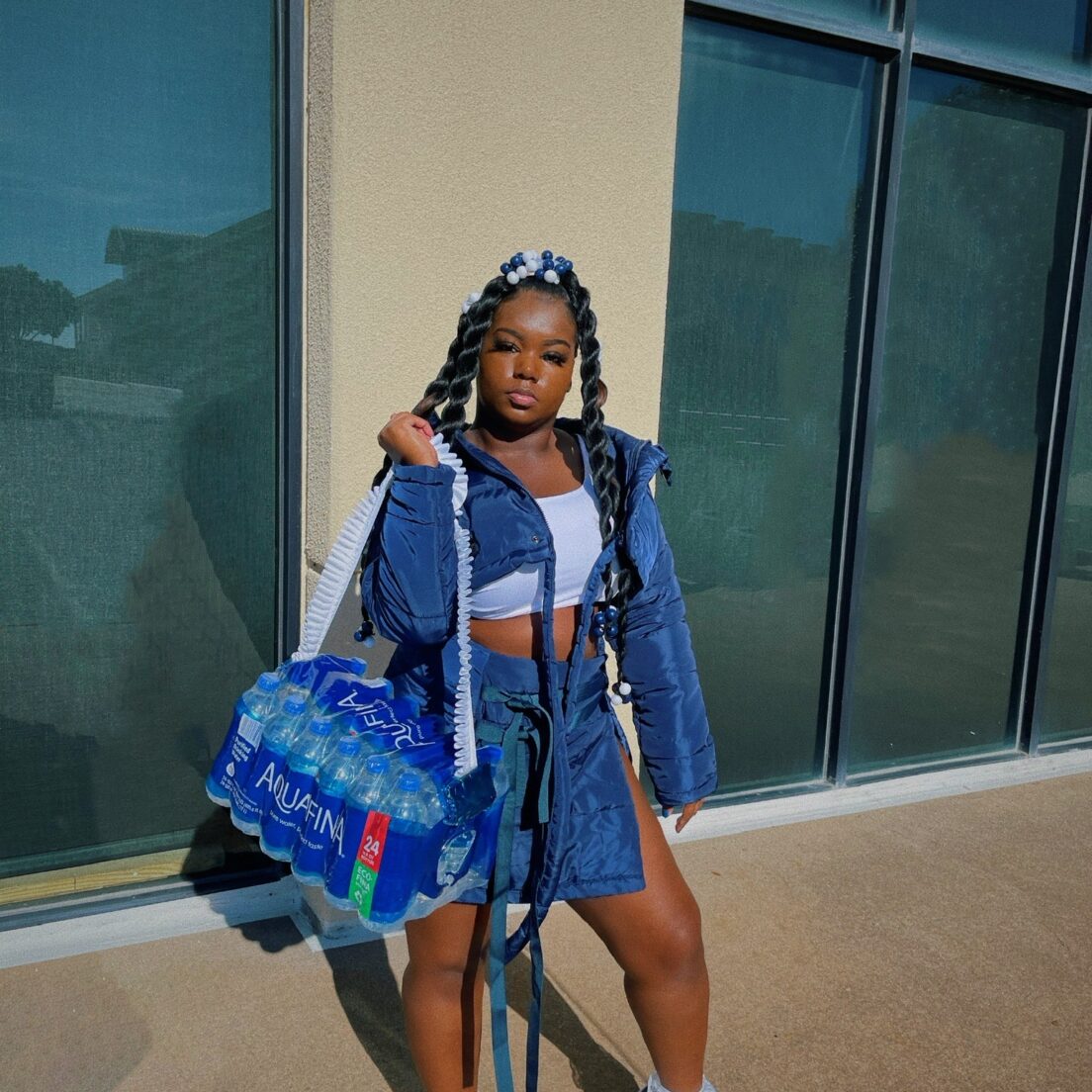 On platforms like Twitter, Instagram, and TikTok, creativity is often the difference between a "like" and a continued scroll. Of course, there are cyclical style trends that subgroups of users know and love, but forward-thinking, chic moments also have the potential to make wearers stars. That's exactly what's happening with Holmes and believe me, she has more up her sleeve. Or should I say, in her bag?
We talked to the social media trendsetter about her twists, her sneaker collection, and more. Keep scrolling to read.
ESSENCE GU: I want to ask about your twists because they are definitely a signature of yours. Tell me about your relationship with the style.
Jada Holmes: It started in 2020. My mom used to always like put my hair in ponytails and I told her one day I was like, I want to switch my hair up. Because I was known as Afropuff Jada, because I would always wear the one Afro puff and I was like, 'I want to switch it up.' So I started to tell her like I want to change it.
It was the best hairstyle to fit me when I was taking my photos and because I always struggled with my hair. I always wanted my hair to stand out.
Where did you get the knocker balls from?
Oh, my local beauty supply. I know they're probably tired of seeing me because I there every day trying to get something to try to match my outfits. But yes, it's like literally around the corner from my house.
How do you source your outfits and select which ones you want to share with the public?
First, I would have to say I send them to my mom. I always try to get like her approval, if she's rocking with it. Even though I don't really always listen to her approval, but basically it's just really based off of my sneakers. I really enjoy sneaker collecting. So if it's like a hot sneaker that's coming out that week, ahead of time, I try to look online and try to get something ordered to match that sneaker. Then I send it over to her. I know she probably gets tired of all my ideas, but I send it to her and we go back and forth and then that's how I just ultimately decide.
Yes, I've seen that your mom is pretty involved in your content as well. What has her response been to you going viral?
She's really, really happy. She's all for it. She's the one that pushes me to continue taking my photos, continue creating videos and putting outfits together. And she's really the one that's doing a lot of behind the scenes work. She takes my photos, she lays my outfits out for me. If I need her, I'm like, 'Hey mom, I need like this green leather jacket. Can you find it for me?' She's going to be the one to find it for me. So I would say she's really supportive.
Have you always had a close relationship with your mother?
Yes. We've always been close. I would say she's my best friend because I'm really like a shy and reserved person. And I know it may not seem that from the extravagant stuff that I do. But yeah, I would have to say my mom. She's really my go-to person.
That's so beautiful. I also wanted to ask about your pendant that you're wearing.
It's a Carnelian. It's very popular on TikTok so, that's what prompted me to go to my nearby crystal shop.
Can you share what it is for?
It's supposed to be for like a confidence booster. I've always been wearing it since I've got it. So I'm like, it kind of did boost my confidence.
I know crystals aren't a TikTok trend, but is there anything that you come across because of TikTok that you're like, 'Oh, I would love to try that,' as it relates to fashion?
I would really say like creating my own clothes. I really want to start really creating my own clothes, like getting fabric, sewing my own clothes and just seeing how really creative I can get.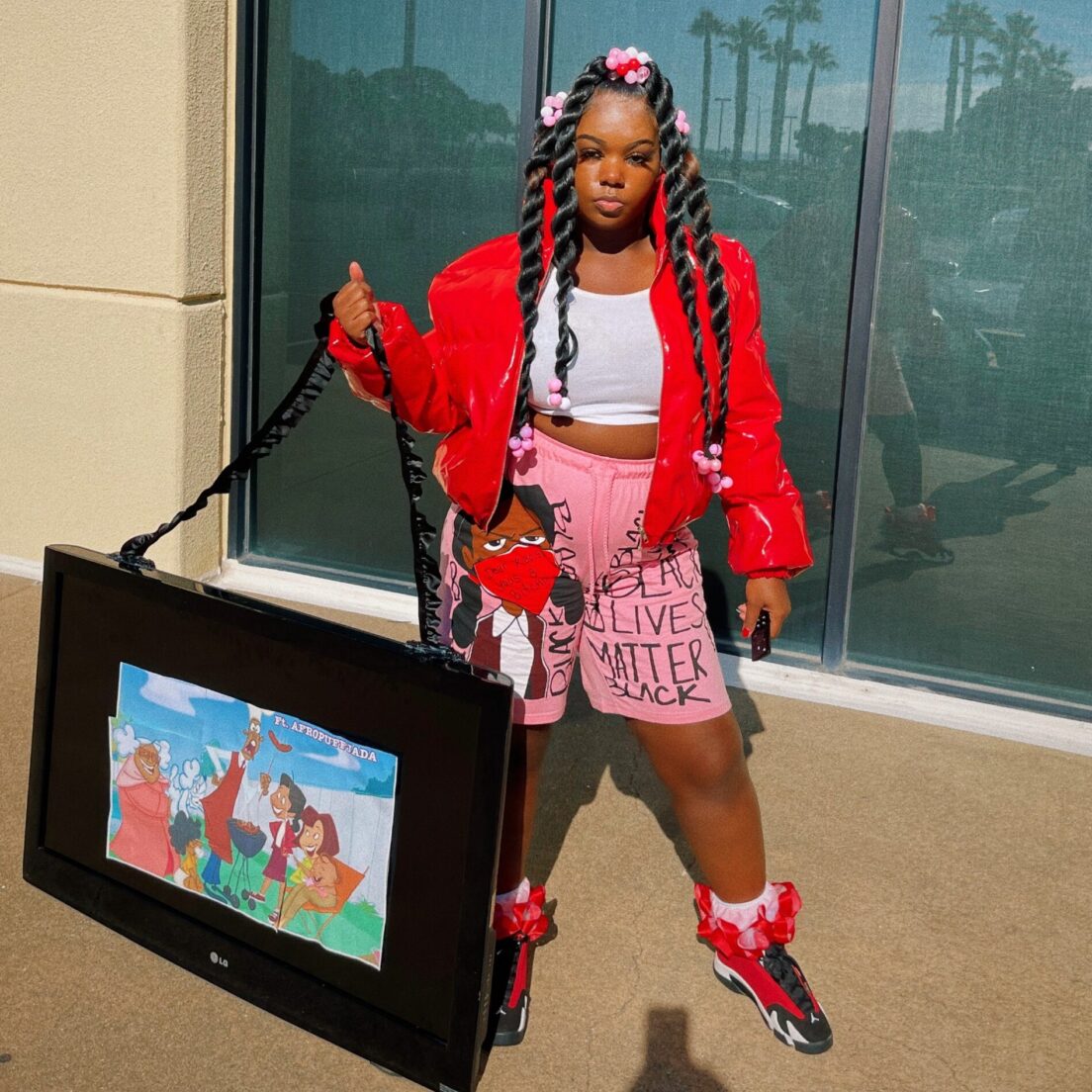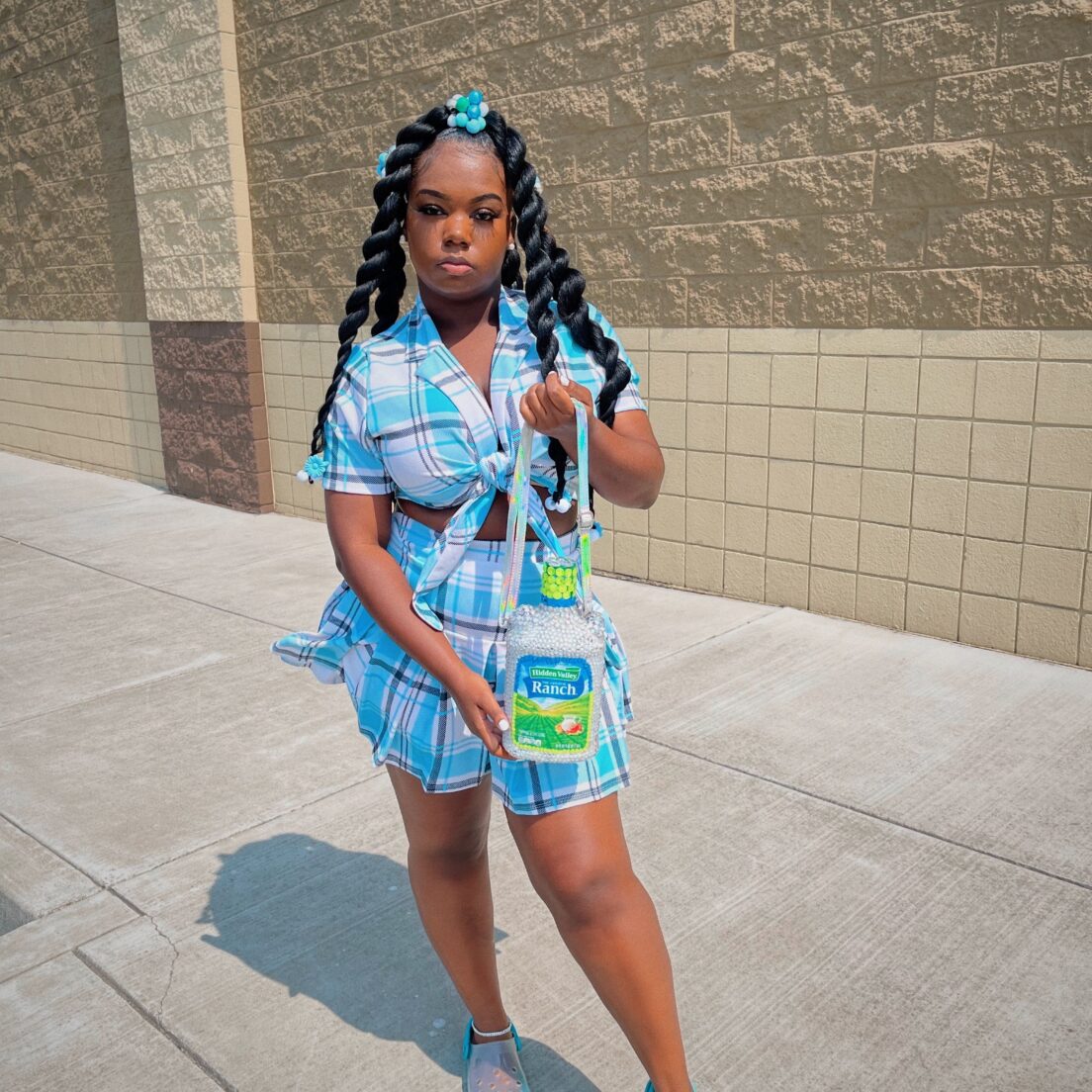 It's been really cool to watch so many different creators present their designs on TikTok and become popular. With the platform that you've already created for yourself, that would be a cool next step for fans to witness. I also want to talk about your shoe game. When did you start collecting sneakers?
I would have to say fifth grade again. That's when my dad took me to get some sneakers. I needed more sneakers for school and he took me in Foot Locker. I would have to say I was more of a like flat person then. Like I would wear flats and sandals and I never really got into sneakers. When he took me in there, I seen these Jordan 1s that I had to get.
I wore them to school the next day and just the reaction from other people, and how I reacted, too really started to make me obsess over sneakers. And that's why I was like, 'I need to get more of these.'
I know better than to ask you about your favorite pair, but do you have any favorite pairs?
Yes, I do. It would have to be to Jordan 14 Retro Gym Reds. Those are my favorite pair.
Oh, so you do have just like one pair that's your absolute favorite?
Yes. I don't know why I'm not too big of a fan of the color red, but I just like the colorway with the white and the black, I don't know. I just really, the 14 just always my favorite. And I think that colorway just really made the 14 pop.
When it comes to designing your own clothes, what would be the first article that you would make? Would you start with shirts?
I would really start with a jacket. I'm a big fan of jackets. I feel like jackets can be statement pieces. Like I would have to say, I would start in that direction. I probably should start somewhere simpler, but I would just go straight for jackets.
I also wanted to know about your inclusion of everyday objects in your photos, because I feel like that's another thing that really got people's attention. When did you kick that off?
Oh, I would have to say in August when I did the ranch bottle purse because it was a saying going around. It was 'Call me ranch because I be dressing.' So I'm like, what's better than a ranch bottle? So that's when I went and I got an old strap off of one of my purses, attached it to the ranch bottle and bedazzled it.
So why do you think your outfits started to go viral when they did?
I would have to say most definitely the purses, like the extreme purses, that would have to be when it first started going viral, which date back to the ranch photo. That was the one that really started it.
Where do you want your fame and career to go?
I want to open my own fashion museum. That's really what I want, to just showcase all of the different stuff I create and even the different type of fashion items that other designers create.
That's really cool. When would you want to kick that off? Like if someone presented that to you today, would you want to start it now or would you want a little bit more steam behind you before you kick that off?
I would say today, like I'm really, really anxious on really starting a fashion museum.
What advice do you have to give young creatives who are looking to get noticed?
I would say keep going. It definitely takes consistency. I've been doing this for a long time. So I would just say really, really keep going. Do what makes you happy. Try not to listen to the naysayers as much because that can discourage you, but it would just be continue to keep it pushing.
Keep up with Jada Holmes by following her on Instagram and TikTok.