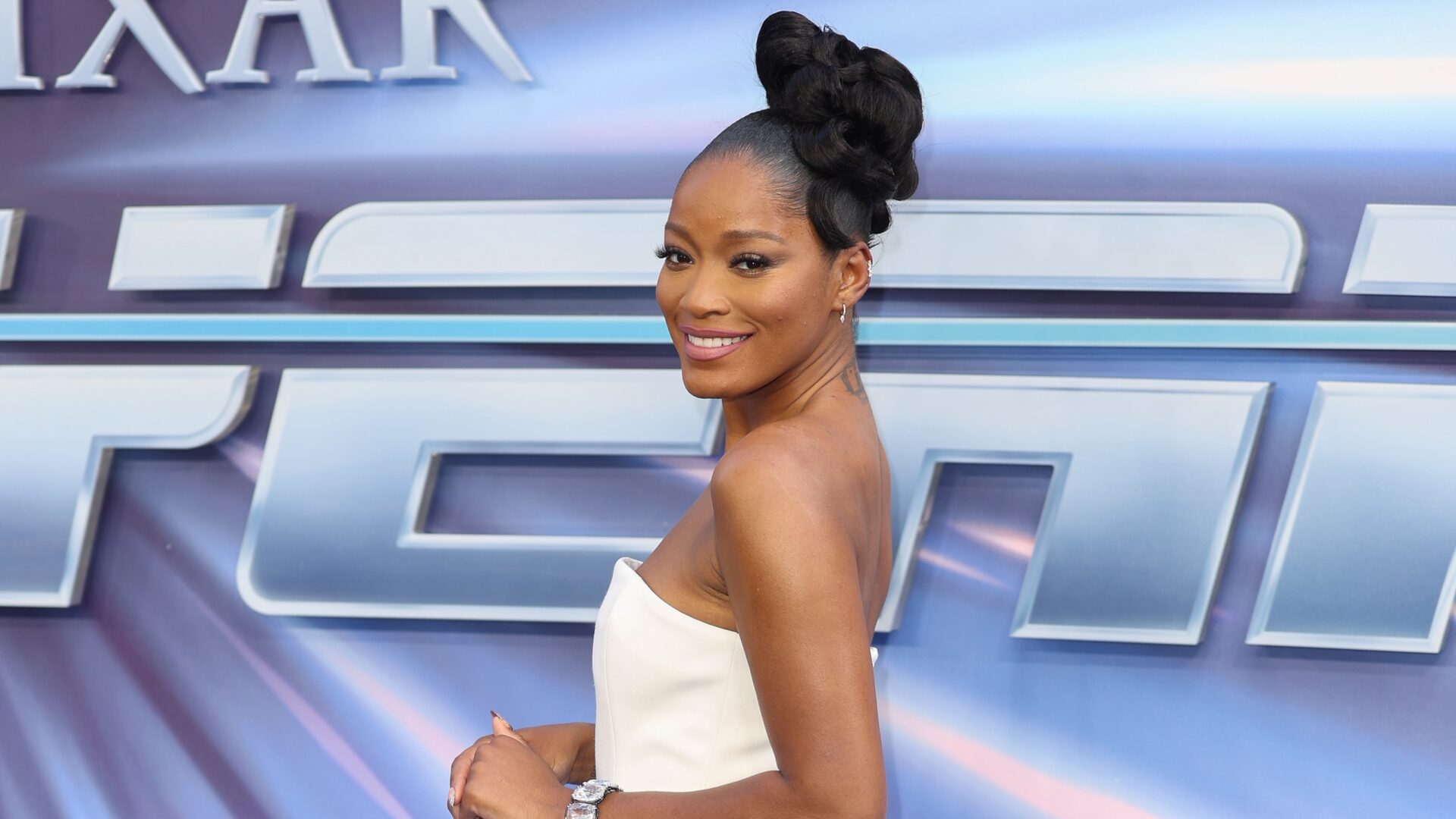 Keke Palmer Admits To 'Definitely' Crying During The Last 'Toy Story' Movie – Us, Too!
"Nobody wants to grow up and leave things behind," said the 'Lightyear' star.
To infinity and beyond! When you hear the name Buzz Lightyear, I bet your mind instantly travels to a happier time of Disney Pixar when you believed that the toys in your room came to light when you weren't looking. Now, our beloved Space Ranger gets to take fans on a long-awaited journey back to planet Morph where we get to learn more about his backstory, his relationship with the evil Zurg, and even get to meet some new star-studded friends along the way, including Keke Palmer.
"I'm good. We going through a crazy press tour, Miss Girl," Lightyear star Keke Palmer referred to me during our Zoom interview asking her about how she'd been holding up mentally. "I'm trying to keep the hands on the wheel but other than that, I'm very grateful. It's all good stuff."
The 28-year-old has much to be grateful for. From being featured on this season of HBO Max's critically-acclaimed Legendary to preparing for the premiere of Jordan Peele's NOPE, which debuts on July 22, the self-proclaimed Millennial Diva has had her hands full. Luckily, Palmer's booked and busy schedule allowed space for a treat for Disney's Pixar fans and loyal followers of the Toy Story franchise.
Instead of Woody, Mr. Potato Head, Slinky, and the OG gang from Andy's room, this new Toy Story spinoff gives a glimpse into the backstory of Buzz Lightyear. Played by Captain America star Chris Evans, fans get a closer look into Space Ranger Buzz Lightyear's past through the Lightyear prequel as he battles the evil Zurg alongside his recruits  Izzy (Palmer), Mo (Taika Waititi), Darby (Dale Soules), and his robot companion, Sox (Peter Sohn).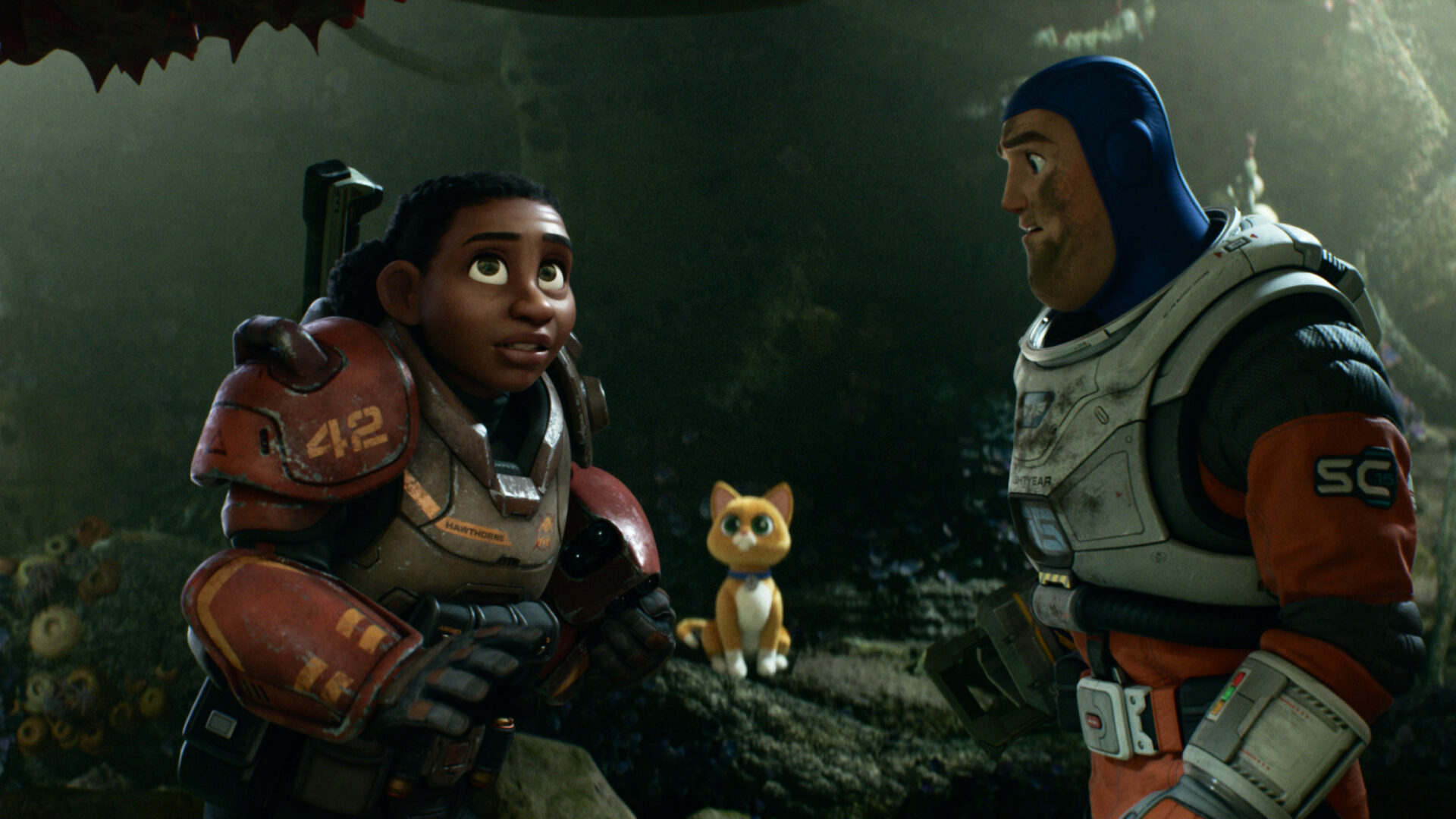 "All they had to tell me was Buzz Lightyear," Palmer said excitedly when I asked her about what made her jump onto the project. "I grew up on Toy Story and obviously Disney Pixar, they never get it wrong. They're always bringing up great topics [and] themes in their work while also making it fun and enjoyable for the whole family. All of that was like, 'Yeah, I want in.'"
Palmer plays Izzy Hawthorne, who we first met during her young adult years as the leader of the Junior Zap Patrol who admires Buzz and her grandmother Alisha Hawthorne (Uzo Adoba, Orange Is The New Black) for their fearless career as Space Rangers. "I relate to Izzy a lot, especially trying to make my parents proud and fulfill their legacy. I think that's something that I'm always trying to do and what drives me and my career to be as ambitious as I am – and I think Izzy Hawthorne is the same way," the actress confided in Girls United.
Similar to her character – who is a young, ambitious Black woman with the spot-on resemblance of her grandmother – Palmer said that she can also be "kooky, crazy, quirky, silly," while also being authoritative when the time calls for her to be more serious. "I balanced it out with Angus [MacLane], the director, that we wanted her to have a level of authority and someone that you feel like you could trust and follow, but at the same time, have that [curiousity], in a sense that also makes her relatable and somebody that you can learn alongside with and root for."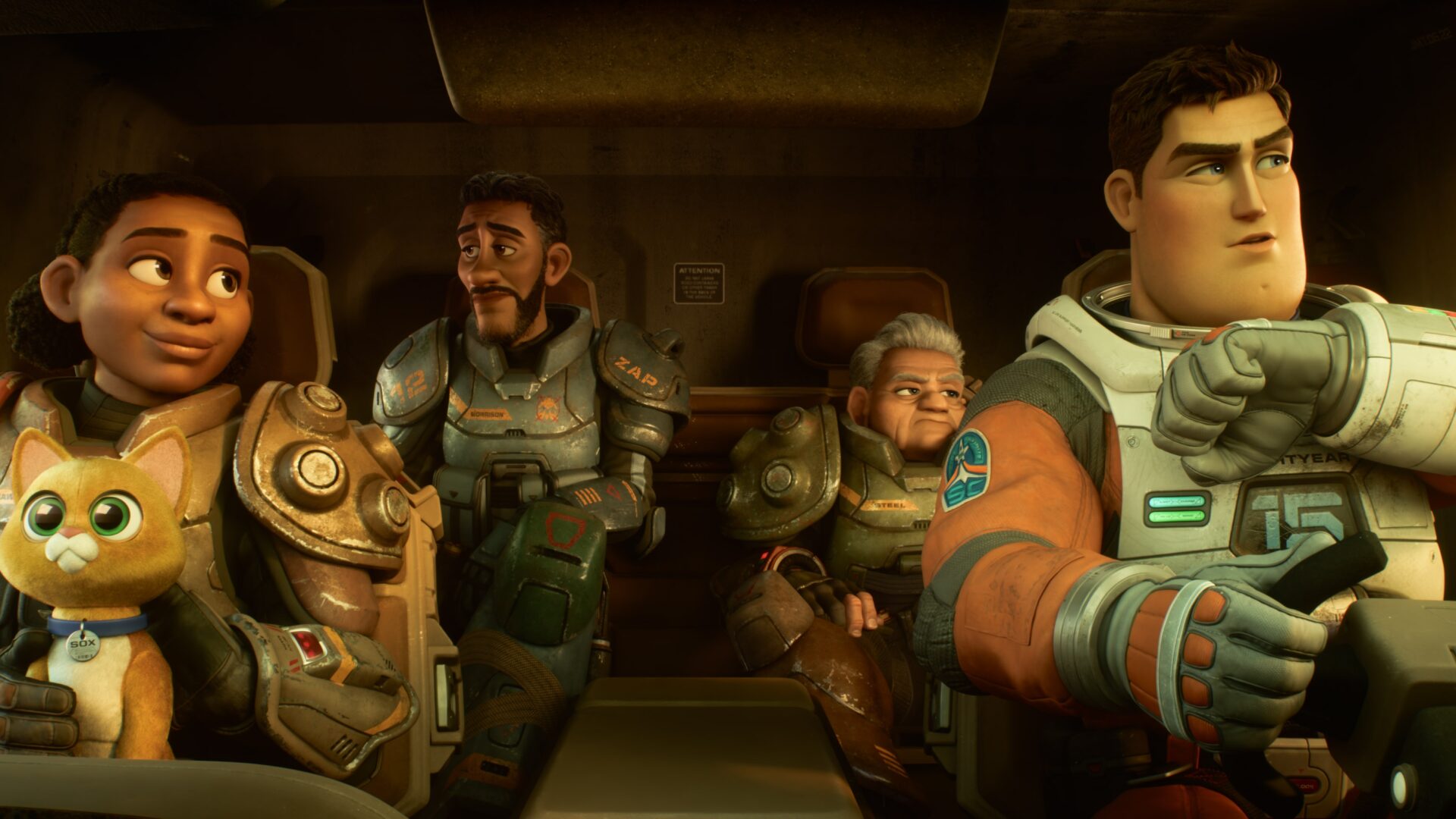 As opposed to acting on a set for projects such as HBO's Insecure or Hustlers co-starring Jennifer Lopez, Palmer noted that the biggest difference between IRL acting and voice acting would be depending on your voice as your only instrument.
"You can't really use expression, hands, movements, all those things. None of that can really help to support what you're actually trying to convey, but that also is the fun part because you'd be amazed at the things that you can do in terms of your voice [and] how you can manipulate it," Palmer said proudly. Of course, Palmer isn't new to the realm of voice acting. In addition to voicing Lightyear's Izzy, the actress also plays Maya in The Proud Family: Louder and Prouder on Disney+ and Rochelle the Love Bug in the Big Mouth series spinoff, Human Resources on Netflix.
When asked about the most challenging part of putting the highly-anticipated box office hit together, the Akeelah and the Bee alumna referred to the amount of time that it took. According to Palmer, the movie took nearly two years to make in addition to "a lot of different random sessions" to record your piece and construct the storyline.
"Following along with the storyline can be difficult because you go in for four hours and you got all these different sequences, you got to do them, and then [you're] like, 'Well, what's the rest of the story?,' because you only know the scenes you are in," she explained. "You can't really paint a big picture with just your character. That probably was the most difficult part, learning the story without having the entire script."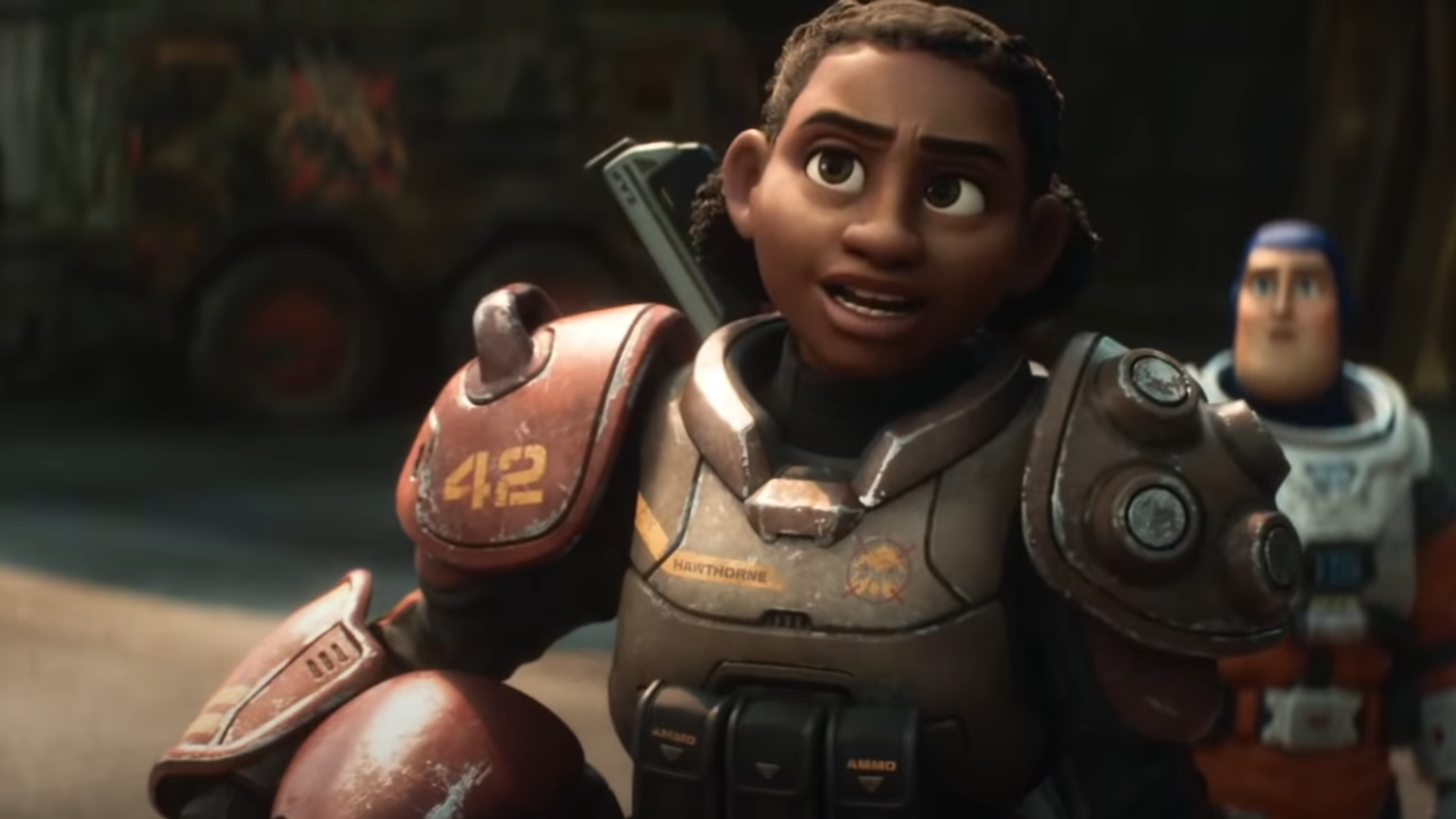 Without hesitation, Palmer noted that her favorite Toy Story movie out of the four-part franchise will always be the 1995 original film that started it all. "I'm always the number one person – always," she said firmly. "Definitely believe that the Toy Story sequels were right up there with the original Toy Story, but I'm just an original gal."
When asked if she cried during the final 2019 Toy Story movie when Andy and Bo Peep decided to stay behind while the rest of the gang returned home, Palmer didn't beat around the bush. "Yes, I definitely did. Nobody wants to grow up and leave things behind," she said.
While Buzz had his own team of recruits taking over the galaxy, and his soon-to-be bestie Woody would have the gang rounded up in Andy's room, Palmer thought about which toys she would want on her side if she were to create the ultimate Toy Story squad. She said she would include Mr. Potato Head, Woody, Sox, her character Izzy, and Bo Peep.
"A lot of people sleep on Bo Peep. She is nothing to be sleeped on or played with," she said confidently as she raved about the powerhouse duo that would be Bo Peep and Izzy Hawthorne. "They're ready to take everything by storm."
Lightyear is available in theaters now. Want a sneak peek into what to expect from Buzz, Izzy, and the gang? Check out the official trailer below!
Photo Credit: Photo by Mike Marsland/WireImage