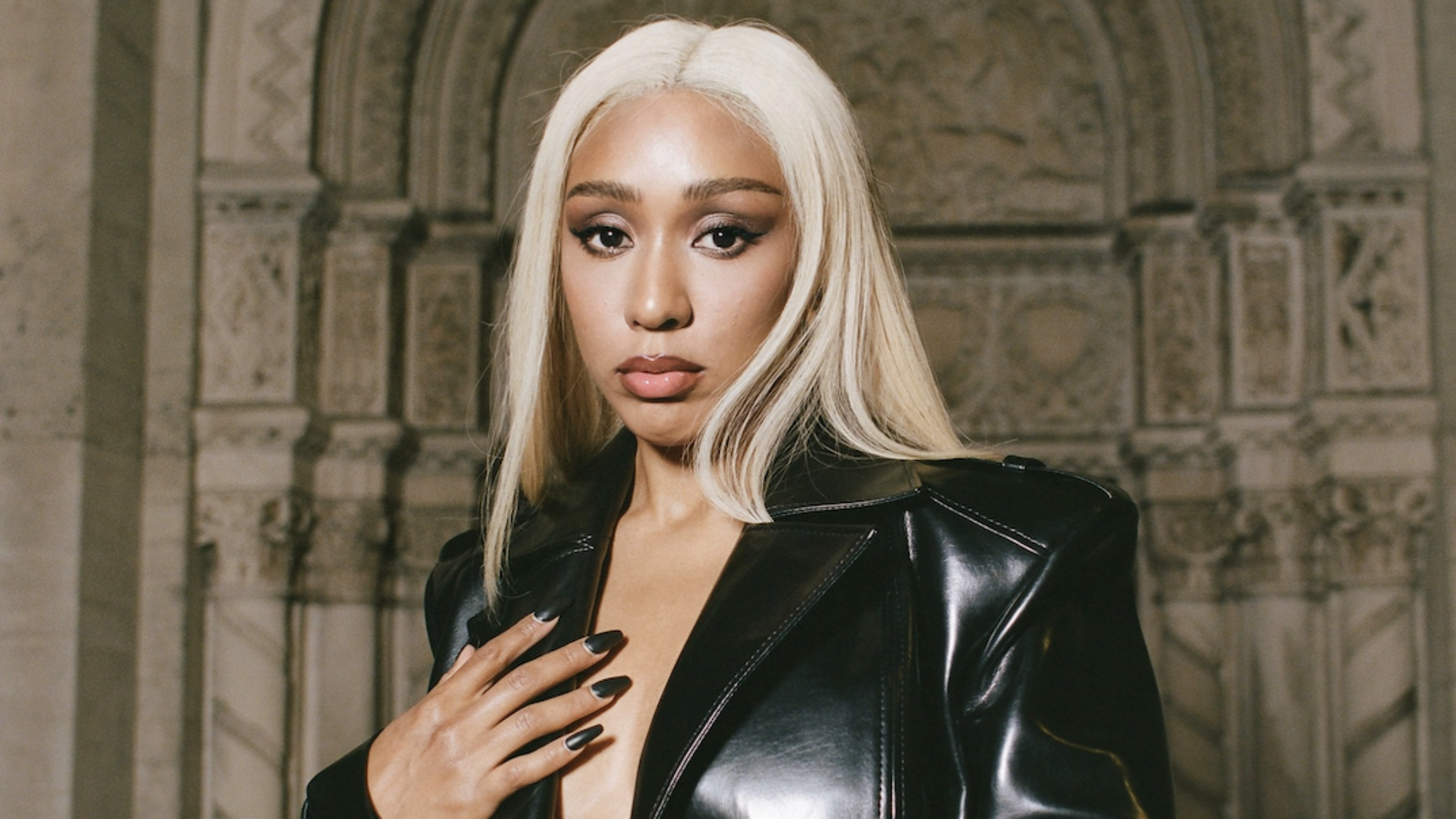 Grammy Nominee Fousheé Is Ready For Superstardom
Singer Fousheé is pushing back on what's expected of Black women in music.
By Jaelani Turner-Williams
Fousheé is the boundless it-girl we've been waiting on. With offerings of folk and R&B influenced by performers like Kelis, The Runaways and Gwen Stefani, her new album softCORE leans heavily into punk rock. "I wanted to push the boundaries of what was expected of me as a girl and question gender roles," Fousheé tells Essence Girls United about the 12-track project.
The singer-songwriter first garnered attention after appearing on The Voice in 2018. Her big break came after she made 250 song samples for production website Splice. One of Fousheé's samples was used for Sleepy Hallow's viral TikTok hit "Deep End Freestyle," which had listeners wondering about the uncredited voice on the track. Once Fousheé revealed herself, later releasing a full-length version of "deep end," the vocalist became sought-after in the hip-hop landscape, collaborating with Lil Wayne, Vince Staples, Saba, Pink Siifu and Fly Anakin.
As she made her rounds in guest appearances, "deep end" climbed to the top 10 on Billboard's Alternative Airplay chart, the first song by a Black woman to reach the feat since Tracy Chapman's 1989 song "Crossroads."
"Deep end" marked Fousheé's first taste of recognition in alternative music, an ambition that she's reclaiming for Black women on softCORE.
"There are moments when I'm screaming, but I've had to find balance between both voices, that's why [the album is] called softCORE. I just wanted to create a new world of sound that I felt described me at that moment," she says. "I wanted to not only scream on a track but have fun and be able to mosh. I've been seeing the faces of like Black women in the audience on tour being shocked like 'What is going on?' I feel like they're looking at me like, 'Wow, this is pretty cool. I wish I could express this side of me, too.'"
Fousheé's love for "Black male rock stars of our current generation," like Playboi Carti and Lil Uzi Vert (who features on softCORE track "spend the money") is also celebrated on her project. She shows love to her collaborator, saying, "He has an unapologetic attitude but a big heart and makes everything fun."
Fousheé's last project time machine was largely visceral, as the vocalist became entrenched in alt-R&B and trap-influenced love songs. One year removed from her previous effort, Fousheé says her artistry has expanded.
"On time machine, I was afraid to add drums to certain songs and the production was really minimal. But [now] I'm expressing myself more honestly, even pushing the production to a new point," she says. "I think I needed to make time machine, but I was definitely being cautious at the time. So I've gained confidence, knowledge and let a few things off my sleeve."
Fousheé's aesthetic in 2021 reflected the time machine era, as the singer rocked bleach-blonde ringlets and multicolored fits ranging from pastel to neon. Now in a considerably "darker" phase, Fousheé is channeling her inner 'goth girl,' making a habit of wearing all-black and straightened tresses.
The vision for softCORE is a fresh approach to rage. Instead of using melancholy soundscapes, Fousheé expresses anger with lots of energy.
"With my prior sound and what people knew me for, I feel like I outgrew it. I couldn't express myself the way I wanted to," Fousheé says. "I was angry and I wanted to communicate that in a way that wasn't depressing. I wanted it to feel like something you can dance and have fun to – something like fun to perform and incorporating all of my influences in a direct way."
Fousheé's moods on softCORE delineates her expansive creativity while being an ode to Black women who rage.
"If you go back to the roots of rock, Sister Rosetta [Tharpe] was there with her guitar – there's little acknowledgement [of her] being an original founder of rock and Black women being a huge part of that. It's not something new, but it's something we don't see often," Fousheé says. "When we do see it, there's this sort of stigma with it; it's not considered pretty, it's not considered desirable. Most women I see in the industry have a very subdued approach to their writing. It's a lot of times about heartbreak or love or they're approaching it from a sexy standpoint, but I want to normalize anger. It doesn't have to be negative, it can be something beautiful – I can be angry and I can still be vulnerable."
"When I started softCORE, I was coming out of my colorful era, but the topics I was writing about and the things that I wanted to express involved anger. It took me to a darker place but in a manageable darkness. It was mostly about balance for me since I was growing so much inside. Outwardly, I needed to balance it out with a darker feel to go with the sound."
Fousheé takes her dark side even further in the cyber-centric music video for "supernova," where an iridescent version of herself grooves before pulling an indistinct substance from her mouth. The artist credits her creative evolution to her willingness to take risks, especially since becoming a Los Angeles transplant.
"My visual taste and style has changed a lot. I can only define it in eras right now. It's punk, grunge, futuristic, electronic but still folky alternative. I don't think I should define it, but maybe I can from a project to project basis," Fousheé says. "I think I'm growing as an artist and taking risks. I've always been really curious about taking on different sounds. Living in LA, I'm among peers who take the same approach and maybe that makes me feel more comfortable."
A like-minded peer Fousheé has worked with is Steve Lacy, having co-written his Billboard Hot 100 hit "Bad Habit." This week, Lacy was nominated for four 2023 Grammys total, with two in the Record of the Year and Album of the Year categories (both for "Bad Habit"). This means Fousheeé may go home with a few trophies, too.
"I love his process. He's able to wear so many hats, like seeing them pick up the guitar, lay down some keys and synths and do bass – he's so musically inclined," Foushée says about her musical partnership with Lacy. "Our chemistry together is really easy, we don't want it to be overthinked. We like it to be conversational but still embrace the important elements of songwriting, like a strong top line and a crazy bridge. Our music influences are very similar – he lives in a very alt space and floats around between different genres, but [comes] from an R&B base."
On softCORE, Fousheé is carving out space, asserting her power as an artist who can see the future. Both introspective and unabashed, she's going with her gut.
"It can get pretty dark if you fully commit to the character of punk culture, but the main message is not caring what people think," Fousheé says. "I tried to go in with that attitude when I recorded and I want people to feel that way when they listen to it. I really do feel like it has helped me gain new confidence and a voice that I didn't know I had."
Stream softCORE below.