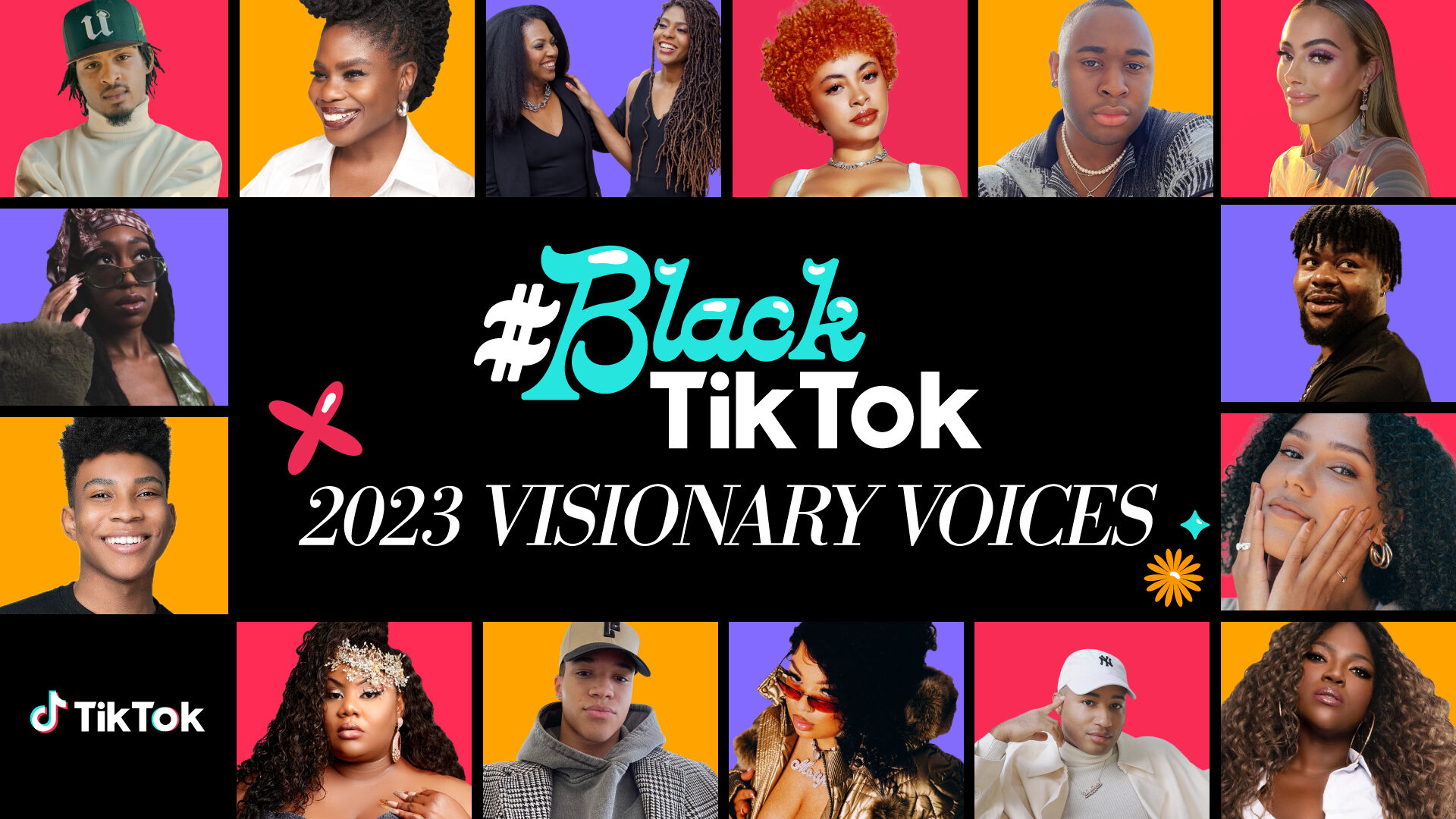 Meet TikTok's 2023 Visionary Voices Honorees
From viral dances to catchy songs these creatives are making their mark
This year for Black History Month, #BlackTikTok will be spotlighting and honoring some of our favorite creators that have taken over our for you pages. From changemakers to business owners and artists, they are shining the light on them all.
"Our first-ever Visionary Voices list honors a diverse group of trendsetting creators, changemakers and Black-owned businesses across the Black TikTok community. This Black History Month and year-round, we're proud to celebrate the collective brilliance and visionary impact of #BlackTikTok," said Shavone Charles, Head of Diversity and Inclusion Communications at TikTok.
TikTok has always been the place for the latest trends, songs, and fashions, specifically for Black creators. As we've seen people create hit songs, try new food, and slay faces through makeup, it's time to honor the next generation of creatives carving their paths.
Creators
@_itzpsyiconic_ – Kelon has created an entire universe (aka "Terriverse") on TikTok. While playing his infamous characters Terri Joe, Jeorgia Peach, and Amethyst Jade, Kelon has brought smiles to his followers.
@cozy.games – Kennedy is a Black gamer and lifestyle creator who focuses on incorporating coziness and relaxation into her life. She seeks to include more people on the "cozy" side of the gaming community with moving content and game recommendations.
@emmanuel.uddenberg – Emmanuel Uddenberg is a creative from Toronto who combines his devotion to fashion and inventiveness through videos on TikTok. His taste in minimalism and modern aesthetics and his relaxed demeanor permeates his account, resulting in a calming space for those looking for everyday style inspiration.
@kahlilgreene– Kahlil Greene, also known as the "Gen Z Historian," is a digital educator known for his series Hidden History, which dives into stories of American injustice. The Yale University graduate served as the college's first Black president in its 318-year history. Through commentary on US politics and culture, he aims to provide young people with an understanding of why American society operates as it does.
@xoxoemira – Emira D'Spain is a creator in the fashion and beauty space, known for her comedic "Get-Ready- With-Me" makeup videos on TikTok. After recently becoming the first Black transgender model to work with Victoria's Secret, Emira wants to continue paving the way for the LGBTQ+ community.
Industry Disruptors
@chikybomreal– Lisette Eduardo, known as Chikybombom, is a social media personality, businesswoman, and media influencer. Originally from the Dominican Republic, she is a well-known personality online with over 10.3 million followers.
@icespicee– In such a short period the term "Munch" has taken over our timelines. All spearheaded by Bronx native Ice Spice. She's grown her brand tremendously and instilled the baddie mentality in her fans through her music.
@keith_lee125– Keith Lee is a creator based in Las Vegas, NV, who uses his platform to highlight small owned and family restaurants that may have tasty food and excellent customer service but are not popular.
@lynaevanee– Lynae Vanee, a two-time NAACP Image Award Nominee, poet, producer, director, and starring talent from Atlanta, Georgia. A graduate of Spelman College and Boston University with a master's degree in African American Studies, she uses her digital platforms to speak on race, feminism, politics, and inclusivity.
@maiyathedon– Maiya The Don is a Brooklyn-native Hip-Hop artist known for her personality and confident punchlines. She started as a makeup artist and beauty creator on TikTok, but 20-year-old is rising to fame with her single "Telfy," which pays homage to the Black-Owned fashion brand, Telfar.
Small Business Owners
@brandonblackwoodnyc – Brandon Blackwood is the Founder, Creative Director, and CEO of his namesake brand. In 2015 he created Brandon Blackwood NYC — influenced by his personal life as each bag is named after his family, friends, or places he has lived.
@danessamyricksbeauty – Makeup artist and educator for over 25 Years, Danessa Myrick, uses multi-use products that inspire beauty enthusiasts of all skin tones and skill levels to explore a world of beauty without boundaries.
@juicybodygoddess – Summer Lucille is a creator and entrepreneur from Charlotte, North Carolina, who combines her passion for fashion and building women's confidence through her videos.
@spicekitchengrill – Olumide Shokubi, the founder and owner of Spice Kitchen, is a first-generation Nigerian-American dedicated to being a building block in the empowerment of Black people everywhere.
@urbandessertlab – Courtney B. and Zan B.R. are co-founders of Urban Dessert Lab, the World's First Oat-Milk Ice Crème Shoppe. The duo garnered a following and media attention with their plant-based creations on TikTok.
About Kenyatta: Clark Atlanta University and Medill School alumna Kenyatta Victoria is the Girls United writer covering everything from news, pop culture, lifestyle, and investigative stories. When she's not reporting, she's diving deep into her curated playlists or binging her favorite comfort shows.