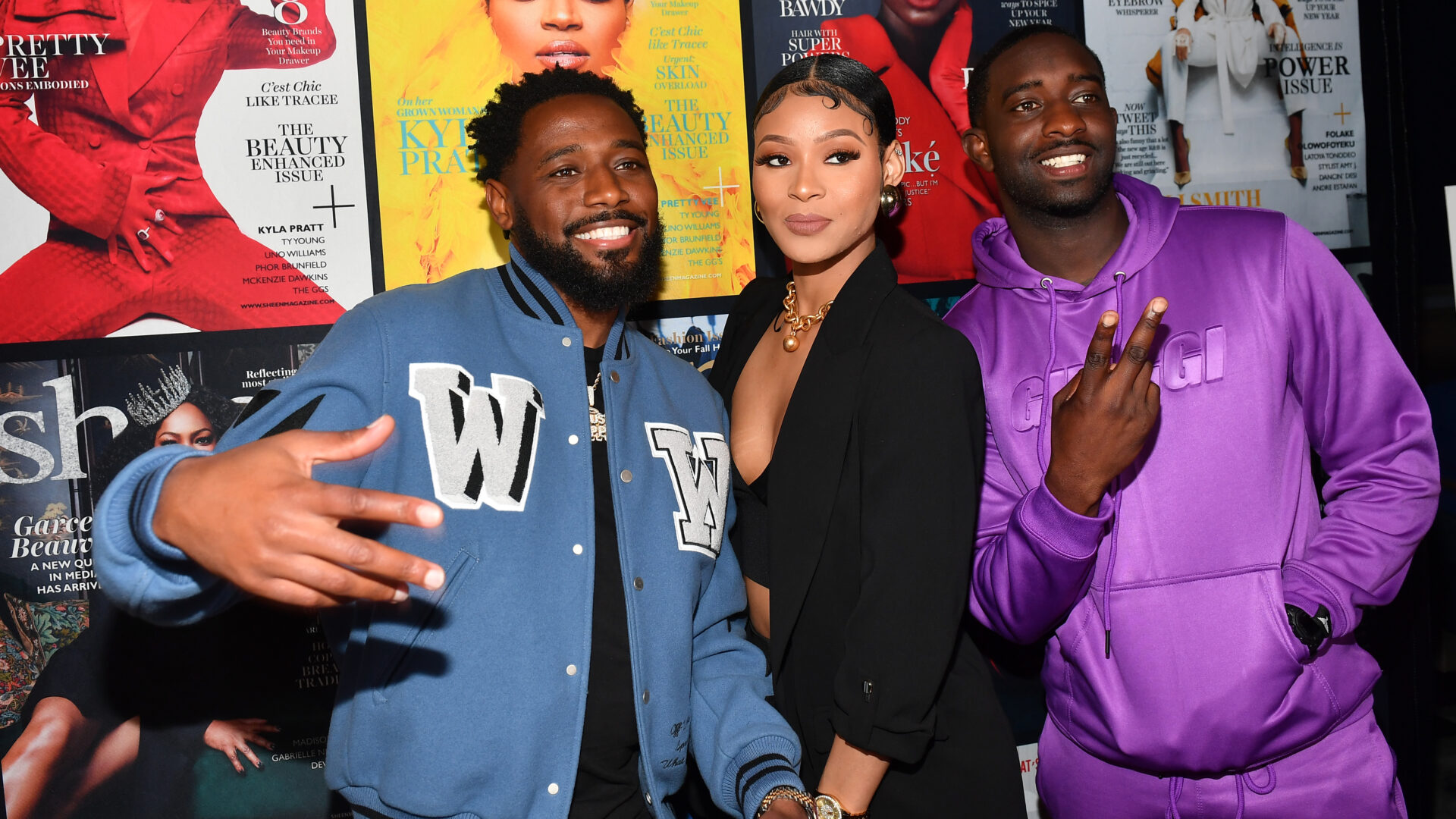 10 Comedians Who Found Fame On Social Media
These rising stars never fail to make us laugh.
For so many of us, social media is our go-to when it comes to news, connecting with others and a good laugh. At the height of the pandemic, we saw an increase in online entertainment, with the growth of TikTok, and other social media platforms expanding their reach to keep users engaged. Comics like Pretty Vee and HeyTonyTV saw the value in helping to bring laughter and joy to others with just one click.
Here are 10 comedians that we recommend following for some hearty laughs.
Jasmin "Jazzy" Brown
Jasmin Brown launched her career through YouTube and social media. You may remember her from being featured in viral videos like "Disrespectful Girlfriend" and "Bedroom Thoughts" with comedian Spoken Reasons but since then her brand has truly taken off.
Brown first introduced her character Toya Turnup and portrays her to be outspoken, fashion-forward, and ghetto fabulous. Her famous tagline "Rent due!" is a part of what led to her being granted a comedy show and slots in parody music videos.
Brown has been praised for her comedic genius by heavy hitters Marlon Wayans and Jamie Foxx. She has also been featured in BET's 50 Central as her character and can be found today hosting her show on Sirius XM called The Ladies Room.
HeyTonyTV
Antonio Neville is the face of HeyTonyTV and we just can't get enough of his content! He is best known for his series "Quarter Brick High School" which shows him reenacting dealings with school administrators, strict teachers and more. He started out filming his skits at home, so fans were impressed with his the switch in locations to be actual school buildings and busses — along with the dedication to outfits and props. He has since created merchandise which includes t-shirts and hoodies for those who wish they could attend Quarter Brick High School. The products can be found here.
Kountry Wayne
Mos known for his sugar daddy and rap gangster character "Drip" videos, the Southern native DeWayne Colley has been growing his following for over six years. After concluding his Straight Out Tha Mud tour this past spring, he has continued to create content for both Facebook and Instagram and his audience currently sits at 3 million on Instagram alone. In a March 2022 interview with LeoWeekly, Wayne mentioned he is in the process of writing a memoir-like book that is set to be released in 2023.
Pretty Vee
Vena Excell (professionally known as Vena E.) is a popular cast member on Nick Cannon's MTV show Wild N' Out, but on her own personal platforms, you can find her in her pink robe with a messy bun cracking jokes. Prior to joining the cast of the show in 2018, Vena was creating fun skits. Since joining, she has been able to expand her platform and find friendship with another popular female comedienne B. Simone. She has been able to secure brand endorsement deals with Fashion Nova and The Glamatory, amongst others.
DeAndre Brown
In the age of digital entrepreneurship, it is important for people like Dre Brown to highlight the thoughts and struggles of those working in corporate America. His own experience working in the finance industry motivated him in creating content for TikTok. People have been able to find the humor in the context that Dre is given regarding the mindset that Gen-Z and Millennials "don't like" to work.
KevOnStage
If you're looking for some clean comedy, KevOnStage is just who you're looking for. After launching his YouTube channel following his high school graduation, Kevin Fredericks began creating videos that centered around addressing both spoken and unspoken issues in the Black church. He also has an entertainment studio which is where he sometimes uses his scriptwriting skills.
Fredericks has also featured his two sons on his platform. Though some of his content is Christian-based, he does still address controversial topics within the media which has allowed him to reach a larger demographic. He has also made it a point to incorporate his wife, Melissa into his account when it comes to speaking about marriage, adulting, and even raising kids. The couple has a forthcoming book titled "Marriage Be Hard," which is now available for pre-order in preparation for its release on September 13, 2022.
Cleotrapa
Cleotrapa has not only made a name for herself as a comedienne, but as musical artist, too. We've watch her balance both gracefully and garner over 500,000 followers on Instagram. Her most popular offering has been a videos series on spelling and grammar that keeps us laughing out loud. In 2022, fans took to social media after it was alleged that her content was stolen by hit tv show, SNL. Though she did not respond directly, she did still repost tweets in support of the notion.
Read our interview with Cleotrapa here.
Desi Banks
After making a name for himself in the comedy game in the mid-2010s, Desi Banks has continued to expand his following and reach after working with the likes of Issa Rae, Clifton Powell , and more. He also worked with B.Simone on numerous sketches and later joined her on the "You're My Boyfriend" comedy tour in 2019.
Prior to embarking on his comedic journey, Desi attended Georgia State University where he played football and graduated with a degree in sociology. At the time, Vine was his social media platform of choice to start his career and he had over 400,000 followers there before the app's shut down in 2017. His most celebrated characters are from his comedy sketches like "Lil' Johnny and Parlay."
He signed with CAA in 2021.
Marlopseduo
When listening to our favorite songs, we don't always consider the true meaning behind the lyrics. From this, creator MarloPseduo launched the series "When You Actually Listen to the Lyrics." Since posting these videos over the last few months, his following is at 134,000 and he has amassed over eight million likes on TikTok. Aside from his social media content, he also is heavily into music and models as additional side hustles.
Carlos "Haha" Davis
Starting out on Vine, Carlos Davis got his start into comedy in 2013. His content is centered around pop culture and his infamous #DoubleWordChallenge. Currently, he is is set to star in comedy action series, "Stealing Jokes" alongside Jeff Dye. He even received a Grammy nomination through his contribution to Chance The Rapper's album Coloring Book in 2018.