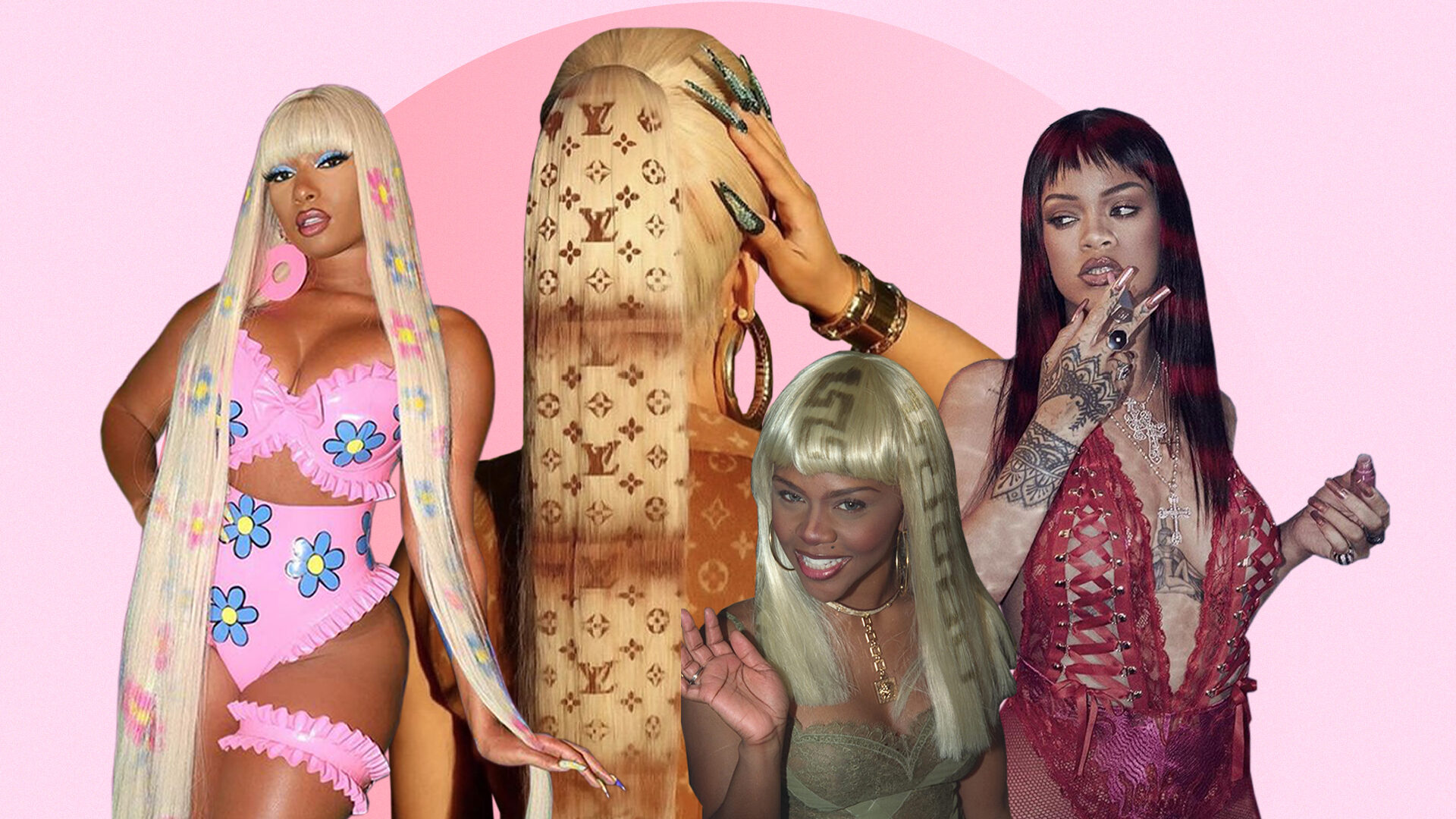 It's Official: Hair Stamps Are Back In Style
This throwback hair trend is coming back.
From skunk stripe hair to body glitter, some of our favorite trends that we've seen on celebrities and throwback television shows have finally been resurrected and this Y2k accessory is making a comeback for the girlies who love to experiment with their hair.
Though you may not know it by name, we're sure that you've seen hair stamps trending on celebrities like Rihanna, Megan Thee Stallion, and Dua Lipa these days all over your Instagram timelines. If you're a kid of the '90s, you remember the fun of "hot stamps" and putting cool, glittery designs effortlessly all over your hair. Or maybe you occasionally think back to Lil Kim's iconic stamped wigs for Versace and Chanel created by hairstylist Dionne Alexander back in 2001, as reported by InStyle.
Whether it would be a star, a flower, a peace sign, or cute little hearts in time for Valentine's Day, the style and clean-up were as simple as one, two, three, and could easily be brushed out once you're over the design. The trend first started back in the '90s but never truly took off and got the credit it deserved. "It was so organic. It was so freaking organic," Alexander previously disclosed InStyle about the birth of Lil' Kim's famous stamped wigs. "We were just creating and having fun."
In Rihanna's most recent photoshoot for her Valentine's Day Savage x Fenty and Fenty Beauty makeup collaboration, she debuted a straight style with short bangs featuring red stripes to celebrate the love-filled holiday. In theme with her red lace lingerie, Rihanna had the girls swooning in the sexy shoot while having our eyes on the creative hair choice. "Fashions and trends always go around and around and as soon as Ri Ri says that something is cool then who are we to argue!?," Celebrity Hairstylist & Imbue Brand Ambassador Michelle Sultan told Girls United excitedly about the resurfacing hair trend. "Hair stamps are an easy way to try something fun without the commitment of permanently doing any damage. It's a win-win."
As reported by Glamour UK, beauty retailer Justmylook reported that searches for "hair stamps" increased by 566% overnight, and the search for "Rihanna hair" was boosted by nearly 6700% once Rihanna revealed her Valentine's Day-ready hair. Referred to as the "raccoon tail hair," the large horizontal stripes were making its way into everyone's search engine to figure out fast ways to get like Rih.
Sultan noted to Girls United that the hair stamps trend is nothing new, and even she has memories of seeing the cool girls around her then-age group coordinating their hair stamps with the high fashion trends of the decade. The process of stamping your own hair can be easy to do, and Sultan even notes that the aftercare is not as strenuous as one may think. "Hair stamps are super easy to do at home using colored hair chalks and sprays, which you can get at most beauty stores for a low cost. These are temporary and wash right out. Using stencils to map out your design really helps a lot," she said. Sultan also added that the help of a friend could make the process a little less messy and easier to handle. She recommends brands such as L'Oréal's Color Sprays or Bleach London to get the job done.
In an Instagram post, celebrity hairstylist Kellon Deryck briefly described how he created Megan Thee Stallion's floral Barbie-inspired install as featured in her "Cry Baby" video. "I created these vibrant flowers on Megan Thee Stallion's Barbie-inspired look by making flower stencils in multiple sizes to use as a guide, then hand painting using @guytang_mydentity color," the Atlanta-based stylist captioned the photo of the "Thot Sh*t" rapper's new do. "I let the color air dry to preserve the brightness, then finished the look with the @guytang_mydentity #MyStardustshine spray to really enhance the vibrancy of the colors and #MyControl hairspray for a flexible, but strong hold."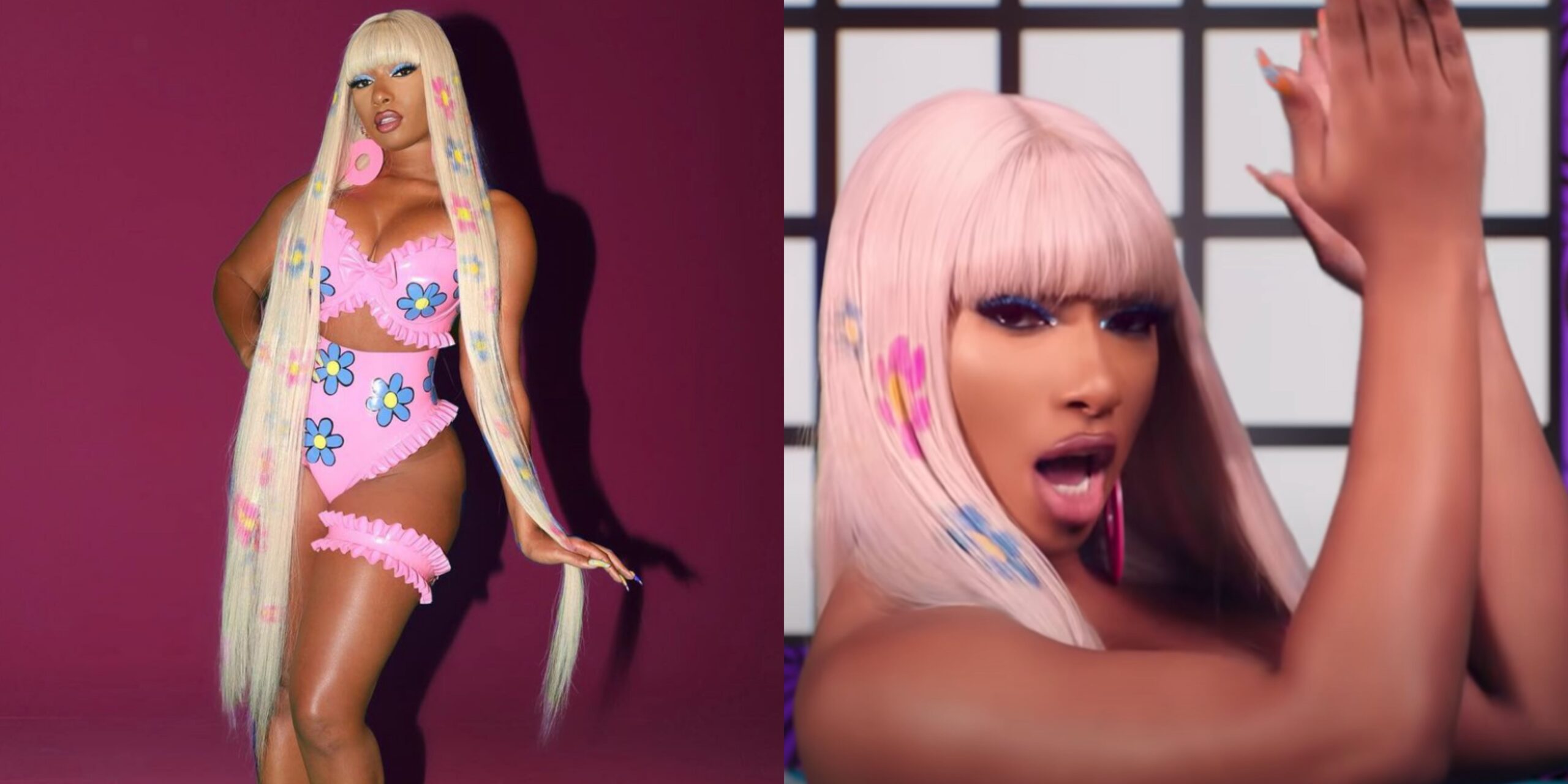 While this trend seems to be done a lot on fine hair such as weave, wigs, and extensions, Sultan assures Girls United readers that naturalists can achieve the hair stamp look, too! "The beauty of this trend is that it can be adapted to any hair type whether your hair is coily, kinky, wavy, or straight. It may be easier to create straight lines on straight hair like the Rihanna style, but don't be afraid to let your curls stand out maybe stamping different curls with different colors," she said. As a pro-tip from Sultan, make sure to finish styling your hair before adding the chalk or temporary design.
Now that your hair stamps are done, what should you do to maintain the health of your natural hair while keeping your new temporary design poppin'? Well, Sultan suggests keeping your hair nourished and moisturized with the natural oils that it needs to flourish. "Start your routine with Imbue Coil Awakening Sulphate Free Cream Cleanser and Imbue Curl Respecting Conditioner so the hair doesn't absorb the color especially if your hair is naturally light in color," she suggested.
Photo Credit: Savage x Fenty + Instagram (@kellonderyck)