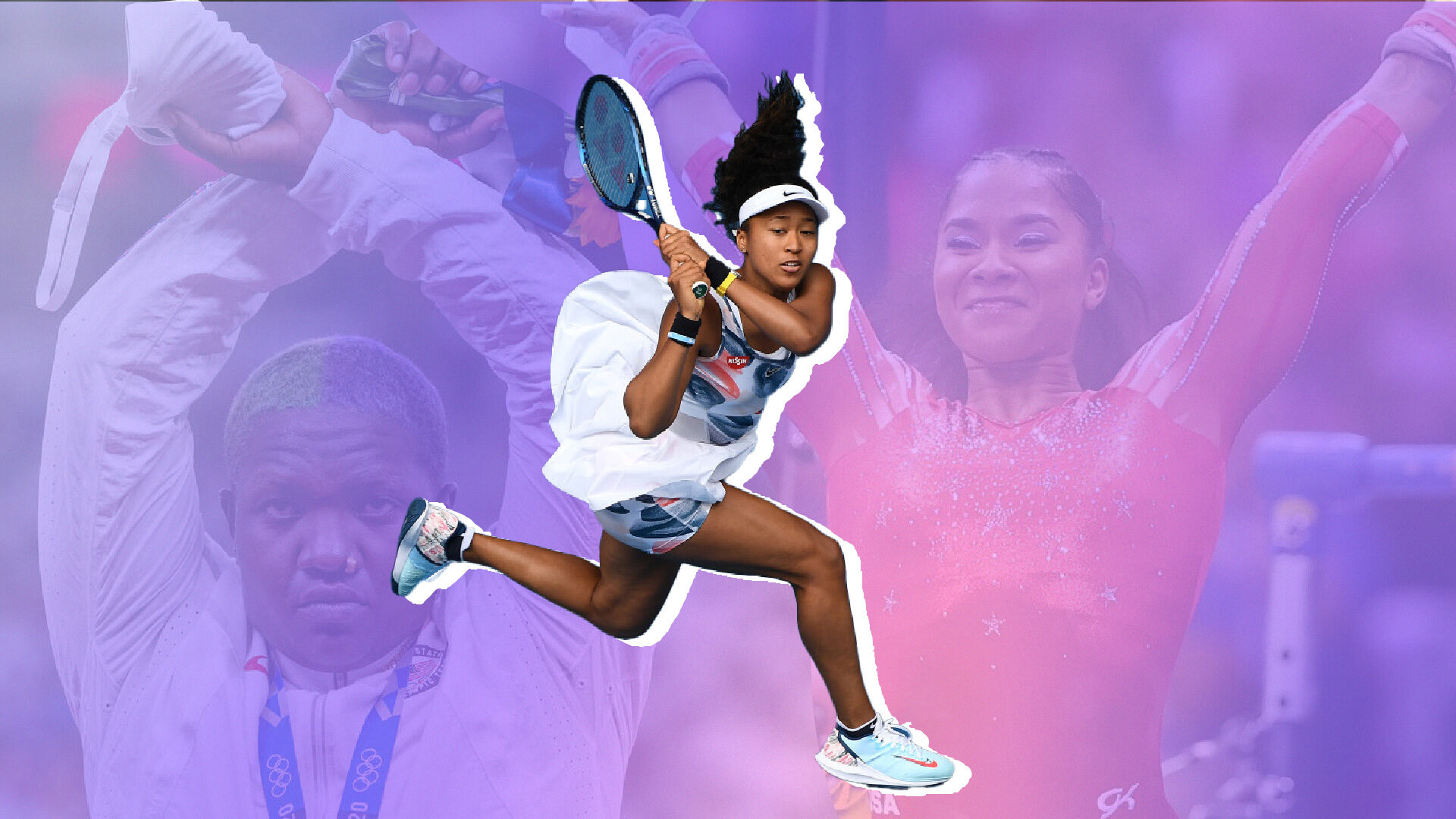 Gen-Z Sports Icons To Celebrate On National Sports Day
From figure skating to rhythmic gymnastics, these girls are setting the bar high!
Not only is today the day of the U.S. Open in Flushing Meadows, New York, but it is the day that we celebrate National Sports Day. It's no secret that Black women continue to do the damn thing in sports, but this generation, in particular, is making a name for themselves in arenas that weren't originally carved out for us. As we continue to knock down walls while securing brand deals and keeping our baby hairs laid, Black girls are showing the world of sports how it's done.
Sadly, today also marks what is expected to be tennis legend Serena Williams' final US Open, as she recently announced her retirement during a cover story interview. "I have never liked the word retirement. It doesn't feel like a modern word to me," Williams told Vogue. "I've been thinking of this as a transition, but I want to be sensitive about how I use that word, which means something very specific and important to a community of people. Maybe the best word to describe what I'm up to is evolution. I'm here to tell you that I'm evolving away from tennis, toward other things that are important to me."
"I think that her legacy is really wide to the point where you can't even describe it in words," Naomi Osaka praised of her mentor, according to ESPN, as she also called her "the biggest force" in the sport of tennis. "Like, she changed the sport so much. She's introduced people that have never heard of tennis into the sport. I think I'm a product of what she's done. I wouldn't be here without Serena, Venus, her whole family. I'm, like, very thankful to her."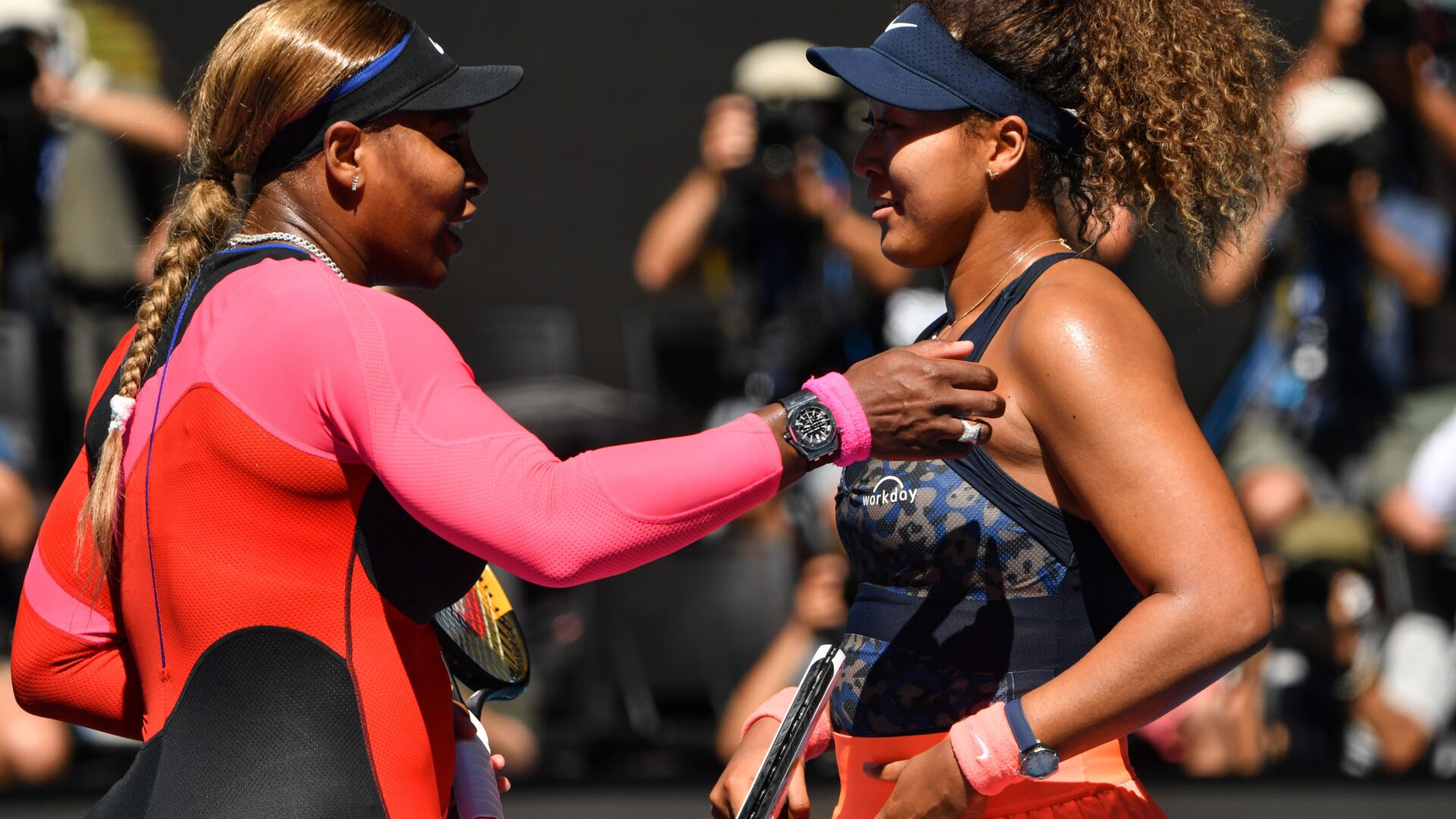 Serena Williams of the US (L) congratulates Japan's Naomi Osaka on her win in their women's singles semi-final match on day eleven of the Australian Open tennis tournament in Melbourne on February 18, 2021. (Photo by Paul CROCK / AFP) / — IMAGE RESTRICTED TO EDITORIAL USE – STRICTLY NO COMMERCIAL USE — (Photo by PAUL CROCK/AFP via Getty Images)
As we pay homage to the legacy of Williams on the tennis court, let's also celebrate the up-and-coming sports prodigies across gymnastics, shot-put, figure skating, and more that're making Gen-Z excited to tune into their local sports channels.
Coco Gauff (Tennis)
18-year-old tennis phenom Coco Gauff has had all eyes on her since becoming the junior world No. 1 in 2018. In addition to graduating high school ahead of the French Open and securing a major bag brand partnership with New Balance, the Georgia native is projected to become a tennis legend, as predicted by the New York Times.
"For a long time, I was stepping onto the court trying to be the next great American whatever, the next Serena," Gauff said during her ESPN cover story interview. "But that's not why I play tennis. I used to say I wanted to be the greatest because that's what people wanted to hear. Now I say it because it's what I want for myself." According to the official US Open site, Gauff is the second-youngest player in the WTA singles Top 100 and has recently peaked at No. 11 in singles, landing her right outside of the Top 10.
Jordan Chiles (Gymnastics)
Raised in Vancouver, Washington, you can't talk about gymnastics these days without giving flowers to the one and only Jordan Chiles. This year, Chiles, alongside Jade Carey, will be the first U.S. Olympic women's gymnastics team member from Tokyo to return to elite competition. Just a week ago, Chiles made history at the US Gymnastics Championships alongside Konnor McClain and Shilese Jones as they won the top three spots in the senior all-around competition, making history as the first three Black women to sweep the podium.
"She's a sister to me," Chiles told ESSENCE as she praised her best friend and fellow gymnast Simone Biles. "So being able to have such an idol and icon, a legend, the GOAT, being part of my life is amazing. She's taught me a lot, not just in the gymnastics world, but also in the outside world as well. When you find that person who's going to help you with anything, with down days, up days, feeling like you can't do something that day, that's how you know that they're a true friend."
Naomi Osaka (Tennis)
It goes without saying that Naomi Osaka deserves all the flowers – on and off the tennis court. The four-time Grand Slam champion has been ranked No. 1 by the Women's Tennis Association (WTA) and is the first Asian player to hold the top ranking in singles.
In addition to being a tennis prodigy, the Jamaica-Haitian athlete is a proud mental health advocate. "I feel uncomfortable being the spokesperson or face of athlete mental health as it's still so new to me and I don't have all the answers," the 24-year-old KINLO founder wrote in a TIME op-ed about withdrawing from the French Open. "I do hope that people can relate and understand it's O.K. to not be O.K., and it's O.K. to talk about it. There are people who can help, and there is usually light at the end of any tunnel."
Rhyne Howard (Basketball)
The 22-year-old Atlanta Dream player graduated from Bradley Central High School located in Cleveland, Tennessee in 2018 and has been on a roll ever since. Howard, who was also the No. 1 pick in the 2022 WNBA draft for her current team, was announced as the WNBA's Rookie of the Year just last month. According to ESPN, Howard received 53 of 56 votes from a media panel and is the first top pick to win the award since Las Vegas' A'ja Wilson did so in 2018. The 6'2″ guard is also the second Atlanta player to win the top rookie honor, following Angel McCoughtry.
Nastasya Generalova (Rhythmic Gymnastics)
22-year-old Los Angeles-based gymnast Nastasya "Stasya" Generalova is multi-faceted in every way. In addition to being a member of the USA Rhythmic Gymnastics National Team, Generalova is also a model signed with Wilhemina Models and a proud ambassador of Columbia University's chapter of the She's The First non-profit organization. Some of her career highlights include her accolades as a 2019 U.S. clubs bronze medalist, 2018 U.S. ribbon silver medalist and hoop, ball & clubs bronze medalist, and 2016 U.S. ball bronze medalist.
"Being a rhythmic gymnast on the U.S. team, you are constantly performing. I perform not only for the intent for the audience and judges to remember who I was and my personality, but I perform for myself as well," Generalova told C-Heads Magazine. "The best feeling is when you know you are alone with just your apparatus and it is as if you are dancing with a partner. Everything blurs out and you forget you are performing in front of thousands of people."
Raven Saunders (Shot-Put)
Raven "HULK" Saunders is not only a track and field star, but she also does discus throw and shot-put. A breakout star from the Tokyo Olympics, the 26-year-old silver medalist is only the third U.S. woman to win an Olympic shot put medal but hopefully will not be the last. While attending the University of Mississippi, Saunders, who stands confidently at 5-foot-5 star, won three NCAA collegiate shot put titles and even broke the national high school record for the shot put while attending Burke High School in Charleston, South Carolina.
Saunders made her Olympic debut in 2016, finishing fifth in the Rio 2016 shotput competition, and has since used her platform to be open about her sexuality, mental health, and suicidal ideations. On the medal podium last year, according to NBC Sports, Saunders formed her arms in the shape of an "X" over her head "to try and bring the world together for all people who have felt left behind, for all people who have wanted to be loved but have been loved less."
Athing Mu (800m Dash)
At the age of 19 years old, Athing Mu won a gold medal in the 800 meters at the 2020 Tokyo Olympics, breaking a national record set by Ajeé Wilson in 2017, and a continental under-20 record. Now 20 years old, the middle distance phenomena and New Jersey native isn't finished just yet. According to Sports Illustrated, Mu won a silver medal in the 800 meters at the Youth Olympic Games in 2018. She placed first in three events (400, 800, 1,500) and second in another (200) at the junior Olympic nationals that same year, then won the 400 and 800 at outdoor and indoor nationals.
The Texas A&M alumna, who won a total of 35 out of 36 collegiate level races, became the first American female runner to win the 800 since Madeline Manning in 1968. "I would love to get way faster, way stronger, just way better," Mu said to SI. "I definitely love being pushed."
Starr Andrews (Figure Skating)
Move over, Michelle Kwan! This 21-year-old 4'11" figure skater is taking over the sport and leaving no crumbs for anyone else – and we love to see it. Starr Andrews is the 2019 International Challenge Cup silver medalist, 2019 Egna Trophy silver medalist, and 2017 U.S. national junior silver medalist. Moreover, Andrews has finished in the top ten at three ISU Championships.
Since age 9, Andrews has been sweeping the internet with her incredible figure skating routines to songs such as Willow Smith's "Whip My Hair" and Mickey Guyton's "Black Like Me." At Skate America 2021, the ice princess took her routines to the next level by skating to her own cover of "At Last" by Etta James. A young queen who can sing and skate – we love to see it.
About D'Shonda: Born and raised in Brooklyn, NY, D'Shonda Brown is the Associate Editor at Girls United. When she's not interviewing or writing, she enjoys running, dancing, buying sneakers, and binge-watching Lifetime movies.