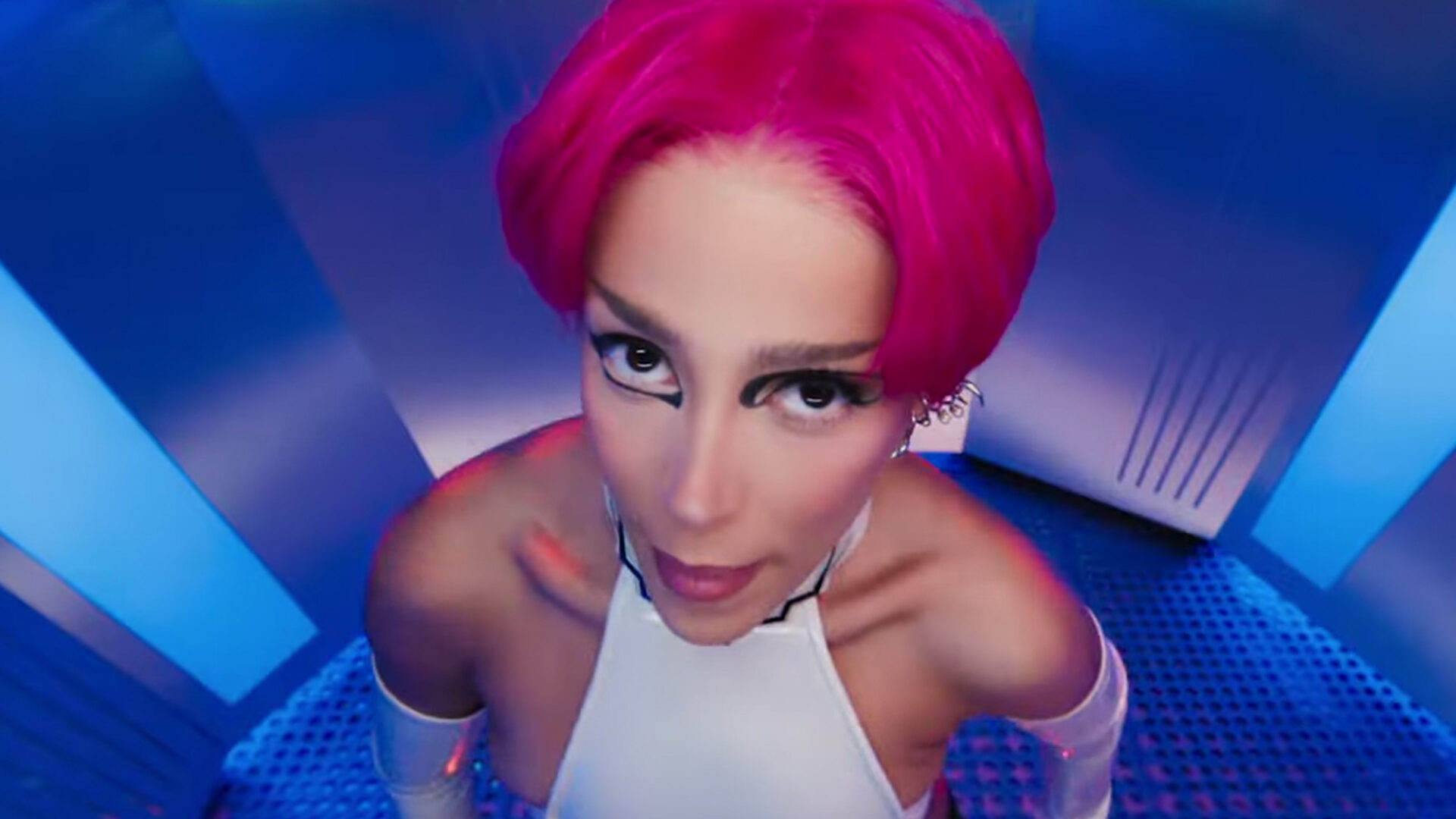 Doja Cat Pays Homage to TLC's T-Boz In New Music Video For 'Get Into It (Yuh)'
We love a Y2K style reference.
Doja Cat has dropped another music video for her hit song "Get Into It (Yuh)" from her latest album
"Planet Her." One thing we can't stop talking about is the reference to platinum-selling girl group TLC.
Directed by Mike Diva and produced by Lord Danger, the video is an ode to TLC's music video for "No Scrubs". Doja Cat channels T-Boz's look by sporting a short, pink wig an all-white space outfit and graphic eye makeup – all in front of the background of the bright lights of a spaceship. Sci-fi imagery and aesthetics were very popular during the late 90s and early 2000s, which has been making a comeback for the past several years. TLC's music video for "No Scrubs" is often used as a prime example of the trend—from the clothes and the futuristic aesthetic of the set. Other music videos that explored this style were by artists like Janet Jackson, Missy Elliott, and Lisa "Left Eye" Lopes prodigy, Blaque.
It isn't surprising that an artist like Doja Cat would be paying homage to the artists that came before her and paved the way for her feminist, "take no sh–" approach to music.
Read more about Y2K style here.
In her latest video, Doja Cat stars as a space commander on a mission to retrieve her cat, who was stolen by an alien enemy. Her and her team of twerking soldiers infiltrate the ship and get the cat back safely after defeating the enemy with their moves.
The artist's hair stylist, Jared Henderson, shared behind the scene snapshots of the intergalactic music video on Twitter.
Read all about this early 2000s hairstyle that's making a comeback.
"I think a lot of things we did were ahead of our time. I've done green, orange, blue, pink, purple [hair]. And I'm glad to see it's back…Fashion is just that way," T-Boz said in interview with Yahoo. She also shared that RuPaul's former makeup artist, Mathu Andersen, was behind her makeup. "Ru Paul's makeup artist was on set and it was a futuristic type video. Chili wanted to look like an island princess, but we were like, let's try something this one time, because we don't ever get to have fun and play. It's always natural. So I thought we should make everything match my hair and I wanted rhinestones on my lips so they were a piece of jewelry like diamonds. He did just that. I was so excited because I looked like a character, like some other chick inside my body."
Though the year just started, Doja Cat is on a roll. She has been nominated for eight Grammys this year, with nominations that include Album of the Year, Record of the Year and Song of the Year. Just last month, she won awards at the American Music Awards for Favorite Female R&B Artist, Favorite R&B Album for Planet Her and Collaboration Of The Year for "Kiss Me More" featuring SZA.
Watch the music video for "Get Into It (Yuh)" below.