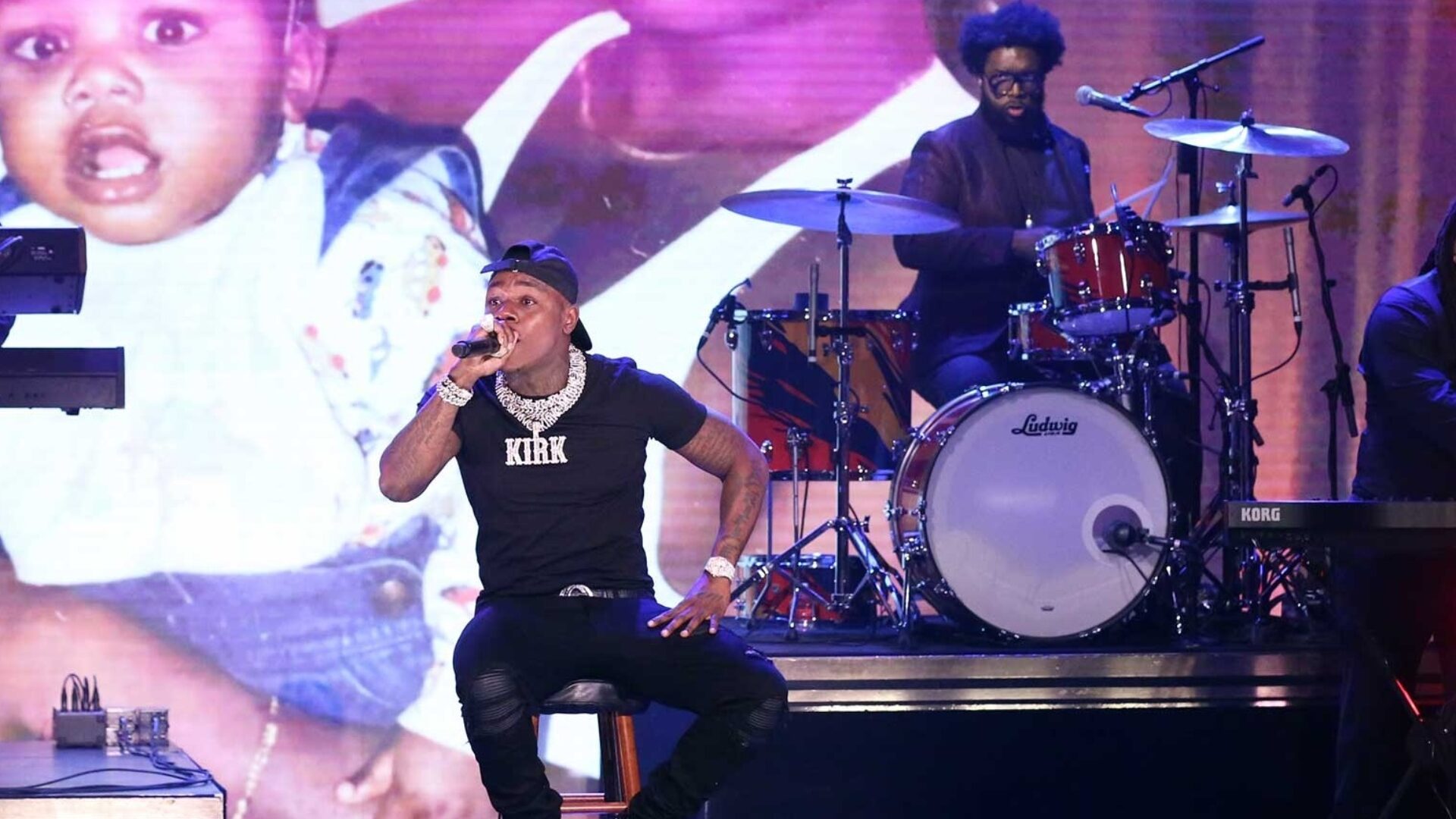 DaBaby Claims To Not Know Who Questlove Is Following Homophobic Comments
The rapper pretended to not know of the drummer.
DaBaby is receiving major backlash following his homophobic comments at Rolling Loud about those living with HIV/AIDS, but now he has no recollection of Questlove, a power player in the music industry, is, despite having performed with him in 2019.
On July 28, The Roots' drummer Questlove shared on social media his "dream list" for a festival lineup as discussed in his documentary Summer of Soul. The original names included A Tribe Called Quest, The Isley Brothers, Rihanna, Sade, Megan Thee Stallion and DaBaby, but the last name was crossed out following DaBaby's comments.
Read about boohooMAN cutting ties with DaBaby following his comments at Rolling Loud.
"Now I'm updating my list," Questlove captioned his photo on Instagram with the photo of DaBaby's name scribbled over, "because it's 2021 & f**k the bulls**t. I'm especially not here for any savagery." For those who don't know the definition, he suggested his followers to "Google the idiocy of the crossed out," referring to the 29-year-old rapper.
Questlove continued to write, "I'm not trine be all performative smurf & create a social flogging or start some clickbait headlines. That's missing the point. But right is right & his actions are wrong. Somebody Gotta say it: Homophobia/Transphobia/Xenophobia/Misogyny/Racism — this should go w/o saying is morally wrong. & not that fake hiding behind religion holier than thou morally wrong. But 'that was f***** up' & wrong. I had to say something."
DaBaby spoke out, writing, "I ain't even tryna be funny when i say….I do NOT KNOW WHO DIS N***A IS DAWG," followed by a crying laughing and shrug emoji. He continued, adding on a bit about not caring about "loosing you as a fan" as well as anyone in his book "who wanna play follow the leader."
DaBaby was accused of assaulting a woman in Tampa, Florida during one of his performances. Read more about the alleged attack here.
The "Bop" rapper continued to add fuel to the fire by adding more comments to his Instagram story and boasted about his self-proclaimed influence. "These n***as really think they gone influence people to stop f***in w/ the INFLUENCE. They go crazy bout what I say not yall," he added. "I got da influence AND the nuts n***a. Y'all n****as cheerleaders."
Other celebrities have spoken out regarding DaBaby's insensitive comments at the music festival including Madonna, Elton John, and Demi Lovato. Lovato posted a photo reading "HIV Is Not A Gay Disease," and commented that "hot people listen to the original version of levitating" alluding to Dua Lipa's single featuring DaBaby.
Photo Credit: Getty Images/Andrew Lipovsky/NBC