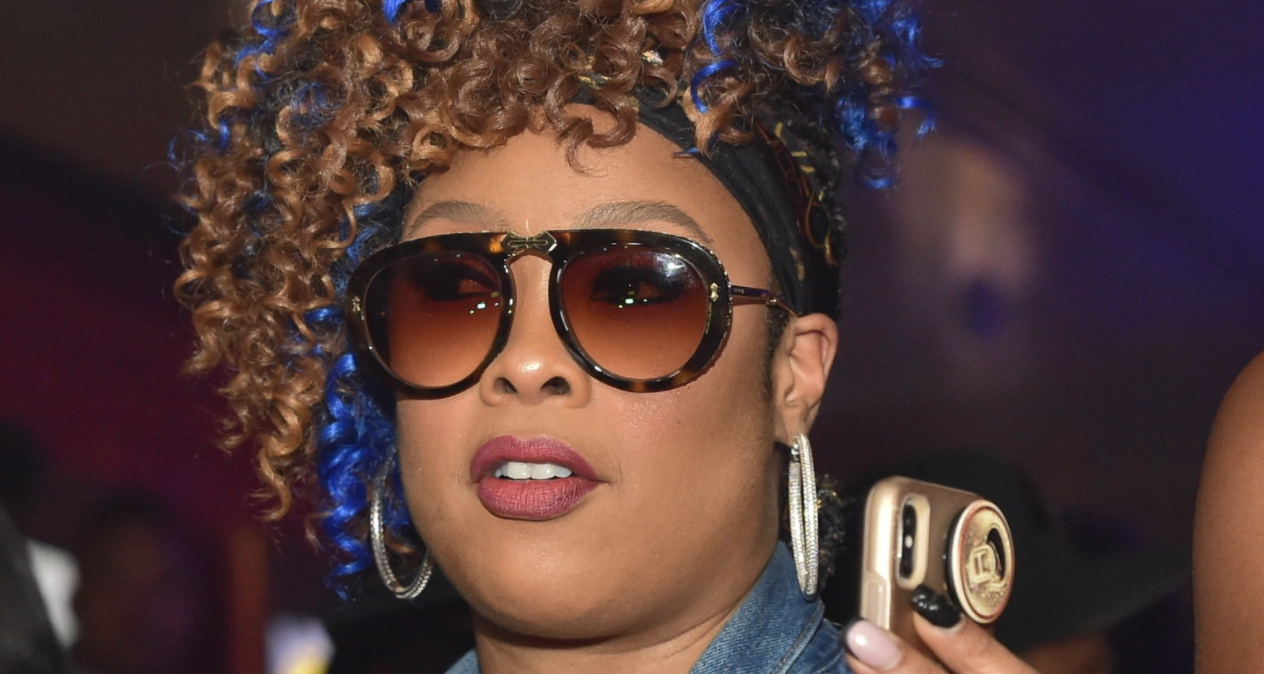 What'chu Like: On Homophobia In Hip-Hop
Homophobia has plagued the industry for decades. When will it end?
Rapper Da Brat became a prominent performer in the early 1990s, and quickly became the highest-selling solo artist in rap's woman-centric history. In 1992, she was signed to Jermaine Dupri's then-budding record label, So So Def, and her spitfire flows and hyperrealistic stories helped cement her as one of the defining voices in hip-hop. But there were always rather loud, but largely irrelevant whispers about her personal life, namely her sexuality.
Da Brat denounced the rumors for years, for the sake of self-preservation in an industry that has swallowed artists whole for their presumed sexuality. Now that Da Brat has come out as gay, over 25 years after her debut, we have to think about the ways in which society, and the culture of hip-hop, are to blame for her years of silence.
"I've always been an advocate for privacy pretty much to protect the interests of the other party involved," Da Brat said last week on the Ricky Smiley Morning Show, which she co-hosts. "If you're not used to this life, and the scrutiny that comes with it, you know, it can break you…I learned what to say, and what not to say and the battles that…I choose to fight. Which, most of the time, I just stay silent and let people speculate. I never said anything, because you know, in the 90s, it wasn't cool."
During the time of her rise, it was more than uncool to be gay — even the implication could signify the end of a career.
After appearing in a Playgirl spread, and in the pages of Madonna's book, SEX, hip-hop's lover man Big Daddy Kane was picked apart for allegedly being gay. Though these were nothing more than baseless rumors about a man who had always leaned into his sexuality for the women in his fanbase.
Big Daddy Kane was never able to fully recover from the speculation. Writer dream hampton recalled that a bit after his career peak, Big Daddy Kane stood onstage for a benefit concert and announced that he was straight, and HIV negative, (which was the crux of the rumors surrounding his sexuality,) and was unable to forge much of a career beyond that moment. Homophobia and ignorance regarding HIV/AIDS were so intertwined until people turned on a hip-hop artist who had enjoyed a successful run as one of rap's most elite forefathers. To watch a culture invert itself for that reason must have been hell, and it's no wonder why artists who actually were gay were less than willing to speak about their personal lives.
Brand Nubian's 1993 track "Punks Jump Up To Get Beat Down" was critiqued by GLAAD (the Gay and Lesbian Alliance Against Defamation) for the lines "I can freak, fly, flow, fuck up a f-ggot/I don't understand their ways; I ain't down with gays."
Though the attacks were subsequently removed from radio versions of the song, the lyric echoed a sentiment that was prevalent in the hip-hop community. But, Lord Jamar of Brand Nubian has since denied that their lyrics were actually about the gay community, (though its obvious that they were,) and then contradicted his stance in a 2012 interview with HipHopDX.
"[F]irst of all, that's not what the song was even about," Lord Jamar said during the interview. "They tried to use certain lines from the song and tried to twist it for their cause. In the street people call people 'f-ggot" all of the time. That don't mean they're calling you a homosexual." But he later admitted that the term is a derogatory word for gay men, saying, "Just got whipped like a f-ggot in the clink," that's some real shit. Niggas get beat up in jail that's f-ggots. What'chu want me to do about that? You see what I'm saying?" It's evident that Lord Jamar was a bit confused about his own beliefs, but stood on them, no matter how harmful the foundation was.
LGBTQ+ individuals were seen as targets for verbal, and physical attacks, especially if they were Black. Women in rap, such as Queen Pen, were called out for their presumed sexuality as well, which uncovered insidious, pervasive mentalities about Black womanhood and queerness.
In 1998, "No Diggity" rapper Queen Pen released "Girlfriend," an interpolation of MeShell Ndegeocello's "If That's Your Boyfriend (He Wasn't Last Night.)" On the track, she rapped about snagging a woman from her lover, and her cheekiness was met with disdain from Foxy Brown.
"Ya'll confused ass chicks/Now is you straight/Or is you gay/Now that's ya business/You like p-ssy/Ain't no more to say/That's some bullshit," Brown rapped on "10% Dis." She also had more animosity on "Talk To Me," which was allegedly aimed at Queen Latifah. "Seent ya fruity ass straight starin' at my titties/Spendin' chips to get me/Who me!/…f-cks wit' no chicks," Brown said on the hook-free track.
There was no solidarity from Brown, who had become famous for her sexual lyrics, reminding listeners of the disconnect between what facets of sexuality and preference are tolerable within hip-hop. Knowing that, it's not surprising that Da Brat kept her life under wraps for as long as she did.
Though many would argue that the climate has changed and that we are now accepting of LGBTQ+ women who rap, that's not fully true. Openly gay rapper Young M.A has was consistently harassed by Kodak Black, who rapped, "I'm f-cking Young M.A long as she got a coochie," on "Pimpin' Ain't Easy." Rape culture, and a complete disregard for a woman's ability to be in control of her sexuality, are the reasons why Black felt comfortable to say that. So no, we haven't gotten as far as we would like to believe, and homophobia, and its branches, are still alive and well.
Hip-hop and society-at-large have to do a better job of protecting artists and letting them know that it's fine for them to be who they are. We can't afford to let another thirty years pass and continue to operate as if queerness is some sort of failing.