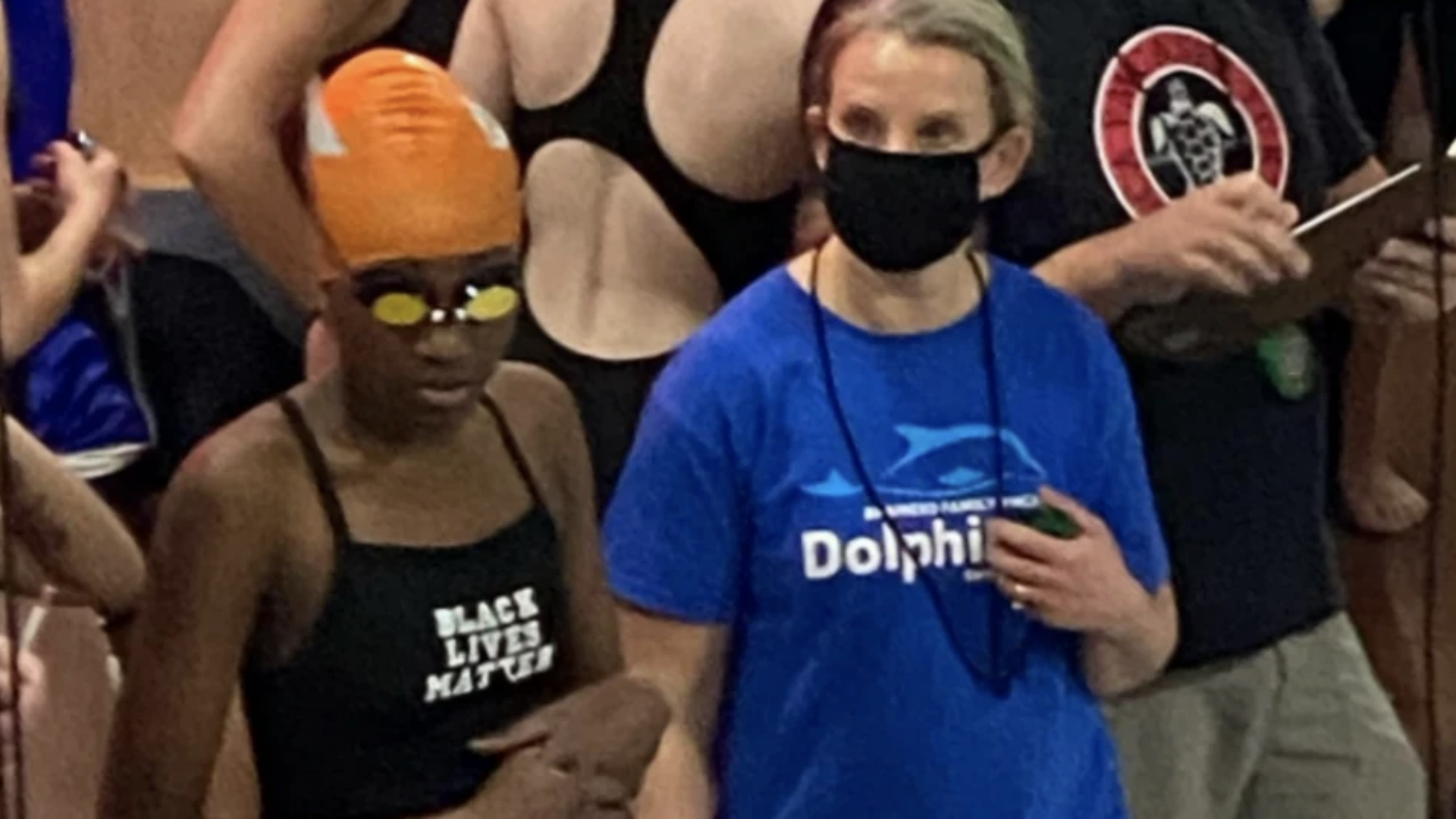 A 12-Year-Old Black Girl Was Almost Disqualified From A Swim Meet Over Her 'Black Lives Matter' Swimsuit
The decision was overturned once the vice president of the YMCA arrived.
Leidy Gellona, a 12-year-old swimmer, was momentarily disqualified from a Wisconsin meet due to her 'Black Lives Matter' swimsuit. She was the only Black swimmer present at the meet.
Gellona was inspired to create the suit following the police killing of Amir Locke in Minneapolis. Locke's death, the result of the deadly no-knock warrant has sparked local protests, as well as national outcry. The preteeen ironed on the letters herself, according to her mother, Sarah Lyons.
Gellona and her mother reside in Minnesota, where Locke's death took place.
Once an official told Gellona that her suit violated rules against the presence of political stances, Lyons told her daughter that she could change her apparel if she wanted to. The woman told NBC that she was "angry" and "sad" about it.
""She said, 'Mom, I'm not taking this suit off,'" Lyons said to NBC. "I don't think either one of us ever thought that she was just going to change her suit. Knowing her, I knew she was going to stand true."
As a result of Gellona's decision, she was disqualified from competing.
Lyons is a diversity officer for a college and reached out to the NAACP and a human rights officer for support. Media and a crew of supporters arrived on the scene. Once the vice president of the Duluth YMCA arrived, which is where the meet was taking place, the decision was quickly overturned and Gellona was allowed to compete.
The Duluth YMCA released a statement saying the official who moved to disqualify the girl was a volunteer. The official was removed and is permanently banned from meets hosted by Duluth's YMCA. "An independent volunteer official inappropriately barred a student athlete from taking part in the meet, due to their 'Black Lives Matter swimsuit,' stating that it 'went against USA Swimming's policy of no political language,'" a portion of the statement read.
"This isn't just about what happened to me," Lyons' daughter said according to NBC. "This could happen to girls, to Black kids … in music and sports all the time.
Using clothing to speak about police violence is not uncommon in the athletic sphere. In 2020, tennis star Naomi Osaka made headlines when she wore face masks with the names of George Floyd, Tamir Rice, Elijah Mcclain, Breonna Taylor and Philando Castile. Additionally, two masks bore the names of Ahmaud Arbery and Trayvon Martin, whose deaths were rooted in supremacist violence.