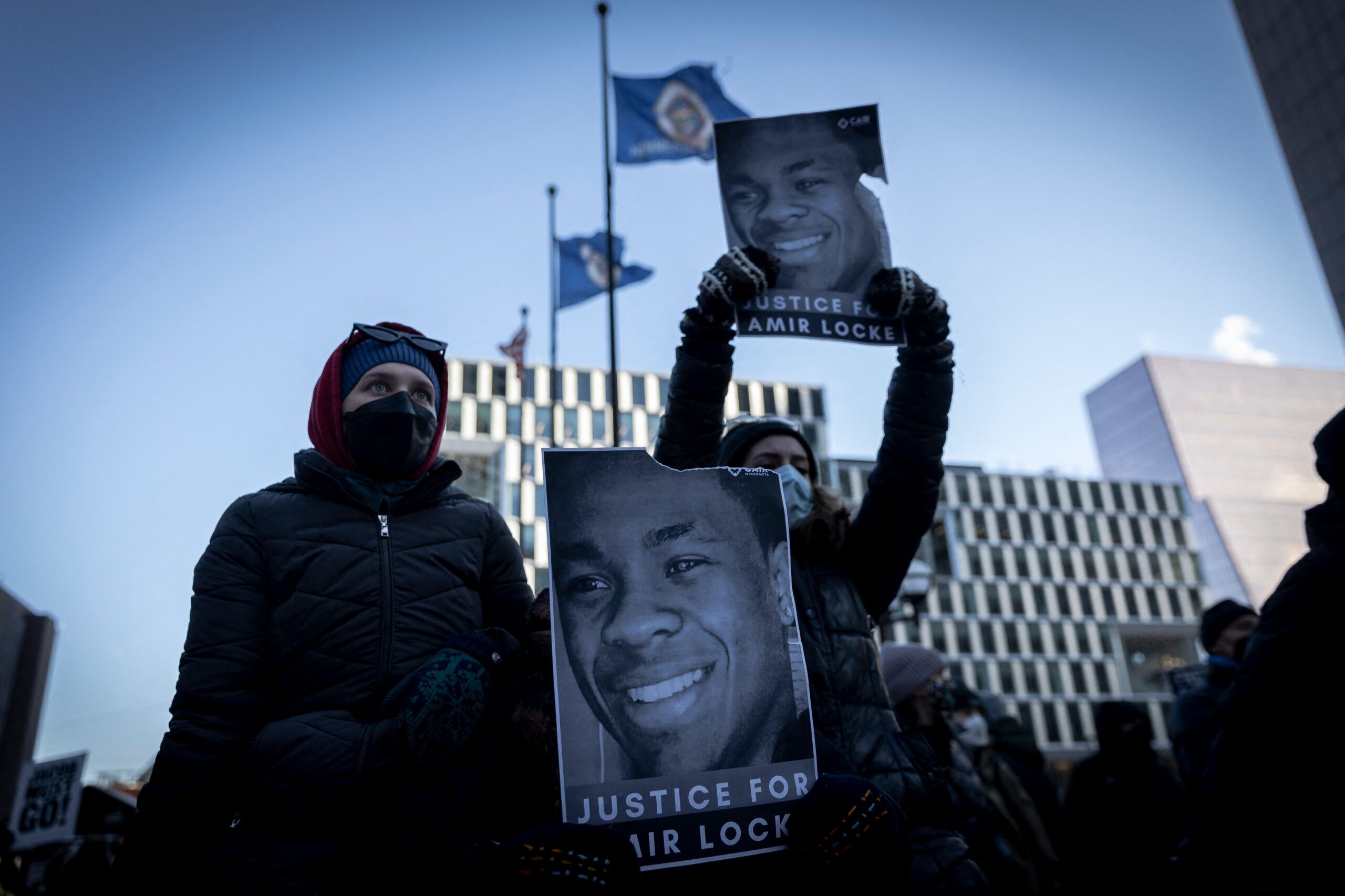 Minneapolis Protesters Demand Justice After Police Killing Of Amir Locke
Locke was killed on February 2 by a Minnesota Police SWAT team executing a no-knock search warrant.
On February 6, a caravan of protesters drove through Minneapolis to demand justice for the killing of Amir Locke, the 22-year-old Black man who was shot last week by police officers during a no-knock search warrant.
Around 50 vehicles gathered in the Target parking lot on East Lake Street in south Minneapolis at around 6pm., according to KSTP. The caravan of cars drove through the city blasting horns and displaying "Black Lives Matter" banners. By 7 p.m. the cars met in front of what protesters believed was the home of Interim Police Chief Amelia Huffman. Protesters chanted the names of Amir Locke and Breonna Taylor, a Black woman who was also killed during a no-knock warrant by Kentucky police in 2020.
Minneapolis residents are especially incensed since Locke's death comes less than two years after the state killing of George Floyd.
"We're asking for her job," activist Toussaint Morrison said in a microphone outside the home and as reported by the Star Tribune, "because it seems like the only time they pay attention is when it affects their jobs or their money. But we pull up when it affects our lives."
On February 2, Locke was awakened by police officers who burst through the front door. He grabbed his gun, which the family's attorney says he was in legal possession of, and was shot and killed by a SWAT team. The police said Locke was not named in any search warrants. Minneapolis officials have also announced that the state's Bureau of Criminal Apprehension was investigating what had happened. 
Locke was a budding musician. He had plans of relocating to Dallas, Texas to stay with his mother and pursue his career. His family described him as a "good kid" with a "beautiful" smile.
"Amir didn't deserve what happened. Amir was surprised. Life was taken from him, in an unjust way," Andre Locke, Amir's father, said. "My son was startled when that officer kicked the couch. The kid was a deep sleeper, it takes a lot to wake him up. For them to kick the couch and startle him. Those officers aggravated him, almost like they wanted him to reach for something. To take his life."
Benjamin Crump, the civil rights attorney who previously worked with the families of Trayvon Martin, Michael Brown and George Floyd, is representing the Locke family.
The February 6 protest was organized by police accountability groups such as Communities United Against Police Brutality and the Racial Justice Network, according to the Star Tribune. 
"We're going to see the continuation of these protests, we're going to see the demanding of justice and hopefully we'll see this cop fired charged and convicted," DJ Hooker, a community activist, told News Nation. "Maybe some of these politicians, instead of just saying Black Lives Matter on the campaign trail, will actually put their money where their mouth is and sign some bills to actually get us protection out here."