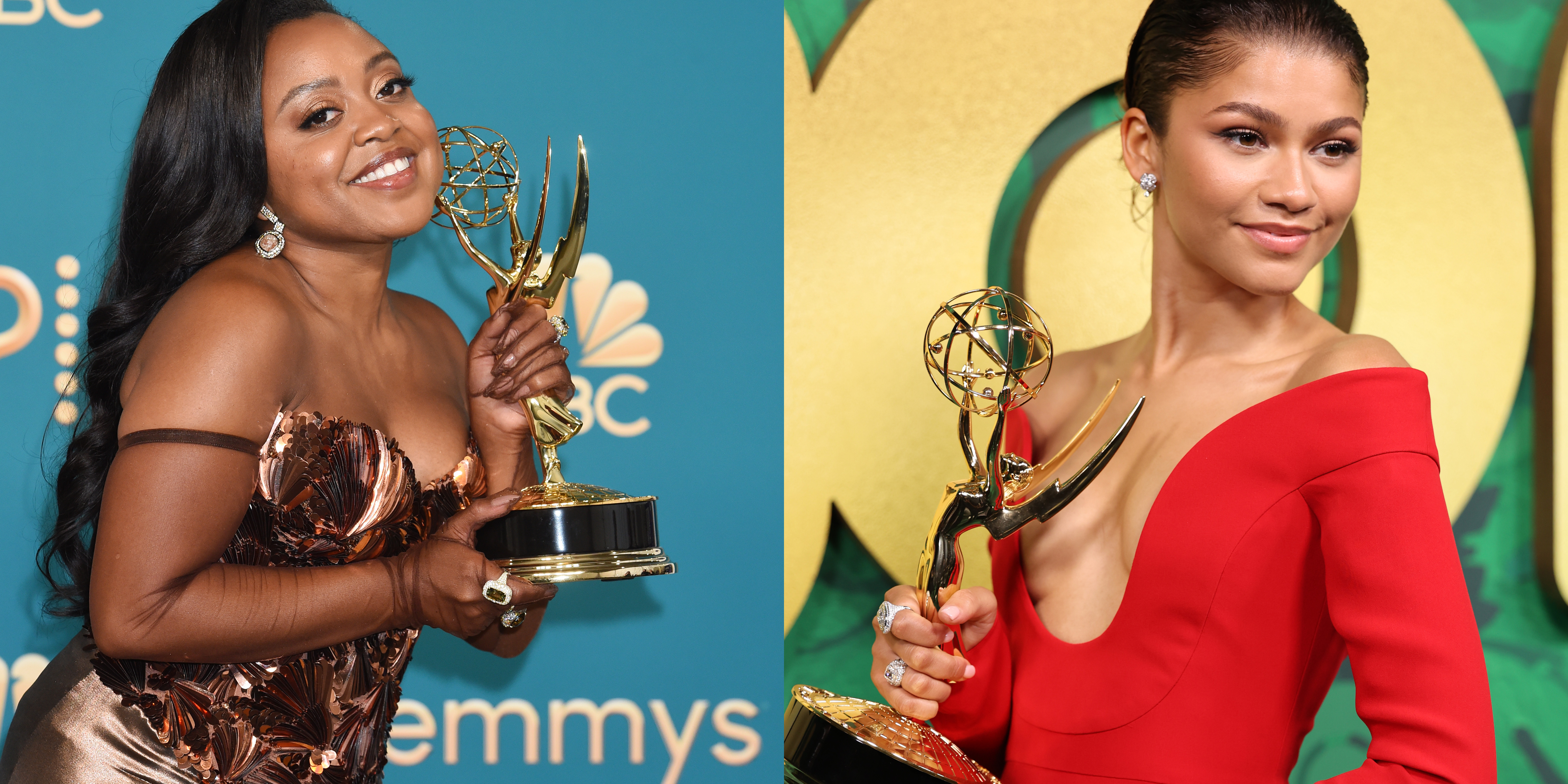 Zendaya Wants To Collaborate On A Project With Quinta Brunson
The 'Euphoria' actor approached the 'Abbott Elementary' star about a potential collaboration.
Zendaya and Quinta Brunson both made history at the 74th Annual Emmy Awards. The Euphoria actor won for Outstanding Lead Actress In A Drama Series for her role in the HBO show. Zendaya became the first Black woman to receive the award twice and for being the youngest two-time Emmy winner.
That same night, Brunson won an award for Outstanding Writing For A Comedy Series for Abbott Elementary. As the show's star and creator, Brunson also became the second Black woman to receive the award, as well as the first Black woman to be nominated three times in the comedy category.
Needless to say, a collaboration between both of these talented actors and producers would make their fans rejoice at the idea. It is something Zendaya has considered in the past. In an interview with Variety, Brunson shared that the 26-year-old approached her and mentioned she would like to collaborate with her on a project. The Abbott Elementary writer and producer questioned whether they both would have the time to make this idea a reality.
"Right now, I don't really have time, unless I wanted to work myself to death, to focus on anything but 'Abbott,' and I'm OK with that," Brunson told the news outlet. "I'm trying to find out where other people find the time. I was talking to Zendaya yesterday. She's like, 'We have to work on something.' I was like, 'When? You are in every major franchise in the world!' I don't get it. Do people have different time than I do?"
Brunson's upcoming projects include playing Oprah in the film Weird: The Al Yankovic Story, as well as a guest spot in the revival of Party Down. The 32-year-old is also looking towards a potential revival of Extreme Makeover: Home Edition but geared toward schools and movie scripts, including one with Rodney Rothman and Adam Goldberg and another with Seth Rogen's company. In her own right, Zendaya is currently one of the most in-demand actors in Hollywood following the success of Euphoria with other projects under her belt including Dune alongside industry bestie Timothée Chalamet, Marvel's newest installation of the Spider-Man franchise, and more.
We hope both talents can join creative forces in the future.
About Kyra: Kyra Alessandrini is a news writer at Girls United and a freelance journalist. Her work has appeared in publications such as Time, The Hollywood Reporter, InStyle, and Elle. Born in New York and raised in Paris, France, she is passionate about culture, street photography, and travel.