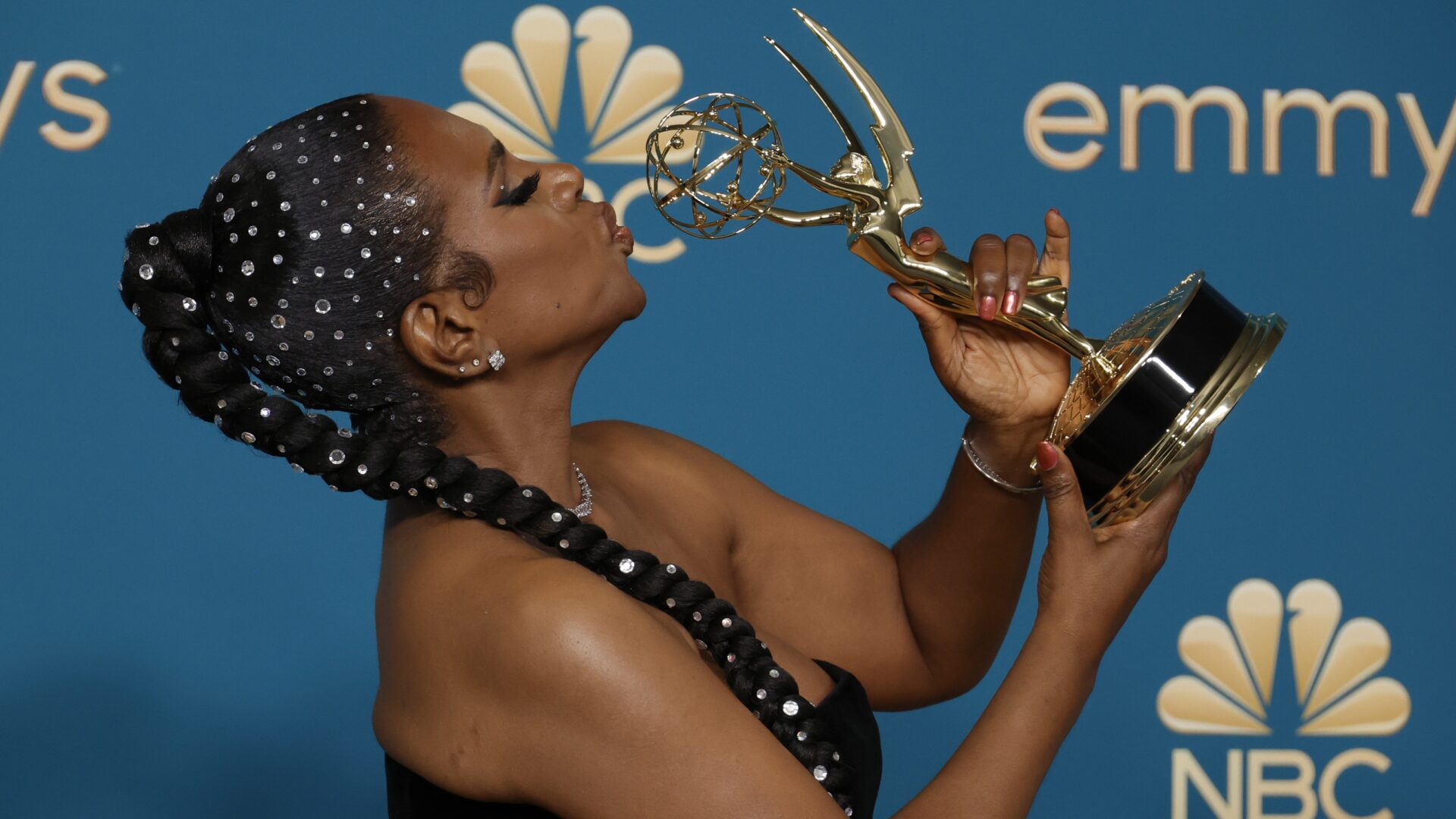 Sheryl Lee Ralph's Emmy Hair Proves That This TikTok Trend Will Outlast The Summer
The 'Abbott Elementary' and 'Dreamgirls' actress won her first-ever Emmy at the 74th annual awards ceremony.
Since this is the maximalist, throwback fashion era, it wasn't surprising when the 90s hair gems trend reappeared this past summer. As a black girl, though, if you meander onto the "gems hair" hashtag on TikTok, you may think this trend isn't for us because of the lack of diverse hair textures. I'm here to tell you that no matter your hair type, you, too, can rock hair gems. 
Although hair gems were a must-have Y2K item throughout the summer months, as soon as Sheryl Lee Ralph stepped onto the red carpet at the Emmys, her look let us know hair gems would be circling the block for the fall and winter season. After Moira Frazier, Ralph's hair stylist, spoke with Ralph's daughter Ivy Maurice on the styling direction, she developed a sleek ponytail braid adorned with hair gems. Not only did the hair gems amplify the ponytail braid, but they highlighted her as the night's star. 
"When @thesherylleeralph asked me to do her hair for Emmys I knew this would be a magical moment," Frazier captioned her Instagram post. "This was amazing teamwork, she was truly the STAR of the night. A rare gem to the world and a true diamond hence the look."
On September 12th, Ralph received her first Emmy Award over the span of her 40-year career in the entertainment industry. Ralph – who earned the Emmy for her role as Barbara Howard in Abbott Elementary  – made history as the second Black woman who has won the Primetime Emmy Award for Outstanding Supporting Actress in a Comedy Series. "To anyone who has ever, ever had a dream and thought your dream wasn't, wouldn't, couldn't come true – I am here to tell you that this is what believing looks like," she said during her acceptance speech.
We don't know the specific products Frazier and her hair assistant Christina Joseph used, but you can still execute this look in the comfort of your own home. All you need are a couple of items to execute the style and you'll be looking like a dreamgirl in no time!
A pink circle-shaped clamper called the Blinger Glam Collection was the product that went viral on TikTok over the summer to execute the hair gem look. The problem with the apparatus is that when some people went to clamp the device onto their hair, the jewels would entirely fall off as soon as they released the clamp. On the hunt to find a solution, there seemed to be an easy fix after perusing through the "hair gems for black girls" hashtag. 
According to Tiktoker @vnadiacollection, textured hairstyles can do away with the clamper and just use a tweezer. All you have to do is use the tweezer to dip your hair gems into a gel and apply the gems directly to your hair. When you're finished applying the hair gems to your hair, use a holding spray to lock in the hair gems. This TikToker personally used Got2b products, but use any gel and holding spray of your choice. Using a gel and holding spray will ensure that the gems lock into your hair and create a more long-lasting look. 
Next time you want to shine bright like a diamond or be the gem of the night, try switching up your hairstyle. 
Photo Credit: LOS ANGELES, CALIFORNIA – SEPTEMBER 12: Sheryl Lee Ralph, winner of the Outstanding Supporting Actress in a Comedy Series award for 'Abbott Elementary,' poses in the press room during the 74th Primetime Emmys at Microsoft Theater on September 12, 2022 in Los Angeles, California. (Photo by Frazer Harrison/Getty Images)
About Allanah: Allanah Dykes is a freelance writer. Her work has appeared in NPR, Popsugar, Food52, and Complex publications. Raised on Long Island, NY, surrounded by diverse fashion, beauty, and culture, she prides herself on infusing her upbringing into every article she writes.