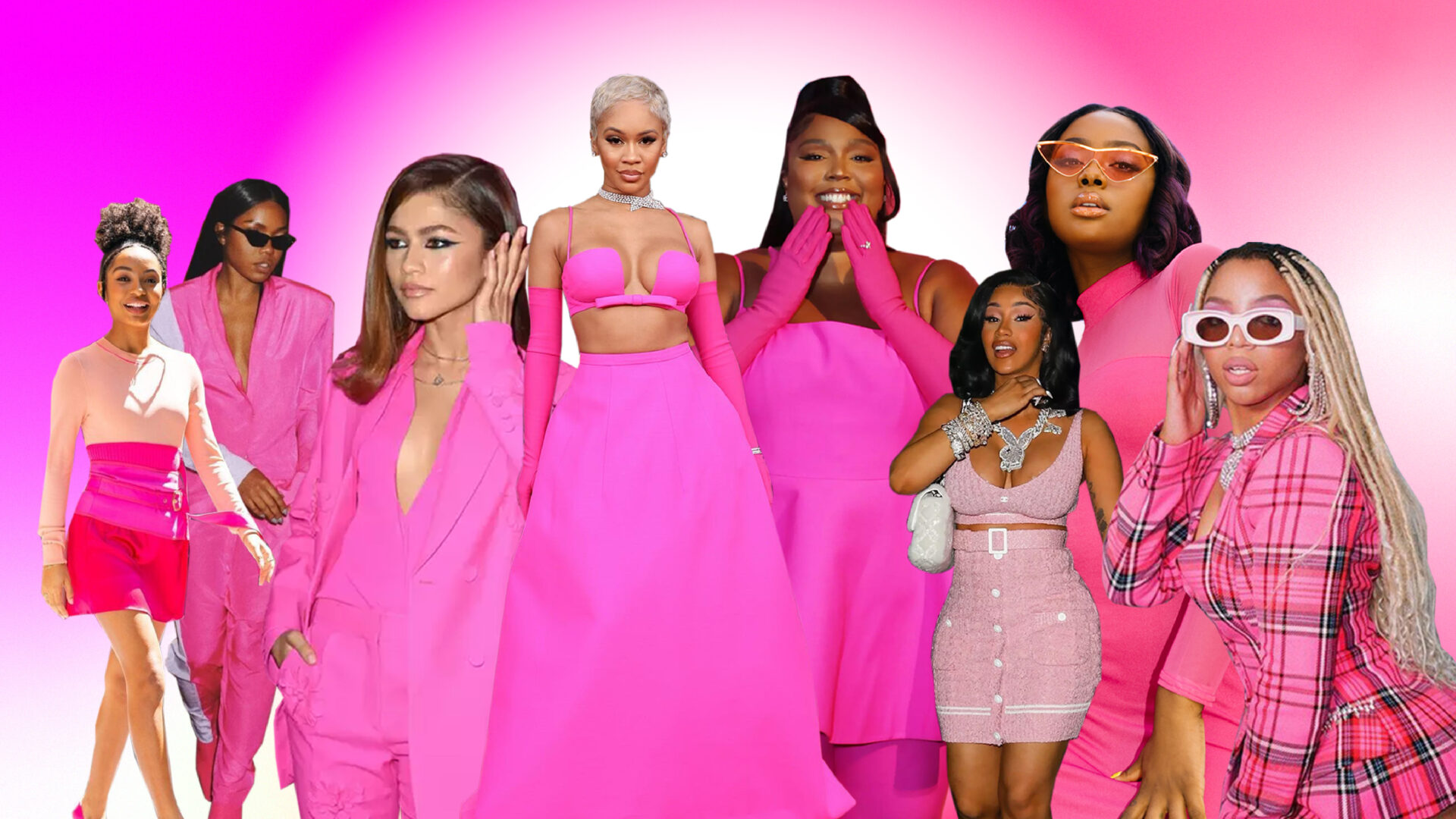 What Is Barbiecore, The Fashion Trend Taking Over Social Media?
On social media, you never know what new fashion trend will pop up next. If the trend cycle can be difficult to keep up with (The 70s aesthetic! Micro mini skirts! The hair stamps trend!), a new style has been slowly gaining momentum for weeks, if not months.
Barbiecore is exactly what you imagine it to be. Think all pink outfits, from monochrome neon pink looks to bubblegum accessories. Celebrities and social media users alike have hopped on board when it comes to channeling the feminine aesthetic championed by Mattel's iconic doll Barbie.
Valentino was the first brand to revive pink as a trendy color this year. In March 2022, the luxury house presented its Valentino Pink PP collection for Fall/Winter 2022 at Paris Fashion Week. The house developed a brand new color in collaboration with Pantone, referred to as "Valentino Pink." The result? A bright, near neon, pink shade spotted all over their runway show and, subsequently, all over red carpet events.
Lizzo, Saweetie, Zendaya, and Ariana DeBose are only a few of the celebrities seen wearing the shade. Men have also been partaking in the trend. The Formula 1 multi-champion Lewis Hamilton was chosen by Valentino to be the collection's ambassador.
Valentino describes the color as "a manifestation of the unconscious and a liberation from the need for realism." After over 2 years of a pandemic and political turmoil, all-pink outfits offer a much needed escape. Although Valentino may have helped kickstart the trend, the first images released of the upcoming Barbie movie – starring Issa Rae and Hari Neff – have solidified social media's fascination with Barbiecore.
On Pinterest, searches for "Barbiecore" jumped by 75% in July. According to Klarna, there has been a 970% increase in searches for pink mini dresses, and a 682% jump in searches for pink in the past six months, reports Who What Wear. On TikTok, the #barbiecore hashtag has over 13 million views, while the #barbie hashtag counts over 22 billion.
What could explain the success of Barbiecore is that it encompasses other fashion trends. After all, Barbie is known for her versatility when it comes to fashion and her interests.
Some have added Barbiecore into Y2K outfits by sporting pink furry bucket hats, tracksuits and clear pink sunglasses.
Others went preppy by wearing Chanel-inspired baby pink skirt sets.
Barbiecore can also be adopted via the 80s and 90s fashion, including the athleisure looks seen in the first on-set images of the Barbie movie. "With many nostalgic for simpler, sunnier, and more carefree times, it only makes sense that this '80s-inspired, unapologetically pink aesthetic is taking center stage as the 'it' style of the summer," said Etsy trend expert Dayna Isom Johnson, according to ABC News.
Barbiecore can also be worn as clubwear, with hot pink bodycon dresses, or tap into cottagecore with flowy maxi dresses.
When it comes to Barbiecore, anyone can adapt to the trend – no matter your personal style. "I think we have changed the way we think about the stereotypical Barbie girl with blonde hair and the perfect body," blogger Chazlyn Yvonne Stunson told Insider. "Nowadays, we are seeing all kinds of individuals, such as myself, partake in the aesthetic."
Black fashion designers, such as Hanifa, Kimberly Goldson, and Rich Fresh, have collaborated with Mattel and drew on the aesthetic for their collections. Nicki Minaj has embraced the aesthetic for years by sporting pink wigs, calling her fans "Barbz" and referring to herself as Barbie in several tracks including "Barbie Dreams" and "Barbie Tingz."
"I think Barbiecore is definitely a statement on diversity," Tonya Parker told Insider. "We're taking a dated standard of beauty and flipping it on its head. And it's certainly a response to current events. I always see joy as a form of resistance."
In 2022, the beloved doll has become an unapologetic symbol of femininity and diversity. "Pink has always been Barbie's favorite color – she even has her own signature 'Barbie Pink' Pantone shade, PMS 219," Kim Culmone, the SVP of Design for Barbie and Fashion Dolls, told InStyle. "For Barbie, pink represents limitless potential and is a symbol of female empowerment, which is such a perfect fit with the brand's purpose."