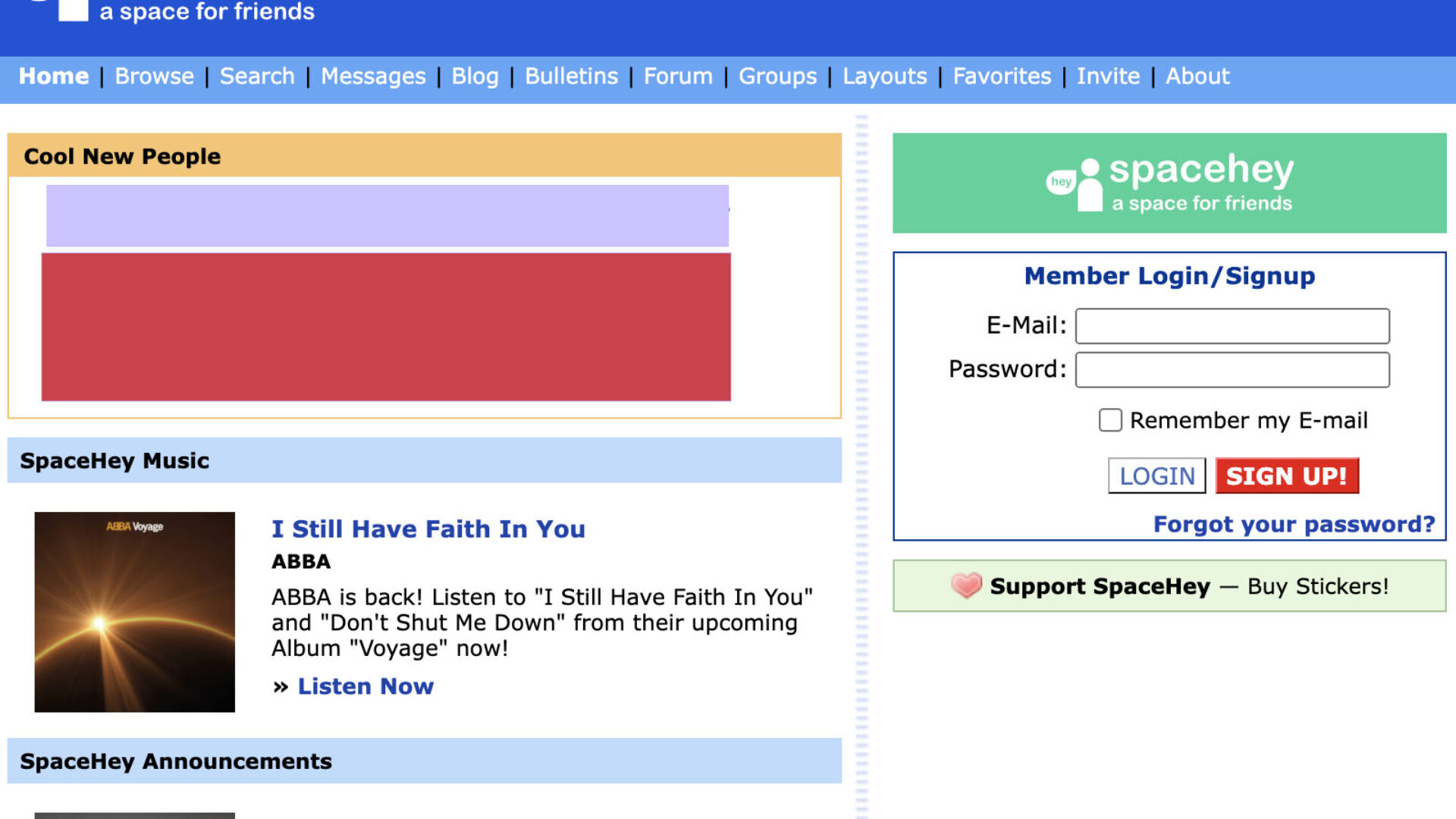 MySpace, Is That You?
SpaceHey, a retro-style social media platform is giving us flashbacks.
A MySpace lookalike, SpaceHey, debuted in November 2020, feeding into the unending interest in moments past. From the signature shades of blue to the simple iconography to the emphasis on "customization and privacy," the platform is the spitting image of its idol.
Myspace is still very much so alive, mind you. Well, kind of. Its URL leads to a site dedicated to music and entertainment news, with aggregated content from SPIN and Entertainment Weekly, among other sites. It hosts streamable music and videos as well. This pivot (the result of multiple sales and redesigns) is how SpaceHey was able to fill its space in service and in the hearts of over 200,000 users.
The bulk of the allure may come from the fact that Myspace's most popular feature, the ability to make a profile your own through CSS and HTML, can be found on SpaceHey.
SpaceHey is the brainchild of Anton "An" Röhm, a 19-year-old web developer from Germany. At the time of the network's creation, the teen had been developing for about six years. Though they've admitted being too young to have used MySpace in its prime, Röhm learned of its importance through internet digging. They began the project around the first holiday season of the pandemic and documented the process on Twitter.
During a talk for Germany's TINCON (a three-day long series of conversations, workshops and events surrounding online youth culture), Rohm expressed that social media was troubled and the teen felt equipped to provide a liniment. Röhm outlined one grievance in particular, "limited creative freedom," which they believe is addressed in the form of SpaceHey's customizable code.
Additionally, Röhm is focused on data protection. SpaceHey's "About" page shares that there are no personalized advertisements, no tracking and no algorithm. The feeds are also in chronological order.
Signing up for the site is simple enough. You plug in the email address you'd like to be associated with SpaceHey, create a password, jump over a captcha mini moat, add in your name and you're done. If you were around for MySpace, your homepage will look eerily familiar with blog posts, an area for instant messages, the spot for friend requests and more of the bells and whistles that were once cutting edge. I made a profile so you can get an idea.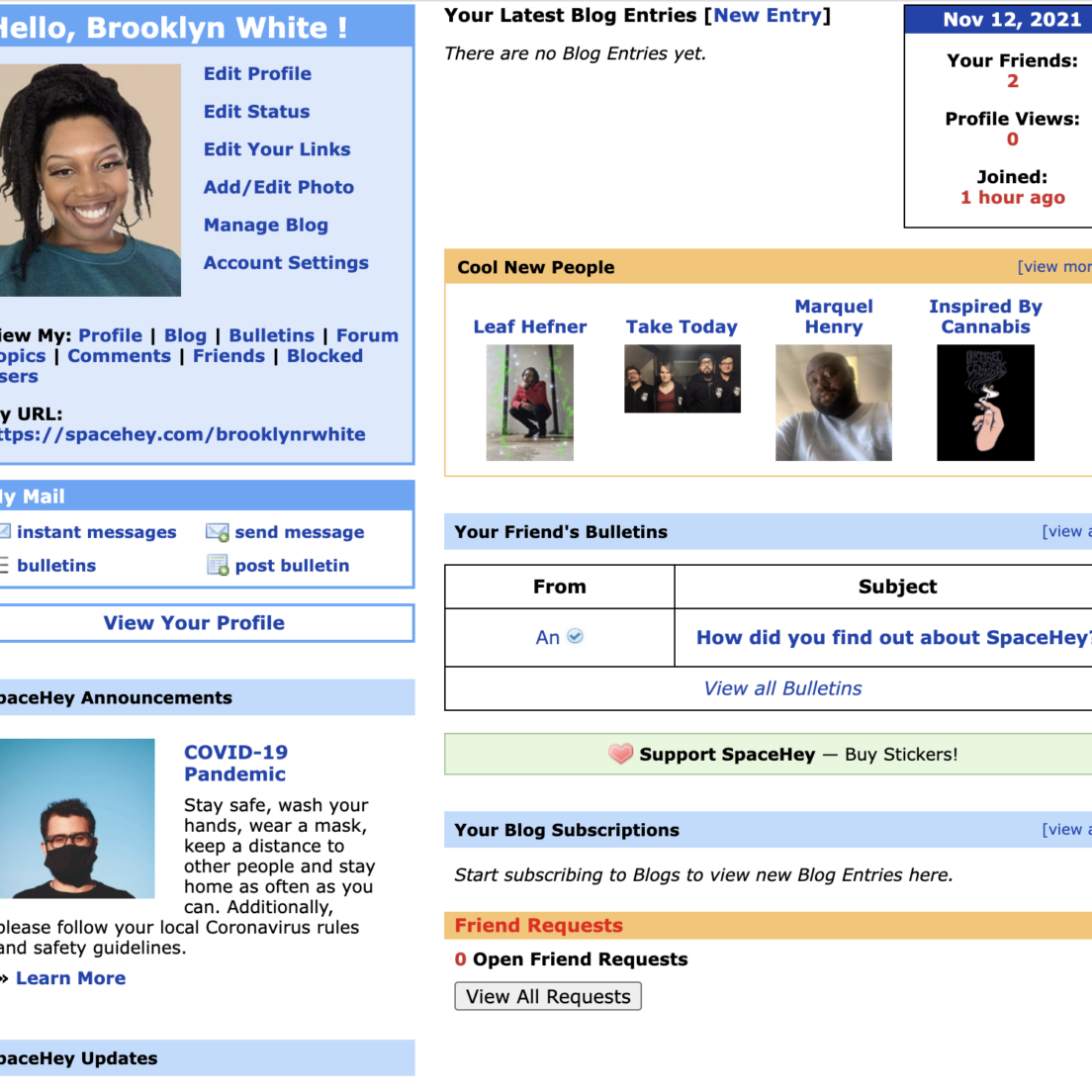 Also, like with MySpace, you're granted friends automatically. Though instead of being pals with Tom Anderson, the co-founder of MySpace who sold the company for over half a billion dollars in 2005, you're friends with Röhm and SpaceHey.
There are a few minor differences, of course. On each homepage, there's a "SpaceHey Announcements" portion dedicated to COVID-19 safety. The clickthrough link takes you to the World Health Organization's website. You also given the option to support SpaceHey by buying name-your-price stickers.
Meanwhile, your profile is almost an exact replica of MySpace's skeleton.
It's no secret that modern pop culture thrives on what's already been done. 1970s hairstyles and Juicy Couture are just a few trends that've gotten a fresh jolt of juice from Gen Z, while we're steadily being offered reworks of films that are barely 20 years old. In fact, MySpace itself was a take on Friendster, a social network game founded in 2002. So does online originality exist or are we in an infinite loop of widely-recalled references and "remember whens?"
Furthermore, does a critique have a lasting effect when nostalgia, with muscles flexed, is an Atlas of capitalism? With increasing frequency, brands across fashion, food and technology are leaning on what was to welcome what can be. As long as there's cash to be made in some corner, there will be a throwback. Even though the promise of money doesn't appear to fuel Röhm's pursuit, that doesn't mean its success won't inspire more lucrative reminiscing.
Speaking of dough, MySpace's fall was swift, wasn't it? Each time the company was sold, it became much less profitable, reflecting the shifting interests of its original audience. By the time Rupert Murdoch's News Corp (the owner who succeeded Anderson) sold it to an ad company 10 years ago, it was passed off for $35 million. Twitter, Facebook and Instagram also out-lapped the site that once had 27 million members and was more popular than Google, cementing the decline. It seemed the sun had set on a once-booming home base for digital connection. Maybe SpaceHey will bring about the end of night.
Add me on SpaceHey here.
Photo credit: SpaceHey