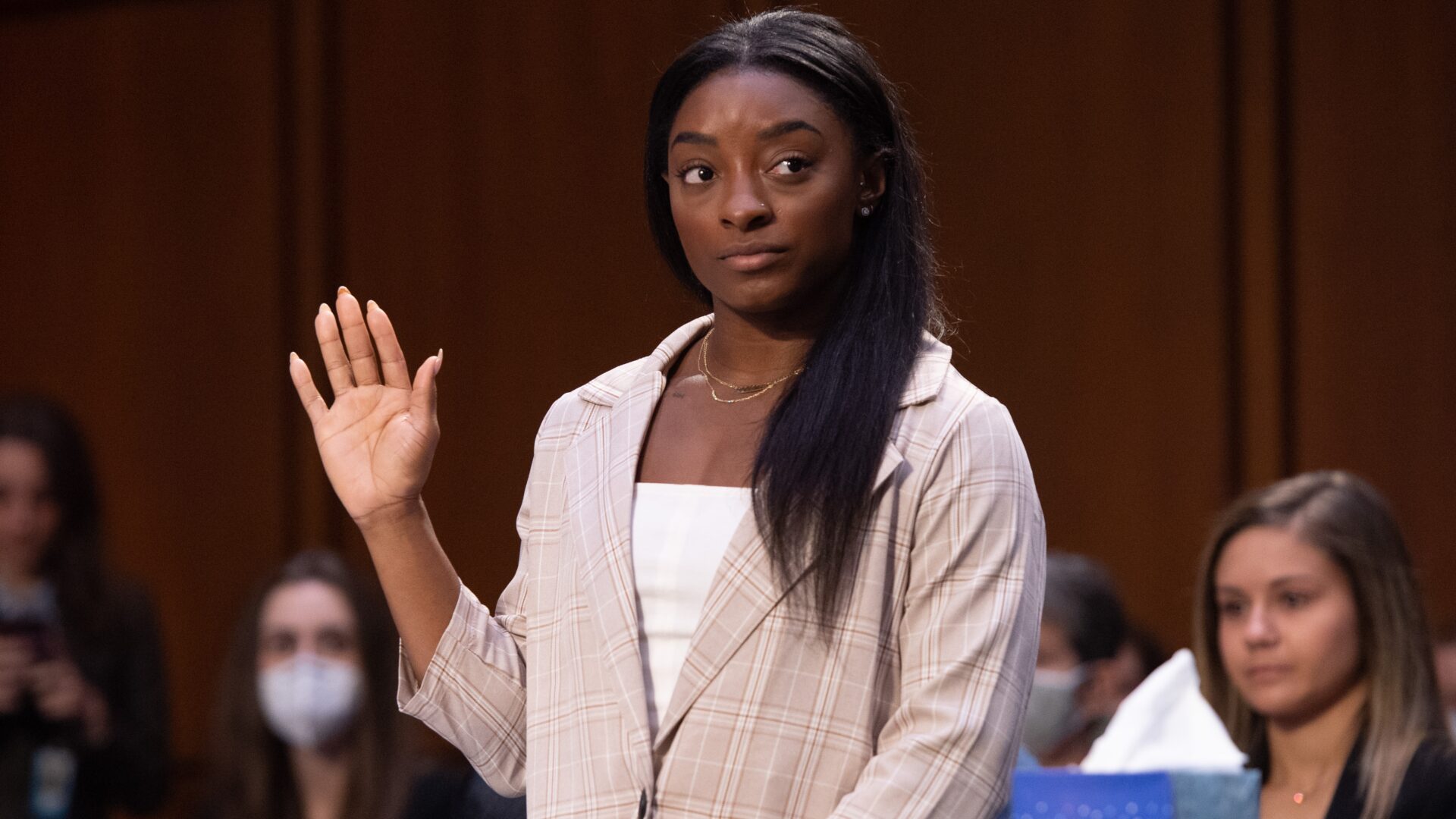 Simone Biles Holds FBI Accountable During Larry Nassar Senate Hearing
"I blame Larry Nasser, and I also blame an entire system that enabled and perpetrated his abuse."
Simone Biles, the most decorated gymnast of all time, testified earlier today against Larry Nassar, a convicted sex offender who sexually abused many members of the United States women's national gymnastics team while serving as the official team doctor. Former teammates Aly Raisman, Maggie Nicholas, and McKayla Maroney appeared before the committee alongside Biles, as well as FBI Director Christopher Wray.
"To be clear I blame Larry Nassar and I also blame the entire system that enabled and perpetrated his abuse," Biles said. Mid-statement, as seen in the video provided by MSNBC, Biles became emotional while holding the FBI, USA Gymnastics and the U.S. Olympic and Paralympic Committee all accountable for their role in her abuse. "I don't want another young gymnast, Olympic athlete, or any individual to experience the horror that I and hundreds of others have endured before, during, and continuing to this day in the wake of the Larry Nassar abuse," she continued. 
According to the four-time Olympic gold medallist, the USA Gymnastics and the USOC "knew that I was abused long before I was aware of their knowledge."
"We suffered and continue to suffer, because no one at the FBI, USAG, or the USOPC did what was necessary to protect us," Biles continued. "We have been failed." 
Nassar has reportedly abused over 330 women, according to BBC News. Biles, Maroney, Raisman, and Nichols were amongst one of the 200 women to come forward about their sexual assault while Nassar was serving as the official sports doctor of the United States women's national gymnastics team.
After a long-awaited report into the FBI's investigation, there were unveiled "missteps, delays and cover-ups" by the FBI, as reported by BBC, "which allowed Nassar's abuse to continue for several more months after the case was first opened." A 119-paged report revealed "two FBI officials lied during interviews to cover up their errors." Currently, Nassar is serving a life sentence in prison and one of the officers were fired.
Photo Credit: Photo by Saul Loeb – Pool/Getty Images