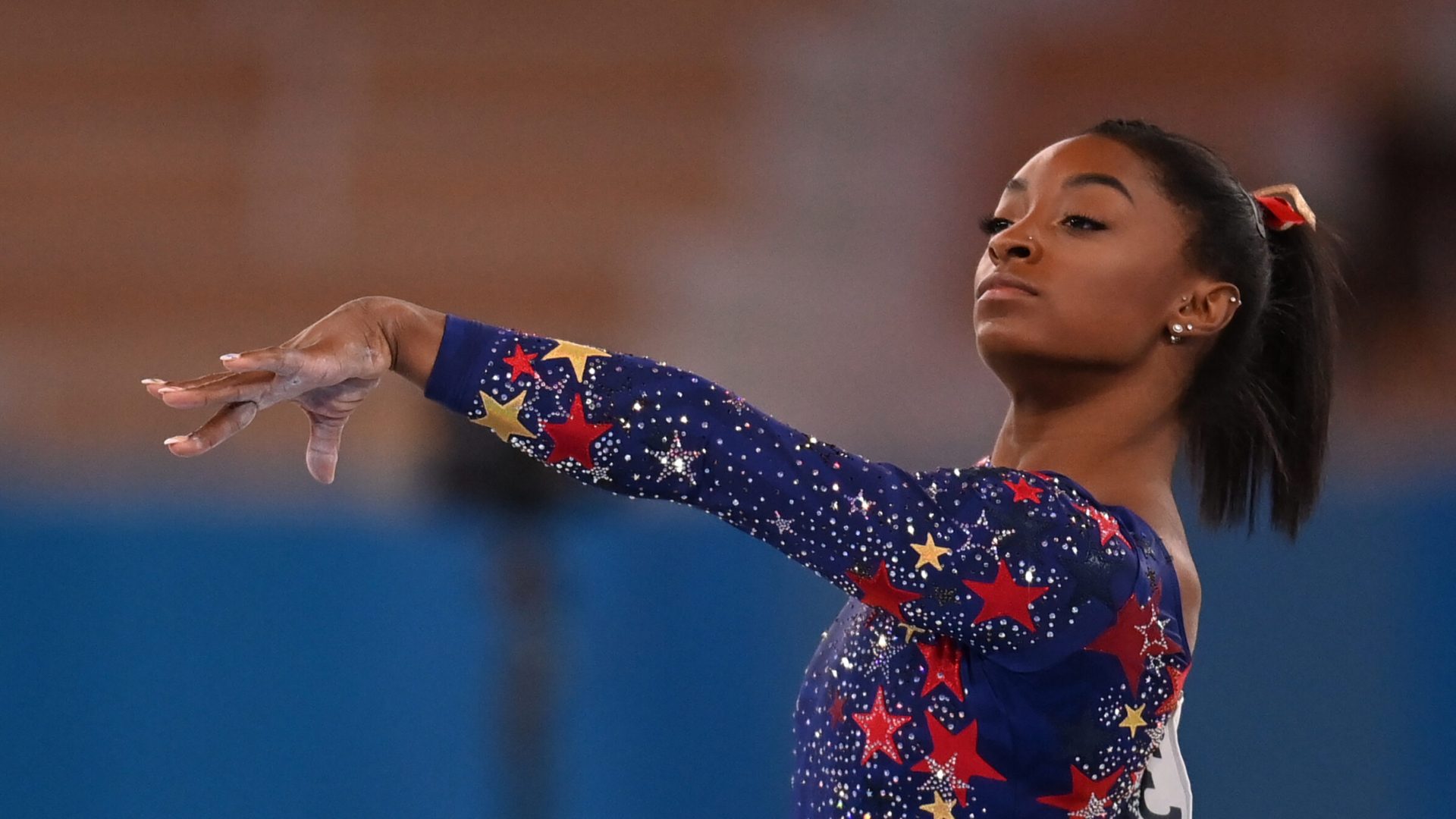 Simone Biles Proved Winning Means Putting Your Wellness First
In this op-ed, Hanna Phifer responds to the news of Simone Biles withdrawing from the Olympic women's team finals in gymnastics and the individual all-around competition.
Gymnastics superstar Simone Biles decided on July 28 that she would be withdrawing from Thursday's individual all-around competition at the Tokyo Games to protect her mental health. In a statement from USA Gymnastics, the organization said, "We wholeheartedly support Simone's decision and applaud her bravery in prioritizing her well-being. Her courage shows, yet again, why she is a role model for so many."
After the announcement of her intent to not participate in any more 2020 Olympics events, Biles received support from many people including Michelle Obama, fellow olympian Katie Ledecky, Kerry Washington, and many others. But Simone hasn't been without her critics who have accused her of being selfish and inconsiderate of her teammates and to her country.
Biles's decision comes weeks after tennis star Naomi Osaka decided to withdraw from The French Open citing her anxiety with doing press as a reason. It's an unprecedented moment in sports that two of the biggest athletes in their respective field have decided to boldly assert their desire to protect their mental well-being, even at the cost of disappointing fans and peers. That Biles and Osaka are both Black women doing this, makes this act even more revolutionary.
Over the years, we've collectively watched as Black female athletes are burdened with an insurmountable amount of pressure that extends far beyond the sport that they play. There's the many ways that tennis great Serena Williams is often targeted by colorist and misogynoir-based attacks that call her masculine and beastly. There was also the recent situation with track athlete Sha'carri Richardson, where she was ousted from the Olympics because she tested positive for marijuana after smoking after receiving news of her mother's death.
For Biles, one of the things looming over her olympics performance is the continued fallout from the sexual abuse that was inflicted on her and several of her peers by former USA Gymnastics doctor Larry Nassar. Biles is cognizant of her role as being the only known survivor of Nassar's violence who is still competing for USA Gymnastics. "I'm still here, so it's not going to disappear," she says of the ongoing investigation into the failure to protect athletes from abuse during a profile with Glamour magazine. "We have power behind it."
A conversation about Black women prioritizing their mental health over their jobs has been birthed from Biles's act of self care. While it's important to remember that Black women from all economic backgrounds have to deal with more than their fair share of stress, it's easy to get lost in the celebratory moment for Biles and think that that can necessarily translate into materially beneficial ways for everyday Black women.  
The fact that Biles can financially afford to take time off from her profession doesn't undermine the bravery of her as a Black woman asserting and following through with the boundaries she has set to protect herself. It is however the perfect opportunity to look at the ways in which we can show up for Black women who aren't in a position to do the same.
Currently, working class Black women are organizing or completely quitting their jobs because of abysmal pay and overall mistreatment they face within the workplace. Alongside this are the continued conversations about the inaccessibility of healthcare in America that impacts Black women's ability to receive adequate mental health treatment.
Simone, Naomi, and the countless poor Black women whose names we do not know are inviting us to look at the ways that for too long we've internalized the notions of placing profit over our own mental stamina. In any capacity, she'll still walk away as one of the greatest gymnasts to have ever graced the sport and that for someone who's made a career out of spinning in the air, walking away might be up there as one of her greatest accomplishments.
Photo credit: Mustafa Yalcin/Anadolu Agency via Getty Images