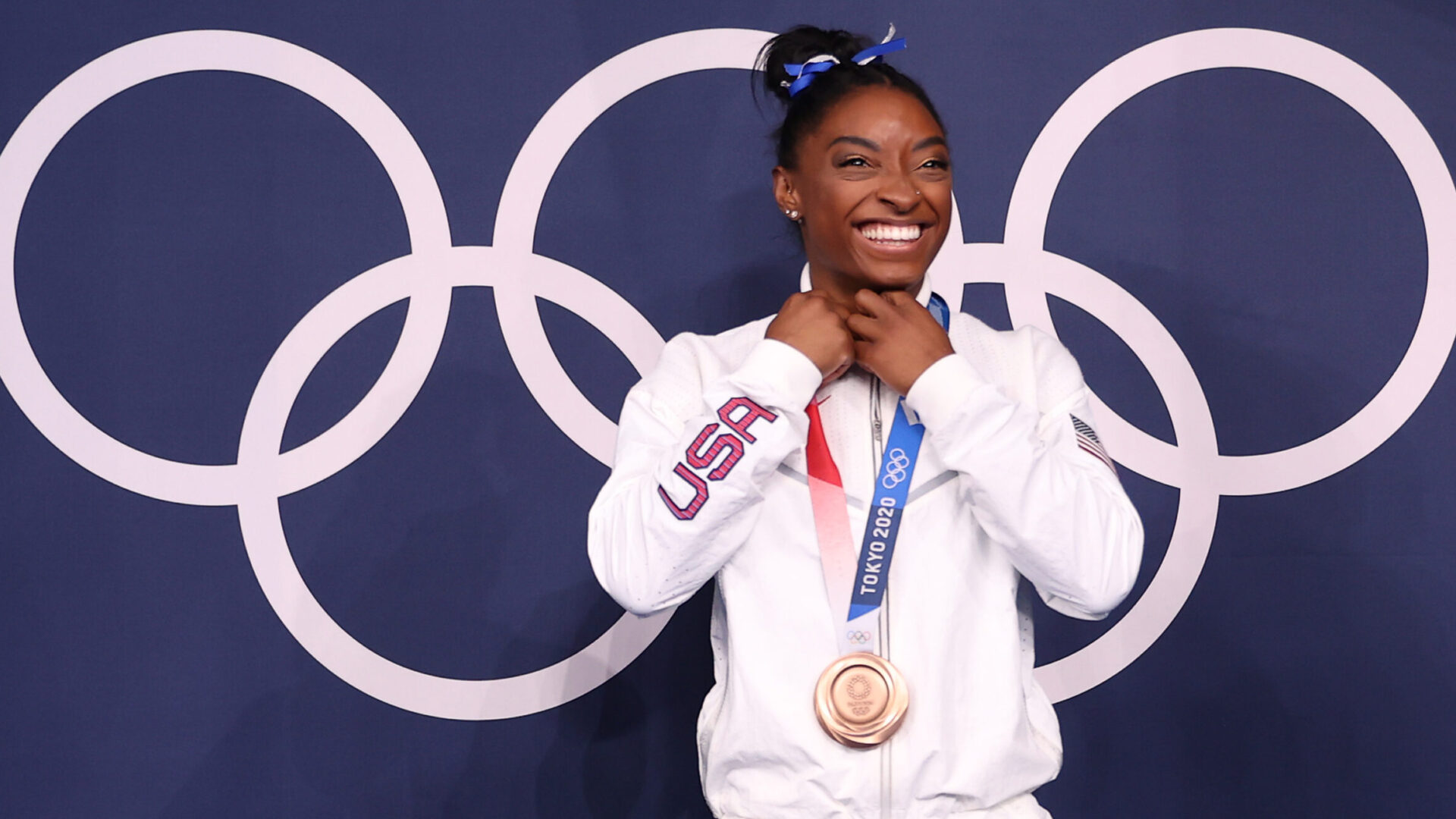 Simone Biles Claps Back At Haters: 'I Can't Hear You Over My 7 Olympic Medals'
Biles is tied as the most-decorated gymnast of all time.
One month after the Tokyo Olympics, Simone Biles reflected on her gymnastics performance in an Instagram post. She posted a picture of both her silver and bronze medals side by side, highlighting her achievements in women's artistic team all-around and women's balance team. In the caption, she celebrates her wins and claps back at critics who had previously called her a "quitter".
Read our essay on why Simone Biles prioritizing her health makes her a true winner.
During the Games, Simone Biles exited four out of five gymnastic event finals to recover from the "twisties", a frightening condition athletes can experience when they lose control over their bodies mid-air, putting them at risk of injury when they land. 
It's "definitely not the way I planned the olympics going but I wouldn't change anything for the world," Biles wrote in the caption of her post. "I'm proud of myself and the career I've had thus far. this olympics doesn't erase the past accomplishments I've achieved nor does it define who I am as an athlete."
She continued, writing, "I've pushed through so much the past couple years , the word quitter is not in my vocabulary. for some of you that may be how you define me but keep talking because I can't hear you over my 7 olympic medals which tied me for the most decorated gymnast EVER as well as most decorated [A]merican gymnast".
Biles dropping out of some of the event finals continued an ongoing conversation about the importance of mental health and around the mental health of Black women in sports. Similarly tennis champion Naomi Osaka withdrew from the French Open in May 2021 and six weeks later, opted out of Wimbledon in order to focus on her mental health.
Read ESSENCE's story on rigid expectations of Black women in sports.
With 32 medals, Biles is tied as the most-decorated gymnast of all time. She has four gymnastics moves named after her and is currently the only woman to ever perform the 'Biles vault'.
Photo credit: Laurence Griffiths/Getty Images