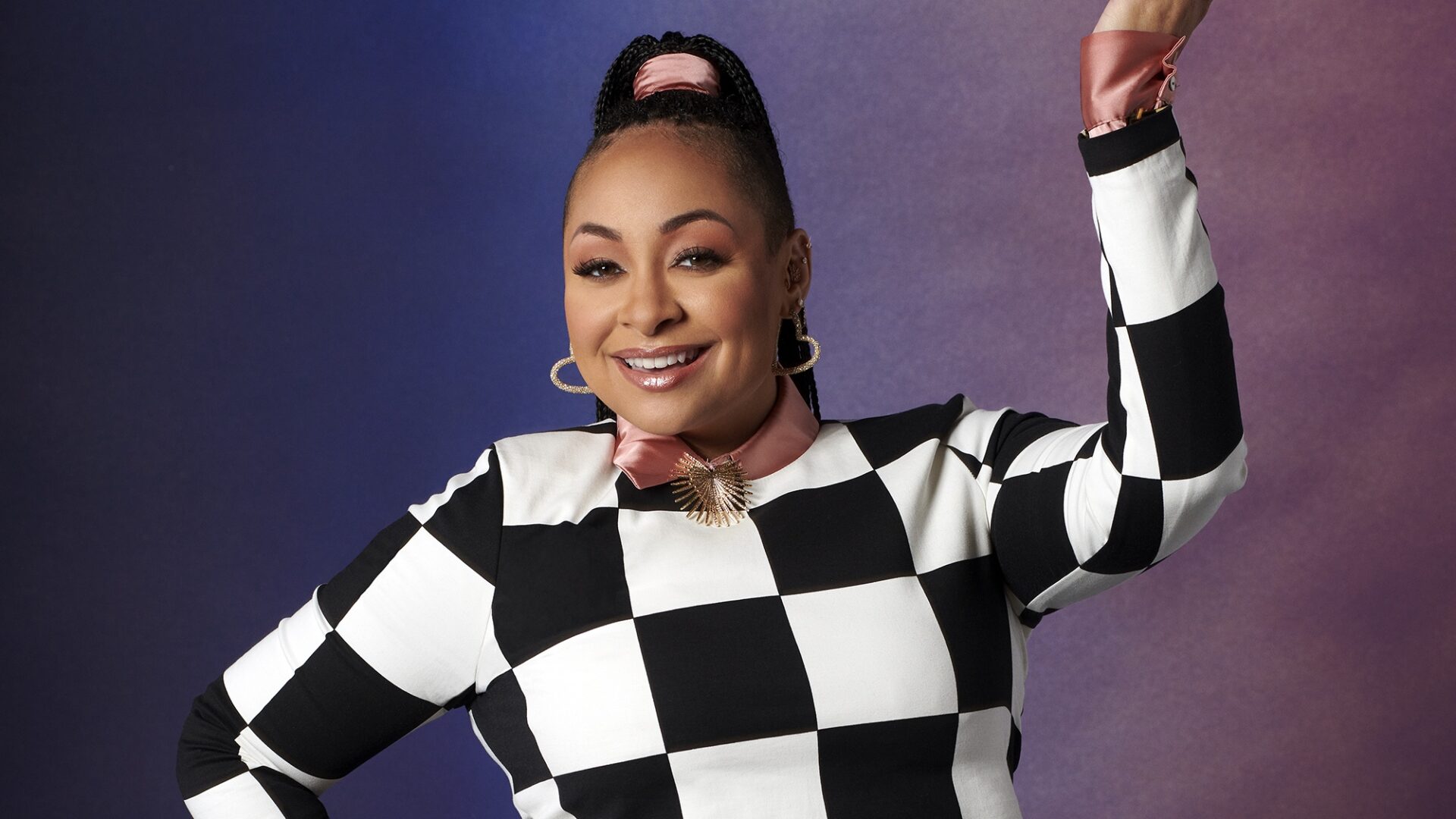 Raven-Symoné Is *Still* Shocked By The Impact Of 'That's So Raven'
"I don't have the words because I'm in it everyday," the actress told Girls United.
Very seldom do I get starstruck, but today was the day. Sitting on my Zoom screen was the one and only Raven-Symoné. That's So Raven, The Cheetah Girls, Zenon star Raven-Symoné. The Disney Channel queen who was responsible for pretending to have psychic powers and experimenting with color coordination in my closet during my younger years. Now at 26-years-old, in full-circle fashion, I was sitting virtually face-to-face with Raven-Symoné to speak with her about the fifth season of That's So Raven spinoff Raven's Home, premiering Friday, March 11.
"I'm jealous," Raven-Symoné told Girls United. Confused, I smiled and allowed the actress to elaborate on her answer further. "Listen, I don't get that. The things that I watched came back and I was like, 'Okay, cool, thanks,' but I'm flattered, I'm humbled, I'm excited. I'm at the edge of my seat to see what people are going to say – if it does it justice [or] if you guys like us. It feels good to be able to reprise a role that I enjoy doing so much, that has helped others feel comfortable in their skin. So it is a lot of emotions going on."
As she reflected on the growth of our beloved Raven Baxter from the first season of That's So Raven in 2003 through this forthcoming season of Raven's Home, Raven-Symoné referred to an answer given by her on-screen son Isaac Ryan Brown in a previous news junket, which she referred to as "stealing it for myself" jokingly. "Raven Baxter is the same Raven Baxter. She will do everything for her best friends. She will do everything for her kids but as she's growing up, she's learning how to allow other people to handle situations. She's a little bit more [calmer and] he's not that much of a helicopter parent," she laughed.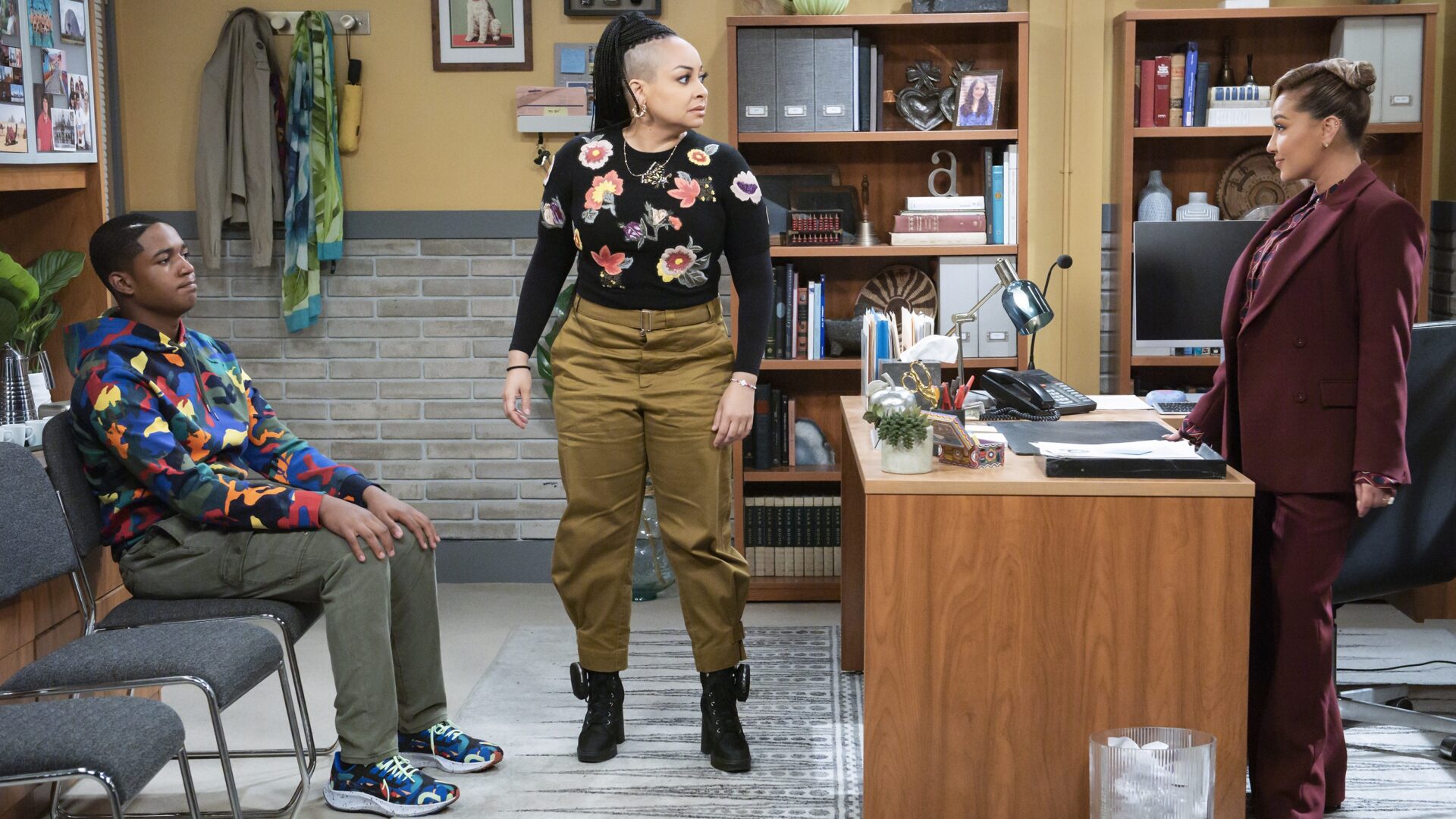 Photo Credit: Raven's Home – "Clique Bait" (Disney/Bonnie Osborne)
While the former Dr. Dolittle actress said that her character's mom-mind is allowing her to calm down, take things slower, find herself, and let her loved ones handle their own business, she ensures that our childhood favorite is not too far left when she's on go. "When necessary, she's ready to go. She still has the wigs and the fat suit in the closet just in case a disguise is needed, but she's not going to go there immediately," she said jokingly to Girls United. The 36-year-old is not a mother herself, and at first, was finding time to adjust to the idea of having a 16-year-old son, but learned to appreciate her character's parenting skills and even called Baxter a "fun mom." She continued, "Imagine if Raven Baxter was your actual mother. You going to be in line but you're also going to know that she's going to have your back if something goes down."
When Rondell Sheridan, who plays Raven's father Victor Baxter, was asked by GU about the growth of the two character's relationship as the years zipped by, he smiled but delivered his response firmly. "It'll be baby steps because she's still my baby," he said. As Victor, Sheridan acknowledges how his character is learning to give his daughter her props for raising good children and giving her space to grow on her own. "Bringing that show back to the house, to the Chill Grill, to the school – it's weird to be in a history book. Years later, you go, 'Hey, that was this show. This show did that.' Like, wow."
"I didn't realize how impactful that show was," Sheridan shockingly admitted to Girls United. When he was younger, his version of representation was Fat Albert and The Cosby Kids, which would come on every Saturday morning. But similar to his co-star, Sheridan didn't realize the legacy of That's So Raven until her reflected years later. "While I was in the pool of That's So Raven, it didn't dawn on me until after the show was over," he continued. Far beyond the United States, Sheridan reminisced on a time when he was in Brazil on Ipanema Beach and a couple approached him by simply saying the word "Raven."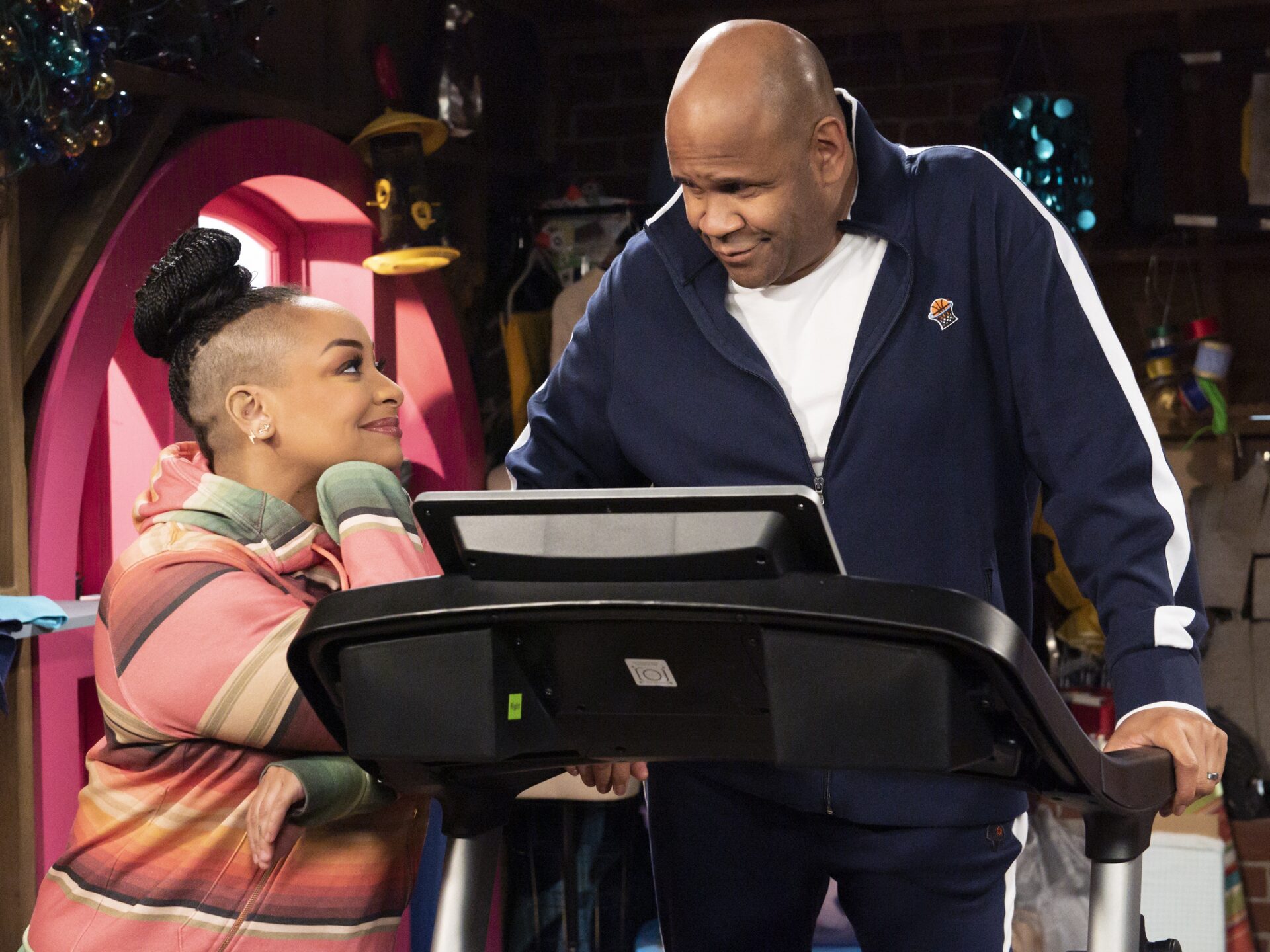 Photo Credit: RAVEN'S HOME – "The Big Sammich" (Disney/Bonnie Osborne)
"You see people that say this isn't just the United States – this is the world. You realize that how many people of color not represented on TV were thirsty and just wanted to drink from that glass," he continued. For Sheridan, That's So Raven is more than a show, but a stamp of love and intersectionality in the culture that forever lives on in our hearts beyond the television screens. Referring to this fifth installation of Raven's Home as Raven Comes Home, Sheridan dubs the ongoing spinoffs from That's So Raven to Cory in the House as a cycle similar to a soap opera. "It took time off. In soap operas you watched it, went to high school, then you went to college and you caught up. To be part of that when there's a Black Mount Rushmore up there, it's special. I might not be on it. Raven's definitely going to be on it."
Raven-Symoné, who also voiced Monique on Disney Channel's Kim Possible series, reflected on advice she would give her character if the two were able to sit down together for a conversation. "Raven Baxter would tell me to get out of the house, and I would tell Raven Baxter to sit down," she smiled. As our interview was coming to a close, I concluded by asking the several accolade-earning actress about her thoughts on the cultural impact of That's So Raven, and she responded first by acknowledging the feeling as "surprising."
Even as she approaches her forties, with the click of a few buttons in a Google Search about body positivity, she's met with a reminder about when Raven Baxter fought for representation in the "That's So NOT Raven" episode back in 2004. "I remember what I personally was going through at that moment and I was so disconnected. I was in my own turmoil of weight, battles, and fighting all of the negativity of that time period that I never really fully understood what I was doing when I was doing it at that age because I was going through my own things that have now created triggers," Raven-Symoné explained. "Now, when people bring it up or body image is much more [accepting] of all the types, I'm like, 'Dang, y'all got it good nowadays. Y'all got it so much better. You guys can embrace your body without judgment of anything.'"
While she acknowledges that judgment still exists and we have a ways to go, she firmly vocalizes that today's society is "nothing compared to what we went through back in the day." Before we bid adieu, Raven-Symoné expressed her gratitude to be part of the ever-evolving industry and accepting narratives of positive representation for people of color, body types, gender fluidity, and more. "I'm happy that I get to be a part of that journey for a new, young woman – or a new young man because they have it too and we can't dismiss that. I'm happy, and humbled, and proud, and super jealous at the same time."
Can't wait to see Raven Baxter return to her home in San Francisco? Check out the official Raven's Home trailer below ahead of its fifth season premiere on Friday, March 11 on Disney Channel.
Photo Credit: Disney/Carell Augustus