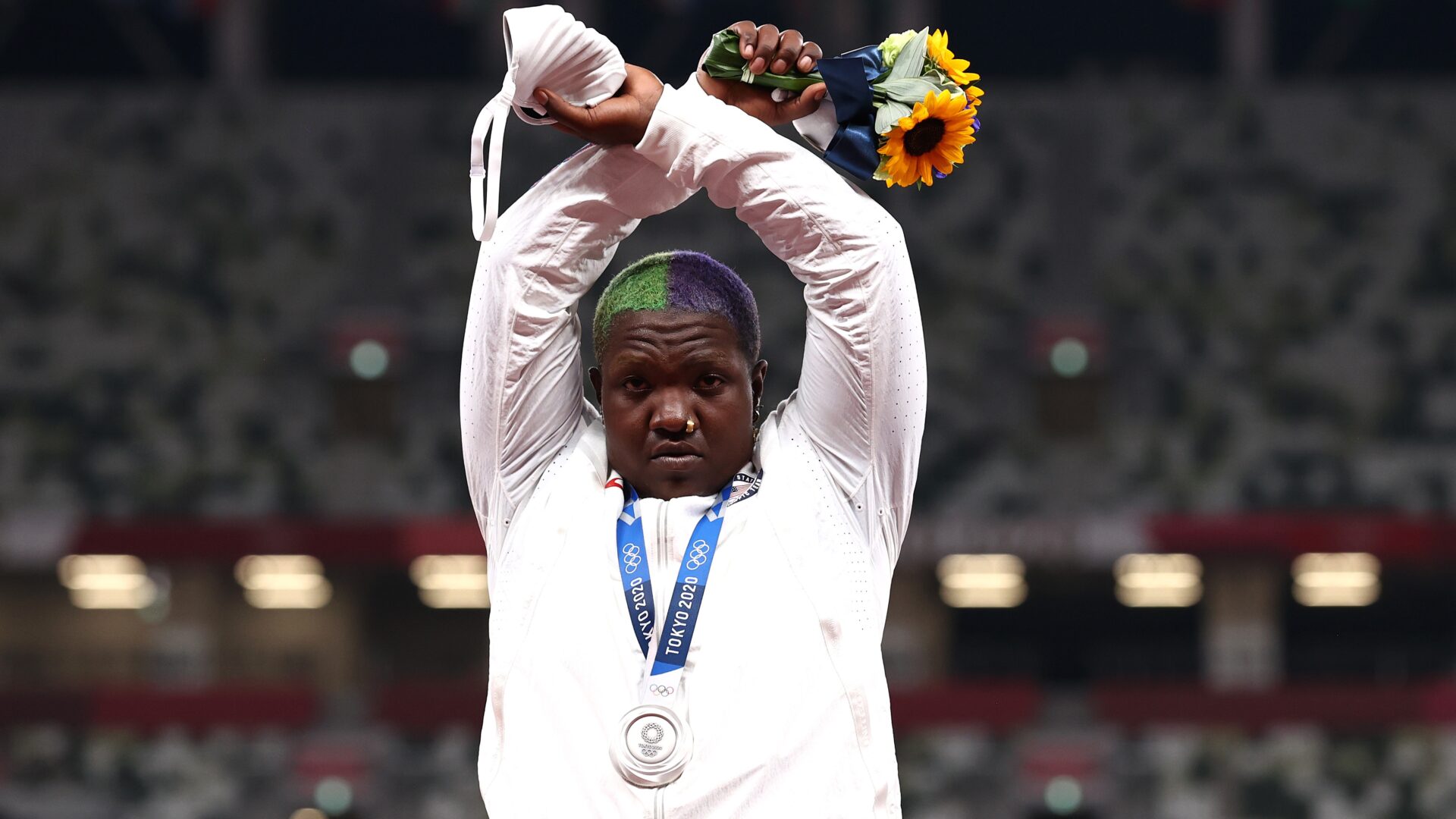 Olympian Raven Saunders Is Being Investigated By The IOC After Making An 'X' Gesture On The Podium
This marks the first protest of the 2021 Tokyo Olympics.
In an effort to continue to inspire, uplift, and motivate marginalized communities including, but not limited to, the Black and LGBTQ+ communities, Raven Saunders took a stand on the Olympic podium. After earning a silver medal at Sunday's ceremony, Saunders, who is a Black woman and identifies as gay, raised her arms above her head in the form of an 'X', making this the first protest at the 2020 Tokyo Olympics.
During an interview with the Today Show, Saunders explained the meaning of her gesture after being asked about what prompted her to do so. "For a lot of the athletes, we talked about what was gonna be our stance and what do we stand for. An 'X' pretty much stands for the intersection of where all people who are oppressed meet," Saunders explained.
"I'm a Black female, I'm queer and I talk about mental health awareness. I deal with anxiety, depression, and PTSD a lot," the silver medalist shot putter revealed. "Personally, I represent really being at that intersection so for me, I decided to really use my platform and really speak up for all of those people. Everyone that represents any part of or any one of those groups, especially, and to say, 'this is for you guys.'"
On Sunday, following her Olympic win, she responded on Twitter to the news break of the investigation against her gesture on the podium. "Let them try and take this medal. I'm running across the border even though I can't swim," Saunders quote tweeted a post from Women's Running about her protest.
Check out our exclusive interview with Olympic gymnast Dominique Dawes about the importance of mental health.
The International Olympic Committee (IOC) is currently investigating Saunders' podium protest, as reported by Reuters, due to "a potential breach of rules banning protests on medal podiums." However, according to the United States Olympic and Paralympic Committee (USOPC), the 25-year-old did not break any rules or regulations.
USOPC's statement read, "Per the USOPC's delegation terms, the USOPC conducted its own review and determined that Raven Saunders' peaceful expression in support of racial and social justice that happened at the conclusion of the ceremony was respectful of her competitors and did not violate our rules related to demonstration."
While this has been the only protest to be investigated, Saunders has not been the only athlete to take a stand during this year's games. Luciana Alvarado, the first Costa Rican gymnast to qualify for the Olympics, took a knee and raised a fist at the end of her floor routine. According to ESPN, the 18-year-old incorporated this into her choreography in an effort to highlight "the importance of everyone treated with respect and dignity and everyone having the same rights because we're all the same and we're all beautiful and amazing."
Photo Credit: Photo by Ryan Pierse/Getty Images