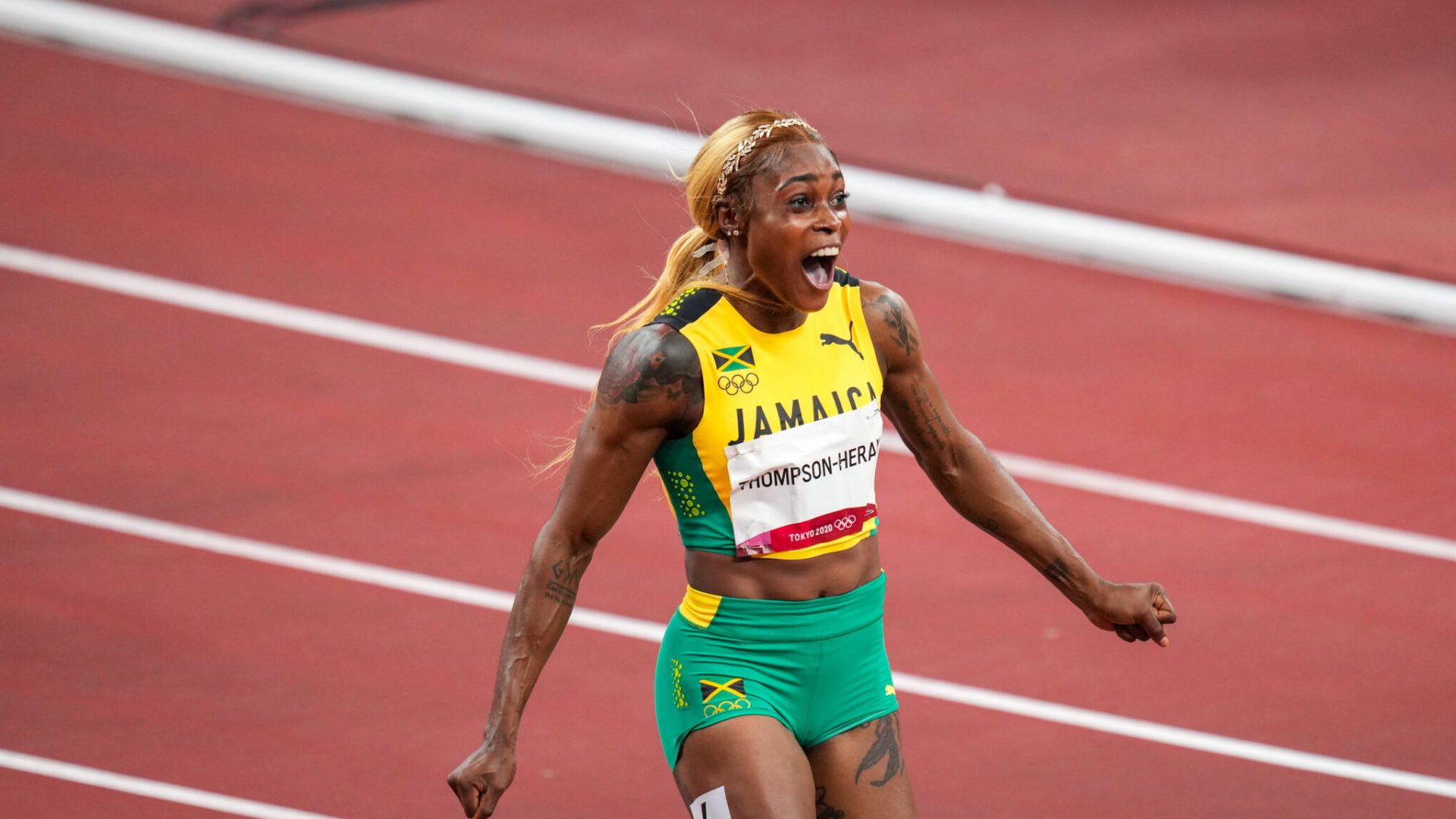 Jamaican Sprinter Elaine Thompson-Herah Set A New Olympic Record
She's the fastest woman alive.
During the Tokyo Olympic's 100m races, Jamaica had a clean sweep, with Elaine Thompson-Herah grabbing the gold, Shelly-Anne Fraser-Pryce coming in second and Shericka Jackson coming in third place. Thompson-Herah's time of 10.61 set a new world record, which was previously held by Florence Griffith-Joyner.
Griffith-Joyner rain 100m in 10.62 seconds at the 1988 Olympic Games in Seoul.
Read our piece on Florence Griffith-Joyner and 5 other Black women who made history at the Olympics.
This new record makes Thompson-Herah the fastest woman alive. This is also the first time in over a decade Jamaica has held the gold, silver and bronze slots since 2008.
"Just a lil girl from BANANA GROUND who liked to run," the 29-year-old wrote on Twitter after her major moment. "Believe In your dreams work hard and have faith in God…"
Thompson-Herah previously came in first place in the same event at the 2016 Olympics. She also won gold in the 200m that same year.
Griffith-Joyner's Olympic record for the 200m, 21.34, still stands.
Have you read our op-ed on Simone Biles prioritizing her mental health being a new winning move?
"I could have gone faster if I wasn't pointing and celebrating early," Thompson-Herah said in a comment obtained by The Guardian. "But that shows there is more in store, so hopefully one day I can unleash that time…Behind this 10.6 was a lot of nerves and I said: 'You can do this, you've been here before, just execute.' I have more years. I'm just 29; I'm not 30, I'm not 40. I'm still working."
Beenie Man was among those who celebrated the victory. "How wi fi miss yuh???," he said on social media.
American track star ShaCarri Richardson also spoke out in support of Jamaica, writing, "Congratulations to the ladies of Jamaica for the clean sweep. Powerful, strong black women dominating the sport."
On August 3, Thompson-Herah came in first place in the women's 200m, making her the first woman in history to win gold medals in both the 100m and 200m in consecutive Olympic Games.
Photo credit: Yannick Verhoeven/BSR Agency/Getty Images