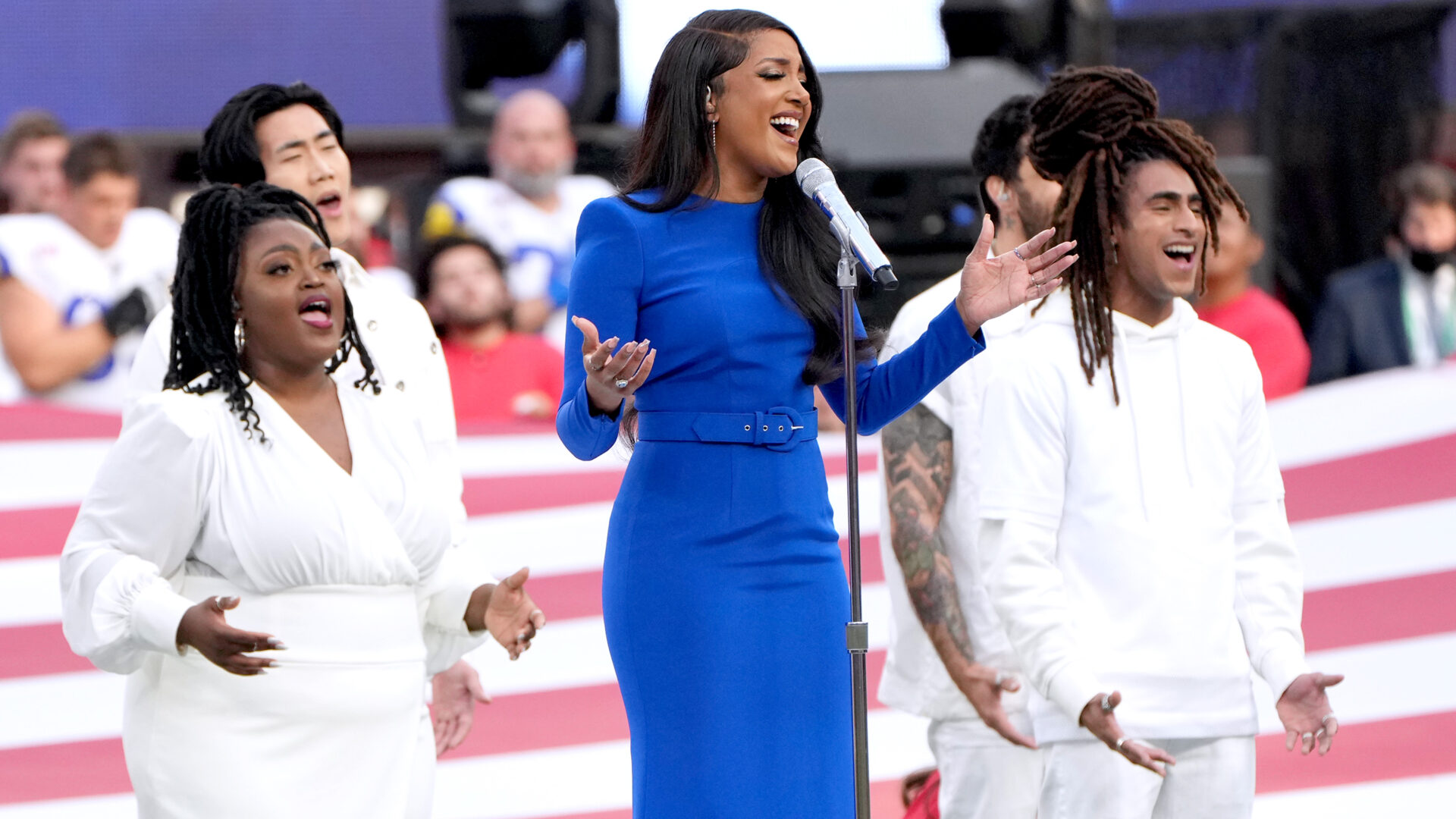 Mickey Guyton Brought The House Down With Her Soulful Take On The National Anthem
The NFL's official playback has almost 1 million views.
Grammy-nominated country singer Mickey Guyton has a voice that can do the impossible. For the 2022 Super Bowl, the NFL enlisted her to bring serious soul to 'The Star-Spangled Banner,' and it's safe to say that she did just that.
Draped in a royal blue gown and standing before a choir and band, she begin smoothly, hitting the notes with ease. Following in the footsteps of Whitney Houston and honoring the late vocalist's iconic rendition, Guyton's take ramped up at the "and the rocket's red glare" point, during which the instrumentation also poured in. The NFL's official playback has almost 1 million views.
Of course, she nailed that final note.
Guyton's career has been on the rise for a little over a decade. In 2011, she moved from Arlington, Texas to Nashville, which many consider to be the home of country music. She signed a record deal with Capitol Records' Nashville sector and promptly began working on music. As the only Black country star signed to the label, she faced setbacks—mainly crafting what those around her considered to be her "breakout" moment. She decided to focus on building her music her way, and that's when the public began to take notice.
In 2020, she shared a song called "Black Like Me" that spoke to her experiences with discrimination. Created in 2019 but released in the wake of the protests following the killings of Breonna Taylor, Ahmaud Arbery, and George Floyd, the song's meaning struck a chord because the country community was largely silent on the injustice.
"So many people in my country music community weren't even talking about this awful moment in our history," Guyton said to Billboard. "I just put this song on my socials. I didn't have a plan for it, didn't ask my label for permission. This isn't one of those moments to think strategically about how to release a song that is so important, that is so serious, that represents so many people. You can't make a profitable decision off something like that. And then Spotify hit up my label and my management and wanted to feature it on Blackout Tuesday. Everything started blowing up from there."
She was then asked to co-host the American Country Music Awards with Keith Urban, making her the first Black woman to do so. She was also nominated for a Grammy in the Best Solo Country Performance category for "Black Like Me." This made her the first solo Black woman to get a nod in the category.
Now, Guyton is up for three Grammys—Best Country Album, Best Country Song, and Best Country Solo Performance. It's apparent that it's her season.
Watch Mickey Guyton sing the national anthem below.