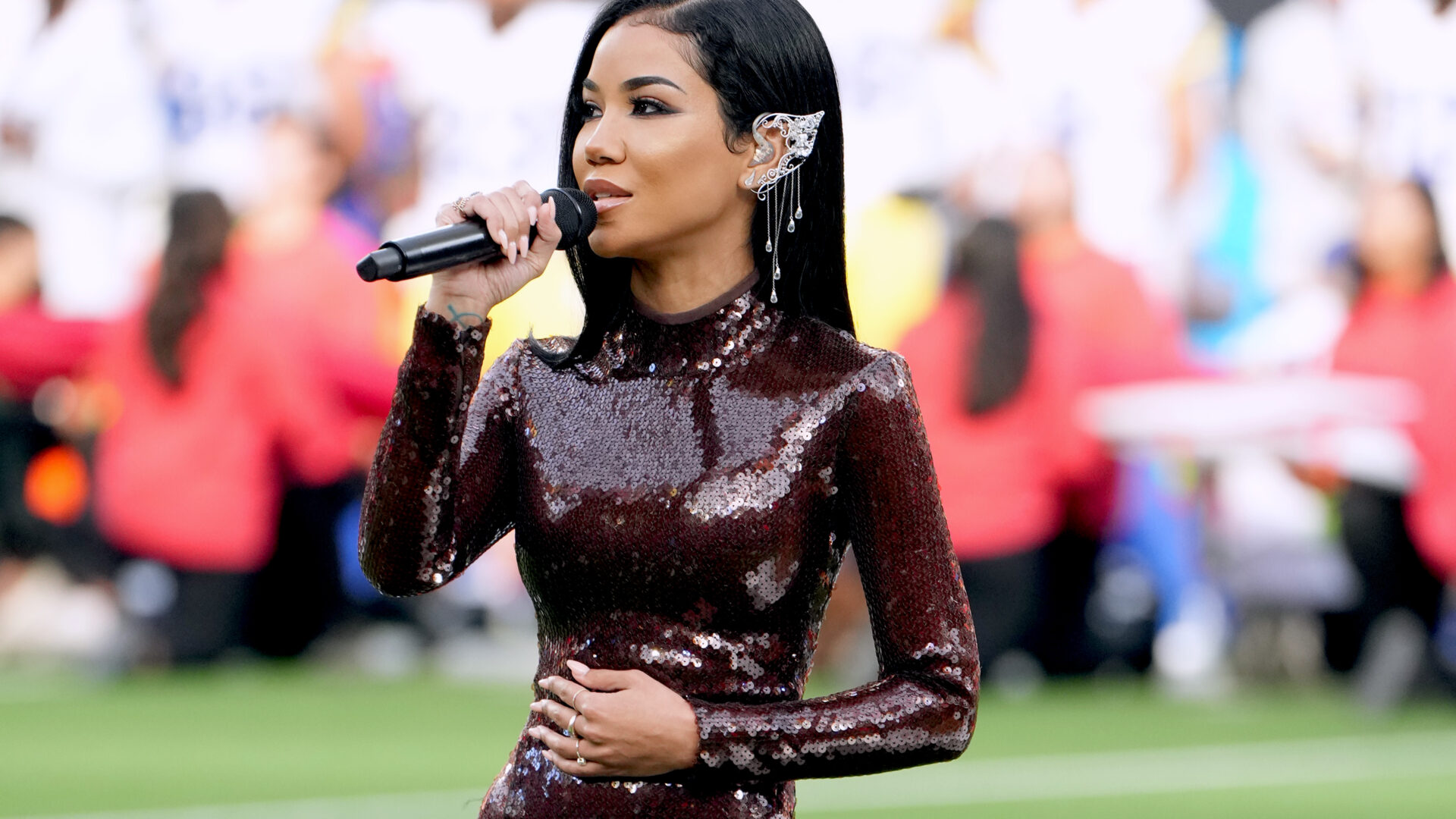 Watch Jhené Aiko's Stunning Rendition Of 'America The Beautiful' From The Super Bowl
Here's the special reason why she sang in the key that she did.
On February 13, Jhené Aiko kicked off the 2022 Super Bowl with a soaring performance of "America the Beautiful." The R&B singer and Los Angeles native was accompanied by Gracie Sprout, a harpist, for her rendition of the song.
She decided to perform in the musical key of F "to bring healing and harmony to the heart centers of all those in need and open to receive," according to a tweet. She also expressed gratitude at this opportunity, writing, "Thank you for having me," she added.
For the occasion, Aiko wore a long sequin gown designed by London-based label David Koma. The burgundy dress was accessorized with a bedazzled earpiece she wore on her left ear, her hair tucked behind.
"America the Beautiful" was written by Katharine Lee Bates in 1895 and composed by Samuel A. Ward. Over the years, iconic musicians have performed their own rendition of the song, like pianist and composer Ray Charles, or Grammy Award-winner H.E.R., who performed it during the 2021 Super Bowl.
Aiko expressed her excitement ahead of this year's performance and revealed her personal connection to this year's game. "my Daddy's from Cincinnati… Mom is from L.A 🥰 America the Beautiful 😍 Only 12 days until the big game 😬 SEE YOU THERE!" she wrote in an Instagram caption. The game opposed the Los Angeles Rams to the Cincinnati Bengals and took place at SoFi Stadium in Inglewood, California.
Aiko and Sprout were part of the roster of West coast artists who performed during the 2022 Super Bowl. Snoop Dog, Dr. Dre, Mary J. Blige, Kendrick Lamar and Eminem lit the stage on fire during the halftime show.
Watch Aiko's performance of America the Beautiful below.