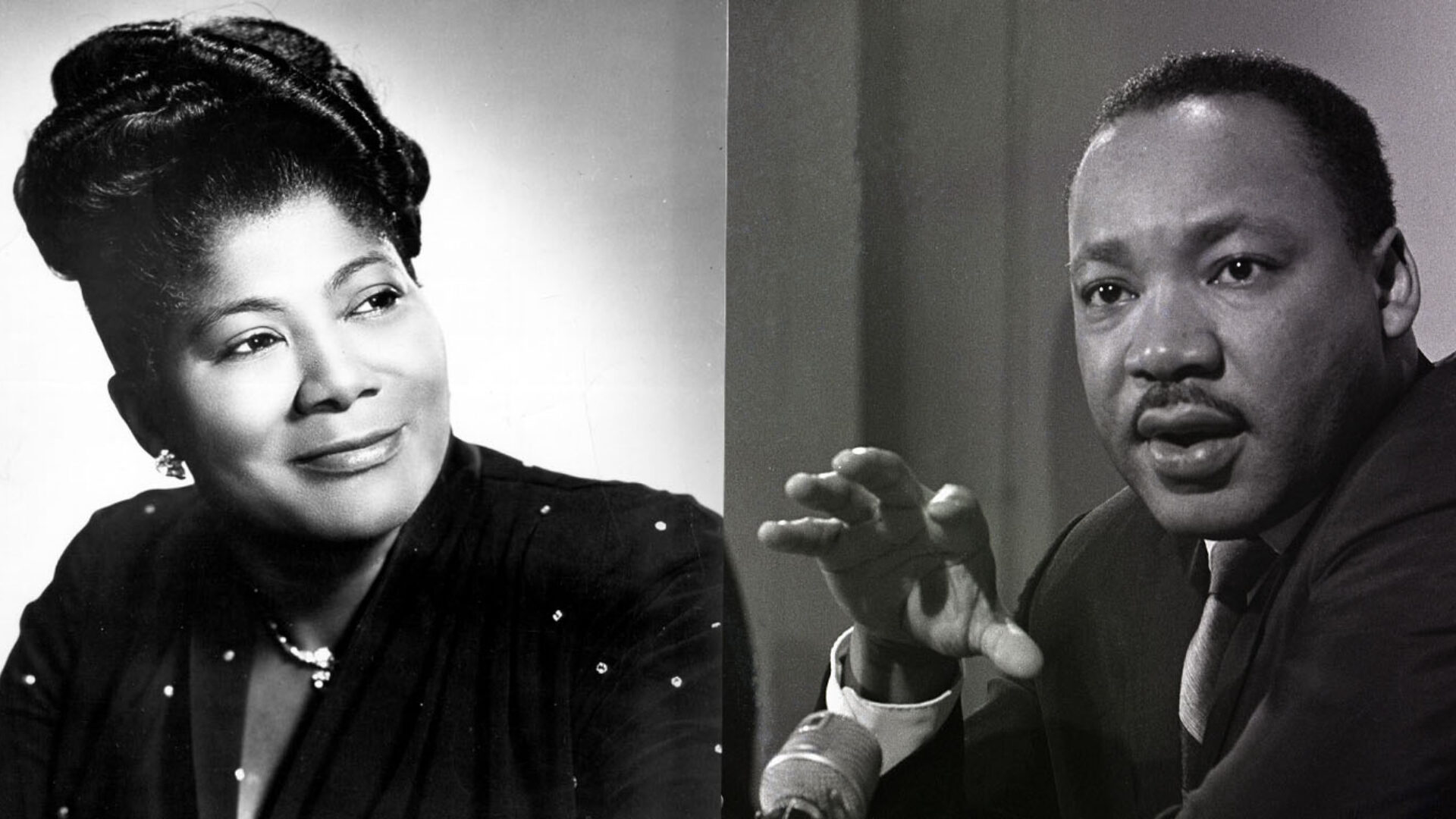 Honoring Mahalia Jackson, The Gospel Singer Who Led Martin Luther King Jr. To Give His 'I Have A Dream Speech'
Her intuition changed the nation.
On one particularly hot August day in 1963, Dr. Martin Luther King gave his inspirational "I Have a Dream" speech, demanding Black equality before 250,000 people. Mahalia Jackson, beloved gospel singer, played a role in the historical moment.
Jackson and Dr. King were close friends and she often sang before he would orate. She was a famous figure in music—she was the first gospel singer to perform at Carnegie Hall and was also the first gospel artist to sign to Columbia Records. Within a few years of her label switch (she was previously signed to Apollo), she won her first Grammy award in the "Best Gospel or Other Religious Recording" category in 1961. (It was also the year the category was introduced.) So by the time she was asked to sing before Dr. King's "I Have a Dream Speech," she was acclaimed and furthermore, respected for her dedication to gospel music.
Read about why Dr. King's stances shouldn't be whitewashed to fit a conservative agenda.
Dr. King had a difficult time nailing down the direction of the speech he was to give during the March on Washington. It is reported that he was prepped to either compare America's unwillingness to deliver Black liberation to a "bad check" or talk about the "dream" of equality. Now, the talk of the "dream" was inspired by another Black woman, Prathia Hall, a preacher who was a member of the Student Nonviolent Coordinating Committee (SNCC). In 1962, Hall was invited to pray at the one-year anniversary of the Albany Movement, which aimed to end segregation stop the stifling of the Black vote. During her prayer, she repeated the phrase "I have a dream," following with laid out desires for justice. Dr. King, who was present, was moved, and asked if he could incorporate the saying into his coming speeches. Later in life, she was adamant about letting people know that he greatly elaborated on the concept to give it his personal flair and also that he had asked for permission.
Read about why Dr. King's family is marching on Martin Luther King Jr. Day 2022.
On August 28, 1963, Dr. King had decided to go with the "bad check" theme, for which he had written out a speech in full the night before. He began to rework the speech in real time though after switching out a line. It was then that Jackson, who had sang two spirituals before the crowd earlier in the day, intuitively called out, saying, "Tell them about the dream, Martin!"
The rest is history.
"I started out reading the speech, and I read it down to a point … the audience response was wonderful that day…. And all of a sudden this thing came to me that … I'd used many times before…. 'I have a dream,' Dr. King said in an interview afterwards. "And I just felt that I wanted to use it here … I used it, and at that point I just turned aside from the manuscript altogether. I didn't come back to it."
Dr. King and Jackson's friendship continued until the civil rights leader's death in 1968. After one of their back-to-back singing-sermon sessions in the 1960s, he said, "I think I can say, concerning this great gospel singer in our midst, our dear friend, my great friend, Mahalia Jackson, that a voice like this comes only once in a millennium. Jackson sang Dr. King's favorite song, "Take My Hand, Precious Lord," at his funeral.
Watch Dr. King deliver his "I Have a Dream" speech below.