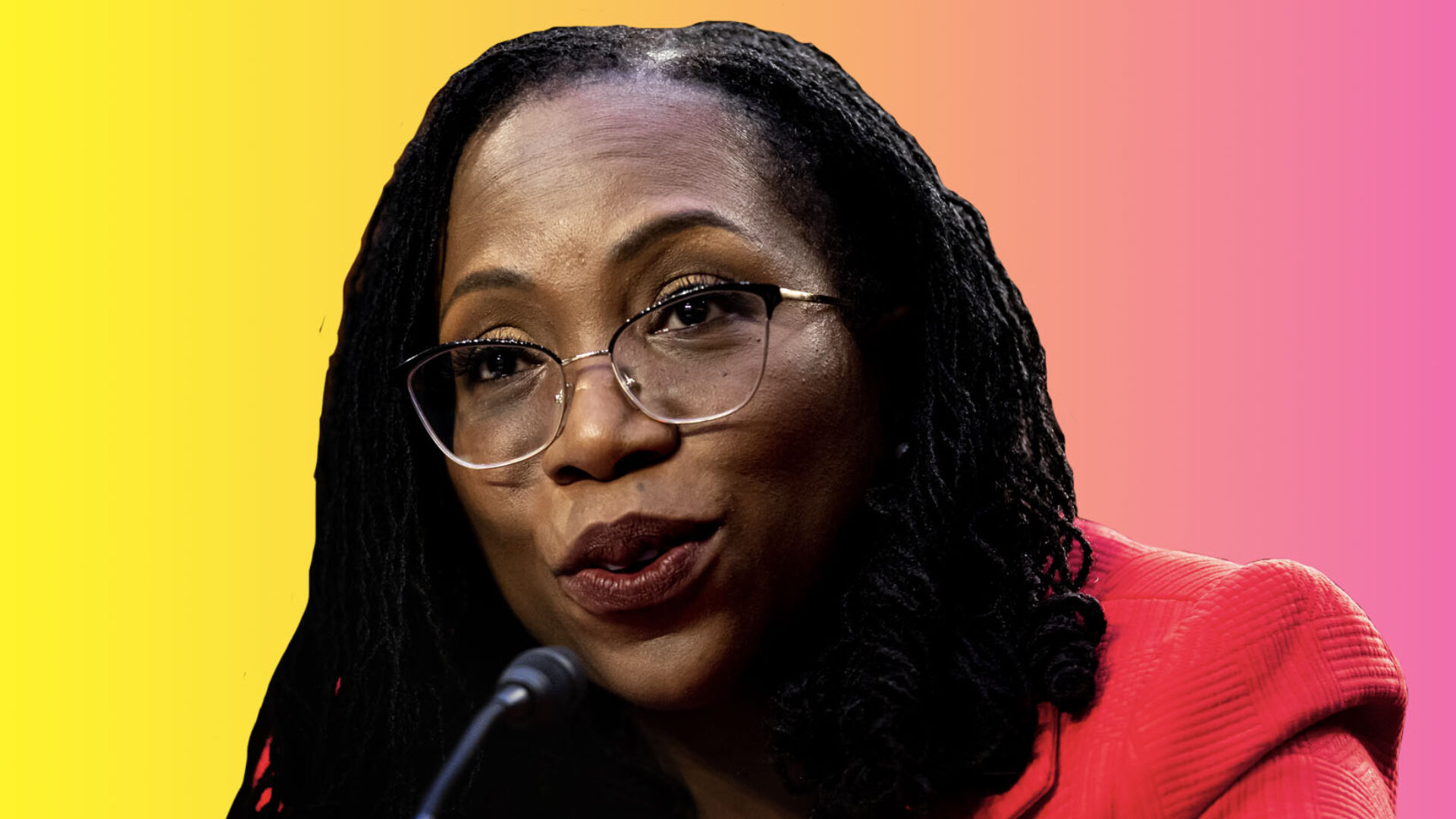 How Judge Ketanji Brown Jackson's Confirmation On The Supreme Court Will Impact The Next Generation Of Black Attorneys
Last week, Judge Jackson became the first Black woman to be confirmed to the Supreme Court.
Judge Ketanji Brown Jackson's US Senate confirmation hearings were a tough watch for Black women, particularly when it came to the relentless questioning from those who ultimately voted against her. The inquisitions were posed through a lens of legal concern, but packed enough force that they felt like racist, personal attacks on her character. This treatment was not unlike what young law students, like Tyler Lawson, a first year law student at the University of Chicago, have endured from white peers.
"Paul Rand and Ted Cruz remind me of all the white classmates that I've encountered along my academic journey that will do whatever they can to make you feel like you don't belong," Lawson said to ESSENCE GU. "I've had interactions with [people like] Paul Rand and Ted Cruz when I was told in high school that I was only accepted into an Ivy League school because of affirmative action."
Lawson closed by expressing she found fortitude in Judge Jackson, who made history as the first Black woman to be confirmed to the Supreme Court. On April 7, Congress voted in favor of Jackson, 53-47.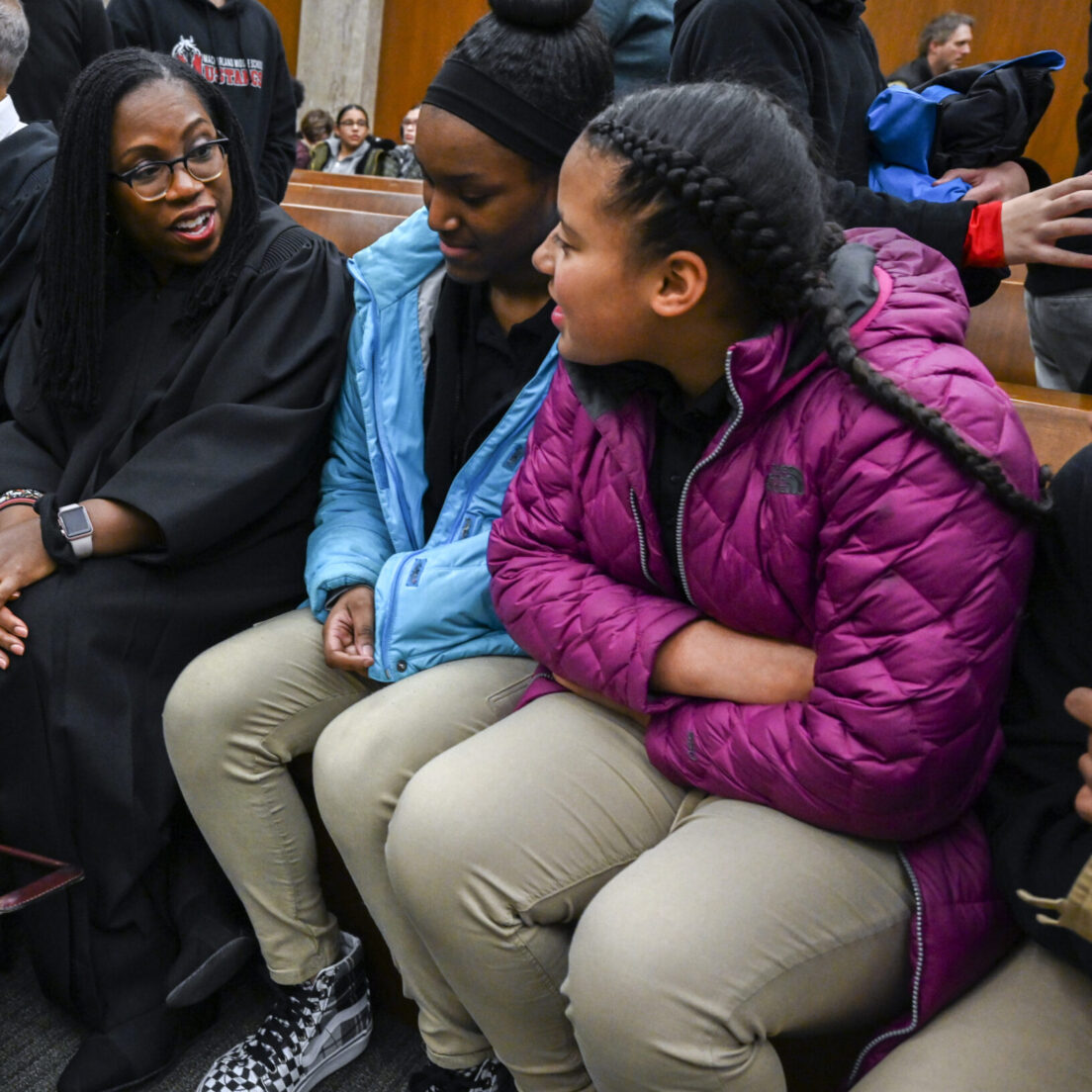 Judge Ketanji Brown Jackson talks with local high school students who have come to observe a 2019 reenactment of a landmark Supreme court case at U.S. Court of Appeals in Washington, DC.
"Judge Jackson handled it with grace and intelligence and as much as I hate that Black women must endure this type of harassment, watching her gave me strength and reminded me that racism is alive and pervasive," Lawson said.
The historically significant appointment was a cause for celebration for a demographic that does not often get to see themselves represented in the field.
"Seeing Judge Ketanji Brown Jackson make history as the first Black woman to be confirmed to the Supreme Court was a truly inspiring moment," said Ashli Jones, a newly admitted attorney and a graduate of Penn State Dickinson Law. In the United States, roughly 2% of attorneys are women of color, a slim margin that Black women fall under. Furthermore, according to Jones, the lack of Black women on the Supreme Court may have affected rulings.
"Even during law school I always wished that the Supreme Court decisions and opinions I read were written by someone who looked like me because I know that many things may have had a different outcome," Jones said. "But now we have an incredible and strong Black woman confirmed as the first confirmed to the Supreme Court…It had been a long time coming and I couldn't be more proud. I can't wait to read her decisions and opinions in future cases."
Lawson had a similar outlook on what Jackson's position will mean for students studying opinions. "So much of law school is focused on reading judicial opinions and aspiring to clerkships. Often, Black law students feel underrepresented by reading Supreme Court judicial opinions because so few of them are authored by people with our experiences."
One thing that made Judge Jackson a winner in the public's eyes was her dedication to justice from a young age. In her 1988 high school yearbook for, she is quoted saying, "I want to go into law and eventually have a judicial appointment." Talia Scott, a student at New York University's School of Law, shares a similar experience. She says Judge Brown's confirmation has her feeling "empowered."
"My first interaction with the legal system was guiding my undocumented mother through the citizenship process, and through that experience, I had a first look into the power of the law and how inaccessible it could be for women, minorities, immigrants, and other groups who may not understand the legal system or their rights under the law," Scott said. Scott is also dedicated to supporting the next generation of Black attorneys. Her non-profit, the Legally BLK Fund, assists with preparation for the LSAT, application fees, and other resources. Interest may uptick due to Judge Jackson's new role.
Perhaps Jackson's most meaningful contribution will be Black women knowing that there is a path for them. In law, they are accustomed to be the "only one" in the room. Her confirmation is a jolt of confidence to help future attorneys know they belong.
"There's always that question of whether you made the right choice when you enter a field that is significantly under represented by black women," Jones concluded. "Judge Jackson is a symbol of strength, hope, and courage. She will help the current and next generation of Black women attorneys know that they made the right choice when they entered the legal field."
Jackson is no doubt basking in a well-deserved honor following a tough road. For the first time in history, incoming lawyers will be able to trace one woman's journey to the highest court in the land.