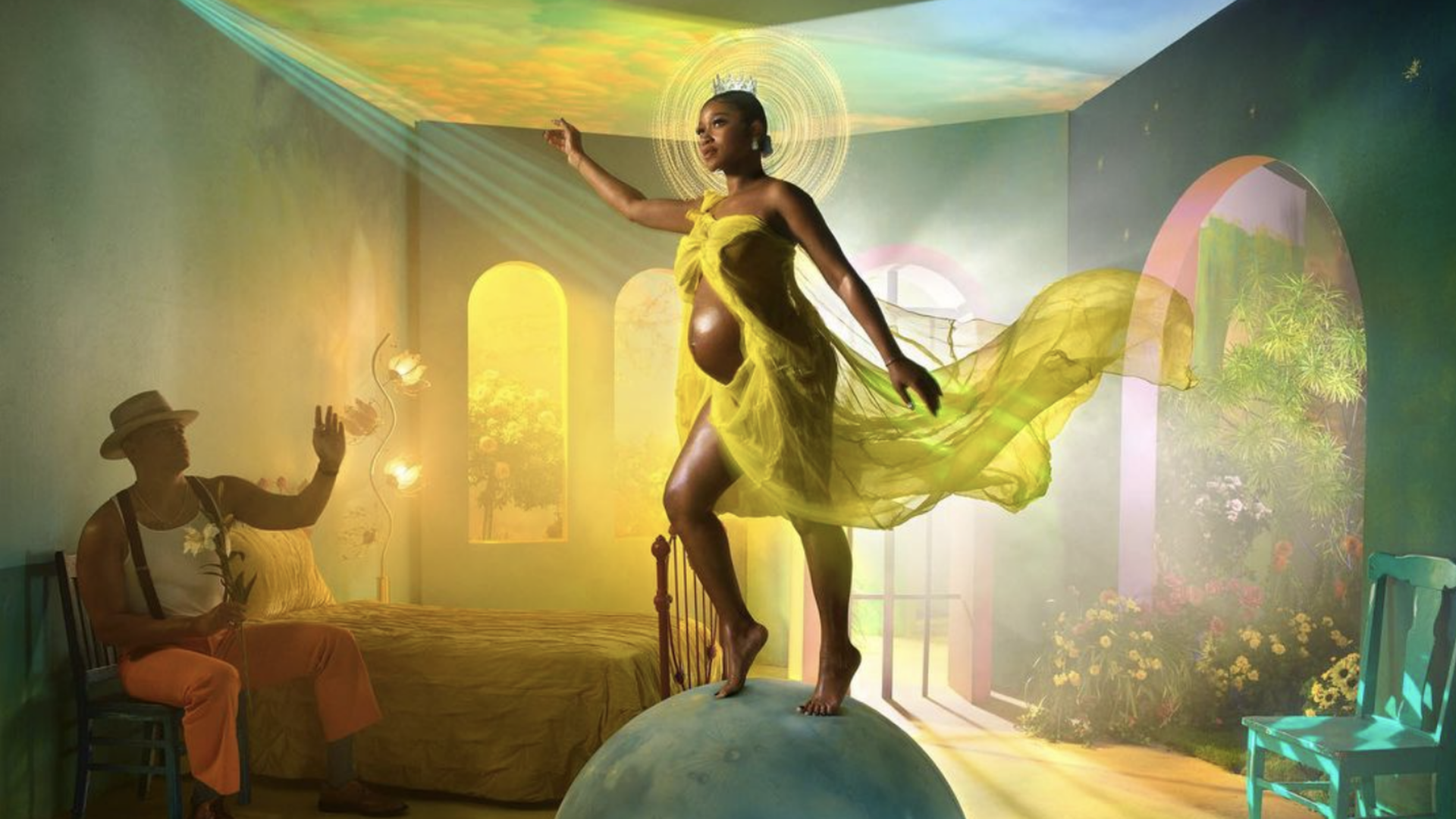 Keke Palmer Shares A Glimpse Of Her Maternity Shoot
Keke Palmer shared a stunning photo of herself and her boyfriend, Darius Jackson, for her maternity photo. Palmer shared the picture on Instagram, leaving everyone online stunned as she shines in her intergalactic-themed shoot shot by photographer David LaChapelle.
"Its giving POETRY. It's giving MICHAEL ANGELO. It's giving SISTINE CHAPEL. It's giving MASTERPIECE," she said. "Behold, a mother, a father and the blessed baby we await in pure awe."
Palmer is the centerpiece wearing a sheer yellow fabric showcasing her baby bump with a silver crown on her head, as her boyfriend, Darius Jackson, gazes at her in a simple white tank top and orange slacks with suspenders.
LaChapelle shot photos of stars like Tupac, Doja Cat, and even Nicki Minaj, who connected Palmer to the photographer to add to his roster as she documents her pregnancy journey.
"The greatest gift from above we could ever dream. We can't wait to meet you, little one!" she said, "We are so glad to be your earth parents as God's hands are placed so gently over your life."
Palmer announced her pregnancy on Saturday Night Live during her monologue in December. Since revealing her big news to the world, she's documented her journey for her supporters and shared a transparent post about the theme for herself this year as she enters a new chapter of motherhood.
"This season, I am going to learn how to really take it easy. How to go slow(or slower than I have, which is speedy for the average) because it definitely doesn't mean my drive and passion will end, just transform and evolve through a different tool," Palmer wrote.
The 29-year-old emphasized the importance of being intentional about living in the moment and taking it easy during this pregnancy as she prepares for motherhood.
"The point is everything that's going to come is already in motion. All I have to do is enjoy. Be grateful and reap the benefits of those that came before me, all the sacrifices, all the prayers, and all the power to be intentional and at EASE."
About Kenyatta: Kenyatta Victoria is an entertainment and culture reporter passionate about music, pop culture, and marginalized stories. She has bylines in publications such as Chicago Reader, INSIDER, Girls United, TransLash Media, and the Chicago Tribune.