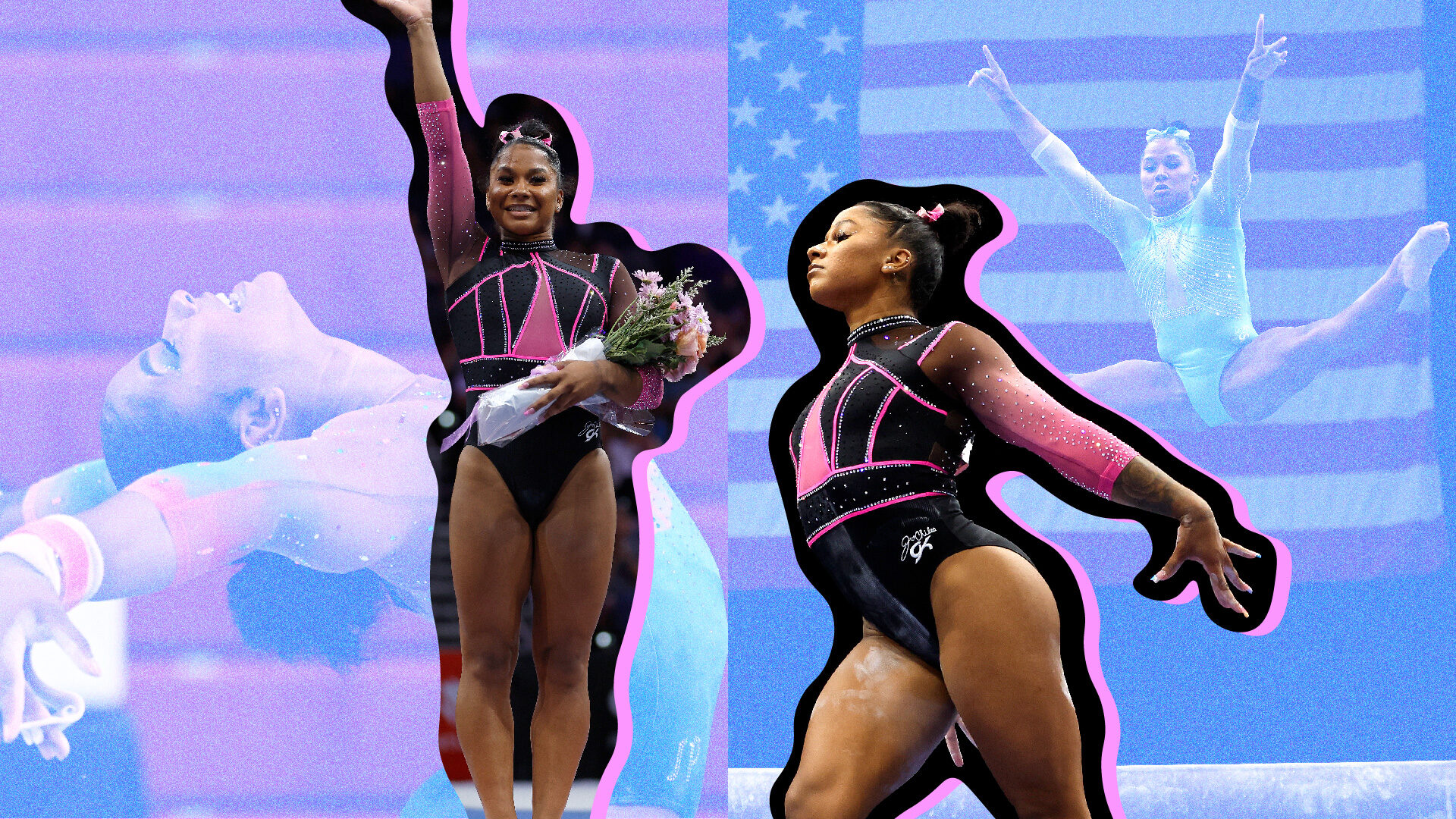 Jordan Chiles Has Resparked Her Love For Gymnastics – And Now She's On Fire
The gymnast scored gold at the FIG World Challenge Cup in Paris on September 24.
Most 21-year-olds are embarking on their journey into the real world by tossing their resumes out into the workforce or preparing for graduate school. As most of the world knows, Jordan Chiles is everything but a regular 21-year-old.
The 2024 UCLA graduate prospect has receipts for days filled with accolades and awards, including her titles as 2020 Olympic team silver medalist; 2021 Winter Cup all-around, vault and floor exercise champion and balance beam silver medalist; and 2022 U.S. all-around, uneven bars & floor exercise bronze medalist at the U.S. Gymnastics Championships (where she as one of only two US Olympic women gymnasts to compete in an elite competition after a season of college gymnastics). Most recently, the Vancouver, WA-native grabbed the gold in floor exercise and silver in vault at the FIG World Challenge Cup in Paris on September 24.
"Paris was really fun. Being able just to be in the arena in the atmosphere of how, hopefully, 24 will turn out. It was a cool experience," Chiles told Girls United. "I really enjoyed, honestly, the crowd, me being out there all over again and being able to come back with two medals definitely is the cherry on top of everything. So I was really excited and happy to be back."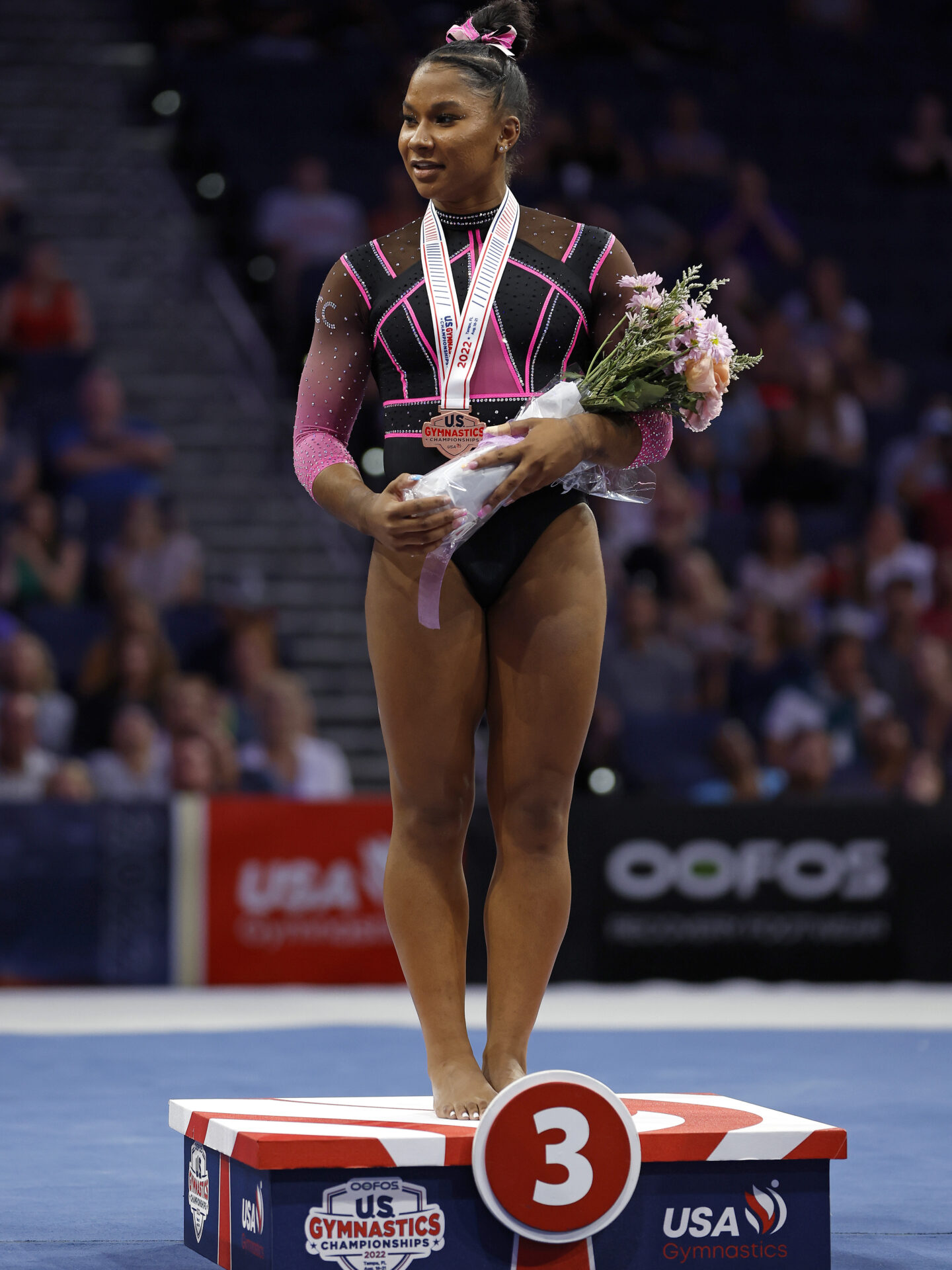 TAMPA, FLORIDA – AUGUST 21: Jordan Chiles celebrates winning the bronze medal in the all-around competition during the 2022 US Gymnastics Championships at Amalie Arena on August 21, 2022 in Tampa, Florida. (Photo by Mike Ehrmann/Getty Images)
Immediately following the Paris Cup, Girls United spoke with Chiles between practices and rehearsals to discuss how she's maintaining her mental health while being a first-time Olympian, remembering to stay young at heart, and what she expects from herself and her career trajectory next.
On envisioning her present-day as her future when she was younger:
"I would have to say when I was younger it was kind of a 'yes and no' situation. I knew I was going to be something, [but I] just didn't know what it was going to be. Whether it was in a sport, whether I was going to be an actress, or whether I was going to become a painter. It just wasn't something; the sport wasn't the thought of everything. It was just, 'Yes, I want to be big. Yes, I want to be known,' but I also was taught and raised to be very humble about who I am as well. It kind of was like whatever happens, happens – whether I do become a celebrity or I don't. It's been cool just being able to know that definitely if I asked the younger Jordan, what would I think about myself now, I think she'd be very proud."
On how she remains grounded and rooted in mental wellness practices:
"With the whole mental health thing, I kind of just make sure I take time to myself. That's a huge thing. A lot of the time, yes, I'm always under the spotlight and I'm always being asked to do this or do that, or, 'Hey, you need to sign this, or sign that.' It's really easy for me to understand time management, I should say, and being able to make sure I put myself in that time as well. Taking that time to myself. I have dogs that help me, I have family that [helps] me, so [I] kind of just do 50-50 with everything."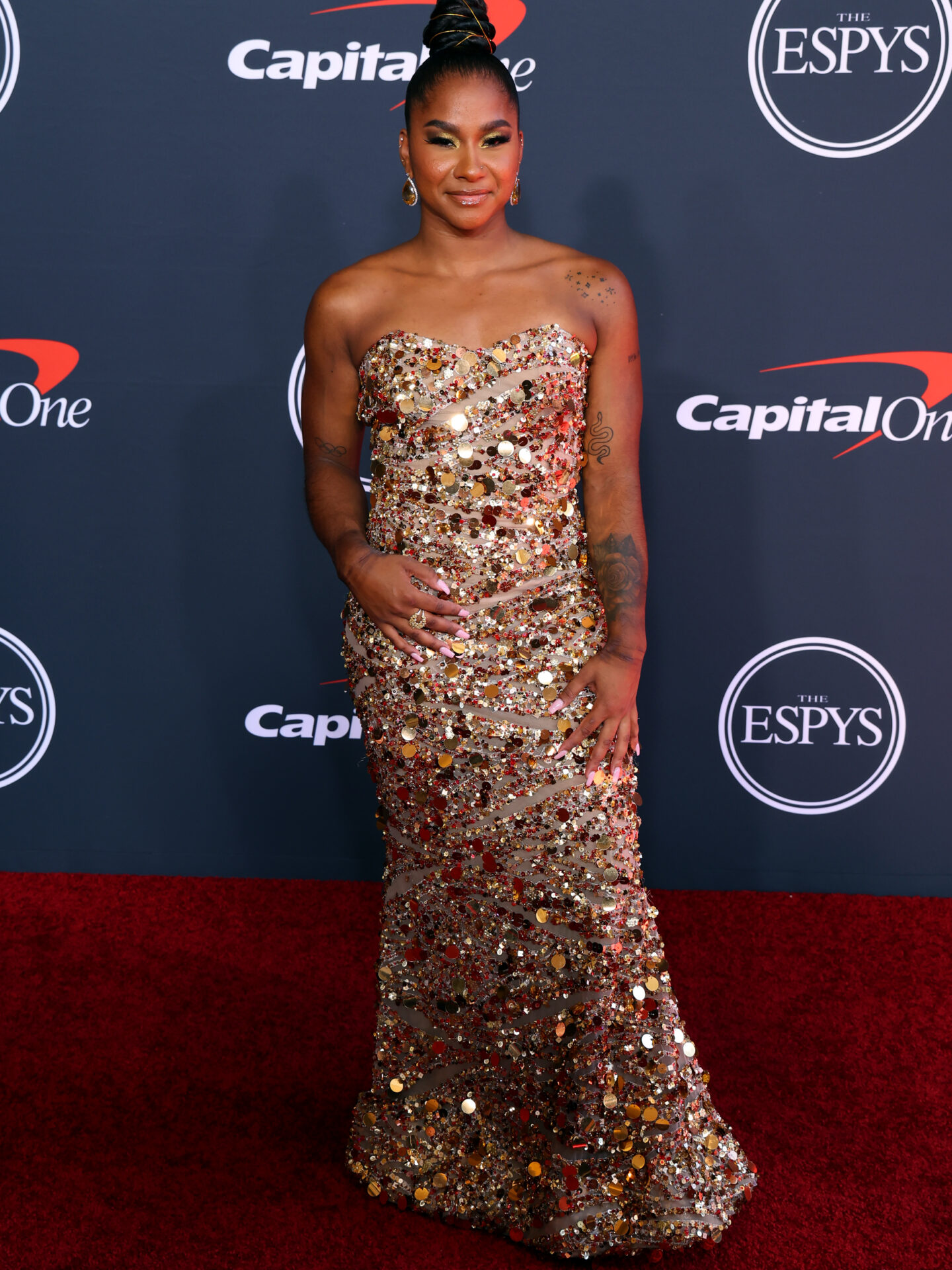 HOLLYWOOD, CALIFORNIA – JULY 20: Jordan Chiles attends the 2022 ESPYs at Dolby Theatre on July 20, 2022 in Hollywood, California. (Photo by Leon Bennett/Getty Images)
On when she first fell in love with gymnastics:
"When? Oh, I probably fell in love with gymnastics at a late age, as people would say. It was around, I want to say maybe 13 or 14 years old to where I was like, 'Oh yeah, I can really do this and see how everything turns out.' In that time period of me getting older from when I first fell in love with it, I kind of lost the love of it. Now, I want to say almost four years ago now, I finally found the love of the sport again, but in a different way because I'm older now. I see that a different perspective on what my sport is and how it's supposed to be. I was young and then it was like, 'Yeah, let's do this,' but now I'm older and I'm like, 'Okay, let's do it in a way that I feel comfortable and I still want to love my sport.'"
On seeing other Black girl gymnasts to the left and right of her on the podiums:
"It's really cool to be able to see a bunch of literally every single [time]. I turn every corner and it's like, wow, there's just beauty. That's what I think of it. I just think of it as beauty, strength, and passion. Honestly, I can take it back to championships. It was amazing feeling knowing that yes, I did just come back from an NCAA season, but history was made and not only did I get the support from my people, but I also felt like, 'Wow, I did something for them.' I did something in a cool and unique way and it's always going to be in history books. Honestly, I think it's just the diversity of everything that's going to be changed and it's turning around pretty fast here. It's inspiration. That's what I always think; you're an inspiration and you're always going to be an inspiration. It's pretty cool [and] I really enjoy it."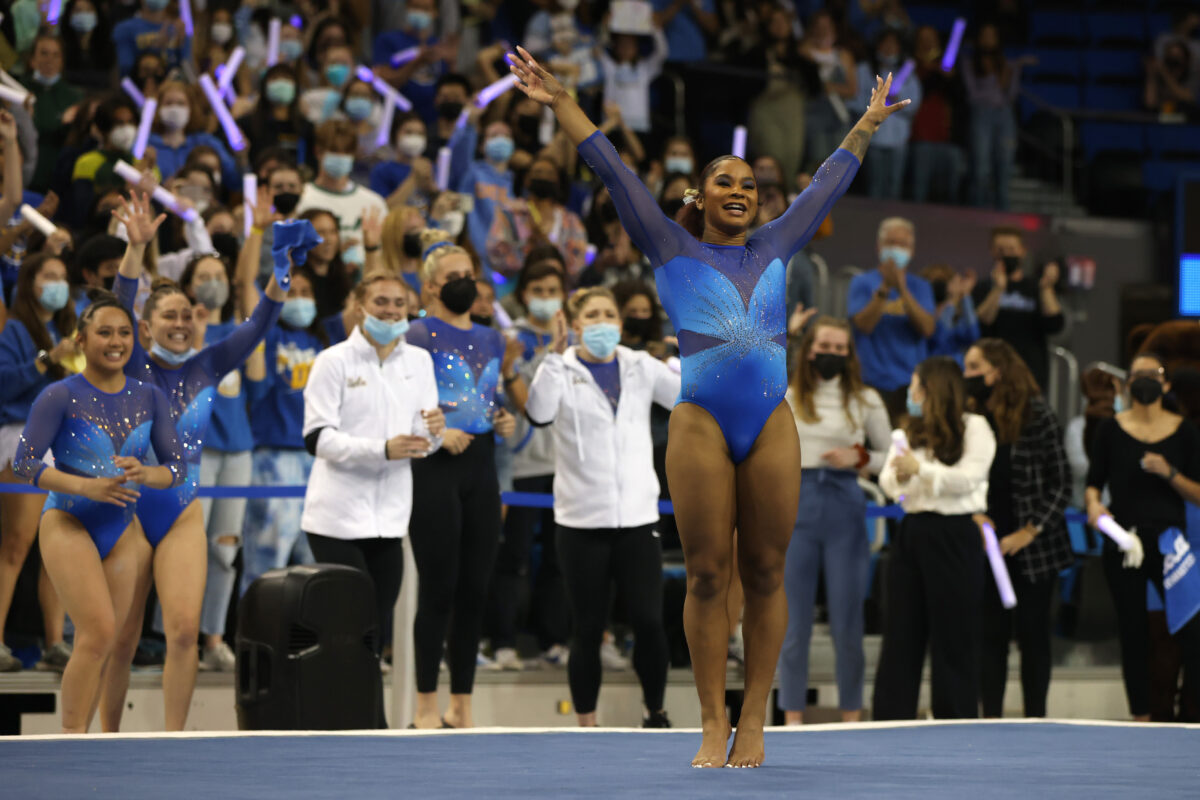 LOS ANGELES, CALIFORNIA – MARCH 06: Jordan Chiles of the UCLA Bruins reacts after competing on floor during a meet against the California Golden Bears at UCLA Pauley Pavilion on March 06, 2022 in Los Angeles, California. (Photo by Katharine Lotze/Getty Images)
On experiencing the pressures of performing and feeling the need to always win:
"Yes and no. A lot of the time, yeah, the expectation is a huge thing but I kind of take that expectation and try to prove to people that it's not just what you're going to see. Things can happen, nobody's perfect. I think of it that way. I kind of just tell people, 'Look, if I'm injured or if I don't feel good or I don't have the ability to perform to my best, I want you guys to understand it's okay for you guys to not expect everything.' The expectation is a huge thing in our sports, so take that and I run with it. If they expect something out of it, okay. Yes, you can really think about that and tweet about it, do whatever you want with it, but at the end of the day, I'm going out there for myself and making sure that I'm okay and that I do that expectation for myself as well."
On going viral on social media and her favorite performances to date:
"My favorite performance, I would probably say, is my floor routine right now. I have two amazing Black artists in them. I have Lizzo and I also have Normani. Honestly, they're people that I look up to, like really, really inspirational people. I look up to people all the time, especially Normani, my favorite artist. She's somebody that I'm just like, 'Y'all need to really let her do her thing. Please just let her do her thing,' 'cause she honestly has that talent. Just being able to perform my routine makes me feel confident because it's different. It's unique. I dance in it. I have the ability to bring out my own personality as well but also I have amazing, dope people in my floor music."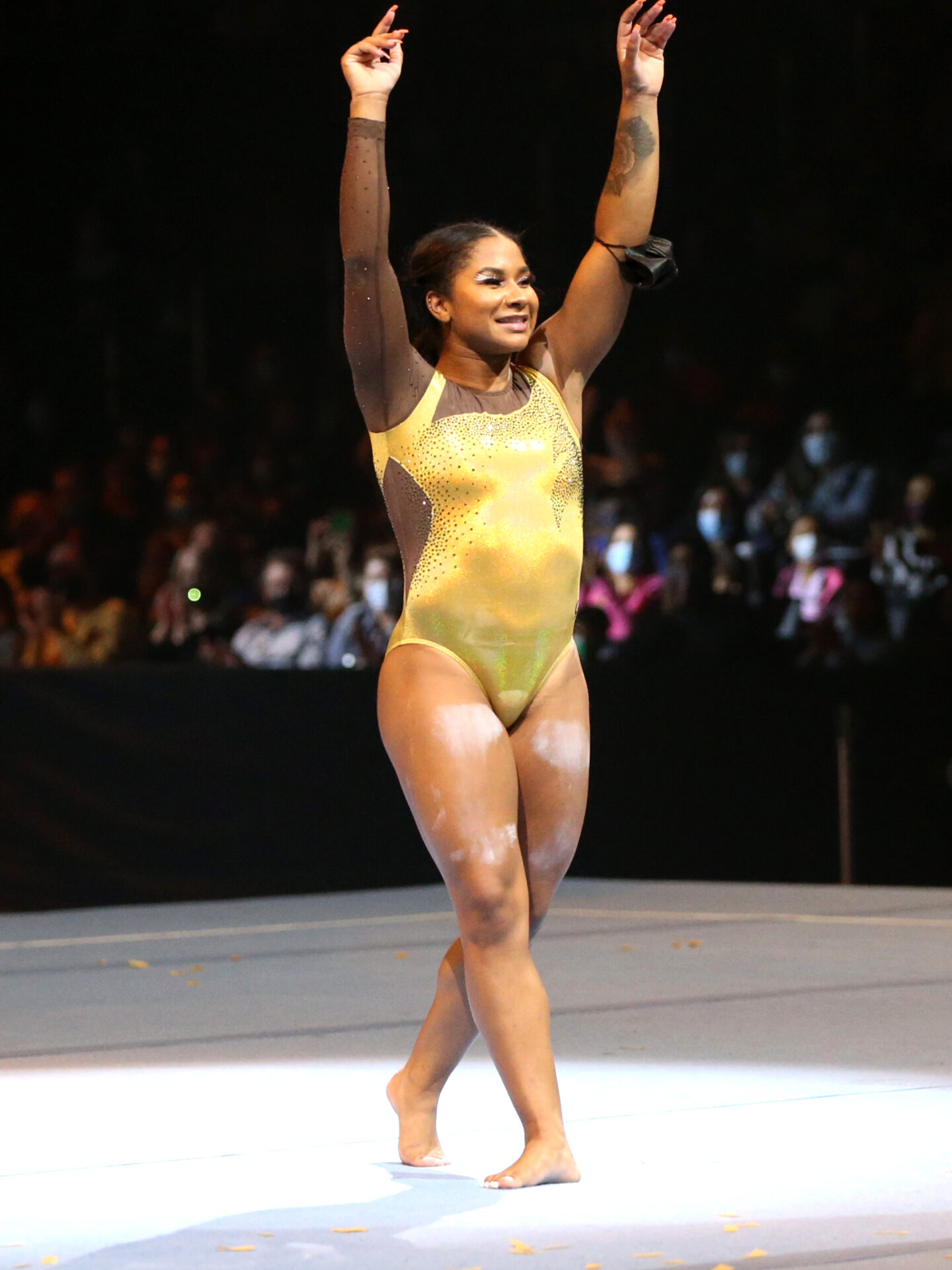 LOS ANGELES, CALIFORNIA – SEPTEMBER 25: Jordan Chiles performs during the Gold Over America Tour at Staples Center on September 25, 2021 in Los Angeles, California. (Photo by Katharine Lotze/Getty Images)
On the future of Jordan Chiles' career:
"There are a lot of things that come out of myself as Jordan Chiles. I don't know if I ever will go into the coaching realm of things. I just feel like being the athlete is better for me. Even though a lot of people have told me, 'you'd be such an amazing coach,' but at the end of the day, when I'm done with this sport, I want to be done with this sport as an athlete. Going into what's Jordan doing? I mean, who knows? I might be in superhero movies or I might be walking in a runway or you might see me on some Masked Dancer or something. Just something that's out of this world, Dancing with the Stars or just being able to really adventure out 'cause I want to do more than just my sport. You know, honestly, you even might see me do track and field – you never know."
On establishing and maintaining her wellness and nutrition routine:
"Obviously cold tubs are a huge thing that I do. Soaking your body, making it feel good. You want to make sure you're feeling good the next morning or that same day. I also do a lot of NormaTec recovery, like those compression boots. I do that. I always like to make sure I'm fueling my body very well, so eating good foods and I sometimes have smoothies here and there or juices. It just depends on what I'm feeling that day. [I] make sure I always take a nap. That's a huge thing. I always get good rest. I always make sure throughout my practices I take my naps because that's a huge thing for me, and then you never can go wrong with retail therapy. That's kind of my thing. One pair of shoes here and there won't harm me so that's another kind of recovery thing I do. Other than that I just try to make sure that my body is physically okay and then also mentally I'm okay as well."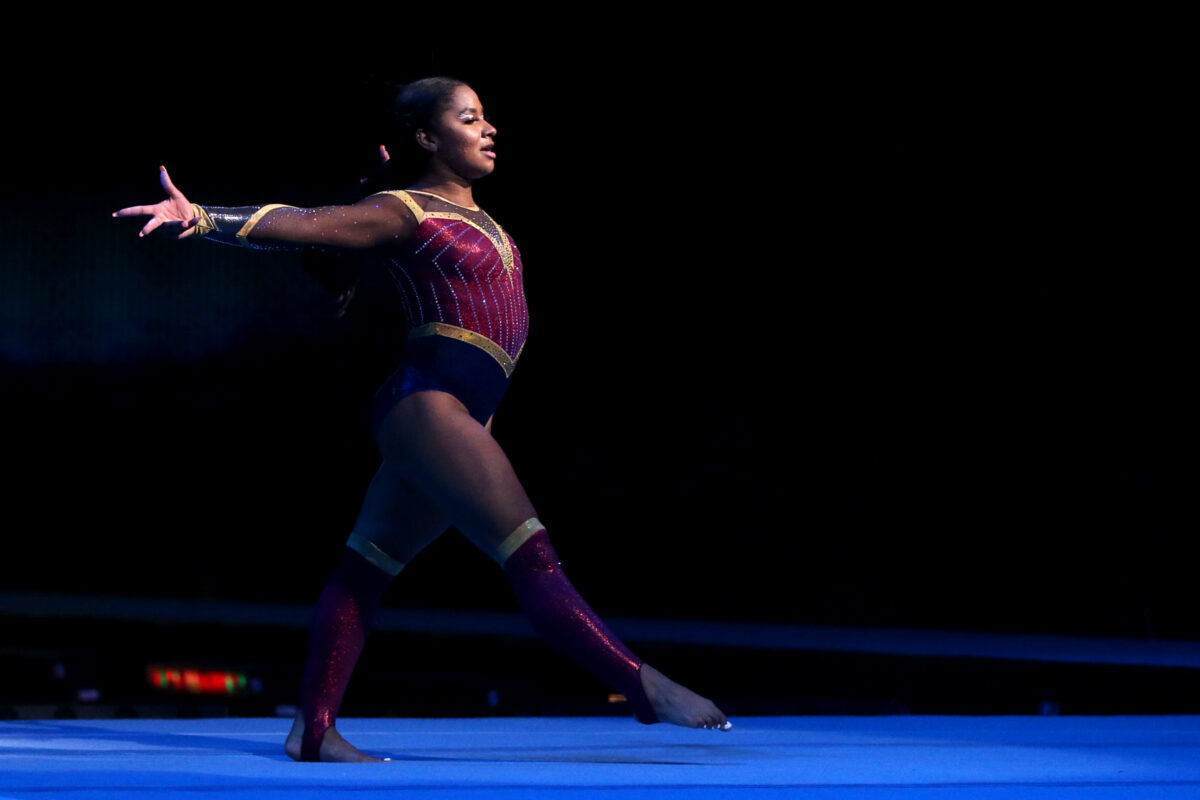 LOS ANGELES, CALIFORNIA – SEPTEMBER 25: Jordan Chiles performs during the Gold Over America Tour at Staples Center on September 25, 2021 in Los Angeles, California. (Photo by Katharine Lotze/Getty Images)
On Black women and girls being the blueprint in athletics and competitive sports:
"The blueprint. I think for us it comes down to whether or not we're capable of succeeding or fulfilling something that's thrown at us, basically. We like to have that challenge. With Naomi Osaka, I feel like with her it was all about, 'Is she going to be the next Serena Williams? Is she going to be somebody greater than who she already is?' That blueprint was, 'Okay, she's strong, she's confident, she has the ability to do whatever she wants, she has a voice.' That's another thing. We have to have the ability to speak out and speak about what we're feeling in that moment. Honestly, I give a hundred percent credit to her [for] how she literally didn't feel comfortable doing interviews because she wasn't mentally okay. That's just how we are as athletes and being able to be a Black athlete and have that blueprint, I feel like the next generation is going to understand, 'if they did it, then I can do it.' I feel like it's more of, 'we got this we got the grind, we have the ability just to go out there and be who we are.'"
On advice she would give younger Jordan Chiles:
"I would tell my younger self, 'You should have listened to your body and to your mind in order to get to where you are right now.' I feel like that younger me kind of wasn't able to really speak out what she wanted to. She kind of had to go a different route than just staying on that path of being, 'Okay, this is what I want to do,' but everything happens for a reason. That's what I always say. Everything happens for a reason and I wouldn't change the world or anything about what happened in the past with my gymnastics career because I wouldn't be the person I am now if it wasn't for that."
About D'Shonda: Born and raised in Brooklyn, NY, D'Shonda Brown is the Associate Editor at Girls United. When she's not interviewing or writing, she enjoys running, dancing, buying sneakers, and binge-watching Lifetime movies.