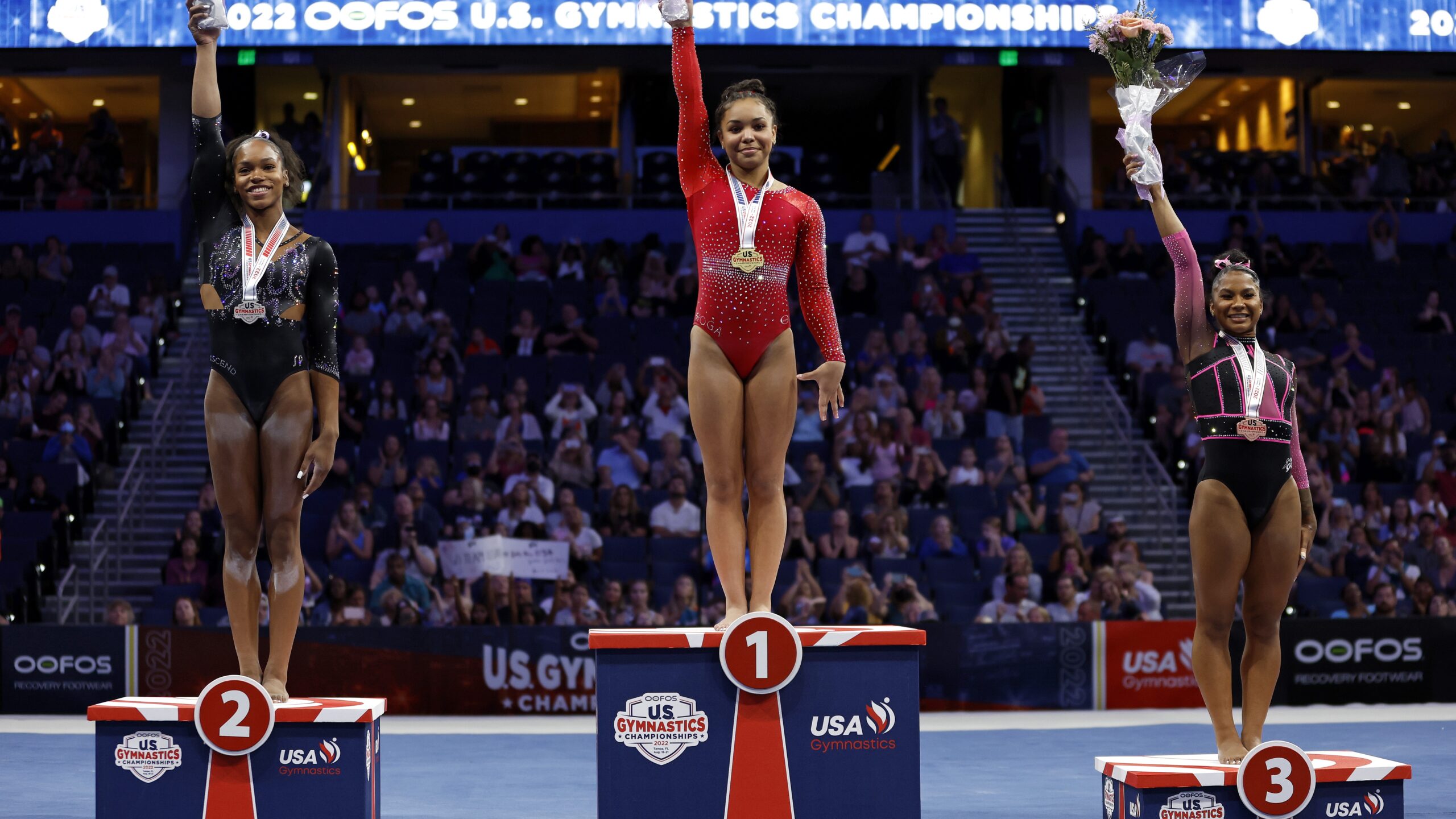 Konnor McClain, Shilese Jones, Jordan Chiles Sweep Podium At 2022 US Gymnastics Championships
17-year-old McClain had a combined score of 112.750 across two nights of competition.
Black Girl Magic was in full effect during the 2022 Women's US Gymnastics Championships in Tampa, Florida, on August 21, 2022. Konnor McClain, who'd been in the stands watching the 2021 Championships just a year ago, posted a two-day point total of 112.750. 
At only 17 years old, she and her two teammates, Shilese Jones and Jordan Chiles, have made history. All three of the top gymnasts in the United States are Black women. The competition was close, with the first and third place having only an eighth of a point differential.
Speaking of history being made, Chiles and Tokoyo medalist Jade Carey made history by just competing. The two girls are the first U.S. Olympic female gymnasts to make a return to elite competition after a collegiate season.
McClain was a 2020 Olympic hopeful, but after a rough season filled with injuries, she made the decision to move from West Virginia to Texas to undergo an entire coaching and regimen change. The change has proven to pay off, as after spending months training at the World Olympic Gymnastics Academy in Dallas, she's now the top gymnast in the country.
McClain told ESPN, "I'm just super excited to be back out here…you know, to fall twice and still end up in second place, this just really only the beginning for me." The future is looking bright for the young star as her win comes with her only being 75% healthy. Less than a month ago, she suffered from a concussion and is currently pushing through stress fractures in both of her shins.
World Championships run from Oct. 29 to Nov. 6 in Liverpool, England, later this year, and McCain estimates that she'll be completely healthy by then. 
Photo Credit: TAMPA, FLORIDA – AUGUST 21: Shilese Jones, Konnor McClain, and Jordan Chiles celebrate winning the all around competition during the 2022 US Gymnastics Championships at Amalie Arena on August 21, 2022 in Tampa, Florida. (Photo by Mike Ehrmann/Getty Images)