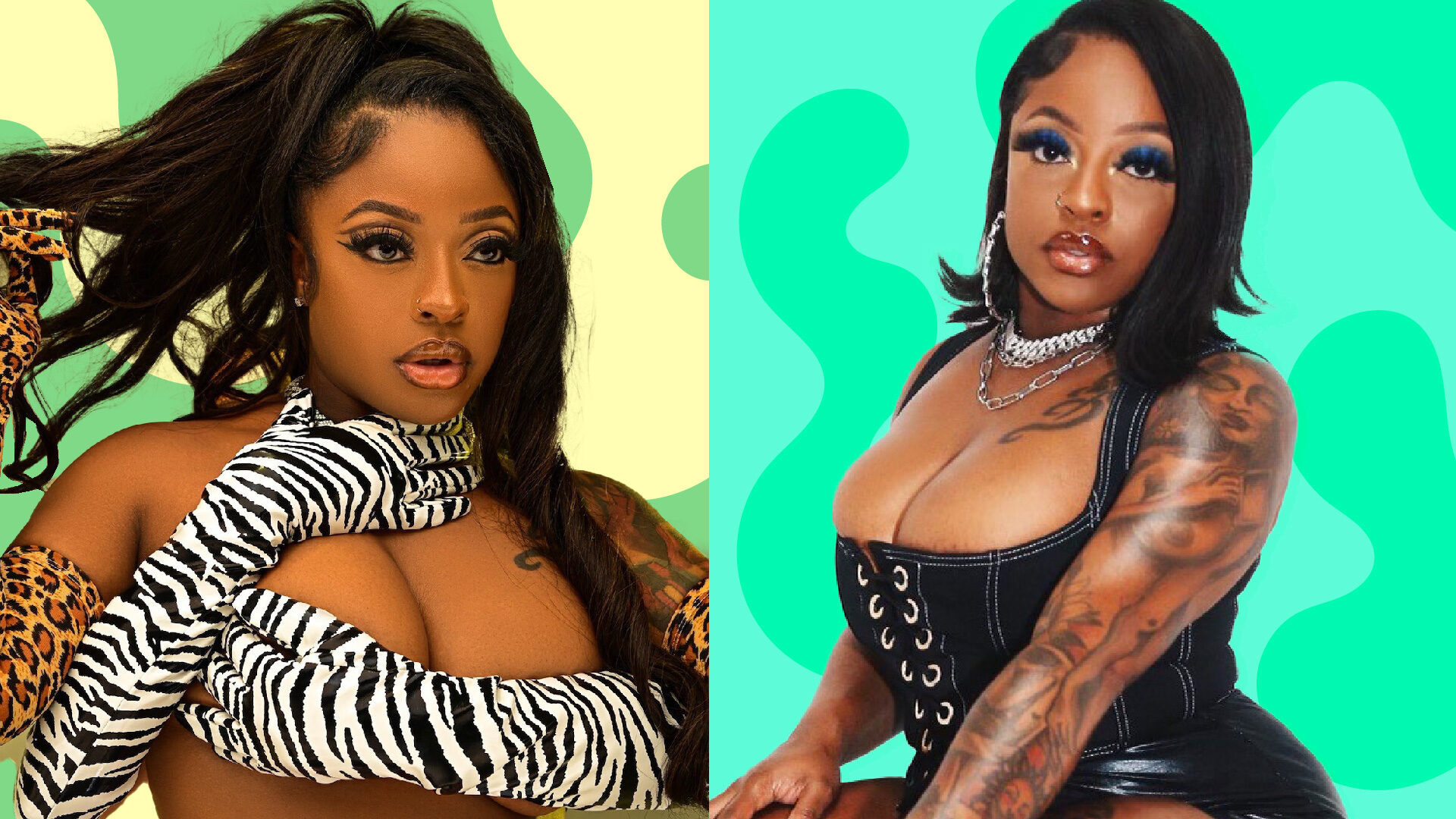 GU Jams: KenTheMan Is Back Like She Never Left And She's Proving To Be The 'Baddest In The City'
Her new single, 'Not My N*gga', is available now.
Being the 'baddest in the city' is not a title for the weak. Only KenTheMan, a boss who knows how to get to her bag while being unbothered can take on such a responsibility. Creating an alter ego, Ken, short for Kentavia, added "TheMan" to her stage name showing that gender can't dispute her being the hardest out.
Hailing from Houston, a city known for birthing modern-day music icons including Beyonce, Solange, Megan Thee Stallion, and Travis Scott, the essence that KenTheMan brings to the rap game proves that she isn't too far behind legendary status. Finding comfort in music at an early age, KenTheMan joined her friends in several attempts at girl groups, but it was clear that she was meant to rock the mic solo. 
As she embarked on independence and getting her coin, Ken used to write rhymes in between driving DoorDash deliveries, with tenacity pushing her closer to rap stardom. Trying to find her passion, KenTheMan briefly ventured into nails and sewing which provided her a good eye for detail, sharing with us, "I create some of my designs. I see stuff on Instagram, and I try to flip it and make it my own."
By 2015, KenTheMan dropped her first full mixtape, "Kenny's Back," featuring a slew of freestyles on the beats of popular rap songs like Drake and Future's "Jumpman," and G Herbo's "Chiraq," garnering attention as a brewing local talent. Adding very little besides "I rap good as hell" in her Instagram bio, KenTheMan now freestyles on Hip-Hop's biggest stages, proving that no man can lyrically step to her.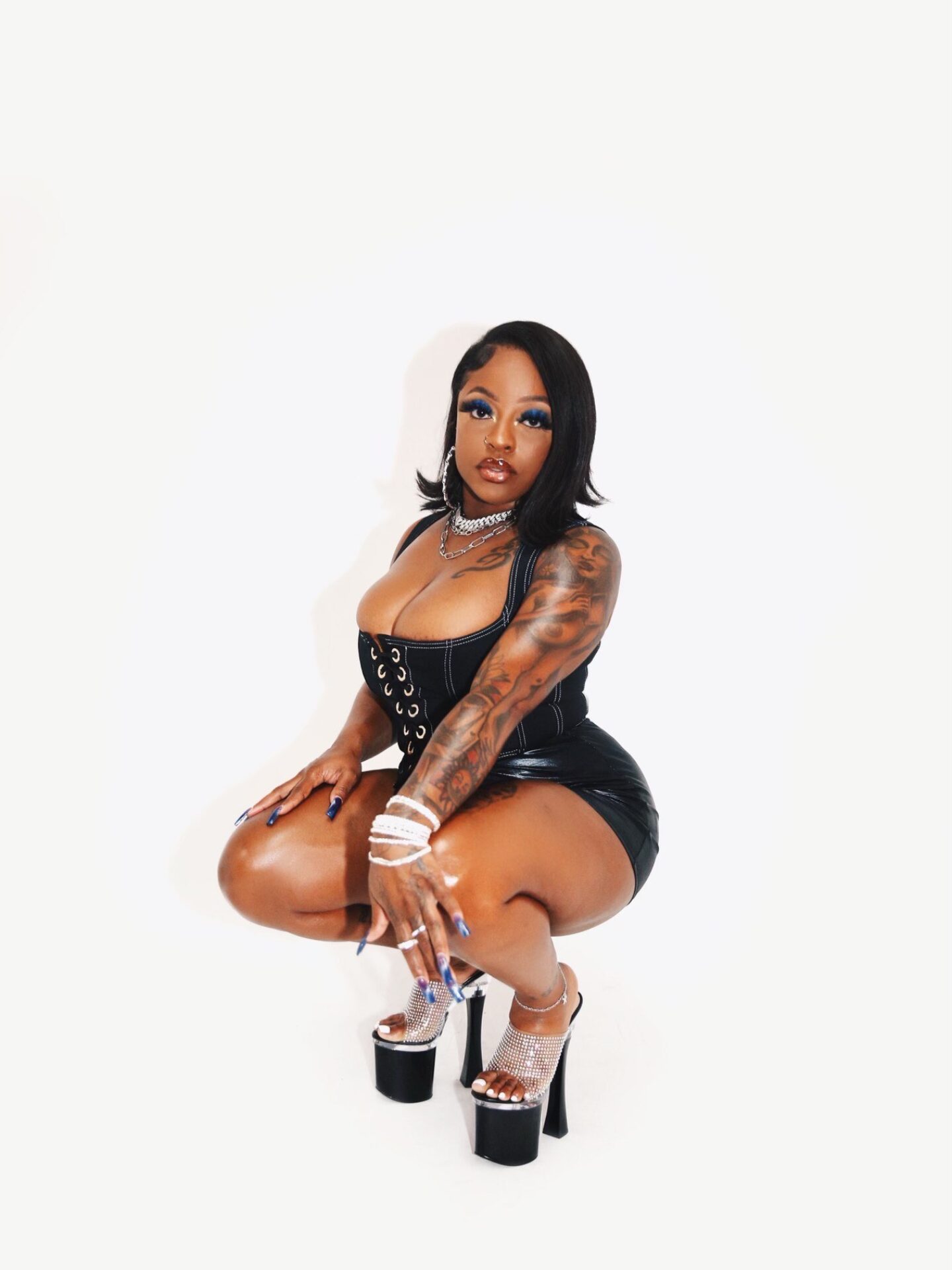 Ahead of dropping her new single, "Not My N*gga," available today, KenTheMan caught up with Girls United to discuss her groundbreaking 2022 BET Hip-Hop Awards cypher, being true to herself in the music industry, and upcoming music releases.
Let's start with your BET Cypher. Did you practice freestyling leading up to it? What's it really like on that stage?
I'm absolutely always afraid that my mind is gonna go blank because I have a shit memory. I'm like, "What if I don't know what to say? What if everything goes away?," but I wasn't nervous. If I had any nerves, it was because I know how my mind works; sometimes it just be going blank. I feel like when I did [the Freshman] XXL [cypher], it prepared me for another. XXL was actually like my first cypher. I didn't know what to expect but with the awards, I knew what was going on.
Something poetic that you said in your BET cypher is, "The only thing that changed about me is the car I drive and the budget." How have you been able to maintain your sense of self in hip-hop?
I feel like it starts with genuine love at home. When I say at home, I mean family love, team love, [and] friendships. I just feel like you're able to remain pure when you're not looking for relationships in the industry. [There] is a lot of entertaining relationships in the industry but I always get to go home and talk about it with my friends. Like, "Do you know what this motherfucker did? Can you believe it?" We're experiencing it together, so I be like, "Am I trippin?" I just feel like I'm able to remain myself because of being around genuine people who love me.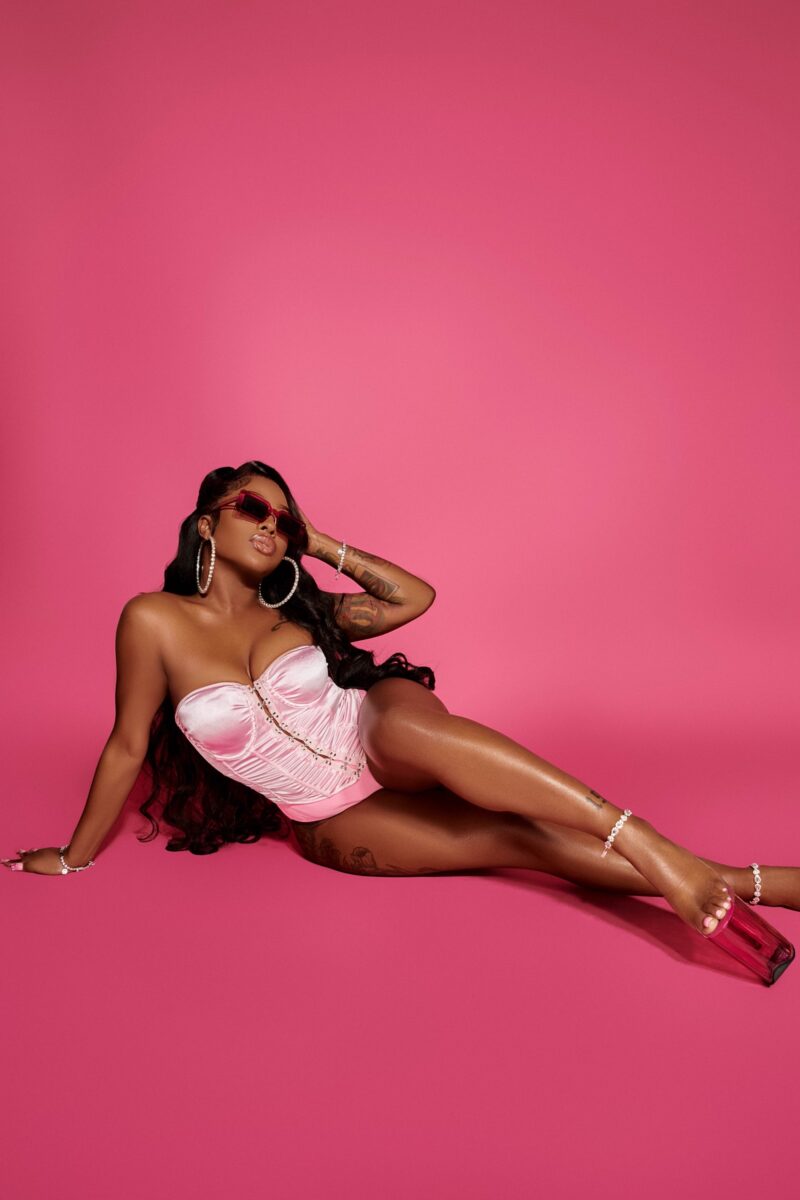 You just dropped a new single "Baddest" and it's been a few months since you dropped music. This song felt like a declaration that you're back and no one can tell you anything. Was that your intention behind the song?
Actually, my supporters were waiting for that record for a year. Before I even tapped into anything else, I felt like they deserved to get that. Like you said, it'll kick off me coming back. It was really out of love for them 'cause they were still asking about it to this day. I was like, "before I even go crazy on [new music] for real for real, it wouldn't be right if I didn't get them off my back about that." 
KenTheMan is working hard! You already have another single, 'Not My N*gga' being released [today], that samples Trina's "Da Baddest B*tch." Why was it important for you to pay homage to Trina?
You know what be so crazy? Sometimes, samples are your idea, but nine times out of ten, my producer will be like, "I made you some beats," or, "I sampled this." I feel like there is so much new music every day, you kinda forget about the old vibes. I feel like it had to be a bitch from the south to represent and own it if anybody did it.
Girl groups are making a comeback and you were in a few groups early in your career. What were those moments like?
Oh, my god, no! I was always in girl groups with my close friends. I don't feel like no one's talent outweighed [the] others. My girl groups never lasted, they just never lasted. They never really wanted to take it to the next level. I remember my friends said that I fired [another] friend out of the girl group before. I was like, 'I do not know why y'all put me up to fire someone!' That's so funny to me.
Sometimes on Instagram, you show off your son. Do you ever play songs for him and ask for feedback?
Yeah, he likes my music. He tells me some days, like, 'I can't believe you're a rapper mom. I can't believe that my mom is a rapper.' He gave me words of encouragement before the cypher. I was like 'I'm scared,' and he gave me a speech that I never knew he would have in his brain. I felt like that was so beautiful of him to care enough. It's fun and he be just as shocked as me at all the stuff that be happening.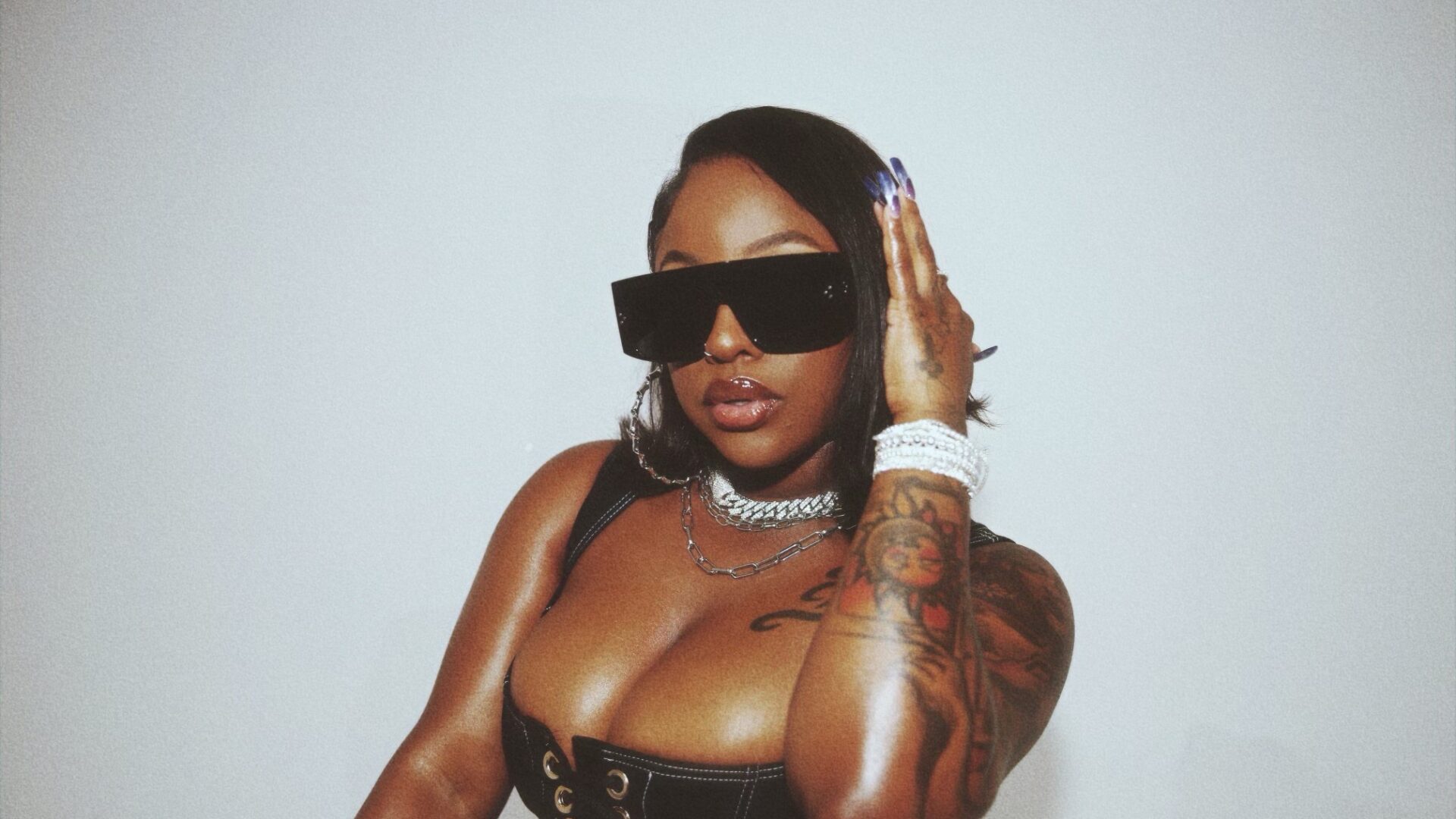 As Black girls, we are expected to primarily listen to hip-hop or R&B, even though we are so multi-faceted. Is there any artist or genre that people wouldn't expect you to be a fan of?
Girl, I listen to anything! I probably would say that I listen to pop or other genres more [and] I do have a lot of stuff downloaded on my phone. It's so many different artists that I listen to because I'm really not a close-minded listener. I listen to rock songs. Music is just good as a whole, there's no box to it, I feel.
Some time ago you mentioned that you really want to crowdsurf. Has that happened for you yet?
Girl, I am so scared them people would drop me! I be sweaty. I don't want to be crowd surfing and I'm sweating on all those people. The older I get, the less enthused I am about crowd surfing. Maybe one day when I get my sweat glands frozen.
You are a Gemini and some of the greatest rappers are Geminis like Tupac, Lauryn Hill, Biggie, Kendrick – the list goes on. What is it about being a Gemini that makes you a great artist?
A lot of people say that we're chameleons and I feel like that day to day. I know how to adjust to my surroundings very well and I'm not a person that has structure. I feel like a lot of times in music when you don't have a certain set way that you do things, you have so much range to be versatile. I feel like a lot of Geminis are super creative.
It's also a battle cause we got a lot of shit rambling in our minds at all times. I just feel like it helps me stay diverse, [and] relevant, and I'm able to catch up. I'm never left behind because I know how to continuously morph myself into greater and greater. That's why people always be like, "Oh, you always make hit after hit after hit." It's because I don't let myself make a bad song. I make sure that anything that I put out is quality and I overthink it so much before it even gets to the public.
About Desjah: A Brooklyn girl keeping it real in LA, Desjah Altvater is a writer for Girls United who loves to dissect culture and entertainment. She also writes for Her Agenda and Insider, aiming to uncover interesting and underrepresented stories in the media.