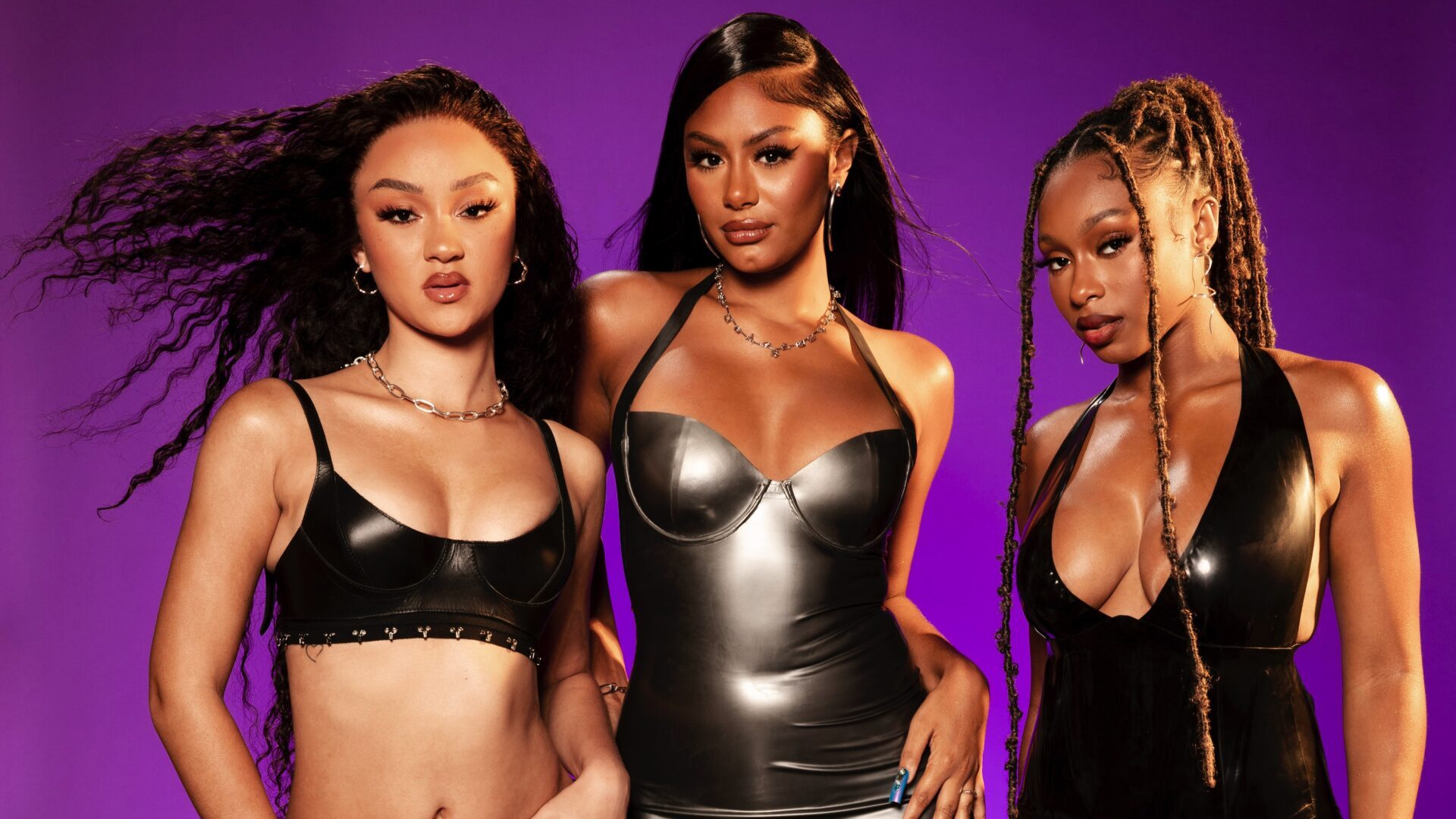 9 Moments When FLO Proved To Be The Girl Group To Watch
The trio recently graced the cover of Girls United's latest issue.
When you think about the impact, Black girl groups had on various generations, the receipts are there, whether it's musical impact, representation, or simple sisterhood. That is where the U.K. trio FLO enters the chat.
Like many of us, we all scrolled down our timelines seeing a small clip and hearing the hook, "So I'ma put your sh– in a cardboard box/ Changing my number and I'm changing the locks."
It caught our attention and resonated with breakup memories we've encountered. "None of us used Twitter before that, so it was this new app for us—but everyone loves us on it," Renée explained to Girls United during the exclusive cover story interview with Content Director Nandi Howard.
FLO follows the blueprint of many soulful girl groups, such as Destiny's Child, Spice Girls, and TLC. The trio focuses on bringing back the classic style of melodies, bridges, and harmonies that instantly stick with listeners. The ladies have had an eventful year gaining so much attention and love in America. "We didn't expect it," Stella told GU. "It was just like, if we were to be known in America, that would be the best thing ever. But we didn't know that that would happen."
Check out our favorite moments from FLO that turned us all into obsessed stans.
Their debut single, "Cardboard Box," shook the internet
It's almost a girl group rite of passage to have a staple breakup song in your discography that perfectly describes what it means to wash your hands-free from that ex that gave us headaches and heartache. "Cardboard Box" is the perfect 2022 song that resonates with Gen-Z'ers who are finally free of that old flame.
Their Debut EP, The Lead, is The Perfect Guide To Surviving A Breakup
From start to finish, this project allowed listeners to feel every emotion someone encounters when experiencing heartbreak. From the anthem "Cardboard Box" to realization from "Immature" and closing it off with the understanding that he's just like everyone else in "Another Guy."
They Have An Eye For Nostalgic Videos
Since their sound reflects the late 1990s and early 2000s, it makes sense to have that translated visually. From their eerie song "Immature" to their fun girls' trip anthem "Summertime," the trio takes us through stories and moments that fit the vibe of their lyrics.
Their Live Performances Are EVERYTHING
After making their television performance debut on the Jimmy Kimmel Live show, FLO solidified their ability to make fans love the live version of their songs just as much (maybe even more) as the original song.
They're Actually Part Of Generation Z
Jorja Douglas, Stella Quaresma and Renée Downer are all 20 years old, born in 2001-2002, so they can tell their stories from a Gen-Z perspective. It hits differently when listeners feel close and connected with artists who experience everyday situations like the average 20-year-old.
Their Star Signs Are Earth, Air, And Fire
The British trio embodies the perfect balance of elements in astrology (sorry to the water sign girls), being Capricorn (Jorja), Libra (Renée) and Sagittarius (Stella). If you're into astrology, you know that having balance is important, and since these girls embody three different star signs, we, as listeners, have a member we can identify with,
They've Achieved One Million Monthly Listeners On Spotify
In the streaming era, it can be a hit or miss regarding how people consume a specific song. FLO achieved over one million monthly listeners, and their debut single, "Cardboard Box," reached almost 14 million streams on Spotify.
They're Already Receiving Award Nominations
Recently the U.K. girl group received a nomination for "Female Artist of the Year" from the Rated Awards 2022, an award ceremony dedicated to Black music in Britain.
They're our GU Cover Stars
In light of our theme for 2022, FLO embodies the #ForeverTheBlueprint motto through its authentic love for music. When you hear the music and watch their performances, you can see the hunger in them to create timeless music.
About Kenyatta: Kenyatta Victoria is an entertainment and culture reporter passionate about music, pop culture, and marginalized stories. She has bylines in publications such as Chicago Reader, INSIDER, Girls United, TransLash Media, and the Chicago Tribune.