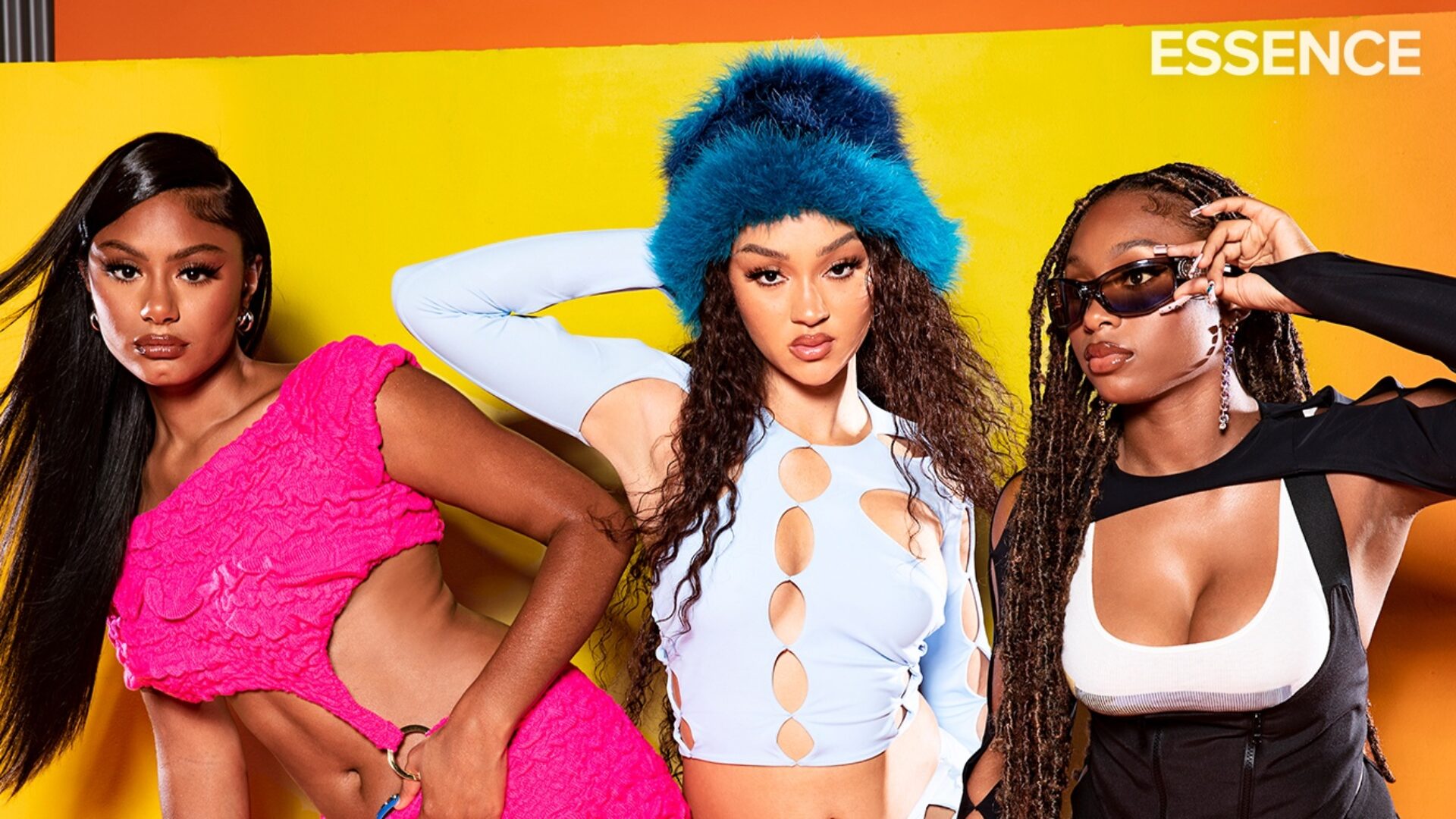 Flo Is the Future
The U.K.–based girl group is ready to take over the world
When you're in a girl group where style is key, having no nails isn't ideal—especially if you're on set for a cover shoot. "Hey, babe, can we get through this video, I promise we will glue all of those nails back on," I say gently to Jorja for a quick pep talk, one of the three members of Flo. "I had acrylic nails on, but they made me take them off for this shoot," she responds, with a pout that a supermodel would envy.
On set, all of the group members needed to get custom "Flo" press-ons. Unfortunately for Jorja, hers kept falling off. So in the interest of time, she took one for the team and removed all her nails to get the video done—but she wasn't happy about it. After comfort from her group members as they walked on set to shoot their first look, she opened up with a burst of energy that brightened up the already flashy set.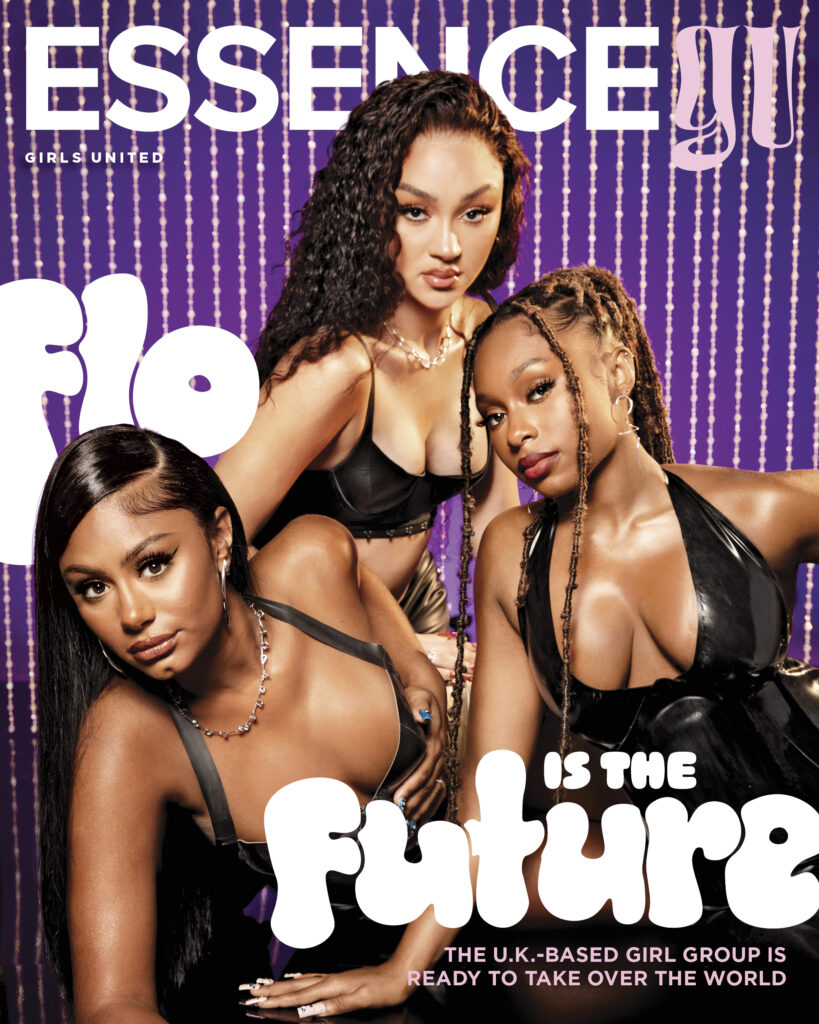 A few weeks before I met Flo, at Milk Studios in Los Angeles, I was able to interview the viral stars over Zoom. All three were in London, squeezed together on a couch to fit into the camera, and the conversation felt like a few old friends catching up. Renée Downer, 20, and Stella Quaresma, 21, are longtime pals who initially connected in secondary school (high school); Jorja Douglas, 20, made the trio complete when they met her at an audition in 2019. However, through the lens of an interviewer, you would think the trio is related- finishing each other's sentences, speaking up when one may seem nervous, and fixing a hair for one another if a frizz is out of place. "We get along so well," says Renee. "I don't see it working any other way. I wouldn't be able to do it if there was anybody else."
Although this was my first time speaking to the ladies, I had been introduced to their debut single, "Cardboard Box," in the summer, when it immediately grabbed the attention of Twitter users. "I got a confession…I don't think I want you anymore," Stella sings, with a soft guitar melody floating in. As the song continues, the three expertly brew up a sultry '90s sound with Gen-Z pop lyrics, creating a timeless piece of music. This was how they announced their presence to the world. "None of us used Twitter before that, so it was this new app for us—but everyone loves us on it," Renée explains, while Jorja adds, "Twitter is so funny." What sparked the online conversation initially was the group's superior vocals—but what soon grabbed equal focus was their buzzy look, influenced by the resurgence of Y2K and the early aughts. Barbie-like glam is their beauty inspo: dewy skin, impeccably done hair, every outfit TikTok–worthy. "We didn't expect it," Stella says of the attention. "It was just like, if we were to be known in America, that would be the best thing ever. But we didn't know that that would happen."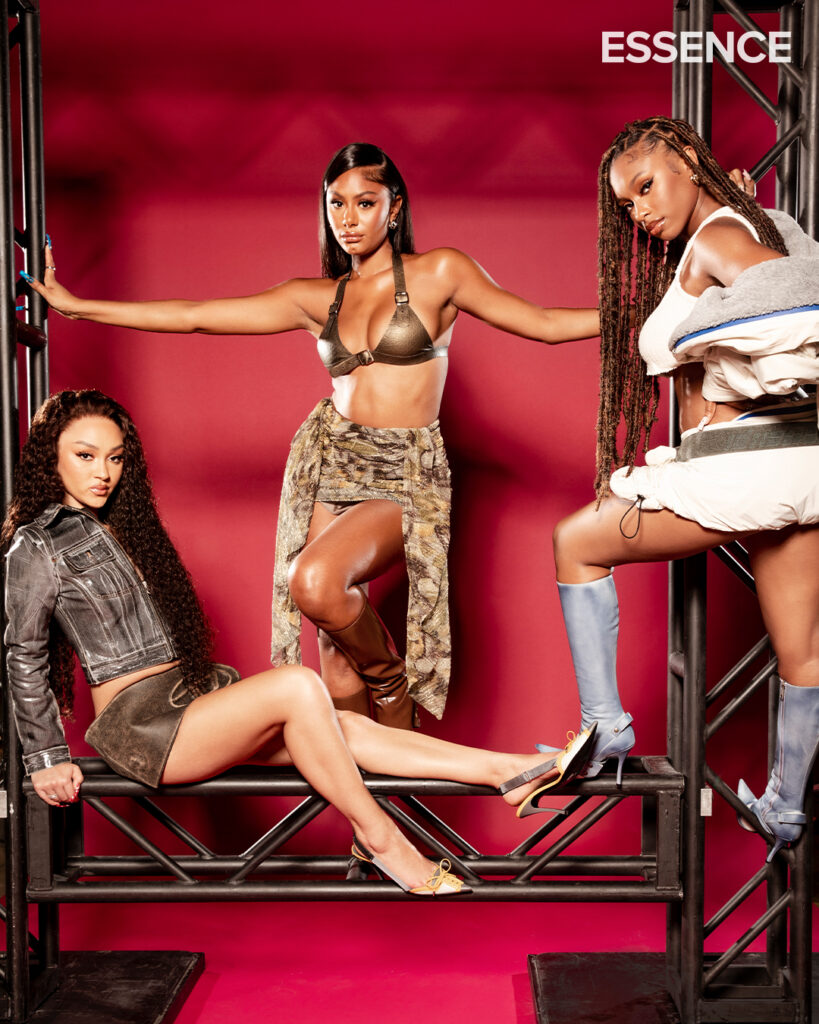 There's no blueprint for becoming an R&B superstar and as particular American music artists question, if the genre is dead, Flo thinks differently expressing that in the UK the genre isn't as appreciated. When asked where they feel the most support, they all simultaneously say the states. "America's like the only place that really appreciates R&B and here it's not really appreciated," Jorja included. With the intense stan culture that circulates the internet, it's not surprising the support they have garnered from an outsider looking in – one who is equally obsessed with the internet at least. There's the hunger for a new superstar, or in Flo's case, superstars. And, with the continuous release of new music, their audience only grows larger.
Their first single was a testament to their years of artistic development. After the group's formation, Flo spent the pandemic preparing for this moment—rehearsing, recording, and learning the essential skills every musician must have. And today, appreciated by the fans if artists take the time to invest in their craft. "To drop a song in 2022—and we've been working on all of that stuff for the past three years—this can't go wrong," Stella says with conviction. "This will go right."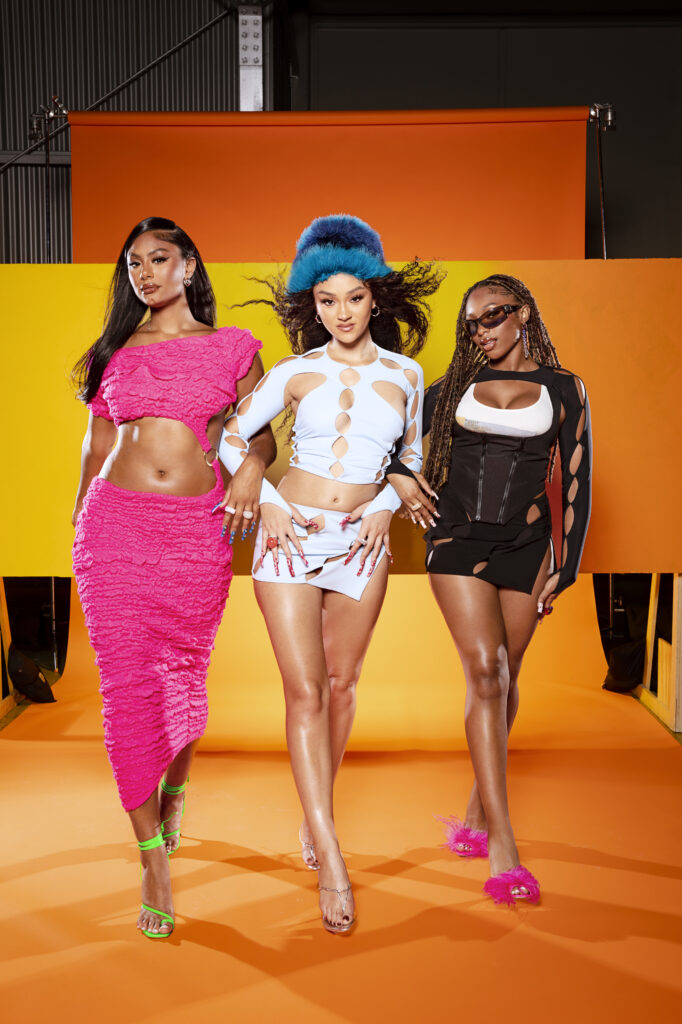 In these early days of stardom, they're hitting all the key metrics—with engaging videos, genuine friendships, superstar vocal talent, and a humble appetite for what's in store for their bright future. They're enjoying the ride – innocently detailing their first experiences in America to do press. The group traditionally went to NYC for interviews after the release of their single "Cardboard Box," in which they remember enjoying a restaurant in Central Park that's "next to Lady Gaga's house," Jorja happily says when asked if they're enjoying American food. "They had this juice that was laced," says Stella, which is UK vernacular for something superb. And to her point, there's nothing better than fresh juice from the deli.
On the heels of their deluxe EP The Lead, the ladies are enjoying their time developing as artists. Naming influences such as Whitney Houston to Victoria Monet as their inspiration. And through each song and visual, their growth is refreshing to witness. For Flo, they're on the journey to becoming global superstars, reinvigorating R&B one step at a time.

Photographed by Munachi Osegbu – @munachiosegbu
Styled by Danasia Sutton- @danasia_sutton
Hair by Aaliyah the Goat and Naarah Santos – @aaliyahthegoat_ @Mellroselondon
Makeup by David Velasquez at Rare Creatives – @mugopus
Nails by Brooklynn Rhayne using Swarovski Crystals – @makeitrhayne
Set Design by Eamonn McGlynn – @eamonnmcglynn
Production by The Morrison Group – @themorrisongroup
Shot at Milk Studios