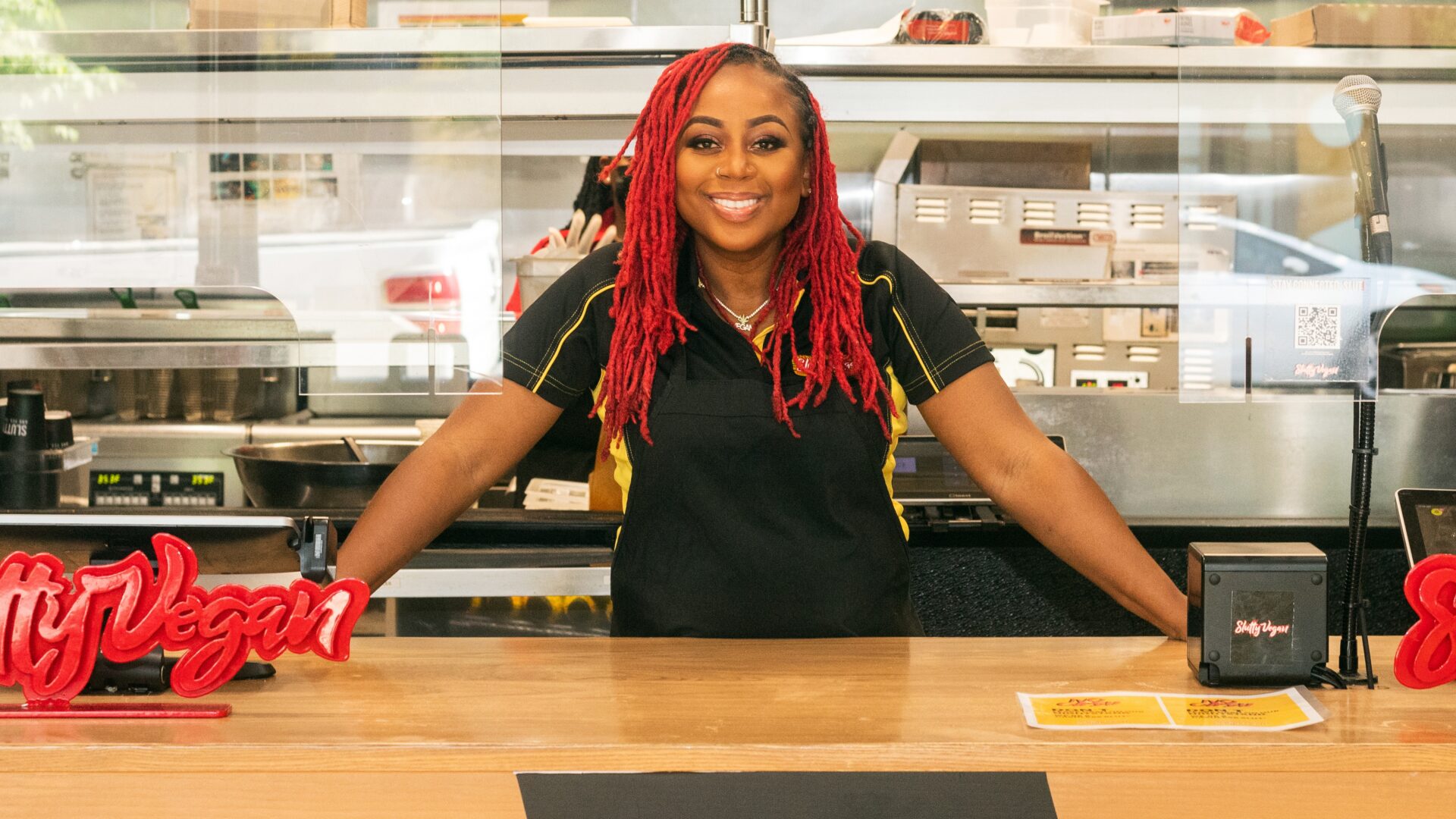 13 Black-Owned Businesses To Support While You're At Girls United Summit 2022
Do your part for National Entrepreneurship Month at GU Summit.
We've all seen what happens when we support local Black-owned businesses and watch them become household names. At the GU Summit 2022, multiple opportunities exist to share and help various companies. From the food trucks where we spotlight some of the hottest Black-owned food trucks to our beauty supply store where guests can have an immersive experience through beauty activations like make-up bars, hair demos, and more courtesy of local entrepreneurs.
November serves as National Entrepreneurship Month, which means it's time to put our money where our mouths are and come together to highlight businesses. It's essential to give these establishments our support and spotlight during their early stages so they can see the foundation built and the genuine support starting to grow. According to J.P. Morgan, the number of businesses owned by Black women grew 50% from 2014 to 2019, representing the highest growth rate of any female demographic. Now, since 2020 Black-owned businesses have formed tremendously in the last 25 years, according to the Kauffman Foundation's annual analysis of Census data.
This year's Girls United Summit also includes the Just For You Marketplace, where attendees can shop a dozen Black-owned brands and products all at once at a one-stop shop. Just in time for the holiday season slowly approaching, summit-goers can find the perfect gift to treat themselves or finish up their holiday shopping with something they'll never forget – all while supporting amazing Black-owned businesses you'll love.
"I couldn't be more thrilled to be a piece of infusing the Girls United Summit with fresh and beautiful flowers that will help highlight the importance of self-care along with the appreciation of God's beauty," Lauren Hill, owner and founder of Full Bloom by Lauren, told Girls United. "[The] support of Black-owned businesses is such a vital piece of the fabric of this country. It's uplift, encouragement, and acknowledgment by a simple gesture that goes beyond the dollar."
Lisa Vega, founder of Lyra Luxe Nails added, "I'm beyond excited for my first GU Summit experience and even more ecstatic because I'm able to contribute my nail art to such a collaborative and impactful event! Supporting black-owned businesses is important for strengthening our unity by acknowledging and appreciating a community whose thoughts and ideas are so influential to the culture."
As we gear up for the Girls United Summit, we want to highlight some of our favorite businesses that will be present on November 5, 2022. The Summit will also stream live on ESSENCE Studios. For more information and to RSVP through our free registration, visit https://girlsunited.essence.com/gusummit2022/.
Slutty Vegan
Pinky Cole struck gold the day we all discovered the infamous Slutty Vegan restaurant. Now we get to support and receive education about the benefits of vegan food that provides nourishment but is still tasty. The empire of Slutty Vegan opened the door for people to gain a different perspective on what it means to eat clean. Follow Slutty Vegan on Instagram at @SluttyVeganATL .
Soul Truckin' Good Food Truck
Who doesn't love a classic food truck? There's nothing better than a restaurant serving traditional soul food that feels like home. This mobile food business has everything from smoked meat to seafood that tastes like you're at your family cookout. Follow Soul Truckin' Good Food Truck on Instagram at @SoulTruckinGood
Cereal & Cream
For those with a major sweet tooth, Cereal & Cream is a mobile catering service with flavor ice cream combined with every cereal under the sun, from Lucky Charms to Fruit Loops. The Atlanta-based business tributes all of its sweet treats to home, whether it's the "Downtown" or "Nurfside" ice cream. Follow Cereal & Cream on Instagram at @CerealandCream.
Yellowmat Wellness
Yellowmat began in 2016 as a private yoga and wellness class, and now it has turned into a safe space where people receive tools for healing after traumatic situations. This business aims to help others invest in their mental health. Follow Yellowmat Wellness on Instagram at @Yellowmatwellness
Full Bloom By Lauren
Lauren Hill found her passion in floral design when she felt the need for elevation when people encountered flowers. She's found joy in curating floral arrangements for weddings, dinners, and brand activations like the GU Summit. Full Bloom is a business made through love that visually allows people to see the best flowers throughout every season. Follow Full Bloom By Lauren on Instagram at @FullBloomByLauren
Brooklyn Tea
Jamila and Alfonso Wright created Brooklyn Tea for all tea enthusiasts. Not only do they provide natural teas, but they also provide information about the culture and history behind tea. Follow Brooklyn Tea on Instagram at @BrooklynTea.
Stay Positive
This brand uses clothing as a way to express positivity and wellness to its consumers. Stay Positive clothing has gotten traction from celebrities such as 6LACK, SZA, and Cardi B promoting positivity through the brand. Follow Stay Positive on Instagram at @StayPositiveInc
LaBlu Serenity
For owner Lauren Williams, she created body scrubs as a natural skincare for herself and her family. The products contain several natural ingredients including coconut oil which serves as an antibacterial and anti-fungal agent. Follow LaBlu Serenity on Instagram at @LaBlueSerenity
Kevlar Rose
This creative talent agency specializes in bringing diversity and inclusion into the entertainment industry. The services include model development, talent representation, agency placement, movement direction and runway. Follow Kevlar Rose on Instagram at @Kevlarroseagency
Lilac Reign
Lilac Reign is made for the modern woman that celebrates femininity through clothing. The brand is based on three elements: Femininity, Glamour, and Audacity. Follow Lilac Reign on Instagram at @LilacReign
Crown & Clover
The combination of causal and luxury is what Crown & Clover stands for when it comes to jewelry. The jewelry is named after women who inspire and is made for the everyday slay. Follow Crown & Clover on Instagram at @Crownandclover
The Tsuri Company
The importance of skincare for Black women is at an all-time high. The Tsuri company specializes in self-care and beauty, providing customers with a luxurious experience. Follow the Tsuri Company on Instagram at @Thetsuricompany
Mine By Marquisha Baker
Natural skincare is a major priority for Black women. Mine by Marquisha specializes in natural products such as toner, oils, sea moss gel, and more. Follow Mine By Marquisha Baker on Instagram at @MineByMarquishaBaker
About Kenyatta: Kenyatta Victoria is an entertainment and culture reporter passionate about music, pop culture, and marginalized stories. She has bylines in publications such as Chicago Reader, INSIDER, Girls United, TransLash Media, and the Chicago Tribune.
Photo Credit: ATLANTA, GA — APRIL 28: Owner Pinky Cole at one of her many Slutty Vegan locations in Atlanta, Georgia on April 28, 2022. (Photo by Lexi Scott for The Washington Post via Getty Images)