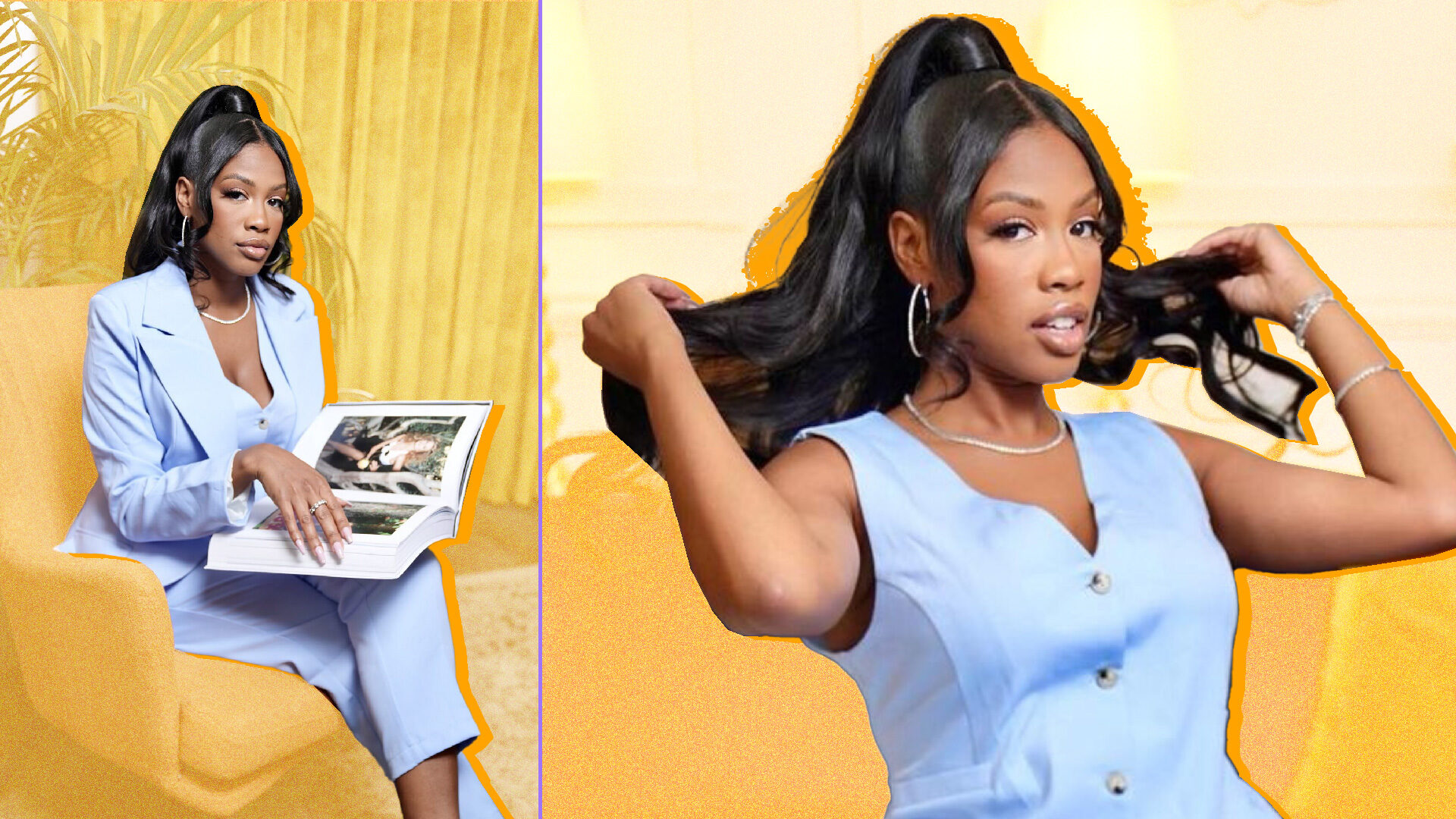 'Sweet Life' Star Amanda Scott Gets Real About Her Reality Television Filming Experience
HBO Max's 'Sweet Life' season two created waves on social media.
Reality television was never on Amanda Scott's vision board. Although she was an avid watcher of cult classics like Flavor of Love, Basketball Wives, and the Love and Hip-Hop franchise, the Inglewood native never saw herself in front of the camera.
"One day, Tylynn [Burns] called me and was like, 'hey, they're looking for people for this untitled Issa Rae project,'" Scott, 26, said about her Sweet Life origin story. "I did my first interview, which served as my casting tape, but I had no idea what a casting tape was at the time."
Fast forward to October 2020, the entrepreneur and The Kollection founder got the news that the show got the green light, creating nervous excitement for stepping into reality television and being in the limelight. "I honestly didn't believe it was real until I showed up on day one," she said about stepping into the world of reality television.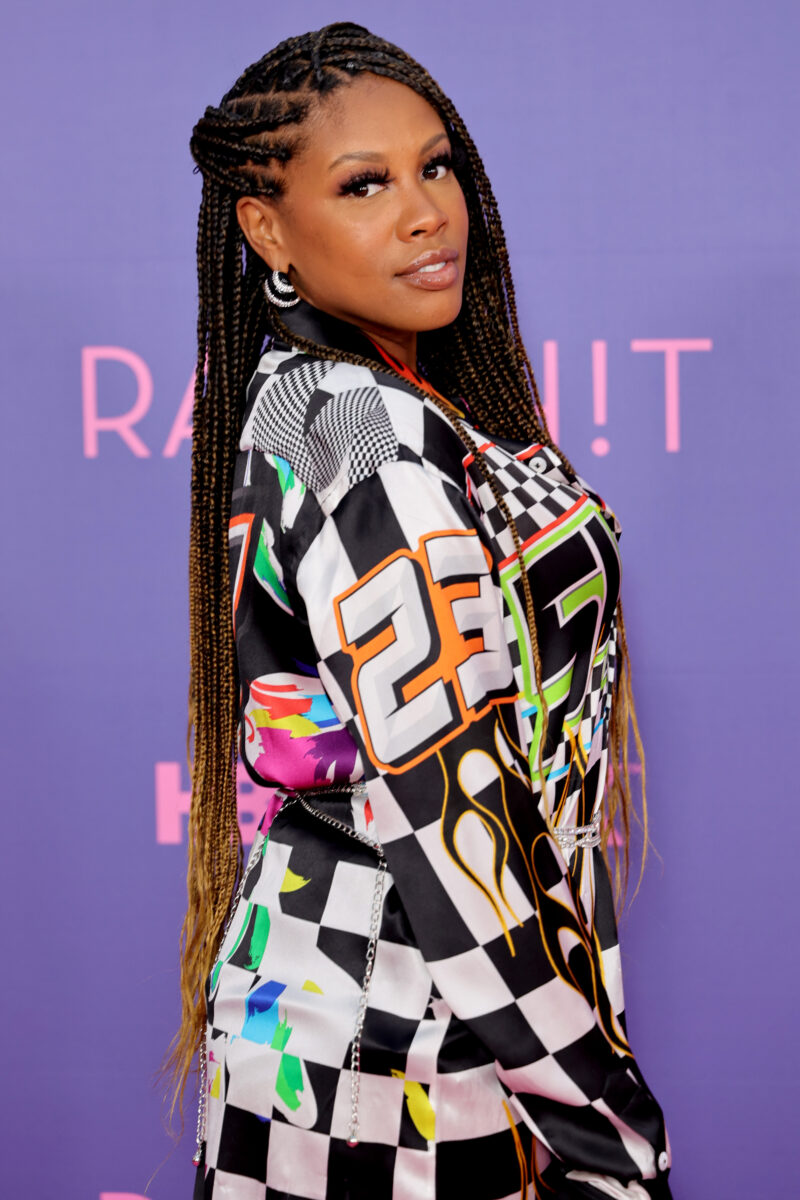 LOS ANGELES, CALIFORNIA – JULY 13: Amanda Scott attends the HBO Max original comedy series "RAP SH!T" premiere at Hammer Museum on July 13, 2022 in Los Angeles, California. (Photo by Momodu Mansaray/Getty Images)
As the show premiered its second season on August 4, Scott showed a more vulnerable side of herself that viewers could relate to when dealing with her relationship with her boyfriend Rob Lee and changes in her friend group with Tylynn, Briana Jones, and Rebecca "Becky" Magett. This season taught her many lessons that many young adults can relate to. "Reality TV is a mirror, and [many] of the things I've learned about myself over the past two years have come from reality TV," Scott added.
Following the HBO Max show's season finale on August 18, Girls United spoke with Scott about having a platform since the show, what she's learned about herself as a friend while on the show, and placing boundaries within her relationships in her personal life.
Girls United: Did you expect the show to take off how it did?
Amanda Scott: I didn't know what to expect. I knew people in [Los Angeles] would watch it, but I don't think I was prepared for people all over the U.S. [to watch]. I don't think I thought so far into the bounds the show could take us, but it's been really beautiful to see.
How does having a new platform as you've entered reality TV feel?
I feel like my social media has a purpose now and I'm able to connect with people outside of my sphere. It is weird seeing yourself online [and] people talking about your real-life online, but I know that that comes with the territory. The platform the show has brought has been amazing. There's no other way I could see myself being able to do the things I'm doing without the show, so I'm eternally grateful for that if nothing else.
Season two revealed a lot about the friend group this season. Whether it was a bump in the road between you and Rob or the dynamic changing between Rebecca and Briana's friendship, how did it feel watching everything unfold in real-time? 
It was a lot watching it. Of course, I know what happened and what's going on, but I don't watch it until the world watches it. It's always amazing to see the finished product all coming together, [but] it's hard to watch yourself growing up on TV. I get to see the best and worst parts of me, which is sometimes hard, but we get through it.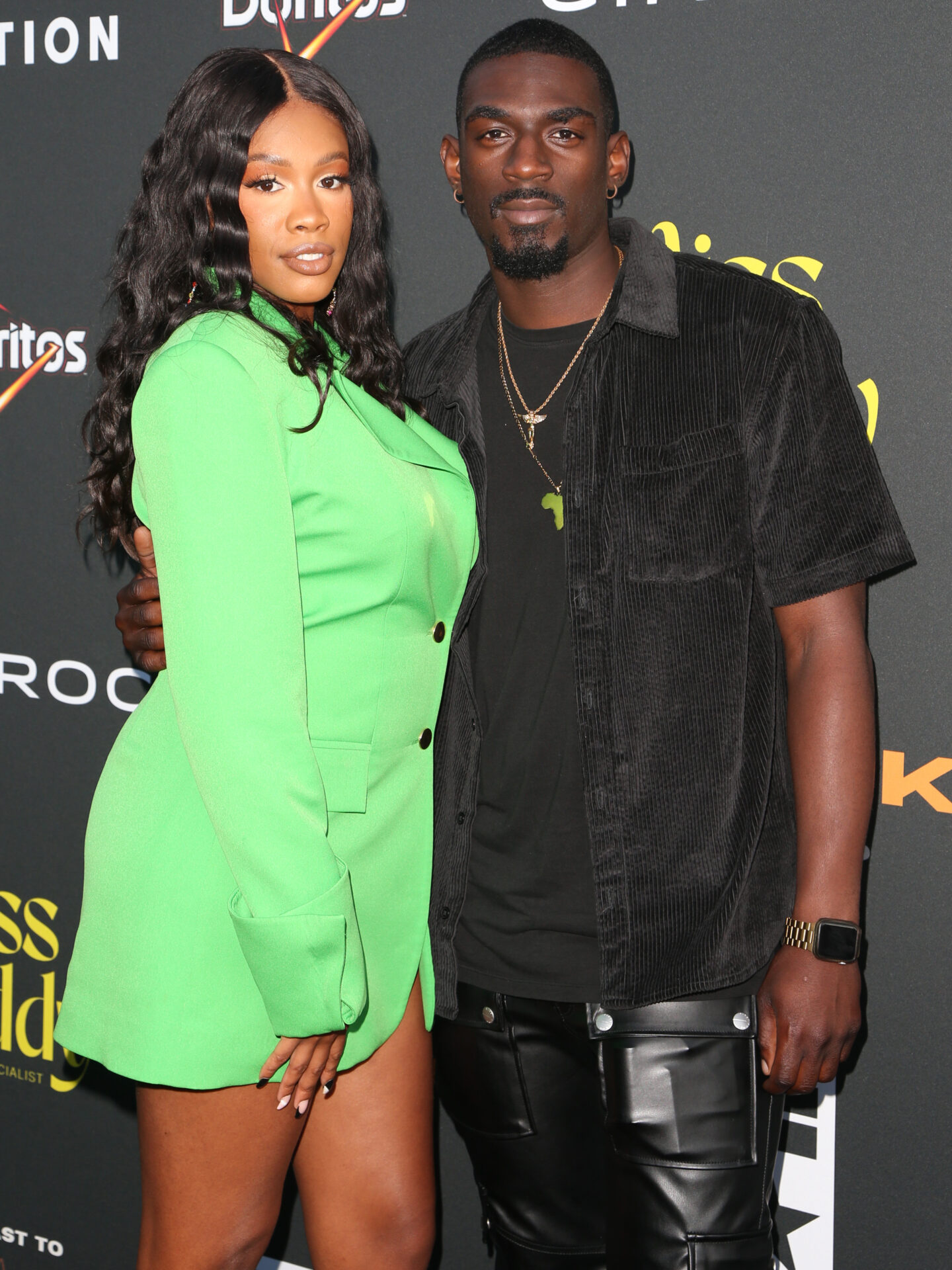 WEST HOLLYWOOD, CALIFORNIA – JUNE 24: Amanda Scott and Rob Lee attend Toast To Black Hollywood Celebration at The London West Hollywood at Beverly Hills on June 24, 2022 in West Hollywood, California. (Photo by Maury Phillips/Getty Images)
When we entered your world in season two, your boyfriend Rob dropped the news on you that he wanted to quit his job to pursue comedy. How did you adjust to such a change while still remaining supportive of his dream?
I applaud any creative who wants to take off and go full force into their dreams. I was excited for him [but] there were some conversations we needed to have about the future and what the future holds for him. I think it's important to be in a relationship with someone who provides balance because he is a dreamer, creative, and just does what he wants.
My risk tolerance is very high [and] I think I foresee things coming, so it's important to have that balance in a relationship. This was an example of us needing to talk and work through things and how having different mindsets helped our situation.
What advice would you give to young adults who want to make a massive career switch but are scared?
I think they should do it. If the last three years have taught us anything, we could all be here today and gone tomorrow. We're not getting any younger, so we don't have much time. You think you have a lot of time, but you don't. I think you should pursue your dreams.
We saw your relationship and friendship simultaneously tested due to Rob and Tylynn's fight in episode one at the beginning of season two. What went through your mind when you had that tough conversation with Tylynn, Jaylenn, and Rob about the argument at Briana's event?
I'm a person who thinks about all scenarios, so I went into the conversation knowing that we could very much so not be friends after it. I was hopeful we could work it out and talk through it like adults. I did want to show up in a way that showed that I was supportive of Rob and his decisions and made sure that I stood up for him and took his side.
Throughout the show, we witnessed and possibly related to what it looks like to grow apart from your friends during the young adult phase. What did you learn about yourself as a friend while filming season two?
I try to save face for a lot of people. Sometimes you just have to let things be what they are and not try to control situations. I don't care to like be engaged in the drama. If people have their own situations or things going on, I don't insert myself unless I'm asked. So [often] on camera, I can come across as standoffish. While I'm not going to change who I am and start budding my nose in people's business just for the sake of TV, it does make me realize how it's being portrayed, so that's something that I probably definitely am going to work on in season three.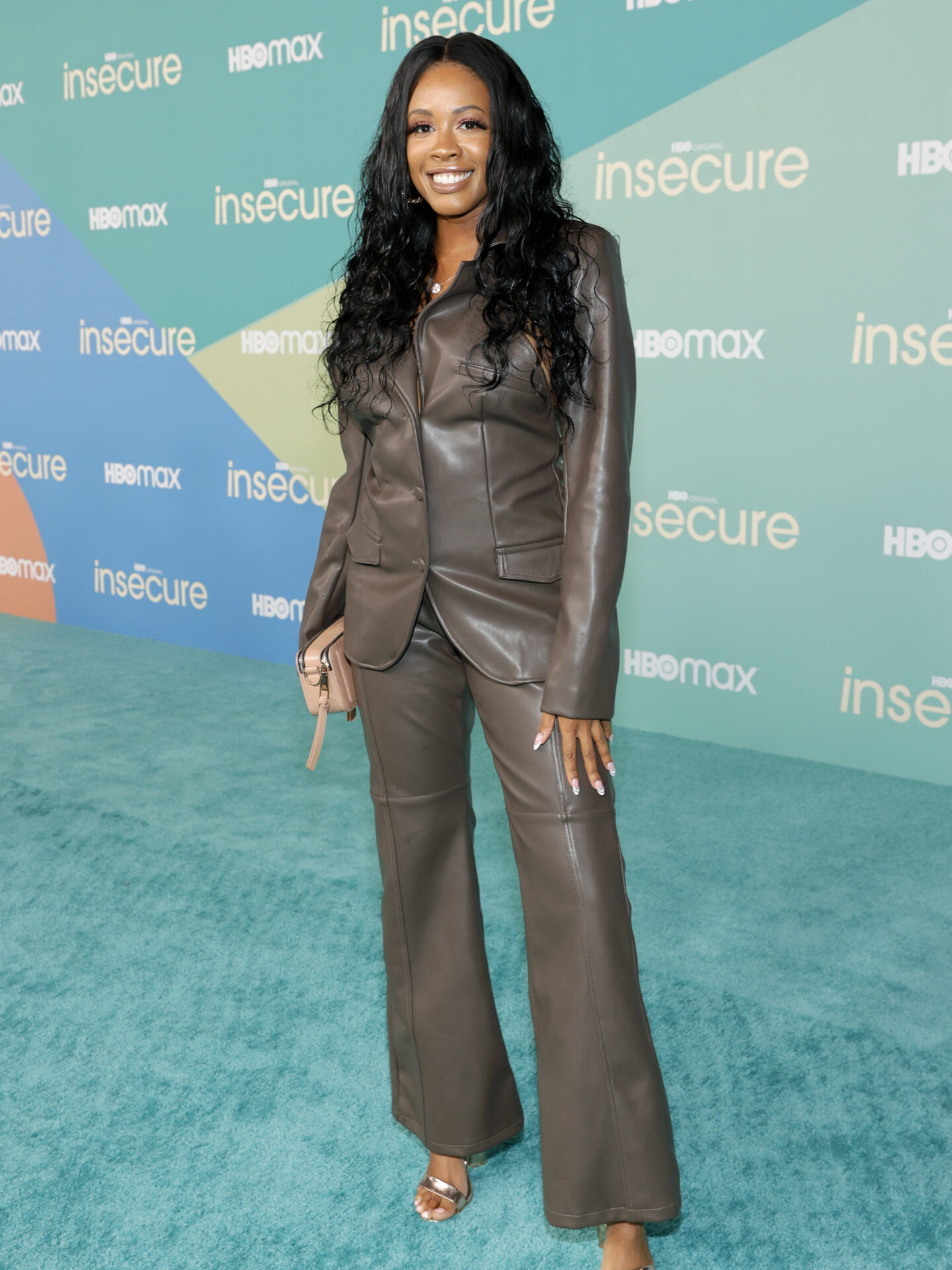 LOS ANGELES, CALIFORNIA – OCTOBER 21: Amanda Scott attends HBO's final season premiere of "Insecure" at Kenneth Hahn Park on October 21, 2021 in Los Angeles, California. (Photo by Amy Sussman/Getty Images)
What do you want viewers to take away from this season of Sweet Life?
This season, we definitely went deeper. I think people should see growth in that change comes with growth. Sometimes it's not always going to be peaches and cream and happy-go-lucky, but that doesn't take away from the ideals that you love and support your partners and friends and that you guys can have fun. I think it shows that growth can happen while life still happens.
In season one, we witnessed your new business venture of "Buy Black the Block." In 2022, what can you tell us about the development and how it's been going?
I am working on a few things. I'm in the market for a house right now in the south, so I've already told myself I would make the content as my platform expands. I want to take people along the ride with me.
As fans have wrapped up the journey of the Sweet Life crew, we want to know if we are getting a group chat reunion for this season.
We were slated for ten [episodes], and we gave y'all ten, so I don't know that's a question for everybody you see in the credits. I would love to be able to talk through and reconnect, but we'll see. It's not up to us. Until then, just follow us on social media. We still are out here and active.
Want to get a bite of the Sweet Life? All episodes are available to stream now on HBO Max starring Amanda, Tylynn, Briana, Rob, and more of the Los Angeles-based crew!
About Kenyatta: Kenyatta Victoria is an entertainment and culture reporter passionate about music, pop culture, and marginalized stories. She has bylines in publications such as Chicago Reader, INSIDER, Girls United, TransLash Media, and the Chicago Tribune.