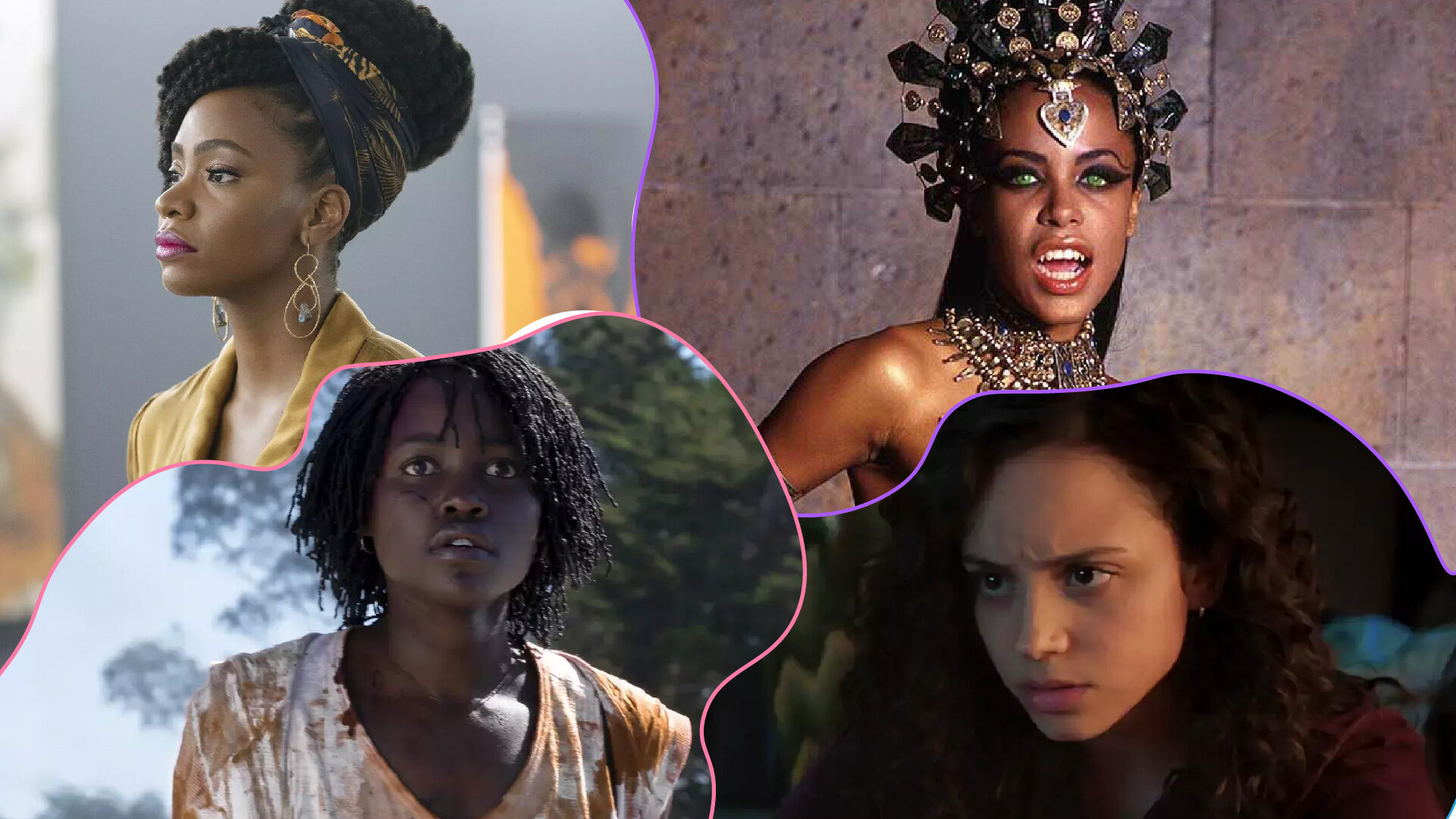 8 Scary Movies Where Black Girls *Actually* Made It To The End
The Only #BlackGirlMagic Movie Playlist You Need This Halloween
Ever watch scary movies and think, "Why do the Black characters always die first?" Girl, we feel you. From Black characters that are merely incorporated into a script for tokenism, humor, or to fill an on-screen quota, we handpicked a few films where we are the stars. In a world where Black girls are oftentimes the ones who save the day, we found some stories that reflect this reality. Well, sort of. Even if we don't save the day in these scary movies, our outfits definitely do.
Starring our faves from the Mowry sisters in our childhood favorite Twitches, Lupita in Jordan Peele's US, Keke Palmer in Nope, Aaliyah in Queen of the Damned, and more, these movies are worth watching as you countdown to Halloween. As spooky season continues to settle upon us, you better get comfortable in front of your TV screen because, if you love #BlackGirlRepresenatation, these 8 movies will have you watching till the end of Halloween night. 
Tia & Tamera Mowry in Twitches
In this classic Disney Channel original movie, twin sisters Alex and Camryn, played by Tia & Tamera Mowry, are magically reunited on their 21st birthday after being separated at birth. Originally born in the magical dimension of Coventry, the sisters always had an intuition that they are special – or should we say twintuition. When a dark force is out to steal the power and wealth of their homeland, the twitches must unite in love to defeat the darkness and restore their land.
Lupita Nyong'o in US
Haunted by an unresolved trauma from her childhood, Adelaide Wilson, played by Lupita Nyong'o, feels her paranoia rise as she senses that something bad is awaiting her family. When nighttime arrives after a tense beach day, the Wilsons discover the silhouette of four figures holding hands as they stand in the driveway. Us pits an endearing family against a terrifying opponent: doppelgängers of themselves. As Adelaide fights back and questions their motives, we realize that she is the only one with the answers after all.
Teyonah Parris in Candyman
Brianna, an up-and-coming curator played by Teyonah Parris, and her boyfriend Anthony live in a sleek condo on Chicago's North side. In this reimagining, the Candyman urban legend has faded but Anthony holds onto the spooky story told to him by Brianna's brother. Inspiring work centered on Black trauma in a ruined neighborhood, a white art critic initially dismisses their suspicions while a bee sting is causing Anthony's flesh to rot off his body.
Aaliyah in Queen of the Damned
This creepy tale follows a legendary vampire, who has reinvented himself as a rock star in the American music scene. His music wakes Akasha, played by the late Aaliyah, the queen of all vampires, and inspires her to make Lestat her king. Akasha's malevolent power is so powerful that all the immortal vampires must stand against her if they want to survive.
Marki Bey in Sugar Hill
When a nightclub owner refuses to sell out to a local mob boss, he is fatally beaten by a gang of thugs. His grief-stricken fiancee, Diana "Sugar" Hill, played by Marki Bey, vows revenge for his murder and turns to an aged voodoo authority. Together they conjure up an evil spirit, who agrees to help Sugar, and raise an army of zombies to capture the killers.
Keke Palmer in Nope
After the mysterious death of their father, estranged siblings Emerald Haywood, played by Keke Palmer, and her brother reunite at their family's ranch in California. While staying at the ranch, supernatural occurrences affecting human and animal behavior gain attention. The siblings believe that their father's death is related to a giant cloud-like UFO appearing in the sky, and they try to capture proof of its existence on camera. While they seek help, the owner of a theme park tries to profit from the mysterious, otherworldly phenomenon.
Whitney Peak in Hocus Pocus 2
The highly-anticipated Hocus Pocus 2 centers around a group of three young teenagers, including HBO Max's Gossip Girl star Whitney Peak as Becca, who accidentally bring back the town's three infamous witches: Winifred, Mary, and Sarah Sanderson. They must come together and use their heads to defeat them once again. 
Nathalie Emmanuel in The Invitation
Following the death of her mother and having no other known relatives, Evie takes a DNA test and discovers a long-lost cousin. Invited by her newfound family to a wedding in the English countryside, Evie's gets seduced by the host. Suddenly, she's thrust into a nightmare of survival as she uncovers secrets about her family history and the unsettling intentions behind their sinful generosity.
Kiana Madeira in Fear Street 
The film follows a group of teenagers in Shadyside, including Deena played by former Trinkets star Kiana Madeira, the town's truest misfit. In 1994, Heather Watkins, a bookstore employee at Shadyside Mall, was stabbed by her friend, who murders her and several others before being killed. The media reports the massacre as the norm for Shadyside, which they dub the murder capital of the United States. Many of the Shadyside teenagers believe it is the result of the witch, who placed a curse on the town before being executed for witchcraft in 1666, and search for answers.
About Desjah: A Brooklyn girl keeping it real in LA, Desjah Altvater is a writer for Girls United who loves to dissect culture and entertainment. She also writes for Her Agenda and Insider, aiming to uncover interesting and underrepresented stories in the media.