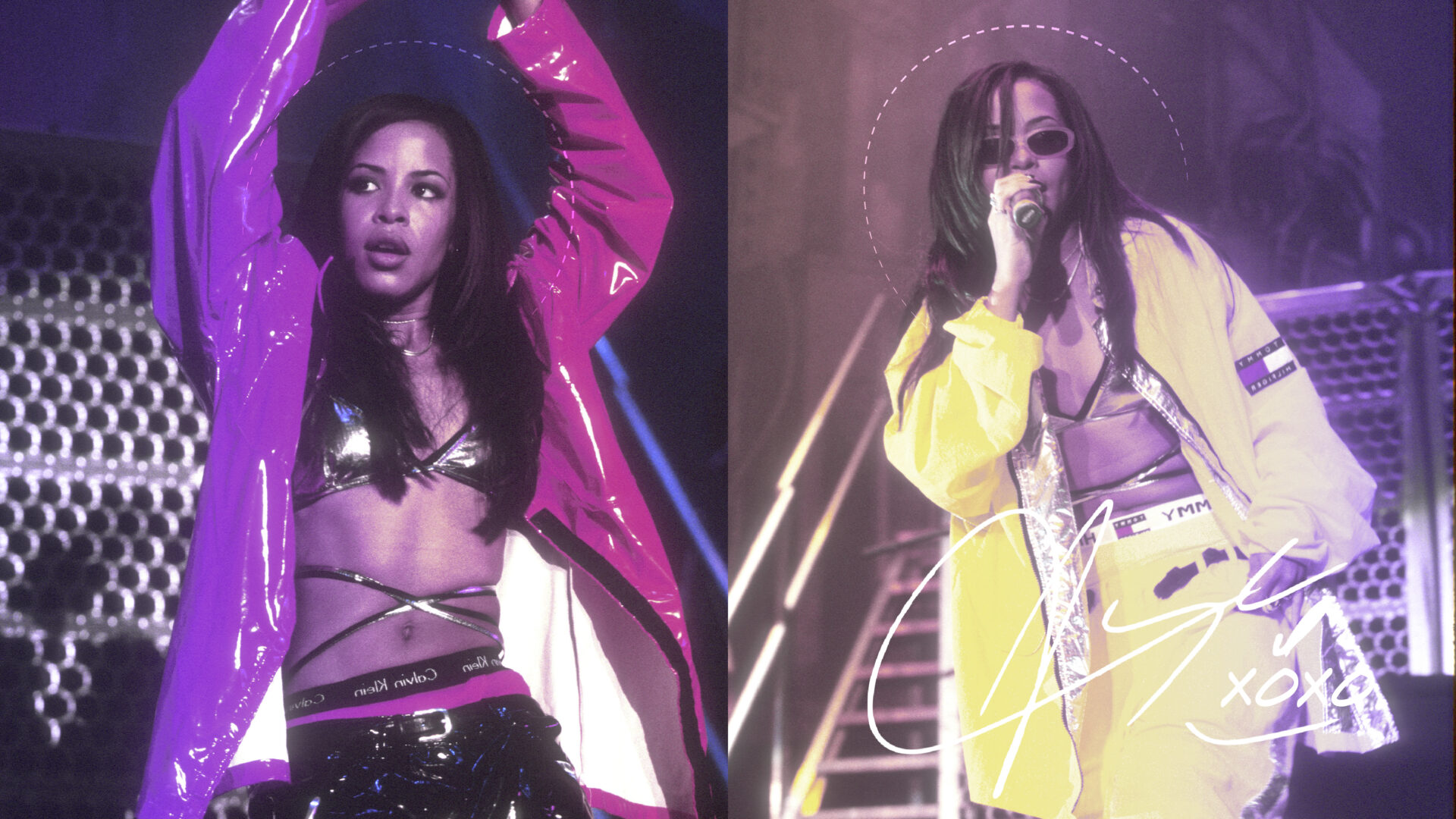 6 Times Aaliyah Proved To Be A Fashion Icon Beyond Her Time
Her sense of style resonates today more than ever.
When it comes to fashion, 1990s streetwear has come back in full force. Baggy pants, crop tops, futuristic sunglasses, crop tops, low-rise silhouettes, and bikini tops are everywhere – from social media trends to casual celebrity street style. Before today's resurgence of 1990s streetwear, artists such as the late R&B singer Aaliyah Haughton set the trend and made it the popular style it is today.
From the very beginning of her career, Aaliyah sported a "confident, comfortable, effortless street style," her stylist Derek Lee told Harper's Bazaar. "That's what makes it timeless." Today, artists keep referencing her as an icon. "I look to all the queens that inspire me / Feeling like a higher me, feeling like Aaliyah 1993," sings Princess Nokia on her 2022 track "Diva," paying homage to the late princess of R&B.
Born in Brooklyn and raised in Detroit, Aaliyah stepped onto the scene at 15 years old. Her debut album Age Ain't Nothing but a Number was released in 1994. The world discovered the singer through her singing over R&B beats, carefully crafted music videos, and an acute sense of style. Aaliyah effortlessly mastered tomboy style by sporting Tommy Hilfiger coordinated sets, low rise baggy jeans, yet still wore fashion-forward gowns on the red carpet.
"We often didn't do fittings prior to our shoots," Lee told Harper's Bazaar. "She would describe to me how she wanted to be portrayed in a specific shoot, and I would then shop it. I knew her style like the back of my hand and would always bring more than I needed. When I would get to the shoot, she would always ask me what my favorite was, and nine times out of ten, that's what she would wear."
Below, we explore the ways in which Aaliyah shaped 1990s streetwear and her long lasting impact on fashion.
She was a brand ambassador for Tommy Hilfiger
What first started off as a liking for coordinated streetwear sets and the colors red, white and blue, turned into a full-fledged partnership with Aaliyah. This is one of the singer's most recognizable looks. Sporting logos, low rise pants and visible men's underwear became her signature style.
Bandanas were her go-to accessory
If you picture Aaliyah, you most likely have an image of her wearing a bandana wrapped around her head. This quintessential 1990s streetwear accessory was all the rage. The singer matched it to her outfits, like this oversized white monochrome outfit.
She was the queen of bikini tops.
In her music video for "Try Again," Aaliyah wore what would become one of her most iconic looks. She wore a bra top encrusted with diamonds, with a matching choker and belt. This outfit inspired the resurgence of today's bikini top / large pants combo. It also inspired countless Halloween costumes, with Keke Palmer channeling the icon in 2015.
She wore the ultimate hip-hop statement piece – a fur coat.
Fur coats and hip-hop go hand in hand. From Biggie Smalls and Puff Daddy to Kanye West, the fur coat established itself as hip-hop's statement piece and status symbol over the years. Aaliyah channeled her status as a music and fashion icon by wearing multiple fur looks. In the 1990s, discourses around the need for faux-fur weren't as widespread as they are now.
She wore full-leather outfits.
Leather jackets, pants, and tiny tops are originally a 1990s trend. Today's resurgence is directly inspired by celebrities who incorporated leather into their red carpet looks. Aaliyah was one of them. She meshed both a classic biker's leather outfit with a more futuristic look. After all, The Matrix came out in 1999.
She channeled her femininity at red carpet events.
Aaliyah is best known for her tomboy-inspired streetwear outfits. The singer experimented with other styles and trends of the 1990s. On the red carpet, she wore feminine bustier silhouettes, floral patterns and sheer dresses. These trends all came back today. At the Essence Awards in 2001, Aaliyah wore a Roberto Cavalli gown – displaying her love and appreciation for fashion.
About Kyra: Kyra Alessandrini is a news writer at Girls United and a freelance journalist. Her work has appeared in publications such as Time, The Hollywood Reporter, InStyle, and Elle. Born in New York and raised in Paris, France, she is passionate about culture, street photography, and travel.