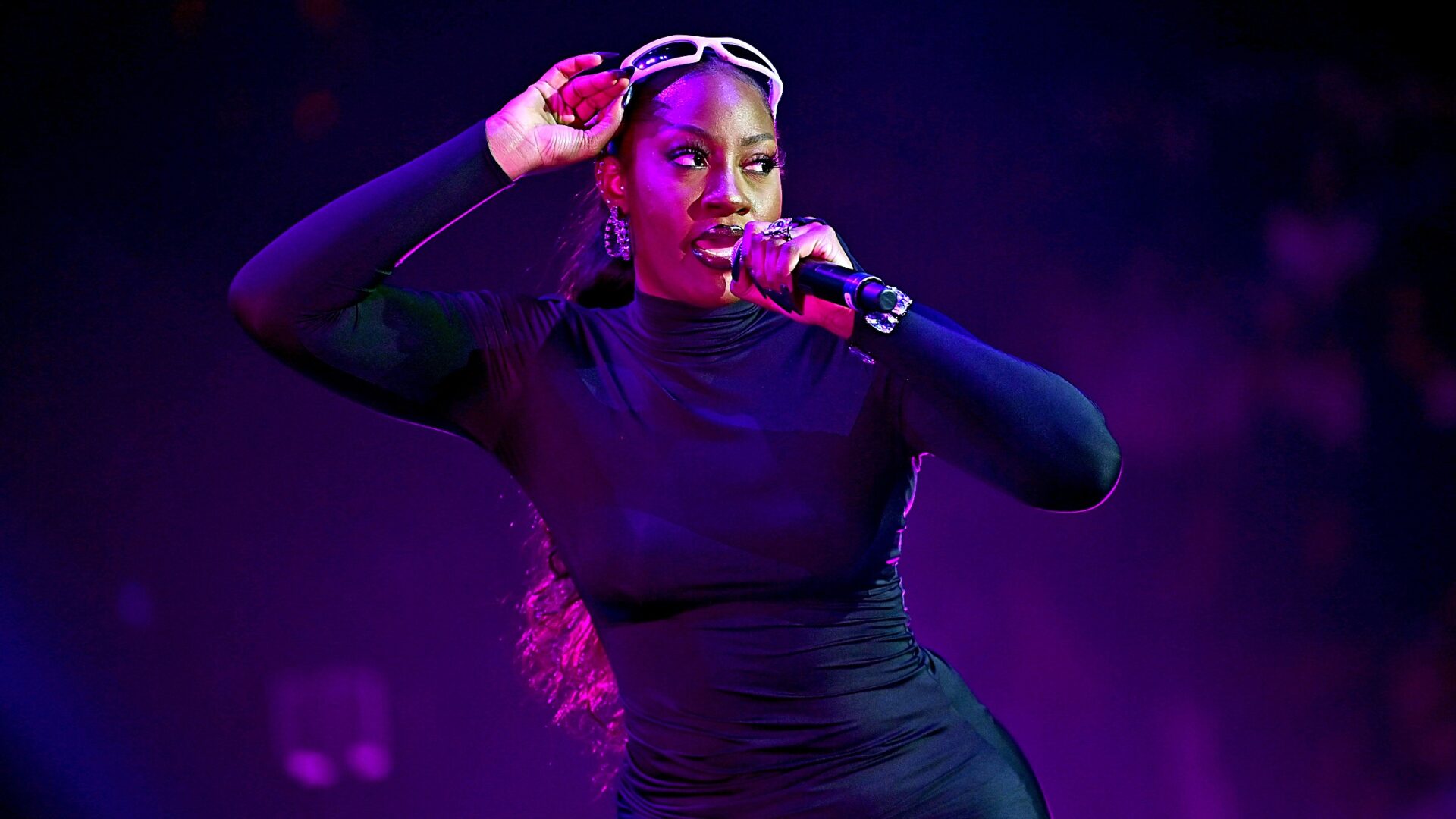 What Is Afrobeats, And Who Are The Top Artists To Add To Your Playlist?
Tap in to learn about the rise of the music genre and the women who are leading the way.
Tems is the first Nigerian Afrobeats artist with the most entries on the U.S. Billboard Hot 100 chart. Gyakie secured the 4th position on Billboard's "Top Triller Global Chart," making history for Ghanaian music. Yemi Alade's "Johnny" video broke a YouTube record by being the Nigerian music video with the most views at 78.8 million streams (in 24 hours). Those are just a few examples of Black women who have led the way to bring Afrobeats mainstream. 
The term Afrobeats is used to describe the unique sound derived from West Africa and has rapidly grown in popularity. The demand to stream artists who contribute to Afrobeats is higher than ever. So much so that Billboard launched a new U.S. Afrobeats song chart earlier this year. 
There has been an awakening for those in the African diaspora (especially Black Americans who were forcefully removed from African culture) to reconnect with their roots. Movies such as Black Panther and Black is King have influenced that. "I think Afrobeats is another way to connect Black Americans to our homeland through music," says Amber Corrine, Staff News Writer at VIBE Magazine.
Afrobeats is more than a genre; but is a contribution to a movement. Here at Girls United, we've curated a list of African queens who are leading that charge and who need to be on your playlist right now.
Ayra Starr
Ayra Starr's name fits her destiny. She is a 20-year-old star who grew popular by covering R&B and Nigerian hits on social media. She signed to Mavin Records, one of the most influential labels in Nigeria, in 2021 and debuted her album 19 & Dangerous. The album did numbers in the west, which awarded her a spot on Billboard's 2022 R&B/Hip-Hop Artists to Watch list.
"I know, as much as I pray, I know that me doing this right now is inspiring a lot of young women and telling them that they can do it, too. They can go into music all over the world, from South Africa to Nigeria to Ghana, everywhere. I want to be an inspiration to any woman that is coming now and just tell her, 'You can do it. Why not? Just do it,'" she told Billboard. 
Tems
"Free Mind" had a chokehold on Instagram stories and reels all last summer. That's because the vibe and voice of Tems is unique and warm. She has a sound that is unlike any other, which has landed her features and collaborations with the world's greatest artists. She was featured on Future's 2022 single "Wait for U," which reached number one in the U.S. Her most recent collaboration is with Rihanna on "Lift Me Up" for the Black Panther: Wakanda Forever soundtrack. 
"I think more women are believing in themselves, I think more women are coming out and realising that they can do it," she told The Face.
Gyakie
Gyakie is a Ghanaian Afrobeats singer, which is essential to know because most Afrobeats artists come from Nigeria. She's trailblazing in her own right. Her career took off after her hit single "Never Like This" dropped. She is the daughter of Ghanaian music legend Ernest Owoahene Nana Acheampong, which only adds to the list of reasons she's born for greatness. 
"Music is spiritual and so I want to pay attention to all the details, and I'm delighted with the response to my E.P. and forever grateful to my fans, especially the young African girls who message me often to tell me they are inspired. That really means the world to me," she told Equate Magazine. 
Tiwa Savage
Savage is an OG in the Afrobeats genre. In 2006 she competed on The X Factor U.K. and made it to the final 24. If that isn't impressive enough, she has sung background for legends. She appeared on Whitney Houston's I Look to You and sang background for Mary J. Blige. Savage made a name for herself as a solo artist in 2010 with Kele Kele Love and has continued to elevate. 
"I would want little girls to just study Tiwa Savage and know that she was just like them: this young girl who had a vision from Africa, who didn't take 'no' for an answer, and conquered the world through her gift. So if she can do it way back then—I don't know how far in the future we are talking about—but if she could do it then, I can do it and do even more," Savage told Complex U.K. 
Simi
In 2008, Semi made her professional debut with her DIY project Oga Ju, a collection of gospel tunes. The church is where she found her voice. Years later, she released an E.P. primarily of covers which landed her a record deal with X3M Music. After releasing singles "Tiff" and "E No Go Funny" in early 2014, Simi had a winning streak in 2015– and never stopped winning. 
"I understand that I have a platform that millions of people have access to, and as a Nigerian, it's important for me to do my best to fight for my people and my country as much and as loudly as I can. We're now, luckily, in an era where social media has made it possible for us to have a voice that echoes beyond borders. I'm hoping to be part of a movement that creates a better future, not just for me, but more importantly, for my daughter and the rest of her generation and future generations," Simi told Okay Africa. 
Niniola
Niniola is another O.G. in the Afrobeats genre. In 2013 she was 3rd Runner-Up in the MTN PROJECT FAME Competition, West Africa's talent show. Niniola continued to explore her sound, professionally starting her career in 2014 with the single "Ibadi", which Sarz produced. She continued to evolve, creating a niche for herself called "Afro-house," a blend of Afrobeat and House music- making her the queen of the sound. In 2020, she received a Grammy nomination after Beyonce sampled her song "Maradonna" on "Find Your Way Back" for The Lion King: The Gift. 
"Every genre of music that's making waves right now has some elements of Afrobeats in it, someway, somehow," she told Okay Africa optimistically about the direction Afrobeats is headed. 
Vanessa Mdeme
Mdeme is a singer, songwriter, and rapper but is most popularly known for her journalism skills. She was the first ever Tanzanian MTV VJ and 3x host of the MTV Africa Music Awards. Mdeme released her debut album Money Mondays in 2018. According to Boom Play, a streaming platform, the album broke the record in East African Music. In 2019, she returned to hosting as the judge of East Africa's Got Talent. She grew a fanbase in the west after coming out as the partner of Rotimi, a highly acclaimed actress and singer in the states. 
"It's tough to be a female artist and I always say this. There's a lot more that's required of a female artist. You have to work five times harder than a male artist, look good, sound good, speak well, be poised, and still be a great performer, great singer, great dancer and have a great body, nice hair, beautiful skin, good nails…so it's a lot. But the challenge is something that I believe all girls can tackle. Every day I think girls have a little more to bring to the table and they do so gracefully," Mdeme told Okay Africa. 
Yemi Alade
Alade emerged in fame as the 2009 winner of the Peak Talent Show in Nigeria. She signed with the Effyzzie Music Group, where she released her international hit single Johnny. In 2014 she debuted the album King of Queens, which features a variety of reggae, R&B, rap, and Afro-pop sounds. She has been all over the globe since. Alade is currently making headlines for her collaborations with Spice, a prominent dancehall artist. "The most important thing for me is to be unforgettable and to leave a lasting impression," she told Essence in a previous interview.
About the author: Shelby Denise Smith is a full-time Social Media Editor and part-time Freelance Writer. She loves writing about news, wellness, and beauty, as well as hosting impactful conversations with influencers and experts on those subjects.
Featured Photo: NEWARK, NEW JERSEY – OCTOBER 29: Tems performs onstage during Powerhouse NYC on October 29, 2022 in Newark, New Jersey. (Photo by Roy Rochlin/Getty Images for iHeartRadio)