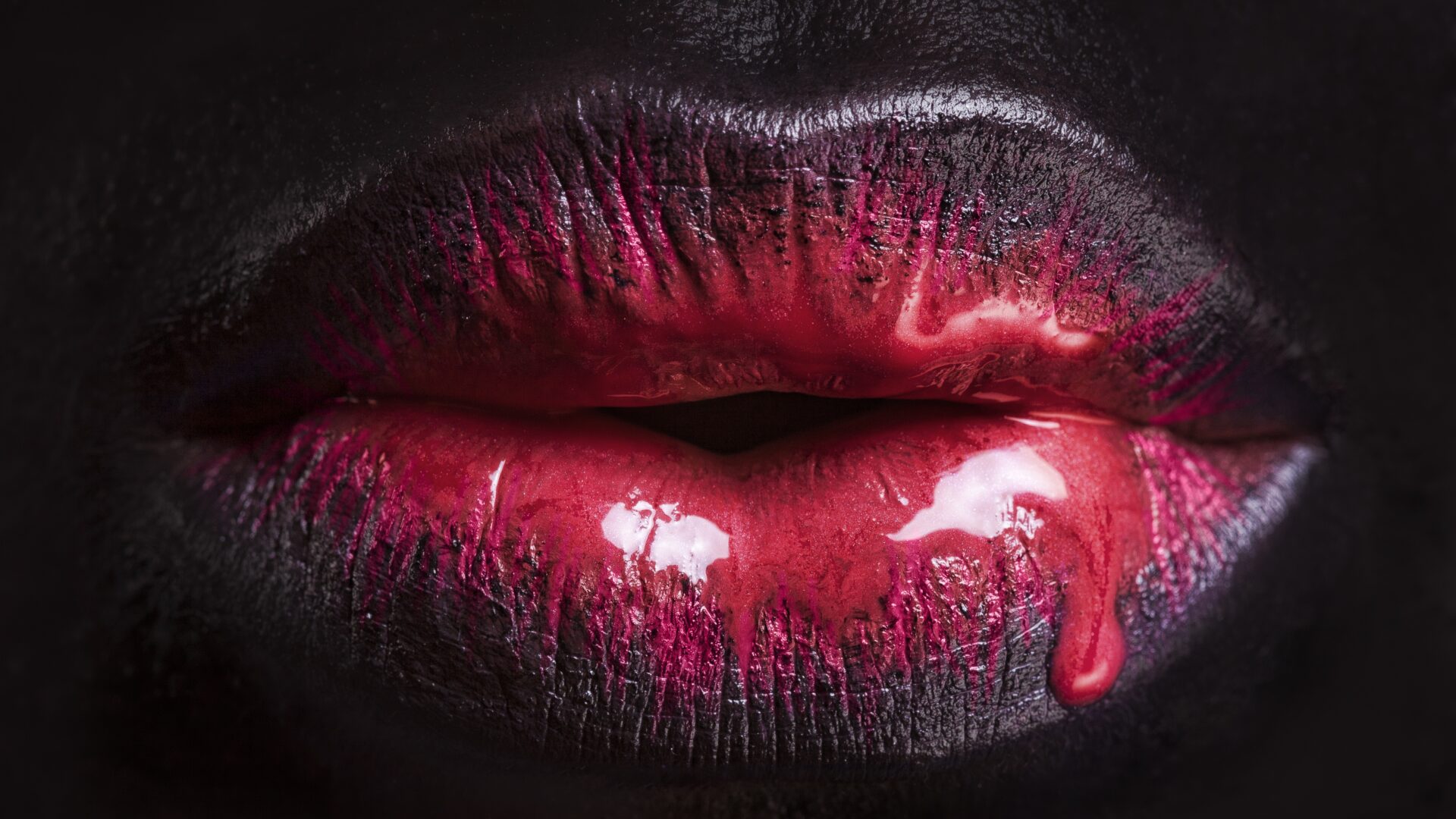 This Vampire Lips Tutorial Will Have You Ready For A Party In Count Dracula's Castle
There are a variety of ways you can get vampire lips.
This is a public service announcement for the ghouls, goblins, and things that go bump in the night. As Halloween approaches, a trend has been brewing on social media that is fit for the preternaturally beautiful. Although preparing a makeup look for one of the most artistic nights of the year may stress you out, the vampire lips trend is easier to execute than making it home before the sun comes up. 
With the vampire lips hashtag having almost two million views on TikTok, this trend can be the focal point of your Halloween costume or your new lip routine for the cold weather months. What I love about this specific lip style is that although it's super easy to recreate, you can add your own spin in various ways. 
TikToker @sola_victoria put her red lipstick on first, then used a brush to line her lips with what looked to be black lipstick. You can also use black lip liner if you don't own black lipstick. To get that sultry, dark vampire lip look, you must seamlessly blend your black lipstick or liner into the red lipstick. This not only tones down the red lipstick, but you'll also get a beautiful ombré effect. Add a clear gloss to finish the style. 
In a video featured on @ilmakiage's TikTok, they went about the trend slightly differently, but the outcome is still the same. First, the creator applied a little concealer and blended it on her lips. This step is optional but is great for those like myself that have a lot of red or pink undertones on their lips. Adding concealer will allow the red lipstick shade to show its actual pigment. After the creator applied the concealer, she lined her lips with a black liner, smudged it with her fingers and applied red lipstick to the middle of her lips. Then she went back in with the black liner and added a little more to the bottom corners of her lips. To top off the look, she added clear gloss.
Tiktoker @kahayaaa's vampire lip tutorial is definitely fit for Halloween look. In her tutorial, she used a brush to line her lips with black lipstick or liner. Not only did she create a more dramatic lip shape, but instead of using lipstick to fill in her lips, she used a red lip pencil. To finish the look, she added clear gloss and red pigment dripping down the side of her face to resemble blood.
These styles are similar, but the slight variations make a difference in the outcome. The vampire lip trend can seem bold, but if you're dying to incorporate red lipstick into your makeup routine, the black liner mutes the sharp red tones. If you just want to wear this trend out on Halloween night, get ready to lead the Thriller dance line in style.
About Allanah: Allanah Dykes is a freelance writer. Her work has appeared in NPR, Popsugar, Food52, and Complex publications. Raised on Long Island, NY, surrounded by diverse fashion, beauty, and culture, she prides herself on infusing her upbringing into every article she writes.