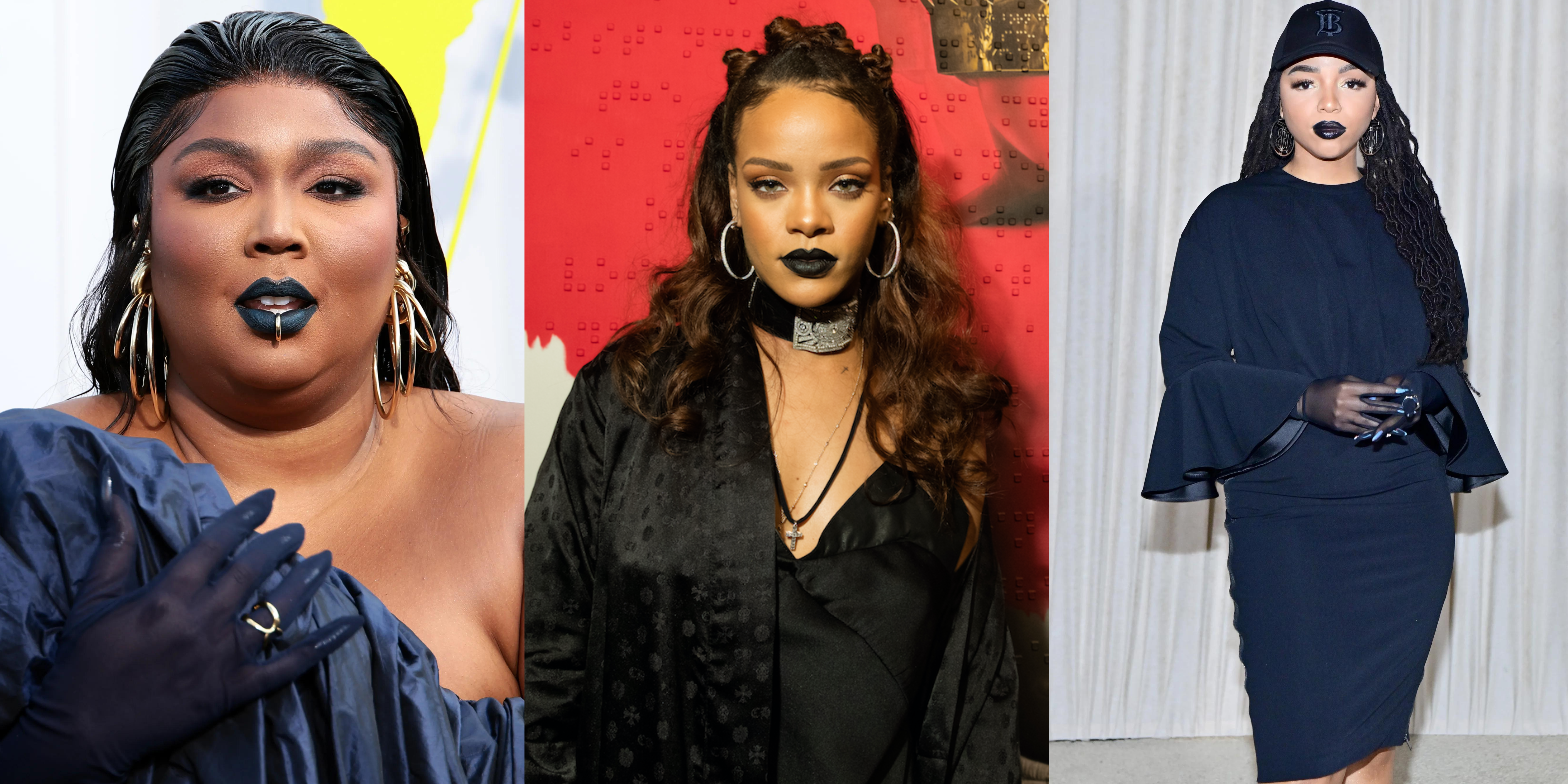 Here's The *Spooky* Lipstick Color You Should Be Rocking All The Way Through Halloween
Black is back like it never left!
When I was growing up, there were a lot of societal rules and parameters for what was considered unacceptable regarding makeup. Enter the stigma of black lipstick. Although black lipstick may have been deemed costume or goth makeup back in the day, this season, it will be the dominating lip color everywhere you turn. Today's a new day if you ever secretly wanted to try black lipstick. 
Black lipstick has always been around, but it seems to be catching fire this year. After Lizzo wore Mac Cosmetics Retro Matte Liquid Lipcolour in Caviar on the MTV Video Music Awards red carpet, I started seeing the color everywhere. What I loved about Lizzo's look was how effortless her application seemed.
In a TikTok video, Lizzo's makeup artist simply applied the color with no liner. All she used was the product's brush, and that's it. I was intrigued, so I continued to peruse TikTok to see if the everyday person could get the same application and effortless look just like celebrities on red carpets or models on catwalks. I'm happy to report black lipstick is super versatile and easy to rock. 
Although Lizzo's makeup artist didn't use a black liner, Tiktoker @whateuguenadoes used one in her video. She didn't like the liner she used because it needed multiple applications, so I recommend the NYX Professional Makeup Retractable Mechanical Lip Liner in Black Lips. Her lipstick choice is the Sephora Collection Cream Lip Stain Liquid Lipstick in Night Bird. 
Usually, I'm not a fan of matte formulas, but for black lipsticks, I feel like a matte formula is more of a standout option. This Sephora product is also full coverage, so you'll get that cool-girl, pigmented look. Using a liner will also minimize bleeding and streaks if you're a novice using dark lip colors.
On the other hand, I'm also obsessed with the Tiktoker @shysparks look. She also used a liner in her video, but her application was different for two reasons. The first thing she did differently was that she applied her black lipstick with a brush, and secondly, she applied a gloss. Gloss also makes the look a little more wearable because the color is sheered down a bit. Concealer brushes can help you create a cleaner look if you're worried about the application. 
"[It] will keep the edges of the lip crisp and precise," Kelli J. Bartlett, a makeup artist and founding member of Glam squad, told Byrdie. "When applying, be sure to check your balance and symmetry by taking a step back and evaluating in a mirror. You can clean up the shape with a clean brush dipped in remover or saturated with a makeup wipe." 
Many are on the market if you're looking for other black lipsticks to add to your collection. NYX Cosmetics just launched an inexpensive black matte liquid lipstick if you want to test the waters without breaking the bank. You don't have to wait until Halloween to experiment with the dark side of makeup.
About Allanah: Allanah Dykes is a freelance writer. Her work has appeared in NPR, Popsugar, Food52, and Complex publications. Raised on Long Island, NY, surrounded by diverse fashion, beauty, and culture, she prides herself on infusing her upbringing into every article she writes.