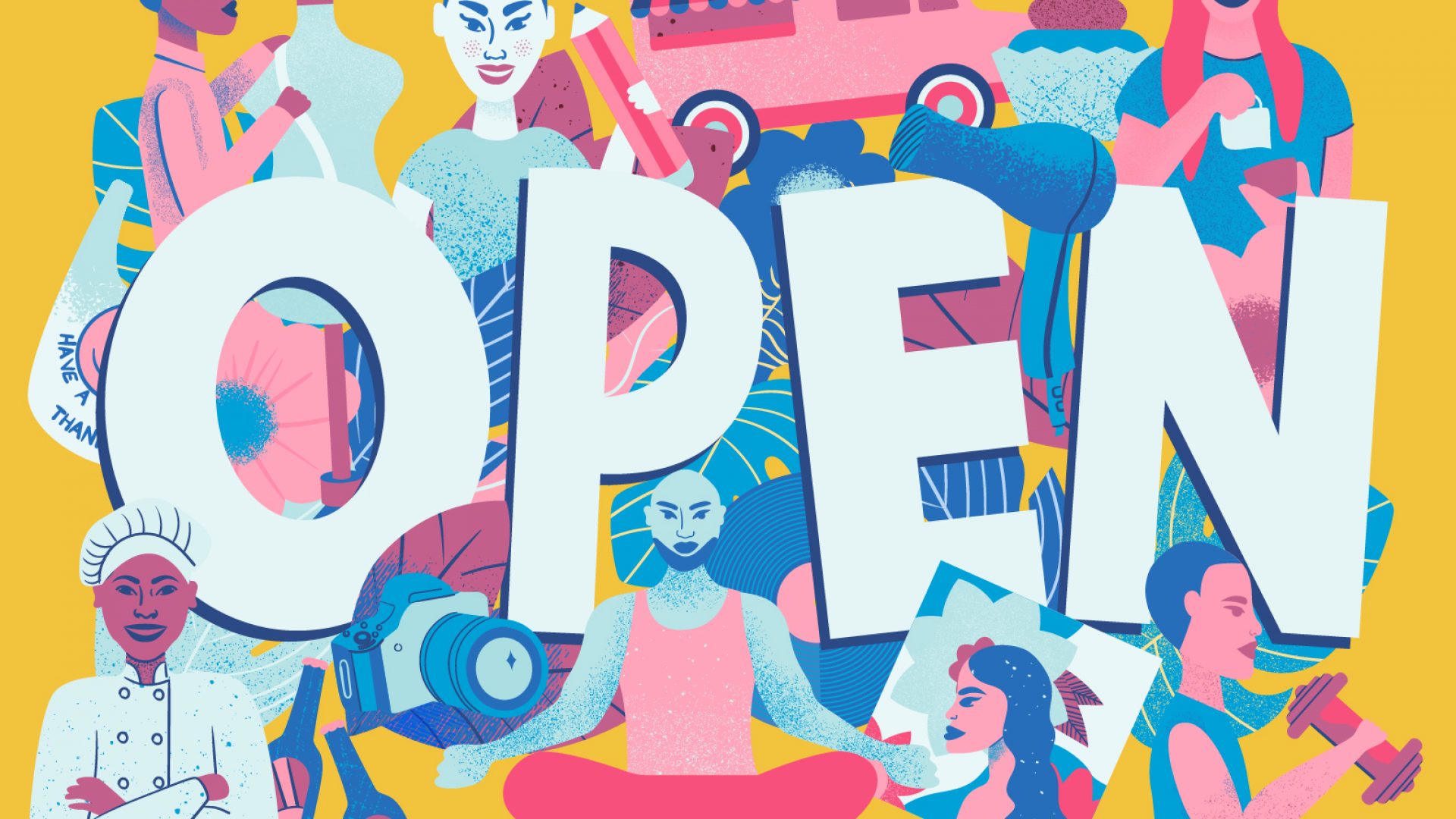 Meet The Artist Reimagining "Open" Signs For Small Businesses
"It's incredibly important that we continue to support Black artists with funding and recognition," said Sophia Yeshi
It's no secret that small businesses took a hell of a hit during the pandemic, especially those owned by Black and other marginalized communities. Too many beloved businesses were either forced to shut down, had to turn to new ownership or management, or were unable to recover from financial hits. For those businesses that were able to keep their doors open throughout the past year of the pandemic, though Brooklyn-based graphic designer Sophia Yeshi used her passion for highlighting women of color and LGBTQ+ communities through art and illustration for a great surprise.
Earlier this year Yeshi was commissioned alongside other artists to create unique, one-of-a-kind "Open" signs for six businesses including a summer camp, a community kitchen, music production studio and brewery. Building on that effort, Yeshi was named Wells Fargo's first-ever Artist in Residence – and her first project was to reimagine the classic "Open" for business sign. She utilized vibrant color palettes to universally symbolize the resilience and perseverance of millions of small business owners throughout the worldwide pandemic.
"Illustration allows me to tell stories that represent myself and my community by showcasing joy, love, resiliency, self-worth, and other important topics that I didn't get to see growing up," Yeshi told Girls United about why art plays such a key role in her creativity. "My work serves as an outlet for creative expression and it's truly the only career I've ever pictured myself doing. When I feel moments of doubt, insecurity, and anxiety, I often channel those feelings into my art because I know that others can relate."
"As a small business owner myself, I know firsthand how difficult it has been to stay afloat during the pandemic," continued Yeshi, who identifies as queer, Black, and South Asian. "Small business owners are an important part of our communities and they need our support to keep going. It's inspiring to see Wells Fargo pouring money and resources into helping small businesses recover."
While growing up, Yeshi turned to both of her small business-owning grandparents as inspiration and pillars of hard work and dedication. As her first job at just 12-years-old, she worked for her grandfather's online bookstore, John Gach Books. Yeshi's earlier responsibilities included photographing the books and editing them to be sold online, for $10 an hour.
Read our exclusive interview with Blair Imani as she revealed the new cover art to her forthcoming book!
Meanwhile, Yeshi split her time at her grandmother's clothing and hat store Leigh Limited Boutique selling extravagant rhinestone-studded items to her customers, who Yeshi admitted were mainly those churchgoing folks shopping for their Sunday best.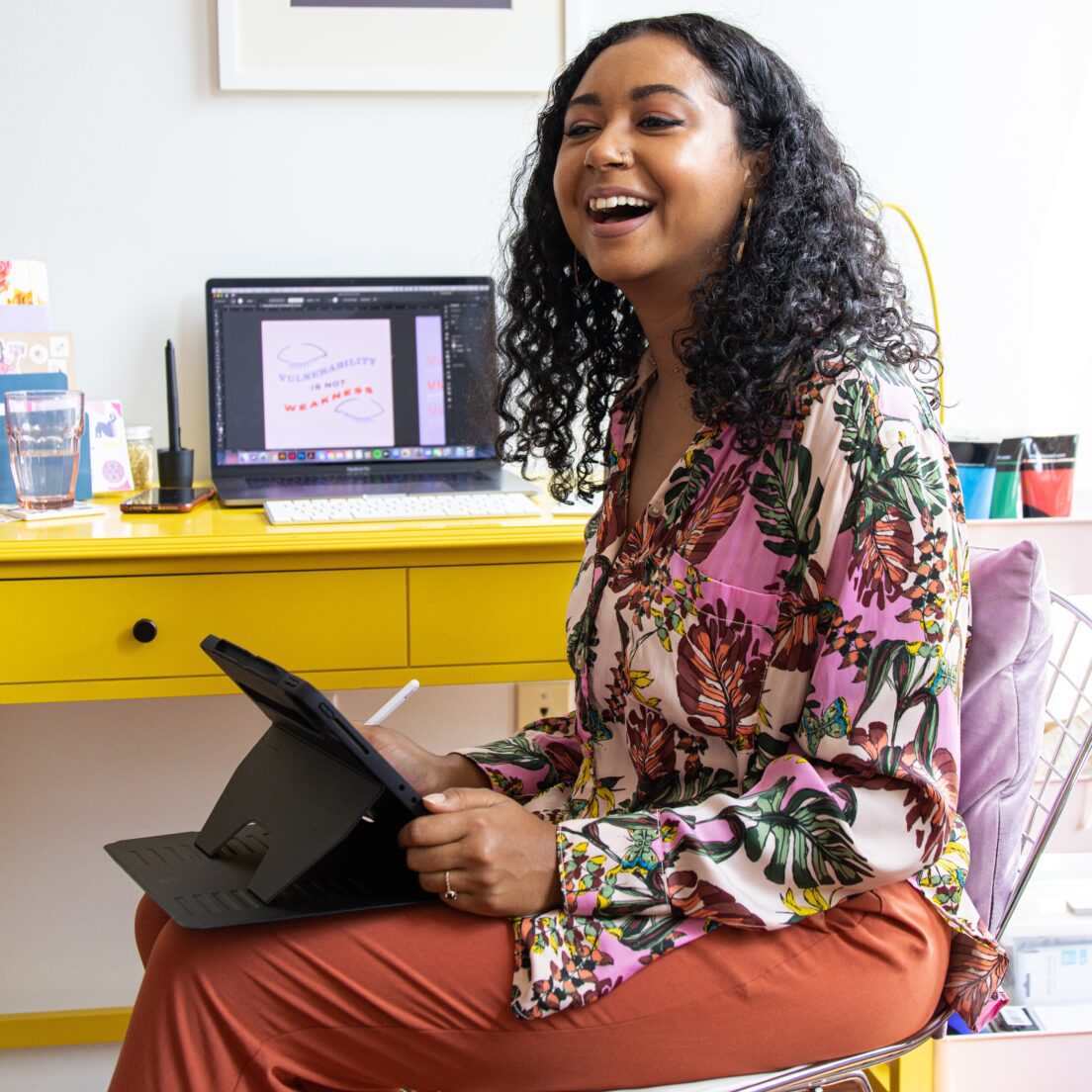 "Historically, art has been able to reflect the best and worst of society," Yeshi said. As she quoted Nina Simone, "an artist's duty is to reflect the times," she noted the diligence and work of today's artists in different mediums including filmmakers, photographers, illustrators, and graphic designers such as herself. "Now more than ever, we are seeing Black artists creating work that captures the full range and spectrum of the Black community, and inspiring new artists to create, too. It's no surprise that Black artists have created American culture as we know it."
Yeshi continued, "It's incredibly important that we continue to support Black artists with funding and recognition so that they can keep creating work that reflects our unique yet shared experiences. Oftentimes as freelancers, we're hired for Black History Month or one-off projects. To have a year-long collaboration as the Wells Fargo Artist-in-Residence is really important because I get to work with one client, and take the time to shape and develop what that looks like."
To learn more about Wells Fargo's $420 million recovery effort, Open For Business Fund, go here.
Photo Credit: Sophia Yeshi (Wells Fargo Artist-In-Residence)
Photo Credit: Kandace Chavous/Elliot Ashby